Usually, most drones come with the facility of using your smartphone to operate the drone. But it's not always a pleasant experience to use your phone for the same purpose. So, what are the best drones that don't need a phone?
Here's a list of the top 7 drones that don't need a phone:
DJI Mini 3 Pro
Holystone F181G
HusbanH501S
DJI Phantom 4 Pro
DJI Air 2S
Autel Evo II
Yuneec Typhoon H Pro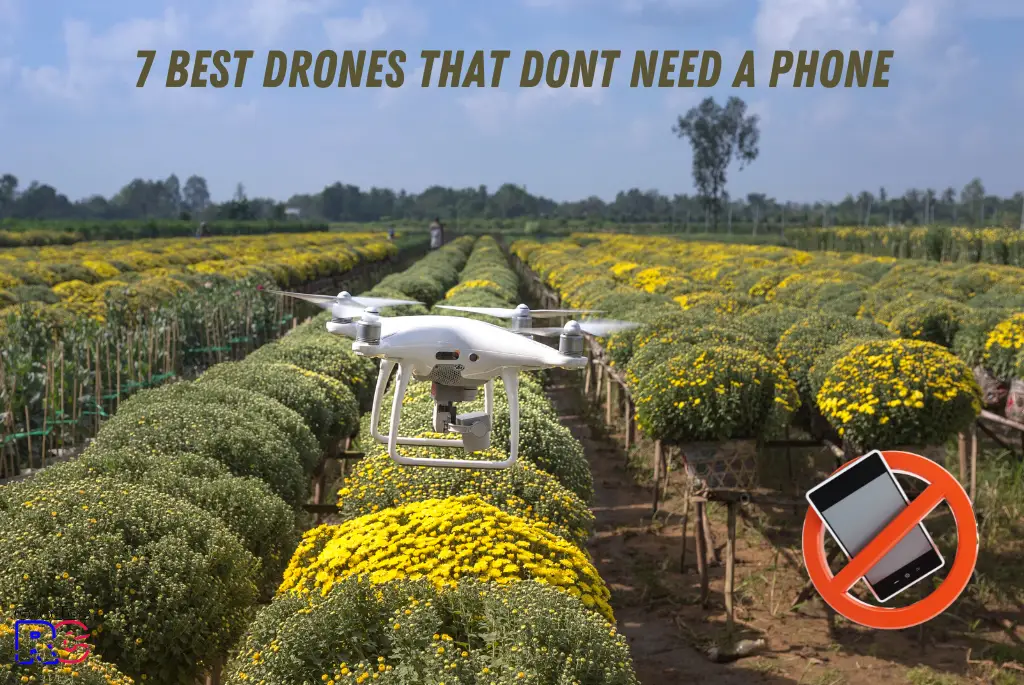 Out of these, I recommend checking out the following option based on your preference.
| | | |
| --- | --- | --- |
| Our Picks | Drones | Price |
| Best Overall  | DJI Mini 3 Pro | Check Here (on Amazon) |
| Best Budget | Holystone F181F | Check Here (on Amazon) |
| Best Beginner | Hubsan H501S | Check Here (on Amazon) |
Continue reading to learn the specific details about each of the drones.
#1. DJI Mini 3 Pro
Flight Time: 34 minutes
Range: 12 km
Weight: 249g
DJI RC allows you to stop worrying about your phone. The DJI Mini 3 Pro's lightweight remote controller has a dedicated display. In addition, the DJI Fly app is already loaded, so you can concentrate on flying while your phone stays charged.
If you're looking for a lightweight, sub-250g drone( Links to my article: Best Drones Under 250g), go no further than DJI's latest and interesting model, the Mini 3 Pro. DJI seems prepared to reorient customer expectations for a product of this size. In addition, with the Mini 3 Pro's ability to record up to 4K60, you can slow down the film for a more theatrical feel.
You can choose any resolution and shoot at 24 or even 30 frames per second with HDR support.
To take advantage of this, the gimbal can now be rotated to portrait mode. And it is a superior feature for capturing portrait images and, of course, videos for social media sharing since it eliminates the need to trim a landscape image and needless amounts of pixels.
(Amazon link)
#2. Holystone F181
Flight Time: 20 min
Range: 300 ft
Weight: 141.7 g
Small and adaptable, the F181 drone from Holy Stone company is an ideal introductory quadcopter.
The drone is operated with the help of a 2.4GHz remote control with the same ergonomic design as in-game controllers. The remote is lightweight and easy to carry along, even when powered by four AA batteries (not supplied).
While the LCD screen on the controller doesn't provide a first-person perspective, it does provide useful data like the current shooting mode, remaining battery life, the drone's range, and the ability to change the gain. 
Additionally, the percentage of acceleration power is shown. The F181 is an affordable mini-quadcopter with various innovative additions that set it apart from the competition. It's a great option for anyone just getting started with drones.
(Amazon link)
#3. Hubsan H501S
Flight Time: 20 min
Range: 300 m
Weight: 450 g
The Hubsan H501S is a great drone that looks nice and has some remarkable features, such as a high-definition camera and an LCD screen of 4.3 inches built into the remote control. This implies that the FPV functionalities can be utilized without needing a smartphone.
It has two GPS receivers for pinpoint accuracy and a few different types of automatic flying. With a flying length of around 20 minutes and a few years old design but still one of the most popular, this drone is a great option for anybody searching for a reasonably priced HD camera drone.
The Hubsan H501S is reasonably priced for a beginner-friendly drone with a first-person camera. However, people interested in aerial photography and videography should look for other products.
(Amazon link)
#4. DJI Phantom 4 Pro
Flight Time: 30 min
Range: 7 km
Weight: 1388 g
The DJI Phantom 4 Pro is a great aerial camera since it was built with imagination in mind. Several smart technologies, like omnidirectional obstacle avoidance, and DJI's transmission technology, are included in the drone.
The HD camera is the most notable addition, with its 1-inch CMOS sensor, high ISO range, and ability to record 4k video at 60 frames per second and take 20MP still photographs.
Infrared systems on both sides enable the Phantom 4 Pro to pinpoint its location inside a room, while sensors on the front and back help prevent crashes. The controller's hefty shape hasn't altered yet is as responsive as ever.
The more expensive Pro Plus version comes with a touchscreen that is exceptionally bright and legible even in strong sunshine, allowing you to quickly and simply adjust flight and camera settings.
(Amazon link)
#5. DJI Air 2S
Flight Time: 31 min
Range: 12 km
Weight: 595 g
The DJI Air 2S is a portable, lightweight, and powerful mini drone. The Air 2S is an interesting alternative for photographers and videographers because of its lightweight design (only 21 ounces) and amazing capabilities, such as a 20-megapixel one-inch sensor.
While not brand new, the DJI Air 2S is still a top pick for various drone uses. The DJI Mavic Air 2 is a terrific option for anybody wishing to take high-quality aerial footage and photographs from a tiny drone.
Newer models like the Mini 3 Pro are smaller, but the Air 2S packs a bigger 20MP 1-inch sensor inside a foldable design that weighs just 595g. So despite being a little more expensive than the Air 2, the Air 2S is clearly the superior device.
(Amazon link)
#6. Autel Evo II
Flight Time: 40 min
Range: 9 km
Weight: 1191 g
The Autel EVO II is a smartphone-independent, foldable drone equipped with a steady 6K camera and a remote control with an integrated display.
The regular EVO II has a camera with a 1/2.3″ sensor "Featuring a 48MP Quad Bayer sensor; it is the first consumer drone to record in 8K resolution.
To power, the EVO II Pro, a bigger 1″ type 20MP sensor, allows for 6K recording, and both the cameras are combined into a single unit in the EVO II Dual, which also records at a maximum of 6K. In addition, thanks to the system's modular design, users can swap out cameras on their drones as required.
The EVO II can be used alone using the included remote. This method is useful for capturing photos and videos in a pinch. However, Autel advises utilizing the company's Explorer software on a smartphone to get the drone's full range of capabilities.
(Amazon link)
#7. Yuneec Typhoon H Pro
Flight Time: 25 min
Range: 1.6 km
Weight: 1645 g
Although Yuneec is less well-known than DJI, it has not shied away from the market. To put it simply, Typhoon H is Phantom 4's main rival.
Compared to earlier attempts by the firm, such as the Q500 4K, the Yuneec Typhoon H Pro is a major advancement. The drone's six-rotor construction provides it with substantial power and the ability to remain airborne in the event of an engine or propeller failure.
As an added bonus, the 4K camera on this drone can be rotated easily, giving the pilot more room for artistic expression than is possible with fixed-position cameras on other drones.
It has certain flaws, such as being more costly than the DJI Phantom 4, having a slower maximum speed due to its obstacle avoidance technology, and having a user interface that is still in its infancy compared to DJI's.
That said, the ST16 remote control is a massive 6.5 by 14.0 by 5.0 inches in dimensions (HWD). With the included neck strap, you can rest your arms while in flight, and the sunshade will keep the 7-inch LCD from glare when you're in the great outdoors.
Overall, there is a lot of potential in the Yuneec Typhoon H Pro, but there is still scope for improvement in the flight interface and video segment. Hope this helps!
(Amazon link)
Some hand-picked articles on drones that I think you would like reading: