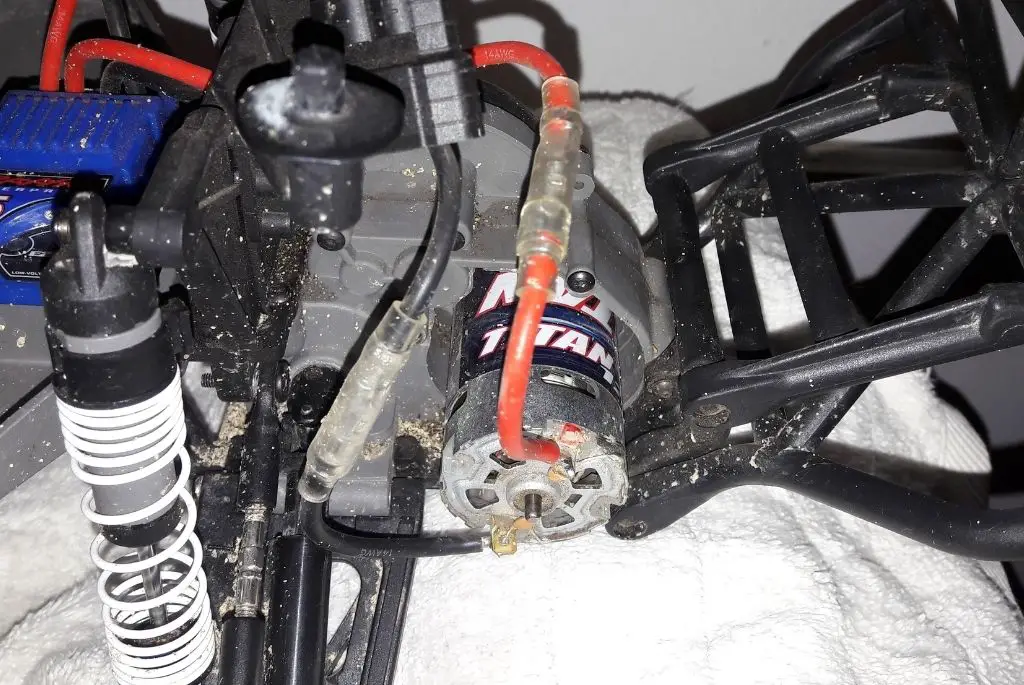 In the world of RC cars, nothing's more exciting than an RC vehicle going fast enough for a thrilling race. It almost imitates how fast an actual vehicle goes. After all, that's exactly why most enthusiasts are drawn to RC cars.  
But at this level, many question, the size of the motor and the type of RC car.
As a general rule, 540 RC motors reach a top speed of around 70 MPH. 540 refers to the size of the motor. Gear set up and the type of battery can affect the performance of a 540 RC motor.
You may have already encountered 540 Size RC motors. These motors are pretty standard in any RC vehicle.
But if you're curious about how a 540 RC motor influences speed, then you're where you're supposed to be. So, let's jump right in.
(Amazon link)
How Does The Motor Works In RC Cars?
RC cars and other vehicles won't move without a functioning motor. You can think of the motor as its very own car engine.
Once the electric motor starts running, you can operate your RC car. You can steer the vehicle, turn the wheels, and control the speed.
So, here's what's basically happening when the motor is in motion. Electricity derived from the batteries interacts with the magnets to produce the needed mechanical energy. With this mechanism, your RC vehicle can move around.
Related post: What Turn Motor Is Best For RC Drifting?
While it's already impressive that you can operate RC cars with an electronic speed controller on your hand, this setup goes out of the window if the motor is not in place.
What Is a 540 Size RC Motor?
The 540-size found in an RC motor refers to the length of the motor can or case. It's a dimensional element that gives you an idea of how long the motor is. Motors are generally cylindrical. So within terms of diameter, it is understood that the width and length affect the RPM of the motor.
Naturally, the larger the number, the bigger the motor found in the RC vehicle. So, it's safe to assume that a 540 motor is common among lighter 1/10-scale cars.
How Long Is a 540 Motor?
A 540 motor is typically about 50 mm long.
On the other hand, a 540 RC motor usually has around 36 mm. It also has an output shaft length of 11mm and a diameter of 3.1 mm.
These dimensions are pretty standard for any 1/10-scale RC car and, in most cases, fixed. So, you can't just use other motor sizes even if it's a close call. 
For example, a 550 motor, despite the slight difference in length from that of a 540 motor, won't fit on a 540 size RC car.
What Is the RPM of a 540 Motor?
The average revolutions per minute (RPM) of a 540 RC motor is 18,300, with turns ranging from 23 to 27. Some RC cars have lower revolutions falling to around 14,000 RPM.
Naturally, if you're a certified RC vehicle hobbyist, the term RPM is no stranger to your vocabulary. Also, you may have already encountered the unit Kv, which refers to the motor's constant velocity;
Related post: How To Clean And Maintain A Brushed RC Motor
Simply put, Kv is the RPM of a motor when the volt is applied. Therefore, it is directly proportional to the rpm of the motor.
So, you can say that the more Kv there is, the more RPM and power produced by the motor. And as Uncle Ben would agree, with great power comes great speed.
Should I Get a Brushed vs. Brushless 540 Motor?
If you're aiming for a faster RC 1/10-scale car, then a brushless 540 motor will be your best friend. It's your best choice over brushed motors considering the amount of power it can provide.
It's safe to say that you've heard about brushed and brushless motors, especially in forum debates. And if you have been around on one of those conversations, there's a good chance you know how one is better than the other.
But if not, here's a summary of how distinct brushed and brushless 540 motors are.
For starters, the main difference between the two is the names themselves. A brushed motor has brushes within the system, while its brushless counterpart doesn't. But as simple as that may seem, each setup comes with its own set of pros and cons.
Brushless 540 motors have higher power efficiency and a longer lifespan than brushed motors. They also produce less electrical noise and require less maintenance.
However, the downside of a brushless motor is that it's pricier than brushed motors. Nonetheless, with its level of performance, you'll get every worth of money you spend.
Please check out my in-depth guide on brushed vs brushless motors
What Is the Difference Between a 540 and 550 Motor?
A 540 motor is about 50 mm long, while a 550 motor has a length ranging between 55 to 90 mm. 540 and 550 motors share the same cylindrical diameter. The extra length of a 550 motor is intended for a longer armature and other critical parts like magnets (for brushed motors) or stator and rotor (for brushless motors). 
Since the 550 motor is bigger, it best fits larger RC vehicles like stadium trucks and 2WD buggies.
What Is the Best 540 Size RC Motor?
Finding the best 540 RC Size motor isn't complicated at all. You can readily assess an RC motor's quality and performance based on the materials used and available features.
Generally, the 540 motor suits 1/10-scale RC cars best. But what's exactly a 1/10 RC vehicle?
So, the principle behind the 1/10-scale RC car is simple. It's the size ratio derived from the actual size of the modeled car. For example, say the RC car is a Ford Mustang, then the size of the RC is 1/10th of the real deal.
Related post: What Is The Fastest RC Motor?
If you plan to build your RC car, the motor is a huge part of it. In the same way, when finding a replacement for your worn-out motor, there is nothing more important than choosing the best one.
To save you some trouble, here are the best 540-size RC motors you can readily order.
(Amazon link)
If you're looking for a motor replacement for your RC car or truck like the TRAXXAS Slash 2WD and Redcat Volcano, the Hobbypart 540 Brushless Motor could be one of your best choices. This motor is designed for upgrades and added protection. In addition, it comes with a heatsink that supports faster spending and longer running time improving your RC car's efficiency at least two folds.  
2.      SURPASS HOBBY Rocket 540 V3 Sensored Brushless Motor
(Amazon link)
This motor is designed with a racing competition in mind. It comes with a high-grade aluminum heatsink that ensures smooth and long-term operation on the tracks. You can prevent overheating that could cause some damage to your RC car.
Likewise, it has pure copper windings that guarantee efficiency along with a sensor and adjustable timing.
(Amazon link)
RCRunning has solidified its position as a reliable brand for RC motors. It has been further strengthened by products such as its 540 brushless motor that comes with 4370 Kv and 3.175 mm shaft.
Moreover, the RCRunning 540 brushless motor is made of high purity copper windings, ensuring efficiency. Plus, it has built-in protection against water damage and overheating.
You can use it to upgrade your 1/10-scale RC motor, such as TRAXXAS Rustler.
(Amazon link)
Dilwe's RC Car Sensored Motor comes with powerful neodymium magnets and high purity copper windings that guarantee increased efficiency so you can speed up without any issue.
It also has a heatsink, a removable and replaceable rotor, and a smooth soldering point making it high-quality in form and function.
Moreover, it's specifically made for 1/10-scale remote control cars, so you don't have to worry too much about compatibility, provided that you checked your manual.
Conclusion
540-size RC motors are a staple when it comes to RC cars. With a speed of up to 70 MPH, 540 motors continue to be in demand among many hobbyists.
Of course, this goes with the fact that most RC vehicle enthusiasts own at least one or two 1/10th-scale RC cars with 540 motors. Hence, a great deal of knowledge about this motor size is helpful, especially when looking for a suitable replacement motor.
Just remember that a brushless motor is generally favorable than its brushed counterpart. In the same way, always check the materials and added features of the 540 motor to help you decide which one best goes with your RC vehicle.
With that, don't forget that your RC Car's speed is not completely dependent on its motor size (although it is a critical factor). 
Check out other essential elements of your RC car to make sure that you achieve the speed you always want. 
Check out my article explaining what KV means in RC motors