There are two sides to everything, with the world of RC having several sides that you only learn about once you start the hobby. One of the things that many people are looking for in the world of RC is the most realistic RC car that they can possibly find.
The most realistic RC cars are usually based on trucks, such as the Totoya Hilux by Tamiya or the Axial UMG10 6×6 Rock Crawler. However, RC cars that behave realistically are usually off-roaders made for speeding, like the Traxxas X0-1 or the Axial Racing Yeti SCORE Trophy Truck RTR.
It is important to understand why these RC cars are so important and why they seemingly cost almost triple the amount of a normal RC car. These cars are a lot more complicated, sometimes sensitive, or simply faster than the RC cars you may be buying from the local stores in your area.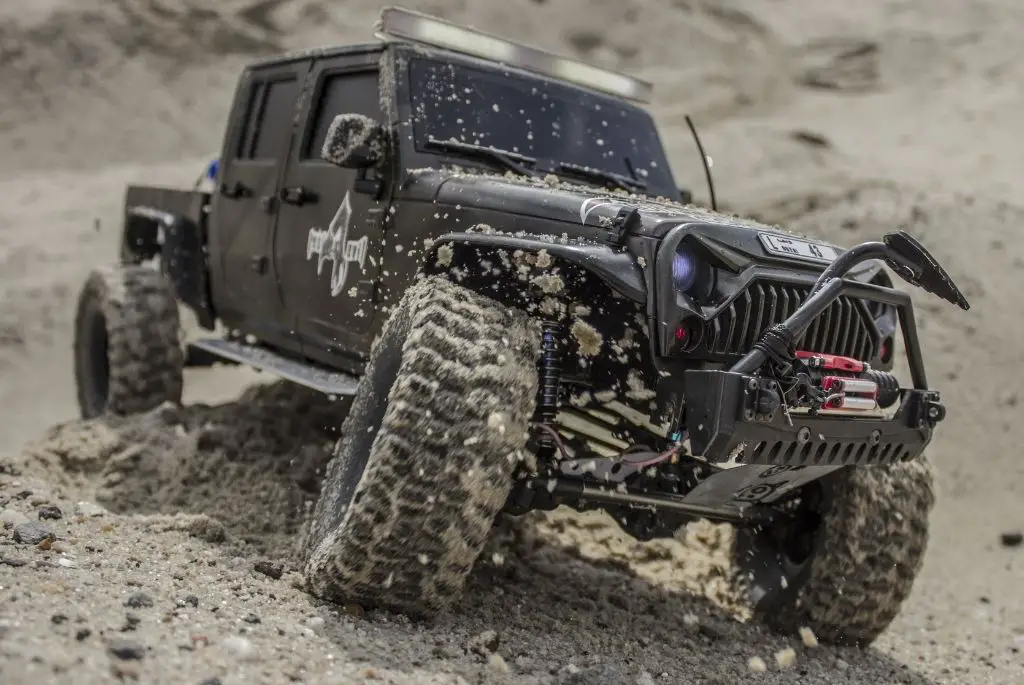 Which RC Cars Behave The Most Realistically?

The options are sometimes limited for the enthusiast looking to get an RC car that behaves similar to a real-world car. This is the most likely RC car that you will find as well, as these are the ones that will be handling the best and are not as expensive as one-to-one recreations of real cars.
We have three basics of the design that will behave like a realistic car, taking jumps, turns, and sand like you may already be used to. Each of these has a basic suspension setup that makes them easy to understand and capable of doing everything you may want to do around a track.
Traxxas X0-1

The Traxxas X0-1 is the answer to what it would feel like to drive a racing car scaled down to the RC level. It is considered to be one of the proper racing RC cars that you can buy out of the box; it is shaped to be as aerodynamic as possible as well, as even on this scale, air movement is important.
However, the price of having something that can go around a track at speeds that even real cars would only dream of is a bit high, at $700. However, you get the fastest RC car ever built for this price, reaching a top speed of 100mph, making it a pocket rocket in truth.
See the best deals here, on Amazon
See Walmarts Pricing here
Kyosho Lazer

When it comes to off-roading your RC car, it is split between those who want to do miniature rock crawling and those who want to have a rally stage in their backyard. The Kyosho Lazer is easily one of the best off-roading RC cars you can buy; at only $600, it handles like a dream.
Related post: Is Kyosho A Good RC Brand? Here's Everything You Need To Know
This is exactly what you would want in a real rally vehicle, with the RC car taking corners and straights at high speeds, allowing you to drift like a master. It has a slight learning curve to master, but that can be said about all of the best rally vehicles on earth.
Check out the Kyosho Lazer here, on Amazon
Axial Yeti Can-Am Maverick RC Rock Racer

A lot less expensive and modelled after an actual vehicle used for rock climbing, this small vehicle offers a lot of fun for the casual RC car owner looking for something accurate. Coming in at only $170, it is one of the smaller RC cars that will be capable of similar things to its real-world counterpart.
Related post: Are Axial RC Cars Good? Here Are 5 Examples
The car is capable of driving up near-vertical cliffs that are within scale, and because of the lightweight body, it can go at slightly faster speeds than would be recommended. Further, it offers the feeling of losing control and recovering in the same manner as you would in a real rock crawler.
For great deals, check out the Axial Yeti here, on Amazon
Check out this model here at Walmart
Which RC Cars Look The Most Realistic?

Now that we know more or less which cars will react and drive like their proper-sized brothers, we need to look at the models that are made to look like real cars. These RC cars are often capable of doing what a full-scale vehicle would do and benefit from looking amazing.
Check out this post: What Is The Best RC Car out Right Now? Each Style Covered
It should be noted; these RC cars can vary greatly with pricing and will usually be seen as collectables rather can something that should be driven. We have seen many collectors completely shun those who choose to use these RC cars for their intended purpose: driving on tracks, dirt, and rocks.
Midea Tech Ford Mustang Shelby GT500 RC

An almost perfect 1 to 1 downscale of the Ford Mustang, this RC car is made to be driven around a race track while looking as close to the original as possible. It is currently also the most affordable out of all the RC cars that are realistic, coming in at $42 on Amazon.
It does have a few things lacking, like the motor is not as strong or responsive as other motors; however, the bodywork has been given a lot of detail. This has made it popular as one of the first RC cars that newer collectors are getting instead of being discouraged from buying something because of price.
Check out the well priced Mustang here, on Amazon.
Tamiya Toyota Hilux RC

No other truck has impressed the world as the Toyota Hilux, with most farms on earth having some version of it on them. For both Toyota Hilux lovers and RC model lovers, that car has been made into a near-perfect scale RC model, complete with wipers and headlights.
Related post: Who Makes The Best RC Cars? (Top 11 Brands)
However, it does cost a hefty $750 when it was first released, and the older models have since increased in price as its rarity has increased. If you are looking for one of these or already have one, be aware that many collectors worldwide would fight to have it.
The Tamiya Toyota Hilux can be seen here, at the great price of $247, on Amazon
Axial UMG10 6×6 RC Rock Crawler

When people think of realistic RC cars, the last thing they may imagine is the Axial UMG10 6×6 rock crawler, one of the RC cars that looks like a shrunken car. A metal transmission that delivers power to all six wheels is the closest you can find to a model car that can move.
Currently, there is no way to find a good price for it on Amazon, as it has been sold out for a while, and collectors of realistic RC cars are unwilling to let it go. The Unimog that it is based on is now almost just as rare as the RC model.
See it here, on Amazon
And here at Walmart
Why Are Realistic RC Cars So Expensive To Buy?

Depending on the RC car you are buying or looking at, it may very well be a hand-painted vehicle that a collector previously has made. The more expensive RC cars often come in kits that require people to build them entirely from scratch, with even the bodywork coming unpainted.
Related post: Who Makes The Best Nitro RC Car?
You will be paying to have an RC car that is completely custom, not simply one that was perfectly modelled straight out of the box. This is why the prices can vary so greatly from model to model, with collectable models that are unbuilt fetching higher prices than painted ones.
However, RC cars from a select few RC car manufacturers are perfectly modelled out of the box. These are only available in very limited runs, with each one given a unique chassis number that limits and tracks the cars around the world.
Conclusion

Realistic RC cars are extremely hard to find and may even be collected by a select few. However, some models are much more affordable; you will still have to get them from select vendors or online as they are not simply available in the toy shop.
Please, always remember that these RC cars are made to be driven; if you see someone else enjoying them in this manner, don't judge them!
Here are some other articles you might like: