There aren't many nitro RC options out there these days. But nitro isn't dead yet, there'll probably always be some people that will support it. So which brand of nitro RC is the best?
Traxxas makes the best nitro RC cars because they have over 30 years of experience with them. Traxxas has seven nitro RC options, all of which are 1/10 scale cars. From the Rustler w/TSM to the T-Maxx 3.3, Traxxas has the very best nitro RC options for you.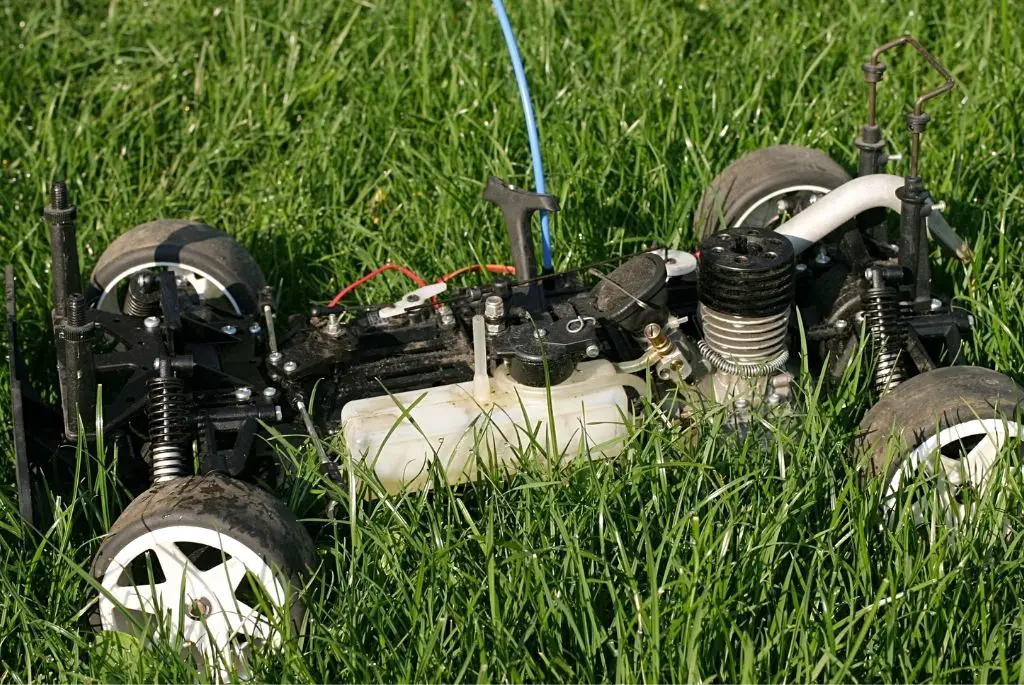 Redcat racing also has a nitro RC called the Volcano S30, which has an outstanding performance with speed and strength. But that's their only nitro powered RC at the moment.
There are some other brands that make nitro RCs, but they aren't as experienced as Traxxas and usually have inferior parts to reduce the price of the vehicle.
The only other thing I can do to convince you that Traxxas nitro RCs are the best is to go through some of their most popular nitro options. So here they are, a few of the best ready-to-run nitro RC cars available.
Traxxas Rustler w/TSM 1/10
The Rustler is one of the first nitro RCs, so the design is solid and reliable. It's rated to go over 50mph and definitely delivers on that.
You could upgrade the exhaust to a CVEC pipe for a better sound and performance later on if you want to, but it's not needed.
Related post: RC Nitro Or Brushless? A Guide To Help You Choose
Another add on you can purchase is a pull-start system. By doing so, you'll decrease the weight of the RC by eliminating the EZ start system. This applies to all the Traxxas vehicles below. The EZ start system is convenient, but there are people who would rather have the weight of the car reduced and not worry about charging the wand up.
Key Features
Powerful acceleration and speeds of 50+mph.
Low-profile body for great aerodynamics and rolling resistance.
TRX 2.5 racing engine.
Includes TQi 2.4GHz radio system.
2-amp DC Peak Detecting Fast Charger for minimal charging times.
For more information, check out the Traxxas Rustler w/TSM here on the Traxxas website.
Traxxas Nitro Slash 1/10
The Nitro Slash reaches super speeds of over 50mph because of its lightweight construction and aerodynamic design. Traxxas made the Nitro Slash with high-quality components, like the race replica SCT wheels and beadlock trim. It has a tuned exhaust with blue-anodized aluminium header.
Related post: How Fast Do Nitro RC Cars Go? (+Top 5 Factors To Consider)
It's a 2WD RC, so the only area where the vehicle won't perform very well is through extremely rough terrain where one or more of the wheels lift off the ground. However, with a heavy-duty drivetrain and rubber-sealed ball bearings, you can definitely race through off-road short courses without a problem. It just doesn't fare well with big rocks or very long grass, for that you should get a monster truck like the ones further below.
Key Features
TRX 3.3 engine for massive power.
TQi 2.4GHz radio system.
A 2-amp DC peak detecting fast charger decreases charging times.
High-flow dual air filter.
See the best deals for the Traxxas Nitro Slash here on Amazon
Traxxas T-Maxx 3.3 1/10
The T-Maxx is the top-selling nitro monster truck on the market for good reason. The T-Maxx 3.3 engine is powerful enough to get over almost any obstacle with ease. Don't worry too much about breaking this car while taking massive jumps, as it has heavy-duty chassis braces, extended chassis, and a transmission skid plate. It's built to take some hard hits.
With the size of this monster truck being so huge, it's not as fast as the Slash or Rustler, but it's only about 5mph away from them. But if you've ever driven a monster truck before, you'll know that they're not built to be the fastest RCs available. They're built to take jumps and fly over other obstacles with ease.
Related post: How Long Will An RC Nitro Engine Last? With Tips To Maintain It
The T-Maxx 3.3 has 6.3″ tall all-terrain tires to make off-roading on long grass and rough terrain easy and extremely fun.
Key Features
Telemetry sensors to monitor RPM, speed, temperature, and battery voltage.
High-torque digital servo.
The front and rear differentials can be fine tuned.
Auto-shifting two-speed transmission for extreme power and speed.
TQi 2.4GHz transmitter with wireless module and receiver.
Click here for the best deals on Amazon
Also here at Walmart
Redcat Racing Volcano S30 1/10
The Volcano S30 by Redcat is such a well-made car, it wouldn't be fair not to include it on this list. One of the main difference between this and the T-Maxx 3.3 is that the Volcano has a single transmission while the T-Maxx has a two-speed transmission. It's around 20% slower than the Traxxas models above. It does have great acceleration, but just can't get to the same speeds that a two-speed transmission achieves.
However, the Redcat Volcano is much cheaper than the T-Maxx 3.3 and there aren't many people that would be disappointed with the performance at this price point.
The Volcano uses a pull start system to get the motor spinning while the Traxxas models above use the EZ start wand.
Key Features
2.5mm 6061 Aluminum chassis for strength.
2.4GHz radio system included.
High-torque servos for the steering and throttle.
You also need to purchase a glow plug igniter and 12 AA batteries to start driving the car.
Check out the Redcat Racing Volcano here on Amazon
Advantages of Nitro RC Cars
You can run a nitro RC all day if you have enough fuel to do so.
Nitro RC cars sound exhilarating for most people. As you drive the car, you can hear the power you're feeding as you speed up.
Many people like the smell of the burnt fuel as it escapes the exhaust.
You have the opportunity to learn a few basic concepts of how combustion engines work.
Nitro RCs are more water resistant compared to electric RC cars.
Check out my article: Can a nitro RC car run on gas?
Disadvantages of Nitro RC Cars
The fuel is expensive compared to charging batteries, especially if you run the RC all day.
It costs more to maintain a nitro RC because the engine is far more complicated than an electrical motor.
Racing indoors isn't ideal and, in most cases, not allowed because of the exhaust fumes it lets off.
It's more difficult to repair a nitro RC and there's more room for error because there are more things that can go wrong, like mixing the fuel incorrectly.
Nitro RC cars are very loud and other people who aren't having fun in the area will complain.
It can be difficult to find nitro fuel in your area, whereas batteries are always widely available.
Conclusion
Traxxas makes the best nitro RC cars. Redcat Racing also makes a good nitro RC, but Traxxas has more experience and far more options available. Traxxas nitro RC cars outperform all other brands that make nitro RC cars.