Over the last two decades, brushless motors have taken over RC boats. First, they were only in specific expensive models, so only a few people could enjoy them. Now, you can find brushless motors as spare parts for unbelievable prices. It's natural to want the fastest RC boats in your group, so you must be wondering which brushless motor is the best.
Based on cost and features, the best RC boat motor is the HobbyKing 2040SL 4800kv. It's versatile, so it can be switched between your other RC goods, as long as they're compatible. For smaller boats, this is the perfect solution to your need for speed on a budget.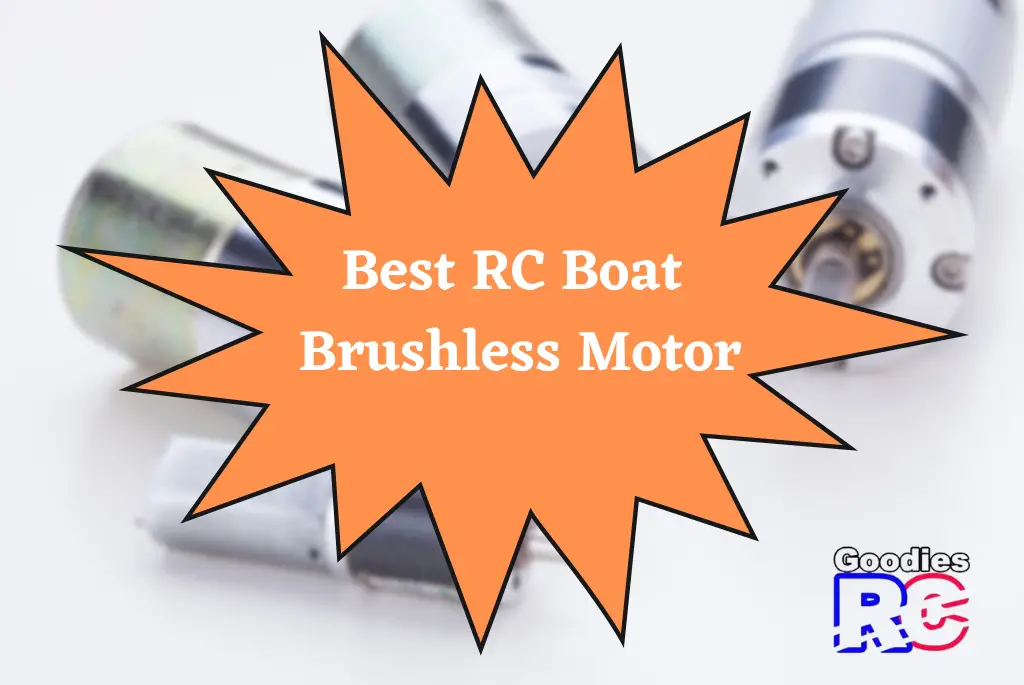 There are some technicalities that you should familiarize yourself with before you buy a brushless motor. You can't install any random motor you find because it can damage your RC boat. This article will teach you about the best brushless motors on the market and how you can choose the best one for your RC boat!
Best Brushless Motors in the Market
There are way too many options for brushless motors nowadays. It's confusing to know which ones are good and which don't work. Rather than putting your RC boat through trial and error, you should make an informed decision. 
You can look for forums, reviews, or youtube videos testing them out, but it'll be challenging to narrow down your options. It could also make the decision process even longer because every brushless motor can sound enticing.
We got our hands dirty, so you don't have to. Here is a list compiled of the best brushless motors based on their performance and reviews:
Note: These are in no particular order.
1. HobbyKing 2040SL 4800kv 
A powerful unit, the HobbyKing brushless motor is a top competitor. It's a straightforward 3-pin connected motor that may be small, but it sure is powerful. 
The recommended cells are 2s, with 3s being its max limit. As long as you consider all the specifications, you won't have a single complaint about this little beast.
5 Reasons to Buy 
1.
Standard Mounting Holes
Allow the motor to be installed in different-sized RC boats. Suitable for those who are unsure about or open to trying different fits. 
2.
Water Cooled
The motor is cooled through water circulation while it runs to prevent overheating or other heat-related damage. It maintains the correct temperature to extend the motor's life.
3.
Spectacular Performance
Your RC boat will be upgraded with a powerful thrust and overall speed. The most significant advantage is that it is a small motor, but it packs a punch, so it's excellent for small slow boats.
4.
Value For Money
Compared to other brushless motors, this is an economical option. It runs long enough for the purchase to feel worth it and compares well against more expensive alternatives.
5.
Highly Rated
Buyers are impressed by the speed and durability of the motor. Those who faced accidents or needed replacements chose to repurchase it again because of its performance.
Features & Specification
4800rpm/v Kv
25.2mm Diameter 
56mm Length
2.3mm Shaft diameter
77g Weight
Battery: 2-3S 2200mAh+
The 2040SL 4800kv Brushless Inrunner is available at hobbyking.com for $25.
2. Surpass 3674 2250KV
Another economical option is the Surpass 3674, a sensorless brushless motor. Its top-tier quality and mechanisms put it up there with leading companies. 
Some of its key features include precision bearings, accurately placed magnets, and balanced rotors. 
5 Reasons to Buy 
1.
Precision Bearings
These can help to minimize noise, heat generation, and vibrations. You get a smooth cruise without worrying about the motor deteriorating. 
2.
Nickel-Plated Rotor 
Provides maximum acceleration, braking power, and performance. It also ensures smooth running in high-temperature environments. 
3.
Hand-Wound Copper
The copper wires are placed by hand to get the maximum fill. This is done with great precision to increase efficiency and power transfer. 
4.
Good Reviews
Customers were satisfied with their purchase. Many gushed about the speed and thrust the motor gave their RC boats. It was noted that water corrosion is a possibility if the windings core is exposed.
5.
Reasonable Price
This motor gives you great value for money for its size and performance. You won't regret this purchase. 
Features & Specification
Kv: 2250Kv
5mm Shaft
305g Weight
Suggested ESC: 120A
Input Voltage: 7.4-14.8V (2-4 cell LiPoly)
Bolt Hole Spacing: 25
Bolt Thread: 3
Connector Type: 4mm Bullet-connector
The Surpass 3674 2250KV is available at hobbyking.com for $28.
3. Turnigy XK2845 3650KV 
Turnigy is a company driven by precision and quality. Their motors are made in-house. So during the production, each component and its installment is checked and approved by them. A budget-friendly option for a premium experience. 
5 Reasons to Buy 
1.
High-Speed
Users found that the motor gave them a lot more speed than expected. As a smaller motor, it still provides ample power.
2.
Tested Components
Each component is tested during the manufacturing process, so you won't be receiving any duds. The company makes its production reliable for complete customer satisfaction.
3.
Durable
Manufacturers have made it sturdy by opting for hand-making aspects. Additionally, the motor doesn't experience thermal cutoffs until you max out the batteries, so it's resilient.
4.
Precision – Balanced Rotor
Superior to standard rotors, this boosts the efficiency and power performance of the motor.
5.
Affordable
The price is just right for this motor since it's jam-packed with high-end features. 
Features & Specification
Poles: 4
KV: 3650
Max Current: 48A
Max Voltage: 16.8V/4S Lipo
Case Length: 46.5mm
Case Dia: 28mm
Shaft Dia: 3.175mm
Total Length: 60.5mm
Weight: 125g
The Turnigy XK2845 3650KV is available on Amazon for $26.
4. Turnigy AquaStar 3650 3500KV
At a higher price point, the Turnigy AquaStar is specially built for high-performance RC boats. It's recommended for Deep-V, Hydro, or Catamaran race boats. 
If the specs fit your boat and are not from the models mentioned, you can still try it out.
5 Reasons to Buy 
1.
Pre-installed Cooler
It comes with a water cooling jacket that is pre-installed to keep the motor from heat damage. So you don't have to go through the hassle of looking for one and fitting it in. 
2.
High-Quality Materials
Made using high-quality Aluminum for the can, high purity Copper for windings, and powerful Neodymium for the magnet.     
3.
Durability
Its materials and construction make it a long-lasting motor. The motor is protected from rusting and damage by the water cooler.
4.
High Speed
For larger boats, a high-performance motor makes all the difference. If this motor is coupled with the correct batteries and such, you will see your RC boat zoom like never before.
5.
Good Rating
Customers were impressed with the performance and durability. Some had to make minor tweaks to get optimal results. 
Features & Specification
Can Size: 540
RPM/v: 3500kv
4 Poles
11.1 (3S) Max voltage
60A Max Current
400w Max Watts
36mm Can Diameter (actual motor diameter)
49mm Can Length
3.175mm Shaft Size
234g Weight 
The Turnigy AquaStar 3650-3500KV is available for $59.
5. XTEAM 3674 1900KV
For a versatile fit, this XTEAM brushless motor is a great option. It works on RC boats and other RC products. 
It's also available in various sizes and KVs, so if you like its features but the specs don't suit your RC boat, you can choose a different version of the same model. The price will change according to the version you choose.
5 Reasons to Buy 
1.
Good Heat Dissipation
The motor's technology ensures that it doesn't overheat by dispersing it effectively. This measure helps prolong its life.
2.
Low Noise
Doesn't produce too much noise thanks to the durability and low friction between the bearings.
3.
Solid Shell
Metal parts provide strength and quality. The bearings, shell, and shaft are all sturdy and long-lasting.
4.
4 Poles Design
4 poles deliver higher acceleration response and stable power output.
5.
Good Reviews
It's tried and tested and loved. Amazon reviews show satisfied customers with different tips and tricks on maximizing the fun out of this impressive motor.
Features & Specification
Material: Metal Max 
Amps: 78A 
Max Voltage: 31V 
Max Power: 2400W KV: 1900KV 
Mounting Hole Depth: 6mm 
Mounting Screw: Φ25 M3*4 
5.0mm Shaft Diameter
Shaft Length: 15mm 
Diameter x Length: Φ36×70mm 
Plug: 4.0mm 
The XTEAM 3674 1900KV is available on Amazon for $40.
3 Factors to Consider When Buying Motors
When looking for any motor to use in a device, the first thing you should think about is compatibility. You won't get your desired results if you don't find the right fit. 
For example, putting a brushless motor into a toy-grade RC boat will work for a little while, but later it'll fry the speed control and battery inside. 
The main attraction for any boat is always its capacity for speed; no one will blame you for prioritizing that. However, as a rule of thumb, the first things you should use to filter out your brushless motor options are the hull size of your boat, the motor's diameter, and the motor's KV ratings. 
Are you building an RC boat? You may want to check out my article: Here's What You Need For Building An RC Boat (Tips & FAQs)
1. Hull Size 
You know that the shape and size of your hull are externally responsible for speed, but they also play an internal role. 
The hull fits all the electronic components of your boat, so space for a different motor can run tight. You can use many online calculators or guides to find the specific motor size for your hull.
Do you have a gas-powered RC boat? Check out my article: Best RC Gas Boat Engines
On top of that, you need to consider if your boat has more than one hull. As the number of hulls changes, the requirements out of the motor change too. If it seems too confusing, you can ask questions in a discussion forum or watch a youtube video.
2. Motor Diameter
Also known as the 'can size,' it is the measurement of the entire motor. Your motor should be physically proportional to the hull. If it's too big, it won't fit, and if it's too small, you're wasting potential. 
Finding the right size can give you optimal performance and won't risk damaging the other components.
For general guidance, here are some measurements for a single motor hull:
28 – 29mm motor size will power most hulls up to 600mm
36mm motor size is good for hull size up to 800mm
40mm motor size is good for hull size around 1200mm 
Any hull over 1200mm will require a 56 – 58mm motor size
I have a whole guide covering how to size a motor for your RC boat
3. KV Ratings
The most technical aspect of changing the motors is their RPM per volt or KV. The KV is essentially the number of times the motor will complete a full rotation per volt of the power used. 
If you miscalculate the KV, you risk overheating or, worse, melting the other electronic components with it. 
Such damage will either result in replacing all the internal parts or changing the boat. To avoid such a mishap, the table below helps you know how many cell numbers require what amount of KV.
| | |
| --- | --- |
| Li-Po Cell Number | KV Range |
| 2 cell LiPo | 2700 – 4725Kv |
| 3 cell LiPo | 1800 – 3150kv |
| 4 cell LiPo | 1350 – 2365Kv |
| 6 cell LiPo | 900 – 1575Kv |
| 8 cell LiPo | 675 – 1185Kv |
Source: Radio Control Info
Why Should You Choose Brushless Motors? [5 Advantages]
The main difference between Brushed and Brushless motors is, as the name suggests. 
Brushed motors use a carbon brush in contact with the spinning commutator. This constant friction generates heat and a loss of efficiency. 
The brushless motors don't use these carbon brushes, and the advantages are mentioned below:
1. Faster Speed
The most significant advantage of brushless motors is their speed. 
All motors are designed to reduce friction between the parts inside, to lower inefficiency and the heat produced. 
Brushless motors can also take on more voltage, thus increasing their power. You can max out the speed of your RC boat as long as you like without worrying about overheating or downtime.
2. Less Maintenance Required
With a brushless motor, you can forget the headaches of a brushed one. You won't have to constantly keep the motor clean or replace the brush when it's damaged. That can save you time and money since you won't have to stock up on spare brushes. 
Additionally, you won't be disturbed mid-cruise when the brush gets damaged and cuts your trip short. 
3. More Durable
Since the wear and tear of the motor are reduced because there is no friction, it has a much longer life than other motors. 
By simply keeping a check on your usage and other electronic components, your boat could work for a few years without needing replacements. So, even though the price is high, you can consider it an investment. 
4. Handle Higher Voltage
Brushless motors are designed to take on higher voltage and produce more speed with it. It doesn't overload the motor nor exhaust the battery inside. 
Also, the permanent magnets rotate in these motors, and the armature remains steady. This positioning gives higher efficiency to the transferring of current.
5. No Downtime Required
Some RC boats require downtime while cruising because they get overheated. This heat is created because of their brushed motor, where the bristles experience friction and generate heat. 
Since a brushless motor eliminates the main culprit, the brush, you can zoom around as long as you like. No mandatory breaks for you!
FAQs 
Q. Are All Brushless Motors Faster Than Brushed Motors?
Typically, all brushless motors are faster. Unless a brushed motor has specific customizations that improve its speed, it won't be faster than a brushless motor.
 That being said, it is impossible to change the internal workings of a motor from an RC boat. You can change the pairing of other components to better complement the motor. 
Q. Can You Install A Brushless Motor Inside An RC Boat?
It is possible to change the internal components of most RC boats. You can change your boat's original motor and replace it with a suitable brushless motor. 
Just make sure you consider the hull size of your boat and the KV number on the motor. If you use a random motor, you could end up damaging your boat.
Q. Are Brushless Motors More Expensive Than Brushed Motors?
If you're buying an ordinary brushless motor, then you'll find it in the same price range as a brushed motor. However, the price will be higher if the motor has unique specifications and outstanding performance. Generally, you should consider buying a standard brushless motor over a brushed one for the same price. 
Final Thoughts
Most boat warriors use brushless motors when building their boats since they operate best. The best brushless motors available in the market are mentioned in this article. Ultimately, It's your judgment on what motor suits your boat's functional requirement. So, remember the main points in this article, and then do your research before you make your purchase!