There are many instances where building something yourself will save you money. But building an RC car will usually cost you more than buying one pre-assembled. I'll explain why.
It's not cheaper to build an RC compared to buying a ready-to-run RC because upgrade kits and spare parts are sold to improve your existing rig. These parts are usually high quality, better material, and intended to replace weaker stock parts that fail.
If you already have a battery, motor, chassis, radio or other RC parts, you could buy an RC upgrade kit for $200 to $400 and have a fully working car, but that will depend on what you already have to put into it.
For a hobby grade RC, you'll need at least $300 to $500 to buy all the components required. But you can buy a fully assembled hobby grade RC car anywhere from $100 upwards. The quality of the parts in the upgrade kit will be better than a hundred dollar RTR but not cheaper.
So, just because you can save money buying a ready-to-run vehicle, doesn't mean you should. Fully assembled RCs are best for people who just want to have fun. Building an RC from scratch is perfect for RC hobbyists that want to know everything there is to know about the sport of RC cars.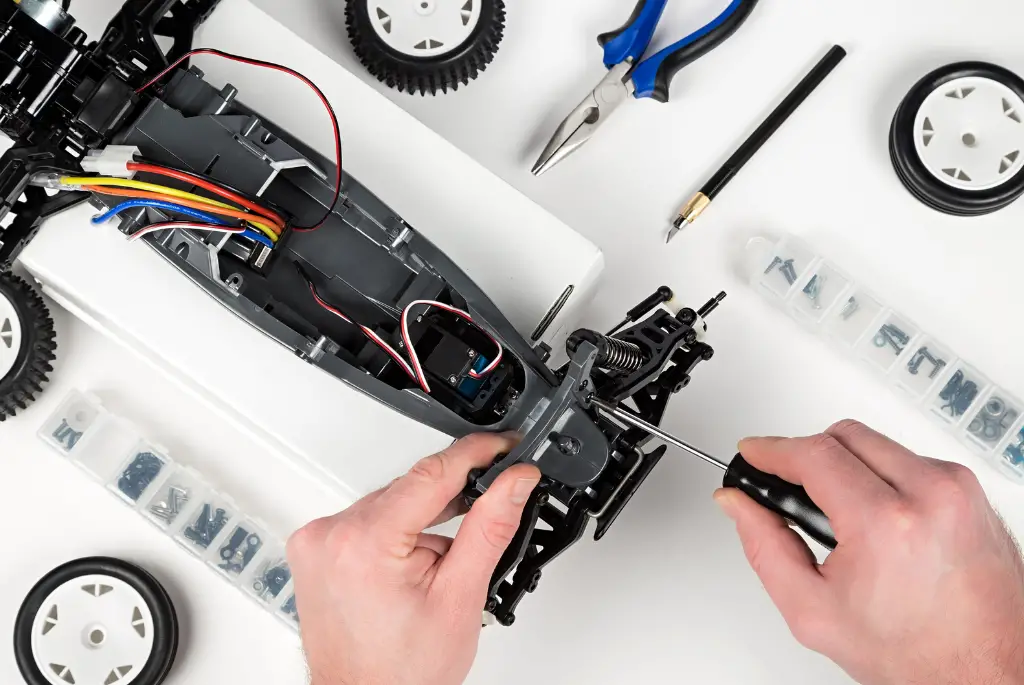 Building An RC Car
Here are the main reasons you should buy the parts and build the RC yourself.
Advantages
Gain knowledge of how the RC works
If you build your own RC car, you'll learn a lot about how the car works and how to fix it if something goes wrong. If it stops working or makes unusual noises, you can take it apart to see if everything looks the way it did when you put it together.
You'll learn how to mesh the gears properly, assemble and oil fill the suspension: See my guide to RC shock oils , how the steering works: See my guide to how RC steering works, and more. None of it is rocket science, but like most things, you only know how to do it once someone shows you.
Higher quality parts
Upgrade kits and RC parts that are bought individually are usually higher quality than stock standard parts in ready to run cars. RTR options usually have a lot of plastic parts to save on costs to make the overall price lower.
Related post: Pros And Cons Of RC Cars: Every Style Included
Easy and fulfilling
It's very simple to put everything together thanks to the detailed assembly manual. You'll feel a sense of accomplishment after building it and you'll value it more because you invested time into building it.
Disadvantages
The major disadvantage of building an RC from upgrade kits and spare parts is the fact that it's more expensive than an RTR RC. But here are some other disadvantages to note as well.
Takes hours to build
If it's your first time building an RC, it could take an entire day to put the car together.
If you give the RC to someone on their birthday, they won't be able to drive it on the same day unless they spend their time building it.
Complicated for children
Most children under the age of 16 won't be able to assemble the RC perfectly by themselves. Of course, there are always exceptions, but even if you have confidence in your child's technical skills, you'll still need to supervise the entire process just to be safe.
Take a look at my article: 9 Reasons Why RC Cars Are Good For Kids
Compatibility issues
Some RC parts aren't compatible with others, for example, you might buy a receiver that's not compatible with the transmitter you choose, or the servos might not be compatible with your receiver.
Higher chance of missing parts
I've noticed quite a few people having issues with manufacturers because of missing parts. Parts that are listed in the kit but not included. The chance of missing parts in an RTR vehicle is highly unlikely.
If you're a beginner, you might forget to buy a radio system because it's not listed in the "parts required to complete" section.
Don't forget to buy a charger for the batteries.
It's very easy to forget 1 or 2 parts if you're building the RC yourself. Create a checklist of everything you need and go through it methodically.
All Components Required To Build An RC Car
Below, you will see all the parts that you might need to add to your kit. You will see that I've linked to Amazon pages in each area. This will also help whether you have an RTR that you're thinking of upgrading or one part of an already assembled kit to give you an idea of the cost involved in that area.
Disclosure: I am an Amazon affiliate. For any of the purchases you make from clicking one of my links, I will receive a commission, at no extra cost to you. Any revenue made will help me keep this site going and make a bigger resource for everyone that's involved in this great hobby.
Body
The body does more than just make your RC look cool. It protects all the electronics by keeping them out of the sun. It also helps to decrease the amount of dirt that lands up all over the electronics. The body protects the rest of the RC when it crashes and rolls.
To give you an idea of the cost to buy a new body for your RC car or truck, click here to see a range of bodies from Amazon.
Chassis
The chassis is what you're going to mount everything onto. Some chassis can accommodate big motors and batteries while others have little space. It's important that you have a good quality chassis to avoid struggling with assembly. Make sure that it will accommodate the exact parts you plan to mount.
See some chassis prices here from Amazon
Motor
The size of the motor depends on the size of your RC and how you would like it to drive. Brushless motors are excellent at providing loads of power with minimal wear and tear, while brushed motors are far cheaper but may need replacing sooner.
See this range of different motors from Amazon here, to give you an idea of the cost involved to buy a motor or upgrade to a superior one.
Rims and Tires
Choose light rims and knobby tires if you plan to drive in the dirt and sand. Slicks will get you the most traction if you plan to race on pavement. Most short course RCs use a combination of the two.
Wheels on Amazon.
Tires on Amazon.
Suspension
If you're building a rock crawling RC, go with soft suspension. A firmer suspension will serve you better at high speeds and flat surfaces. Of course, there's always a balance that will suit your driving needs. Oil filled shocks absorb impacts better than air-filled shocks. Most budget RCs don't have oil filled shocks.
RC car shocks on amazon.
Batteries (Radio and Car)
You need to select the right type of battery for your rig, which will either be Li-Po or NiMH. Make sure that all the electronics are compatible with the type of battery you choose.
Check out my article: Will A Lipo Battery Make My RC Car Faster?
The radio normally uses four to eight AA batteries that you'll have to replace every time they run flat.
RC Car Batteries on amazon.
Charger
Just because you buy a battery, doesn't mean you get a charger with it. You'll need a charger for the type of battery you chose for the car. Depending on the battery, you could also select a fast charger to decrease down times.
Battery chargers on amazon.
Radio / Transmitter
The radio control is one of the most important parts of the rig because every move the RC makes is a reaction to how you handle the controller. It sounds obvious, but if you aren't happy with how your controller feels, you won't be happy no matter what car you have.
RC Radio system on amazon.
Receiver
The receiver goes inside the RC and takes orders from your radio to control the servos. The servos then steer the car and move it backwards and forwards.
Receiver on amazon.
Steering and Throttle Servos
These are the electronics that turn your wheels left or right and control your throttle.
Please check out my guide on how to choose a servo for your RC car
Servos on amazon.
Gears
The price of RC gears depends on the material it's made from. Metal gears are far better than plastic, but will cost you a lot more.
RC car gears on amazon.
Ready-To-Run RC
There are many benefits to buying an RTR RC, especially if it's your first RC car or if you're buying it for a child. But keep in mind that some RTR options might not come with a battery and charger. That's something you'll have to confirm even if they advertise the car as ready-to-run.
Advantages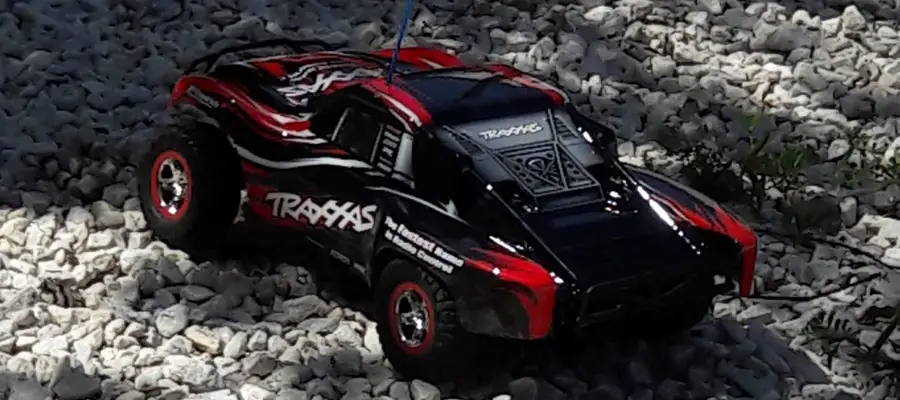 It's cheaper
A fully assembled RC is cheaper because it's sold at a bundled price and has low-cost parts included.
Convenience
You can start driving the RC as soon as you've charged the battery. So if it's a present for a child, they can play with it on the same day that you give it to them.
Guaranteed compatibility
The radio, servos, batteries, motor, and everything else that makes up the RC are guaranteed to be compatible with each other.
Disadvantages
Before we get into the details, I'm not saying that all RTR cars are bad, but I'm comparing them with upgrade kits and parts in terms of their quality.
Inferior parts
Even some of the most expensive fully assembled RCs have some inferior, plastic parts in them. 
Less knowledge about your RC
You won't understand the inner workings of the car. So if it breaks down, you might need to take it to your nearest hobby shop to find out what's wrong, even if it's something very basic to fix. Putting the vehicle together gives you confidence to take it apart anytime it doesn't run properly.
Conclusion
So it's not cheaper to build an RC car compared to buying a fully assembled one. The benefits of building an RC are that you get higher quality parts while learning about how everything works together. Building an RC car means that you'll have a custom rig that will perform exactly how you want it to if you know which parts to combine.
But you won't be able to select all the best parts if you have no experience with RC cars, so if you're new to the hobby, I suggest you buy a ready-to-run option for a couple of hundred dollars before buying all the parts to build one yourself.