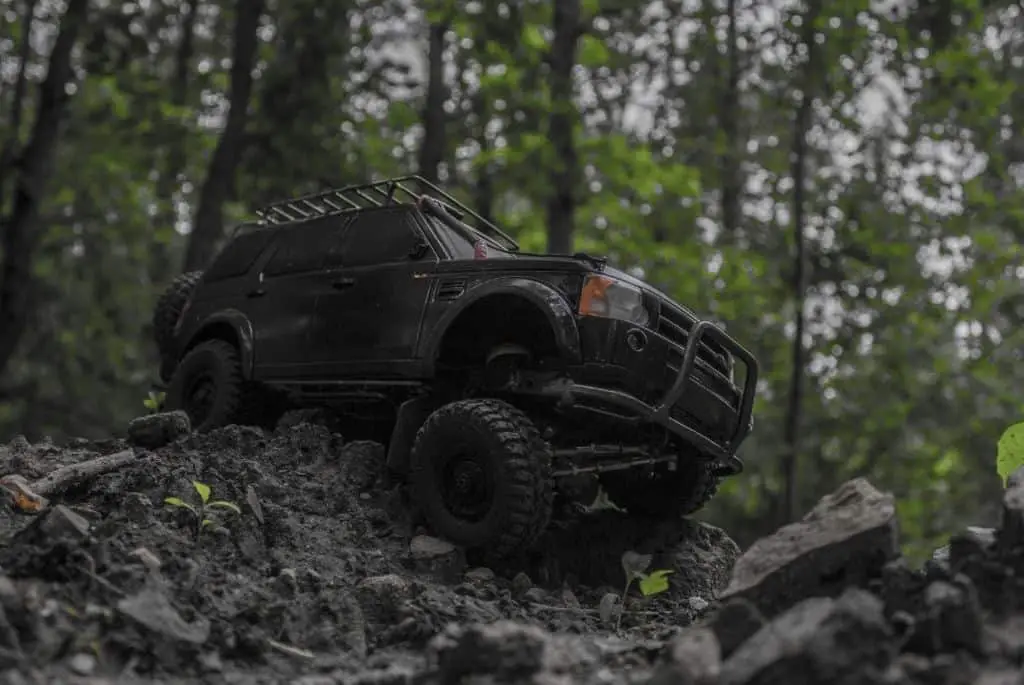 RC cars are fun to play with in general, but what about RC rock crawling? Is crawling as fun as racing on smooth surfaces? We think so.
RC rock crawling is very fun for many RC enthusiasts. It isn't fast paced, but it takes a lot of focus to get over the obstacles. You don't need much space to build a course for yourself with rocks and sticks. If you're far away from any smooth tracks to race on, rock crawling is a fun alternative.
RC crawling is fun for people who like to build things, like obstacle courses. Many people build courses in their yards and then invite their friends over to see if they can complete the course.
The course builder starts off by running through the course without trying to get the best time, this is just to show the friends one way to complete it.
Most professional rock crawling events work on a points system, the lower your score, the better, final scores in the negative are possible and are indicative of a good run.
Negative points like -10 are given for clearing different sections of the course. At the end of each obstacle/section, there'll be two gate markers you need to pass through without touching. Making contact with gate markers is one of the ways in which you'll add points to your score.
Sometimes there are time limits for the course, but for the most part, you'll have plenty of time to take it slow and steady all the way.
RC Crawling Is Mentally Stimulating
Trying to figure out how to overcome different obstacles trains your brain to become better at problem solving. It also boosts your basic understanding of physics, as you witness every movement of your crawler.
Speed courses
You can build courses that are easy to get through with low speeds but more difficult if you go too fast. This is a fun way to compete with your friends to see who can find the best balance between speed and control to get the best time.
Challenging courses
You can build courses that are almost impossible to get through. You could have 10 to 20 areas that are difficult to get through. The beginning of the track should start out with minor obstacles that are almost too easy, this is just to warm your thumbs up. The point should be to see who gets the furthest, not the time it takes to get through.
How To Build A Crawling Course
Obstacles 1 to 4 should be easy:
The first section can be as easy as driving in a straight line. After that, you can create tight corners for the crawlers to slowly navigate through. The most difficult obstacle in the beginning of the course could be a fixed bridge that must be crossed.
Related post: How To Break In RC Crawler Tires
Obstacles 5 to 10 should be average:
Average difficulty obstacles could be areas where the course gets tighter in terms of space to move around. A little too much either way and the RC could fall off the tracks. Examples are narrow fixed bridges with inclines and other narrow paths.
Obstacles 11 to 16 should be very difficult:
This is where points added against your score become more frequent. Obstacles like suspended bridges that move, steep inclines directly followed by steep declines. Big rocks can be laid out as well as wooden logs. This area should cause the RC to rollover or get stuck easily.
Obstacles 17 to 20 should be almost impossible:
In this area, the course should give the driver a difficult time with sneaky tricks like water hazards just before smooth rock obstacles so that the tires lose traction on the rocks. Another tricky obstacle could be two ropes suspended for the RC to roll over. Many crawler tires have deep grooves in the center of the tires where the rope can fit in.
Counter-weight bridges are also quite challenging, especially if the driver goes too fast. Ice obstacles can also be made a part of the course. Deep water hazards are difficult to pass and suitable for this final area.
How to make an ice hazard
Making an ice hazard couldn't be easier in the winter. Just leave a pool of water wherever you'd like the ice to be (like in front of narrow gates) The water will freeze overnight in most winter conditions.
You can make ice hazards without cold weather, all you need is some space in a freezer and baking trays. Leave a couple of baking trays with water in the freezer overnight, then carefully remove the ice and place it wherever you'd like on the course.
The ice will melt in 30 to 60 minutes depending on how hot the weather is.
How to implement an ice hazard
The best place to put ice hazards is just before narrow gate markers or just after steep declines so that the driver is going faster just before hitting the ice.
Related post: What's The Point Of RC Rock Crawlers? Let's Find Out
How To Score Performance
The performance is scored based on how well the driver completes the areas without touching gate markers, rolling over, getting stuck, reversing, repositioning car, etc. For Example:
Touching gate markers: +10 Points
Rollover vehicle: +5 Points
Touching vehicle for any reason: +10 Points
Travelling out of bounds: +10 Points
Reversing: +1
Clearing a gate without touching: +20 Points
Some people like to add the minutes it took to complete the course to the overall score. 14 minutes to complete? 14 points towards the score. Remember, the lower the score, the better.
Advantages Of RC Rock Crawling
No matter the weather, you can rock crawl right throughout the year, even if it's snowing.
RC crawling doesn't make a lot of noise. So you won't be disturbing anyone.
You don't need a lot of space to make fun obstacle courses.
More room for creativity if you enjoy building courses.
Rock crawling helps your brain become more efficient at problem solving.
Less maintenance required because of the low-impact crashes.
Why Is RC Rock Crawling Less Popular?
Rock crawling is simply less popular because it doesn't have much spectator value. As a spectator, you couldn't really care if the RC tips over while attempting to cross a rope bridge. But as the driver, every movement of the vehicle is a reflection of how you're handling the delicate process.
Spectators can't fully understand what you're going through as the driver and can only see the end result, which is a slow progression over obstacles.
Crawling VS Racing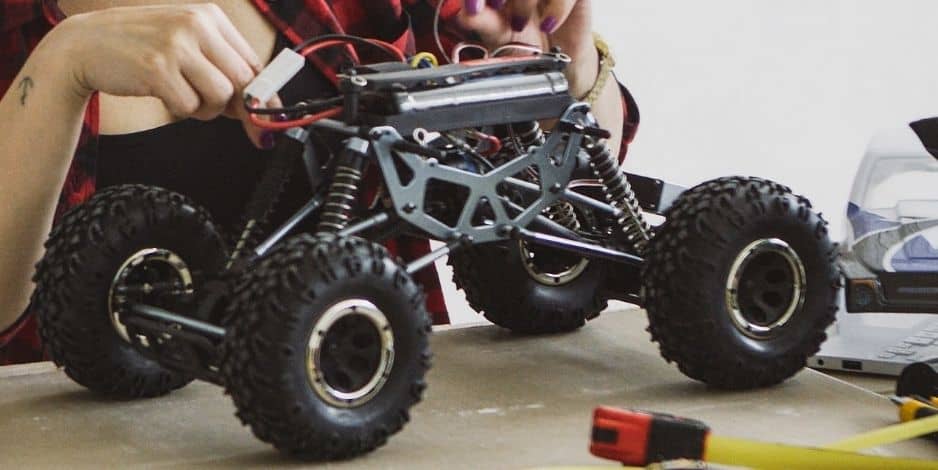 You can easily compare RC crawling and racing to full scale crawling and racing. There are more fans of racing cars than crawling. But there's still an enormous fan base for rock crawling, and most of them will never lose their passion for it.
Which Is The Best RC Rock Crawler?
This type of question always depends on how much money you have to spend, so we'll give our opinion of which RC crawler is the best without a spending cap and which RC crawler is best on a low budget.
Traxxas TRX-4
In terms of the absolute best performing RC rock crawler with no budget limitations, the Traxxas TRX4 is the best RC crawler in our opinion. You can modify this crawler to your heart's desire with hundreds of modification kits available from Traxxas and other manufacturers.
It uses portal axles to create huge ground clearance and greatly reduce chassis torque twist. It has lock differentials for ultimate stability on rough terrain. The powerful 21T Titan 550 motor is perfect for crawling and accepts 6 or 7 cell NiMH batteries. 2 or 3 cell LiPo batteries also work.
If you want to rough it up in the sticks and stones with water hazards as well, the TRX-4 will get you through it. The electronics are waterproof to overcome water hazards without short circuiting.
You can check out the Traxxas TRX-4 on Amazon by clicking here
Danchee RidgeRock
The Danchee RidgeRock is perfect for anyone who's looking to get into rock crawling without spending too much. This RC rock crawler is just over $100 and for the price, it's really capable.
It's a 4WD rock crawler with a 4 wheel steering mode (Two steering servos).
A lightweight chassis makes it easier to ascend obstacles. The motors are mounted on the axles, which balances the weight out nicely. It also uses a multi-link suspension for extreme stability. Aluminum capped oil filled shocks give it the smoothest suspension on any RC in its class. Almost everything is tunable so that you can change the RC to the course you're about to tackle.
The Danchee uses 2 brushed electric motors that are very capable of low-speed power but also fast enough to have fun on a less challenging course.
This RC includes a 7.4v 1500mAh Li-ion battery, all you need to do is get the AA batteries for the transmitter.
You can check out The Danchee RidgeRock on Amazon by clicking here or on Redcat Racings official site by clicking here
How Fast Is A RC Rock Crawler?
RC crawlers only travel between 5 to 20mph, and 20mph is pushing it to the limit in many cases. RC Rock Crawlers are built for stability and control to get over obstacles at low speeds. You can modify some crawlers like the TRX-4 above to make it go over 50mph, but then crawling is out the window as you will lose delicate control of the vehicle.
What Is A Good RC Crawler Motor?
There are many reputable RC motor brands available. Holmes Hobbies and Team Brood are both good brands that make strong RC crawler motors. 
This motor by Holmes Hobbies on Amazon is ideal for newcomers to RC crawling.
Is Brushed Or Brushless Better For Crawling?
Brushed motors, although an older technology, are well suited for rock crawling. This is because brushed motors have excellent low-speed control. Brushless motors provide more power, speed, and energy efficiency, but they are more expensive and the low-speed control of brushed motors work perfectly for RC crawlers at a cheaper price.
Conclusion
RC rock crawling is loads of fun for certain people, us included. We enjoy it for all the reasons mentioned in the beginning of the article. Challenging your friends with certain strategies on how to get through a course. It's a more peaceful experience compared to racing around ramping over hills and so on.
Rock crawling is low on noise and you don't need much space to have fun. It also allows you to be more creative while building your courses out of everything you can put together.
Rock crawling isn't as popular as racing because crawling is less of a spectator sport, although some people like spectating, most don't because of the slow pace. However, the slow pace doesn't take away the excitement of the competitors, because their skills are on the line.
Rock crawling is good for the brain as it forces you to solve problems and observe natural forces like gravity and how it affects your RC depending on the centre of gravity.
You'll learn how better tires help you to get over tricky obstacles and may even learn some tricks that you can implement while off-roading with your actual truck.
It really depends on the person, but as they say, don't knock it until you've tried it, so even if you just try it out with a friend's RC, at least you can say you gave it a go.