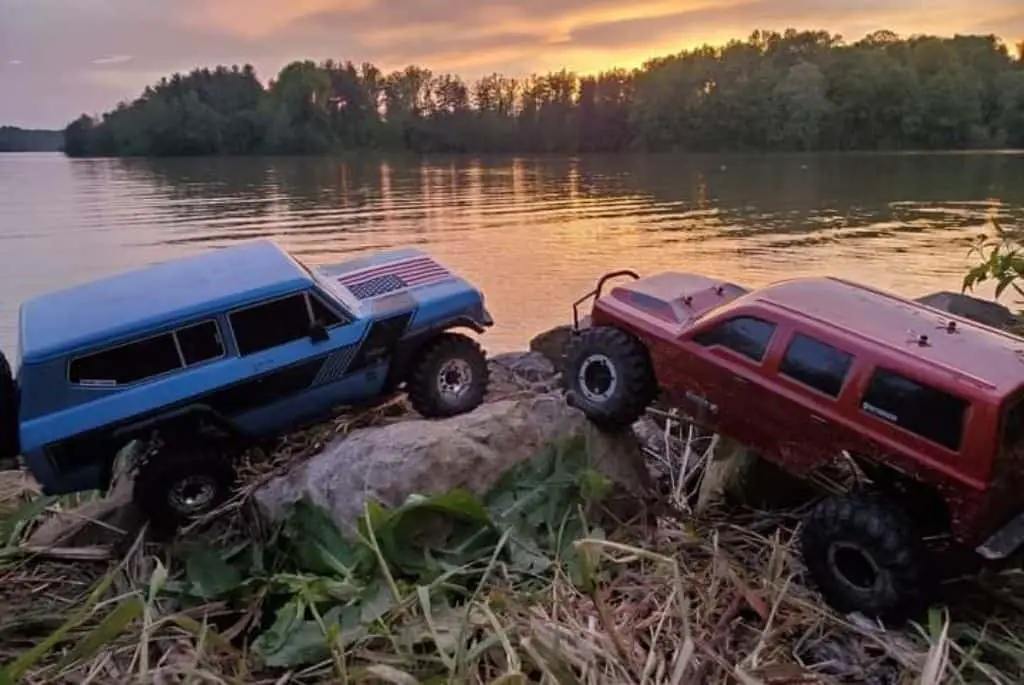 With so many RC manufacturers these days, it can be challenging to find the right one for you. Obviously, if money isn't a problem, you could just go for a top of the range Traxxas for guaranteed quality and exhilarating performance. But what if you're on a budget and want to get the most value for the money you have? Redcat Racing might be the brand for you.
Redcat is a value for money RC brand. They started up the business with a key concept in mind, outstanding performance at a fair price. There were some learning curves in earlier years, but nowadays, Redcat produces quality RCs at multiple price points and has excellent customer support.
Redcat was founded in 2005 and have always treated their customers with great respect. Ordering spares is never a problem if you want to upgrade your vehicle or replace a damaged part.
They might have had a few problematic models when they just started out, even maybe for the first 5 years. But over the years, they have really taken note of what customers want in an RC, whether it's low, medium, or higher end models.
The best way to show you that Redcat is producing some exceptional RCs is to give you examples. These are some Redcat models that are fantastic value for money and have very high customer review scores.
For a large selection of Redcat Racing RC vehicles and accessories, you can check their price on Amazon here
Danchee RidgeRock
We don't think you'll get a better rock crawler in this price range, and that's the great thing about Redcat, value for money. If you ever need part replacements, you shouldn't have a problem with this model.
This is a 1/10 scale rock crawler with front and rear multi-link suspension. It has front and rear transmission, two high-torque electric brushed motors (front and back axle motors) and multi-select 4 wheel steering.
You can select to steer the front or back wheels independently or simultaneously to get you in or out of any sticky situation, all from the transmitter while you're crawling around. It doesn't lose control on steep downhills like some cheap rock crawlers do, it holds steady.
The shocks are oil filled and perform very well, smooth and steady. The articulation of this crawler is absolutely amazing and will get you through the most rugged terrains with ease.
Another significant feature in this model is the beadlock rims, which are ideal for rock crawling. You don't have to worry about your tires coming off and then re-gluing them. The tires are also soft and grippy, just like you'd expect from a quality rock crawler.
For full specs and current pricing, check this model out here on Amazon.
You can also check the price on Redcat Racing's official website by clicking here
GEN8 Scout II Axe Edition
Here's a bit of a higher end crawler model from Redcat that won't let you down. Of course, it's based on the previous GEN8 but with a few upgrades to resolve some issues people were having.
The body looks a bit more visually appealing to most people, with no side windows and no solid roof top. They've also changed the motor to a slightly smaller Hobbywing Axe 540 2300KV motor for excellent acceleration control and braking. It's very durable and will travel through sand, water, snow and mud with little trouble.
It's fitted with a reefs RC 422HD V2 metal gear waterproof servo that performs exceptionally.
Another upgrade from the previous model is the fly sky GT5 6 channel radio. This radio is such high quality, it easily competes with other radios at twice the price.
The axles are increased in strength compared to the previous GEN8 and won't break as easily, and it also has an all-metal drivetrain.
Here are the latest deals and more detailed specifications on Amazon if you're interested.
Volcano EPX
If you're looking for a monster truck option, this is a tried and tested model that won't let you down. It's a 4WD truck with a lightweight molded plastic chassis and aluminum capped, oil filled shocks for durability and stability.
It has front and rear gear differentials and a tunable suspension, adjustable ride height, tunable shocks, tunable gear differentials, camber, and tow angle. As you may have picked up, this is a very customizable truck.
The tires have an aggressive tread, and grippy compound to handle the off-road conditions very well. Be careful not to accelerate to fast over ramps as it's very easy to flip. At the top of the ramp, ease up on the throttle. This model has a low center of gravity to prevent rolling, although any RC can be rolled if pushed hard enough while cornering.
To see the full specs of this popular Redcat model, check it out on the official Redcat website.
To check out the Volcano on Amazon, you can see it here
TR-MT10e Monster Truck
Another excellent 1/10 Redcat monster truck option. It has a waterproof 80A ESC and waterproof high torque steering servo.
It performs exceptionally on gravel, sand, snow, and almost any other surface you place it on. Although you might have it bouncing around to vigorously over big rocks or other obstacles.
You'll get decent speeds of up to 60mph. Acceleration and handling is fast and reliable. Power sliding on the dirt is also loads of fun with this RC, but be careful not to turn too quickly on grippy surfaces where it's very easy to roll.
One thing we suggest is getting some bumper guards to protect that plastic bumper in front, otherwise it's going to take a beating when going over rocks and other objects.
Check it out on the official Redcat Racing website.
Redcat Rampage MT V3 Gas Powered
If you're looking for a big, gas powered RC, Redcat has you covered. The Rampage is a beast with a 2-stroke engine and large fuel tank to keep you going for longer.
Redcat didn't hold back with this model, as it has all the high-end features you'd expect at this price range. Threaded aluminum oil filled shocks, aluminum chassis, dual steering servos, and ball bearings all throughout the design.
Of course, everything is adjustable to suit your exact driving conditions. The tires are huge, just like the vehicle itself, which is a ⅕ scale. It has beadlock rims, which is appropriate for such a huge and powerful RC.
The engine uses unleaded gasoline and must be mixed with 2-stroke oil as per the manual.
Have a look at the full specifications on the Redcat website.
Conclusion
It's fair to say that Redcat Racing had some poor quality RC models in their first few years of production. To be fair, they were trying to provide customers with budget RCs at the lowest prices possible.
There are many low priced RC options from Redcat that perform better than any other RCs in the same price range. Basically, you can't expect an RC to perform with no problems in the long term if you paid little for it. Lower priced RCs have to be driven with more care just like any brand.
Having said that, Redcat Racing also offers high-end models that will blow you away with performance and durability. You basically get what you pay for, which is good if you don't have loads of cash to drop.
The few options that we have listed above are great examples of some low end models and a couple of higher ranged models.
One thing that must be said about Redcat Racing is that their customer support is exceptional. They are always ready to assist you with any problem you may have. Spare parts are also usually no problem to get your hands on. If you want to upgrade certain components on your RC to make it stronger or faster, you usually can.
Redcat just needed a few years (2005 to 2010) to learn about what makes a great RC and to deliver exactly what customers need and want without them breaking the bank.
With just over 15 years in the RC game, we believe they have proven themselves worthy at this point and no matter which model you go for, you are going to get your money's worth.