Most beginner drone hobbyists try and find an affordable drone option that doesn't hurt the pocket too much if the Drone crashes and burns on its maiden flight! Of course, the chosen drone needs to deliver on certain minimum features to make it exciting to fly and give acceptable aerial photographs! 
The best cheap drones for photography on the market currently are
RyzeTech Tello – the best cheap drone overall
Holy Stone HS100 GPS FPV – the best cheap drone for aerial photography beginners
UDI U818A FPV Drone – the best larger drone for outoors
The hobbyist's drone market is flooded with drones of all shapes and sizes, from the easy-to-fly backyard model to the biggest and best with all the bells and whistles that money can buy. Drones have various features, but the most exciting for the beginner hobbyist is the camera function. This article will review some of the best budget photography drones currently available on the market.
Click here for a wide selection of highly rated photography drones, all under $150, on Amazon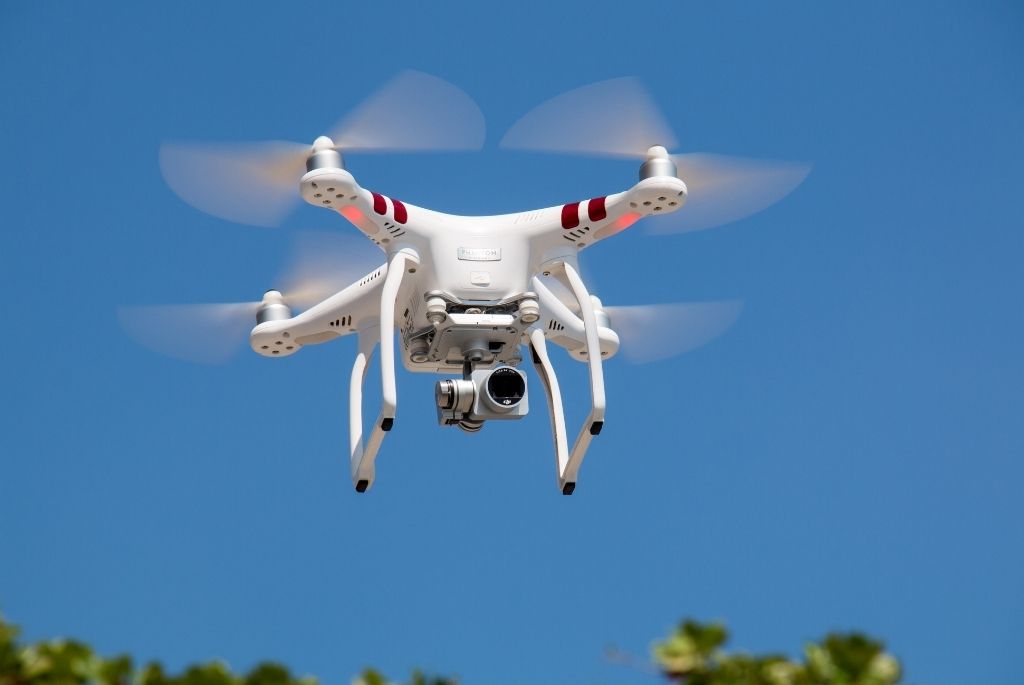 How To Choose The Best Budget Drone
As mentioned, there are so many different types and styles of Drones available, so how will you know which one to choose and that it is the right one for you? Depending on your requirements, you might need to spend a bit more now to avoid paying more down the line on a budget drone that does not meet your requirements.
Drones are pricey, so the very first consideration should be your budget. Here is a short breakdown of the Drones that you can find online at today's prices:
Up to $60.00 – limited features, very basic camera, basic build and flight control, very little stabilization
Up to  $150.00 – a basic camera, mobile app controller, better flight features
Up to  $250.00 – higher resolution camera, dedicated controllers, motors better suited for outdoor flight
What type of camera do you need? Cameras with low resolution will provide impressive aerial shots, but drones without any stabilization will make the photos pretty shaky
What flying range are you expecting? Most models can fly for up to 30 to 40 meters with a battery life of 8 to 13 minutes. Some models include rechargeable batteries
Where are you going to fly them? Small drones can be swept away by strong winds, so if you live in a very windy area, a larger, heavier Drone might be better; otherwise, you could be replacing your Drone more often than you had planned!
Before buying any drone equipped with a camera, check your local codes and the Civil Aviation Authority website for the latest regulations. You will have to include these costs into your budget before deciding on which Drone to buy.
3 Best Budget Drones For Photography
Budget prices do not always mean cheap products. Do your homework and research the best Drone that you can get on your budget. Compare all the drones within your price range as although the price might be right, the specs might not be what you are looking for.
The same brand might have a better model with better specs, costing slightly more than you have already budgeted. It might be better for you to spend a little extra on a better product in the long term.
These are the best and cheapest budget drones on the market today:
1. RyzeTech Tello
This mini Drone has to be the best cheapest Drone available! With a maximum flight time of around 13 minutes, DJI's flight technology allows you to perform astonishing tricks while taking amazing photos!
Equipped with a 5MP camera, the high-quality image processor shoots incredible photos and HD720 resolution videos! Video transmission is extra stable because of the two antennas, while EZ shots allow you to share your videos directly onto social media from your smartphone.
This lightweight drone only weighs 80g (2.82 ounces), so it can get tossed around by the wind, affecting the output of your video, but this mini Drone is super steady in zero wind conditions.
Included in the price:
RyzeTech Tello powered by DJI
1 x Pair Propellers
1 x Propellers removal tool
1 x Set Propeller Guards
Battery
Micro USB Cable
Excluded but necessary:
Remote Control (You can use a smartphone to control the Drone)
Extra batteries
Optional extras:
Available here from Amazon
2. Holy Stone HS100 GPS FPV
This is the ideal starter drone for the novice hobbyist, designed to introduce the novice to drone photography.
A larger drone weighing 700g (1.5 pounds), it can withstand strong winds and is perfect for flying outdoors. As drones go, this one has everything you need – speed, excitement, a longer flying time, and long-distance control with an onboard Wi-Fi-enabled camera.
GPS-assisted flight function allows you to keep track of your Drone while the built-in return-to-home (RTH) function will return the drone home when the battery is weak or when the Drone flies out of range – you will never have to worry about losing your Drone!
Included in the price:
2K Optimized 120-degree FOV PFV 5GHz Wi-Fi camera for high-quality video and aerial photos. 
Pre-assembled foldable propellers
Landing Gear
350mAh high-performance Battery 
Removable blades
Remote control
Features:
Real-time viewing from your remote control
Follow Me Mode allows the Drone to closely follow you, capturing your every move, providing hands-free flying and great selfie opportunities!
Headless Mode and Altitude Hold allow the pilot to focus on the epic shots and videos they capture!
VR or first-person view compatible – goggles are not included, but the functionality is available to buy those goggles!
Available here from Amazon
3. UDI U818A FPV Drone
The U818A is a larger Drone weighing 346grams (12.2 ounces). The circular built-in rotor blade guards account for most of the weight, but these are necessary to protect the blades from being damaged. 
The Drone is constructed from lightweight plastic and flies well. Although it is not very fast, it is maneuverable and pretty stable, great for recording videos. The camera hangs from the center of the drone and can be manually angeled.
The camera can record video at a resolution of 720p, which is stored on a microSD card that fits onto its back. A remote control unit or a Smartphone controls the Drone with 8 to 10 minutes of flying time from its 350mAh battery.
Included in the price:
6 Axis Gyro
1 MP HD Video camera
Remote control
2 Batteries
Excluded but necessary:
Batteries for the controller
Micro SD memory card
Optional extras:
Available here from Amazon
Conclusion
As a beginner in the drone market, you should research and find the best choice for you and your budget.
If you can, visit a club or your local drone store to see what each drone looks and feels like before taking the plunge and buying a new drone.
Buying a cheaper budget or even a second-hand drone might be a better option for any beginner to start flying. 
Starting with a budget drone lets you get a feel for flying and filming simultaneously and perhaps crashing cheaper models before moving on to more expensive models as an experienced flier!
(Links to Amazon)
Here are some more drone photography related articles that may be of interest;