You need to do your research when choosing an RC drift car because so many options have "drift" in the name when they don't even have the power to drift properly. Some of the best RC cars for drifting don't directly mention it in the specs or title. In this article, I'll introduce you to a few of the best options and give you the knowledge required to select the right one.
The Traxxas Slash 2WD is a good RC drift car on dirt because it has a powerful motor and highly responsive handling. The FTX Banzai and Redcat Lightning EPX are good RC drift cars for smooth indoor surfaces because they include drift tires in the box. They're also 4WD to make handling easier.
I know that the most "die-hard" drifters will say you can't drift with a 4WD car, but even if it's technically power sliding, it's still a lot of fun and gives you a sense of satisfaction similar to the real thing. It's easier to handle a 4WD RC car because of the extra traction under all four tires.
2WD is the way to go for full-sized cars, but an RC car doesn't have a clutch or handbrake. So the grip and control of a 4WD RC car compensate for the lack of clutch and handbrake control.
For professional RC drift races, you might only be allowed to enter competitions with a 2WD RC car, so if you're looking to drift competitively, go for the 2WD options. It will take a bit longer to perfect your drifts, but it will be more rewarding when you figure it out.
Here are three hobby-grade RC cars that drift well along with an affordable toy-grade drifter if you're not looking to spend much.
Traxxas Slash 2WD 1:10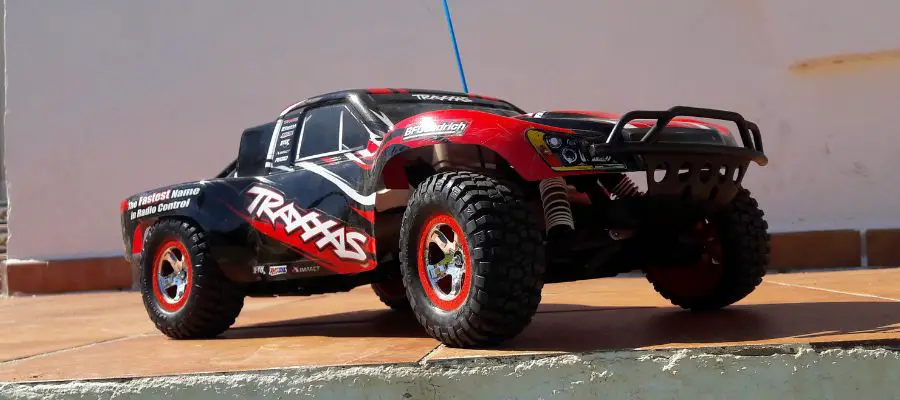 The Traxxas Slash 2WD is the perfect off-road RC drift car because it has a strong 550 brushed motor that transfers all its power into the back wheels. This is the perfect combination for dirt track drifting and isn't suitable for indoor tracks because the tires have too much traction. (Grip meant for normal off-road driving) If you try to drift it on an indoor track, it will be challenging to get it to slide properly.
Using this truck on an indoor drift track will require hard, drift tires with low traction. If you can't find the right wheels, you can modify your current tires by following the methods further in this article.
The Slash is far more expensive than other cars in this article, but it has the best quality components and is rear-wheel-drive, which makes it an excellent option for off-road drifters.
Batteries are not included with the Slash, but it is LiPo and NiMh compatible and has two-stage low-voltage detection.
There's a 23-tooth pinion gear in the box that you can install if you're looking for high-speed fun but don't use it for drifting because it has low torque at lower speeds. So you won't be able to spin the wheels as easily as the standard pinion that's already pre-installed for drifting.
Here are all the specifications and latest pricing on Amazon here
Main Features
12T 550 modified motor with an internal cooling fan.
Speeds of 30mph with the 23-tooth pinion gear. (Don't use this gear for drifting)
Off-road tires.
Waterproof electronics.
4-amp DC Peak Detecting Fast Charger.
Advanced XL-5 Electronic Speed Control.
High-torque steering servo. (Lasts longer when drifting)
Torque-Control™ slipper clutch system.
Heavy-duty driveshafts and yokes.
FTX Banzai 1:10
This car is based on some popular predecessors, like the FTX Vantage and Carnage. You'll be surprised by how well it can powerslide, drift, and accelerate out of corners. The hard plastic tires that are already fitted have hardly any grip, so spinning the wheels for drifting is very easy.
With standard grippy tires, the Banzai accelerates fast and is very responsive to the controls, considering the low price, but drifting is where it truly shines.
The Banzai package includes a 1800mah battery and charger, which keeps the budget to a minimum. Big bore oil-filled adjustable shocks make the handling better by reducing the impact of bumps on the track. The gearbox crown and pinion gear are metal, so you don't have to worry about them breaking under the pressure of high torque and RPM.
Here's a link to the FTX website with detailed specifications and current pricing.
Main Features
Hard plastic drift tires.
550 brushed motor.
1800mah 7.2v NiMh battery included.
Four-wheel-drive for extra control.
2.4ghz Radio System.
Waterproof electronics.
Check out Do U RC's Video here:
Physical Size of Traxxas VS FTX Banzai
The Traxxas Slash is bigger than the Banzai because it's a truck design compared to a car design. Even though they're both 1/10 scale RC vehicles, the truck design is bigger than a car.
The Slash is the biggest option on this list. Here's how the actual measurements compare.
| | | |
| --- | --- | --- |
| Dimensions | Traxxas Slash | FTX Banzai |
| Length | 22.36 inches (568mm) | 17.32 inches (440mm) |
| Width | 11.65 inches (296mm) | 7.68 inches (195mm) |
| Height | 8.43 inches (214mm) | 5.12 inches (130mm) |
| Wheel Base | 13.2 inches (335mm) | 10.04 inches (255mm) |
Table comparing sizes of the Traxxas Slash and FTX Banzai
Redcat Lightning EPX Drift RC Car 1:10
Redcat is a reliable brand for RC cars and the Lightning EPX checks off all the boxes for drifting. The design is a combination of a Lamborghini and Bugatti and suits the part for drifting. It has oil-filled shocks you can mount in different positions for different driving styles.
This model includes a 7.2v 2000mAh NiMh battery, charger, and 2.4 GHz radio system. You just need to buy eight AA batteries for the radio. It uses a 19T RC550 brushed motor and comes with drift tires pre-installed.
The Lightning EPX is one of your best options for high-speed indoor drifting because of its durable parts and extreme customizability. As long as they allow 4WD drifters on the track. The ride height, toe angle, suspension, and camber can all be adjusted to suit your needs.
Spare parts are readily available from the Redcat racing website, so you don't have to worry about landing up with a paperweight if break something.
You can check out the Redcat Lightning here on Redcat's official site.
Also here on Amazon
Main Features
Drift tires pre-installed.
19T RC550 brushed motor.
7.2v 2000mAh NiMh battery included.
Four-wheel-drive.
2.4ghz Radio System.
Waterproof electronics.
14.12 inches long (360mm), 7.88 inches wide (200mm), 4.4 inches high (112mm).
Jada Toys Mazda RX-7 Drift Car
This is one of the most popular toy-grade RC drift cars online. It's well under $50 and can drift around smooth indoor tracks with no problem. Being a low-priced option, there aren't any shocks, and the steering and throttle are either fully engaged or nothing at all. However, this little RC car has plenty of power for sliding around indoors and you'll figure out how to handle it well after some practice. But it's not suitable for any bumpy surfaces, not even the pavement outside.
It's durable for the price, as long as you keep it away from dirt and bumpy ground. This is another 4WD RC car, so you'll have enough traction to accelerate out of the corners after power-sliding around them.
Here's a link to the latest pricing and all the specs of the Mazda RC-7 Drift car here, on Amazon
Main Features
Drift tires pre-installed.
Internal battery and radio battery included.
Four-wheel-drive.
USB charging for the radio.
18 x 7 x 8 inches in size.
Can You Drift With Any RC Car?
Technically, you can drift with any RC car, but some are easier than others. For example, an RC car with a weak motor will struggle to spin the wheels under the car and lose traction as it should while drifting. However, if the surface is slippery enough, you'll still be able to drift around it.
Both 4WD and 2WD RC cars are perfect for drifting on dirt and smoothly paved tracks. You just need to use the correct tires for the track. Hard tires for indoor tracks and off-road tires for the dirt.
Please check out my article if you would like to know ways to make your RC car drift better?
DIY Drift Tires
There are a few ways in which you can modify the tires to make them smooth for drifting. Two of my favorite methods are duct tape and PVC.
Duct Tape
Roll the duct tape over the tires by placing it on the top of the tire and then pushing the car forward. If you wrap the tape around the tire in the wrong direction, it will come off very quickly. Once the tape is around the tires, start by running the car a bit slower than normal, so that the tape can bond to the tires better. After the tape has warmed up against the tires, you can open up the throttle and drift around corners in style.
You will have to replace the tape often if you drive on rough surfaces, but for indoor use, it will last many hours.
PVC
PVC lasts longer and is smoother than duct tape. The only minor disadvantage is that it adds some weight to the vehicle. Check the size of your tires and get PVC that you can squeeze tightly over them.
PVC has far less traction than duct tape, so you'll be sliding around a lot more, not only when you're trying to drift.
What Makes A Drift RC Car Good?
Many factors make a car good for drifting. With some things, it's a matter of personal choice, like the scale of the car. But other things like the type of tires or drive system are important to take into consideration as they will affect the drifting control.
2WD vs 4WD
2WD RC cars are good for drifting on smooth and dirt tracks. 4WD RC cars are perfect to drift on dirt tracks because the extra traction helps to propel the vehicle in the right direction as you're sliding around the corner.
Check out my article: 2WD or 4WD RC car?
So 4WD has an advantage over 2WD on the dirt, but can be difficult to drift on smooth surfaces because all the tires create so much traction. 2WD is better for smooth surfaces because you can spin the back tires to cause the rear end of the car to slide out and position it optimally for the exit.
You can take sharper turns with a 2WD RC car. With no driveshafts in the front of 2WD cars, the wheels can turn at a much tighter angle compared to 4WD RC cars. Belt-driven 4WD can also turn sharply, but not as sharply as 2WD. A belt-driven 2WD RC can turn the tightest out of all.
Check out my article if you would like to know how to increase the steering radius of your RC car.
Brushed VS Brushless
For RC drift cars, brushed and brushless will get the wheels spinning to drift around a track. For the most part, brushless motors last longer and turn faster than brushed, but you'll save a lot of money going for the brushed option. Brushless motors are best for achieving high speeds on flat straights.
For more on motors for RC drifting. Check out my article: What Turn Motor Is Best For RC Drifting?
RC Car Drifting Wheels
On dirt, you'll need off-road tires or you'll slide over the corners completely and have no traction to accelerate. The dirt ensures that traction is lost and the aggressive tread on the tires makes sure that you still have some control.
For smooth indoor surfaces, you'll need hard, slick tires with little to no tread.
Batteries
For drifting, LiPo or NiMh batteries will both work. But a LiPo battery can store more energy than a NiMh battery of the same weight, which keeps the overall weight of the vehicle down. A light vehicle can be easier to slide and also accelerates faster because of the power-to-weight ratio.
NiMh technology causes the motor to spin slower as the battery is run down because it drops in volts. LiPo batteries don't lose voltage as they run flat, rather, they run at peak performance and then have a steep drop-off in power just before they run completely flat.
Belt Driven
A belt-driven system helps to reduce torque-twist. This is a problem that exists in shaft-driven cars and causes the car to move from side to side while drifting.
The Scale / Size
For off-road RC drifting, you'll need at least a 1:10 scale RC truck to handle all the bumps and other obstacles. For indoor RC drifting, any size car will work, but most prefer to go for a 1:10 car.
Off-road VS Indoor Drifting
Drifting on dirt differs greatly from concrete floors. First, the size of the RC car needs to be big enough to travel over gravel, so you need a 1:10 scale truck around the size of the Traxxas Slash.
You also need ultra-smooth tires for indoor drifting because there's no dirt to slide on. Indoor drifting is much cheaper to get into because the car doesn't need to have very good suspension and other parts to handle well on a flat indoor surface.
By the way, if you are new to RCs, be sure to check out my detailed guide on RC car suspension types and parts.
Can You Drift With Any RC Car?
You can drift with any RC car that has enough power to spin the wheels fast enough to lose traction and slide. Hard plastic tires are used on RC drift cars, while off-road RC cars can drift with normal off-road tires because the sand decreases traction enough for it to slide.
How Fast Are RC Drift Cars?
RC drift cars usually have top speeds of around 30mph. But you don't reach these speeds during drifting. Drifting speeds with RC cars are usually between 1 and 10mph.
I have a whole article covering how fast RC drift cars go
Conclusion
The Traxxas Slash, FTX Banzai, and Redcat Lightning EPX are the best choices for RC drifting. Of course, there are hundreds of models to choose from, but these are my personal favorites, from best to cheapest.
If you're just looking for something to mess around with in the house or for a young child, go for the Jada Toys Mazda RX-7. If you feel the urge for more after that, start saving for a hobby-grade option.