In the RC boat world, there is a great debate on whether your RC boat should have a 2-blade or a 3-blade propeller. Some enthusiasts claim that there are no differences in the results of both propellers, while others swear by one or the other. So, in reality, what's the difference between an RC boat's 2-blade and 3-blade propeller?
The major difference between a 2-blade and 3-blade propeller for an RC boat is in the speed and efficiency of your boat. A 3-blade prop is more effective in speeding up your RC boat and provides a powerful thrust. A 2-blade prop is more efficient because it produces less drag and doesn't disturb water for the next blade as it moves.
Understanding how minor differences in components, like propellers, affect the performance of your RC boat can be complex. This article will explain the significant differences between a 2-blade and a 3-blade propeller of your RC boat so you can make the right decision for yourself.
Graupner USA are a great brand for RC boat accessories. They are definitely worth a look if you are thinking of upgrading any parts for your RC boat.
2-Blade vs. 3-Blade Props for an RC Boat
Judging based on the traditional model of propellers, here are the features of 2-blade and 3-blade propellers along with their advantages and disadvantages:
2-Blade Propeller
These models have only two blades, set opposite to each other. They are of the same size, width, and weight. Additionally, they can have both left and right rotation. There is a range of materials used to make them and each has its own advantage.
Here are the general pros and cons of a 2-blade propeller:
| | |
| --- | --- |
| Pros | Cons |
| More Efficiency  | Less Thrust |
| Produce Less Drag | More Noise |
| | Slower Speed |
Table showing the pros and cons of a 2-blade propeller
Speaking of RC Boat Prop, I also recommend you check out my guide on how to measure an RC boat prop. Packed with expert insights and practical tips, the guide will help you make the most of your RC boat.
3-Blade Propeller
There are three blades in these models and they are set equally apart. Normally, each blade is an exact copy of the other. However, there are some models where one blade is made larger than the rest which is claimed to improve the performance of the propeller.
Here are the general pros and cons of a 3-blade propeller:
| | |
| --- | --- |
| Pros | Cons |
| More Thrust | Less Efficiency |
| More Speed | Produce More Drag |
| More Lift | |
| Less Noise | |
Table showing the pros and cons of a 3-blade propeller
Comparison of 2-Blade and 3-Blade Propellers
Here is a comparison of which feature is seen more in each propeller type:
| | | |
| --- | --- | --- |
| Feature | 2-Blade | 3-Blade |
| Efficiency | ✔ | |
| Noise | ✔ | |
| Speed | | ✔ |
| Control | ✔ | |
| Stability | | ✔ |
| Lift | | ✔ |
Table showing the comparisons of 2-blade and 3-blade propellers
Changing Propellers for your RC Boat
You can find multiple options of individual or packets of propellers to replace your RC boat's old ones. That is if your RC boat allows you to change the propellers. 
If so, you have the liberty to choose either a 2-blade or a 3-blade propeller, even if the original ones on your RC boat were different. 
Check out this post: Do RC boats have reverse?
However, before you buy any, you must measure the diameter of the propeller (From center to blade tip) and the hole in the center (which the shaft goes through) to figure out what size is compatible with your RC boat.
The wrong-sized propellers don't perform well and can exhaust your engine.
If you are building an RC boat, you may want to read my article: Here's What You Need For Building An RC Boat (Tips & FAQs)
Best 2-Blade Propellers for an RC Boat
Fielect Aluminum 2-Blade
This propeller has received raving reviews of how it not only improved the balance and control of the boat but also added tons of speed to their RC boats which the stock propellers did not. It is also lightweight and easy to install. 
You can buy a single Fielect Aluminum 2-Blade for $20. (Amazon link)
Mxfans Dia 2-Blade 
This lightweight brass propeller is liked because of its simple installment and how it fits many different RC models. Most users mention how their boats now cruise much faster and that they don't have to worry about needing a new propeller soon. 
A single Mxfans Dia 2-Blade retails for $15. ( Amazon link)
Best 3-Blade Propellers for an RC Boat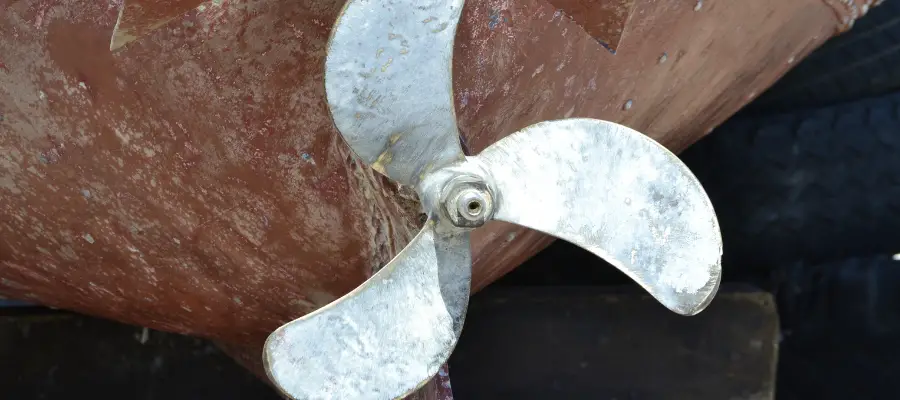 Dilwe Plastic 3-Blade
These small and lightweight propellers provide boats with a greater thrust and improve the cruising experience by a margin. Since they're anti-impact and insulated, they have higher durability than the stock propellers many RC boats have. 
One pair of Dilwe Plastic 3-Blade costs $9. (Amazon link)
Fielect Plastic 3-Blade
This propeller model is a preference for those looking for more lift and speed for their RC boat. Some users have said it made their slower cruises smoother than before too. Since they are easy to attach and you'll have 2 spares on hand, these are an economical option to try out. 
You can get three Fielect Plastic 3-Blade for just $11. (Amazon link)
Are More Propeller Blades Better?
It is easier to say that more is better when using the traditional concept. However, it is a bit more technical than that. Here are four factors that influence your propeller performance:
1. Number and Size of the Blades 
The first thing you consider with a propeller is, of course, the number of blades. Where an added blade should logically mean more thrust produced for the RC boat to move, it doesn't necessarily make it better or faster.
Related post: Can RC Boats Be Used In Salt Water? Here's What You Need To Know
An important factor people tend to overlook is the diameter or size of the blades. If a 2-blade propeller is larger than a 3-blade propeller, it's possible that it can still be faster. However, if a 3-blade propeller has a bigger third blade than its other two blades, it'll pick up more speed.
2. Power Created by the Engine/Motor
Additionally, we must consider the power created by the RC boat's motor or 'engine.' If an RC boat has a hefty engine, it'll require more blades to transfer all that power. 
If you're not sure what size motor is suitable for your RC boat. I have an in-depth article written on this subject: How To Size An RC Boat Motor
If we compare a 2-blade and 3-blade propeller connected to the same motor, the 3-blade propeller will likely outperform the 2-blade one.
3. Lift of Your Rc Boat
Besides efficiency and speed, a boat's lift is another factor. If your RC boat tends to appear like it's halfway underwater even when it's moving, it could be because of the 2-blade propellers.
Adding another blade and using a 3-blade propeller will provide a lift to the boat, which means it will raise it out of the water as it moves but not enough to make it unstable.
4. Shape and Size of the blades
Finally, it is also necessary to point out that the number of blades matters less than the shape and size of those blades. 
You'll see a speed improvement if you switch a smaller 2-blade propeller with a larger one. The same goes for a 3-blade propeller. 
Related post: Can RC Boats Be Used In A Lake? (Guide & Best Models)
Similarly, if you replace the same number of un-cupped blades with cupped blades, you'll also see an improvement. 
FAQs
Q. Is a 2-Blade Propeller Slower?
Yes, compared to the lift and speed a 3-blade propeller provides, a 2-blade propeller is slower. 
Q. Can I Change the Propeller on my RC Boat?
It is possible to change the propeller on your RC boat if the model allows it. You would have to find a new propeller that fits your boat and works well with the motor. 
Q. Is a 3-Blade Propeller Better?
This depends on what you want from your RC boat. Many people prefer having 3-blade propellers because of their advantages.
Final Thoughts
The 2-blade and 3-blade propellers differ based on their performance and advantages. A 2-blade propeller has higher efficiency and, if it's larger, it can also be faster than other propellers. At the same time, the 3-blade propeller has more lift, power transfer, and thrust right off the bat. So, choose the prop that suits your RC boat, and keep floating on!