If the weather outside is not great, one of the best ways to get your RC helicopter flying fix is to explore the world of indoor RC helicopters. Indoor RC helicopters are a lot of fun, but you need to approach these aircraft with the right expectations.
Indoor RC helicopters can't be classed in the same category as hobby-grade RC helicopters. The flight controls of the indoor versions are highly simplified and don't operate the same as the hobby-grade versions. Indoor RC helicopters are a lot of fun and an alternative when you cannot fly outside.
Indoor RC helicopters may be different to hobby-grade helicopters, which can only be operated outdoors, but they fill a niche in the RC hobby that allows you to enjoy RC flying from a different perspective. We have selected the best indoor RC helicopters at a range of skill levels for some indoor flying fun!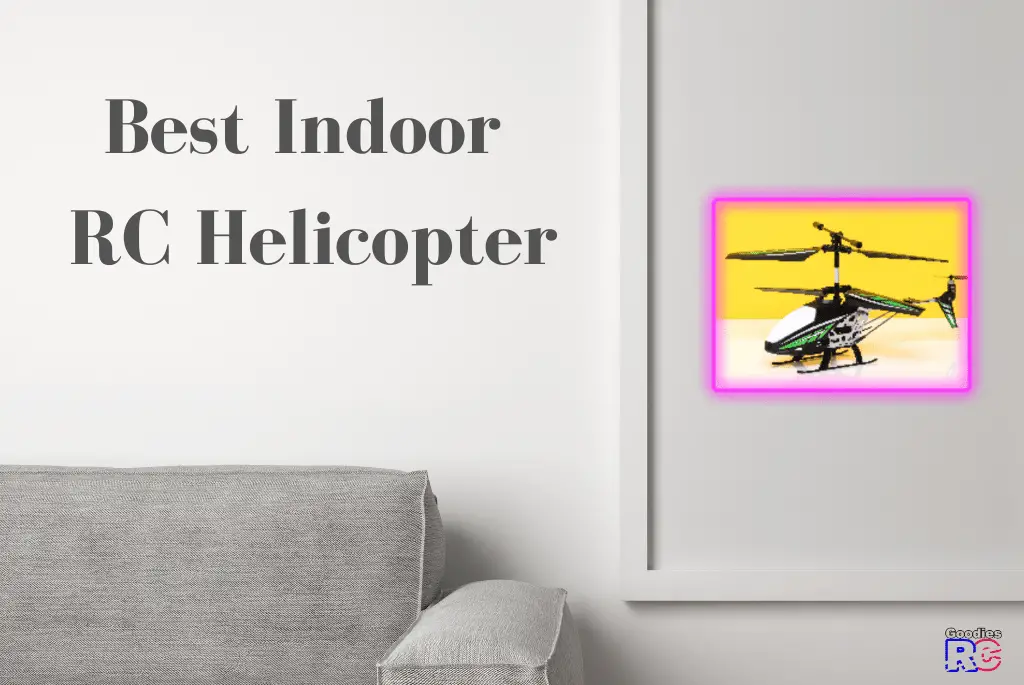 What Are The Best Indoor RC Helicopters?
Indoor helicopters are often considered toys rather than proper RC helicopters, and serious RC helicopter operators often look at the indoor versions with derision. 
Indoor RC helicopters are not produced as entry levels to hobby-grade helicopters or to compete with them in the RC sector. They are produced to fulfill a different niche of the RC flying sector.
Indoor RC helicopters are built as toys, so the fun factor is more of a focus than building your RC flying skills. Toys are not only made for kids, which means some indoor RC helicopters are also made for grown-ups to enjoy.
The controls of indoor helicopters are intentionally simplified to enhance the safety factor of using these aircraft indoors and to make them accessible to a wider market.
The controls of indoor RC helicopters are very different from hobby-grade, and you cannot transfer skills learned on indoor helicopters to hobby-grade RC helicopters. This is where the expectations of the indoor models must be correctly established.
Indoor RC helicopters are not "starter" RC helicopters, so they cannot be considered an easy entry into hobby-grade helicopters. Hobby grade will require learning the controls from scratch, so view the indoor versions as an opportunity to have some fun with radio-controlled vehicles indoors.
Indoor RC helicopters are great fun but vary in quality and complexity. We have selected some of the best options to help you find the right indoor RC helicopter for your needs.
Best Indoor RC Helicopters
The best indoor helicopter for you will depend on your expectations for these RC aircraft. Some are more complex to operate and will take a little time to learn to control, while others are easy to fly out of the box.
Our first category of best indoor RC helicopters is aimed at adults or people looking for an RC helicopter that poses a little more of a challenge to fly and requires some previous RC flying knowledge.
Previous knowledge is not a prerequisite to operating these RC helicopters, but it will shorten the time needed to master these aircraft.
OMPHOBBY M1 RC Helicopter
Our selection starts with the OMPHOBBY M1 RC Helicopter, and this choice exceeds expectations of what you would expect from non-hobby grade helicopters. 
The OMPHOBBY M1 RC Helicopter has exceeded performance, control, and durability expectations. Here are some of the main characteristics and features that I particularly like.
Indoor and outdoor use. The helicopter can be used indoors or outdoors, offering versatility over other RC helicopters suitable for indoor use only.
Stable Flight Performance. The helicopter is equipped with a 6-axis stabilization system that ensures a stable flight experience even in windy conditions.
Easy to Control. The helicopter has a smooth and responsive control system, making it fairly easy for both beginner and experienced pilots to fly.
Durable Material. The helicopter's body is made of high-quality, lightweight material that makes it durable and resistant to crashes.
Low noise. The helicopter is ideal for indoor flying because of the low levels of noise generated by the motor.
Three flight modes. There are 3 selectable flying modes varying in difficulty levels, allowing novices to learn how to operate the helicopter with fewer crashes before progressing to a flight mode that requires more skill.
The helicopter is equipped with bright LED lights that make it visible even in low-light conditions, adding to the overall aesthetic appeal.
The flight time of the helicopter on a single charge is 9 minutes for a gentle flight, but aggressive flying and aerobatics will shorten the flight time to about 5 minutes.
The main drawback of this helicopter is that it does not come with a controller. You need to be aware of this and purchase a controller separately or use one you already have.
This helicopter is an advanced model and is not suitable for children. It is intended for use by adults only.
See it in action;
(Amazon link)
Smallest Indoor RC Helicopters
The mini RC helicopters are the smallest RC helicopters and make an ideal indoor option for flying anywhere in your house.
These helicopters have a lot of built-in technology to provide easy, stable flight and will not challenge your RC flying skills very much.
Don't expect them to be challenging, but see them as a bit of fun and a means to enjoy a different aspect of the RC hobby.
SYMA S100 Super Mini RC Helicopter
This Syma S100 has to be one of the cutest little RC helicopters I have ever seen! It fits easily in the palm of an adult's hand and is one of the easiest indoor helicopters to fly!
The Syma S100 Super Mini RC Helicopter is only 4.1 inches long, 2.3 inches tall, and 1 inch wide, making it small enough to take off and land from almost anywhere in your house.
The following features made us select this RC helicopter as the best, smallest indoor helicopter.
Small size. The miniature size of this aircraft makes it suitable for indoor flying, no matter the size of your space.
Basic controls. The controls allow for forward, backward, up, down, and left and right turns. The controls are not super-sensitive, making it easy and quick to master flying.
One button take-off and landing. This feature is one of the main features making this RC helicopter suitable for kids. A single button will cause the helicopter to take off and hover a short distance above the take-off position. For landing, position the helicopter above the landing position, release the controls, press the landing button, and the helicopter will land itself.
Durability. The helicopter's body is made from a durable alloy, and the blades from flexible plastic, giving the helicopter an excellent lifespan and durability against the inevitable crashes.
Suitable for kids. This RC helicopter is easy enough for smaller kids of 5 years old to learn how to fly and is tons of fun for everyone, even big kids like me!
The flight time for this tiny helicopter is only 5 to 6 minutes, but you cannot expect large batteries to be included in such a small aircraft. It only takes 30 minutes to charge, so the wait time before your next flight is not too long!
See this mini helicopter in action;
(Amazon link)
Best Indoor Helicopter With A Camera
An indoor RC helicopter with a camera adds another dimension of fun to these little aircraft. We have selected some of our favorite options that include a camera on the helicopter to enhance the flying experience.
Cheerwing U12S Mini RC Helicopter with Camera
This indoor RC helicopter is a fairly small option and is considered a mini helicopter, but it is not the smallest of indoor RC helicopters. It has a length of 10.63 inches, and height of 4.72 inches, and a width of 1.77 inches.
The Cheerwing U12S Helicopter is small enough to use indoors and is easy to control, with a very simple controller and internal flight assistance to limit crashes.
The onboard camera is in the nose of the helicopter, which offers FPV of the direction the helicopter is travelling. The camera has a WiFi connection which can be paired to your mobile phone to act as the screen to view what the camera sees.
The camera can record video and take still pictures, which are transmitted to your phone for storage.
The following features are included with this indoor RC helicopter. 
One key take-off and landing. This feature simplifies the take-off and landing process, making the helicopter easier to fly.
Altitude hold. The helicopter will hover in place if the controls are released.
2-speed modes. This feature caters to people of different age groups or different skill levels.
Good durability. The metal frame and flexible rotor blades make this helicopter tough enough to withstand a few knocks as you gain flight experience.
Out-of-range alarm. An alarm will sound when you reach the limit of the helicopter and remote control range.
Low battery alarm. The helicopter will alert you when the battery is running low, and the helicopter must be landed to avoid a crash.
A spare parts kit is included. The helicopter comes packaged with replacement parts for components most likely to become damaged in a crash.
Built-in nose camera. The helicopter is fitted with a camera that can take 0.3MP still pictures or 640 x 480p video.
The recommended minimum age suitability for the Cheerwing U12S is 14 years old. The helicopter transmission control distance is 98 feet or 30 meters. The battery provides between 6 and 8 minutes of flying time before recharging is needed. 
(Amazon link)
Best Budget Indoor RC Helicopters
Since indoor RC helicopters are considered toys rather than hobby-grade versions, you may not want to outlay too much cash on one of these aircraft, or perhaps you are looking for a cheaper option as a starter indoor helicopter.
We have selected the perfect helicopter to fit these criteria, and it is one of the best budget indoor RC helicopters available.
SYMA S107H-E Indoor Helicopter
This RC helicopter is about double the size of the mini RC helicopters and comes in at a length of 8.66 inches, 4.13 inches tall, and 1.49 inches wide.
The size makes it ideal for indoor flight, but the controls are a little more complex than some other RC helicopters. Consequently, the age suitability for this helicopter is 14 years and above.
The following features of the Syma S107H-E are my reasons for including this helicopter as the best budget option. It has fairly sophisticated features for a lower-priced option.
Two flying speed options. The helicopter has two flying speeds to choose from, allowing you to use the slower speed while you learn how to fly the helicopter or to use it in a smaller space. Once you are more confident with the controls or have more space, you can switch to the faster speed mode.
Single-button take-off and landing. This great feature enhances safety during difficult take-off and landing maneuvers. Press the button to take off, and the helicopter will lift off and hover until you move the controls. Landing is just as easy; press the landing button to get the helicopter to land itself.
Altitude hold. When you let go of the controls, the helicopter will hover in place without any input from the controller. This is an excellent feature for children or beginners.
Two batteries. The helicopter comes packaged with two helicopters, doubling the flying time. The flight time on a single battery is about 8 minutes. The second battery allows for 16 minutes of flight time before a recharge is needed.
Durable construction. The helicopter's body is made from a durable metal alloy, protecting the internal components from damage in the event of a crash.
2.4GHz controller. The quality controller prevents radio and magnetic interference that can cause loss of control and crash the helicopter.
Easy to learn. This helicopter is not only easy on the wallet but is also easy to learn. The age suitability is 8 years and up.
Syma is a well-known brand in the RC helicopter market, and this budget helicopter offers the same Syma quality we have come to expect from this brand.
See it in action;
(Amazon link)
Best Indoor RC Helicopters For Kids
Most of the helicopters we have included are suitable for older kids from 8 to 14 years old. As a result, we chose an option in our best indoor RC helicopter for kids category to cater to younger children.
This helicopter is the perfect introduction to RC toys for younger kids, and the size of the helicopter and controller is designed for little hands with less fine motor control.
Little Tikes Youdrive Rescue Chopper
This little RC helicopter was fascinating to me, as it shows how far RC control has come that it can be offered as a working toy to younger children.
This toy RC helicopter is fully capable of flight and is extremely easy for young children to learn to operate. The Little Tikes Youdrive Rescue Chopper can even act as an educational toy to improve hand-eye coordination and increase fine motor skills in your little one's hands.
Read my article: 9 Reasons Why RC Cars Are Good For Kids. Although my article is based on RC cars, it explains all the positives an RC vehicle can have on children. This can also relate to any type of RC your child is using.
The following are the main features of this helicopter that resulted in us including it in our best indoor helicopter list.
Age suitability. This helicopter is suitable for children from 3 years old to 10 years old, making it our choice for the best kids' indoor helicopter.
Protected rotors. The rotors have a circular rim that will prevent the rotor blades from causing damage or hurting little hands that get too close.
Easy to operate. The remote control is easy to operate, with simple controls for the kids to understand.
Motion control. The remote features motion control, which allows the children to control the helicopter by tilting the remote control in the direction they want it to go.
Auto hover. The auto-hover feature makes it easy to control the helicopter and learn how the controls operate.
Auto battery start and shut off. This battery-saving feature turns the battery off when the helicopter is not in use, helping to save the battery if the kids forget to turn it off. The Helicopter will turn on again when it receives a signal from the controller.
If you have young children, this is the perfect birthday or Christmas gift to keep your children entertained and introduce them to the RC world!
(Amazon link)
Conclusion
Flying indoor RC helicopters can be tons of fun when the weather outside prevents you from enjoying your RC hobby outdoors.
Try out an indoor helicopter to keep your kids entertained, and I guarantee you will be fighting with them for your turn at the controls and end up buying one for yourself!
Here are some more articles that may be of interest;