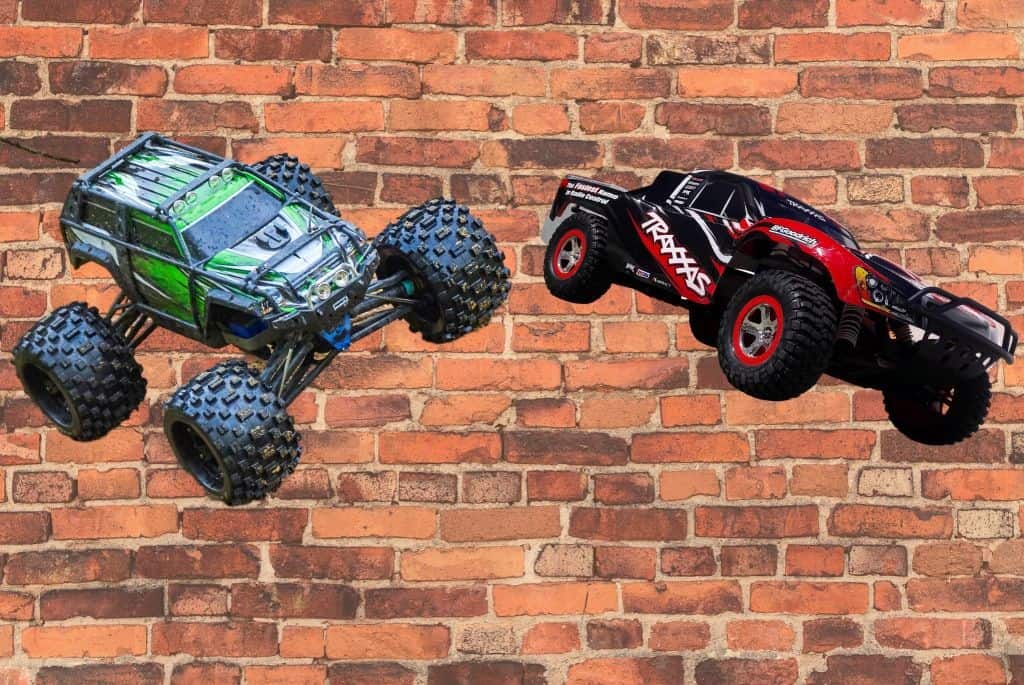 There are so many awesome types of RC cars these days it can be quite the ordeal to choose the right one for you. The decision, in this case, depends on what you'll be doing with your RC. If you plan to roam freely around on rough terrain while ramping over obstacles in your way, you will have the most fun with a monster RC truck.
Short course RC's are built more for speed and handling on closed circuits with some ramps usually. They are normally sized somewhere between a buggy and a monster truck. (Mid-sized)
If you want the best of both RC types then I have the solution for you in this article as well.
These are the main differences between a monster truck and short course RCs:
The wheels on monster trucks are set widely apart while short course RC's are set close against the body of the RC
The wheels on monster trucks are much bigger than short course RC wheels.
A monster truck is designed to conquer most obstacles in its way while short course RC's are designed for going fast on flat racecourses and over ramps.
The suspension on a monster truck is raised up high so that it can get over obstacles with ease as opposed to most short course RCs that have "standard suspension" better for speed and turning control.
Monster trucks usually have bumper bars in front of their hood while not all short course RC's do.
Monster trucks should also not be confused with Rock crawlers which are designed for rock and obstacle climbing courses. Crawlers, as the name implies, are not built for speed but rather for slowly making their way over various obstacles like rocks or crossing rope bridges carefully. Slow and steady is the crawler way.
The Definition Of An RC Monster Truck
An RC monster truck is defined as an RC with oversized wheels, very high suspension, and a wide wheelbase for stability. With a monster truck, you should be able to travel along the unbeaten path over grass, sticks, water, and through very uneven terrain. This is because they have raised suspension and oversized wheels to get them over.
Just like fully-sized monster trucks, RC monster trucks are built for entertainment. Taking big jumps and bashing around off-road making your own paths and not racing anyone for the best track time.
The Driving Style For Monster Trucks
With a monster truck, you'll be climbing up street curbs and flying over ramps with ease. The lack of control on the steering is compensated by being able to go over obstacles instead of around them anyway. With some monster trucks, you can travel through water obstacles as well for some aquatic fun. Monster trucks are well suited to bashing because they're so durable and ready to fly through the air and land on the other side with the help of their beefy suspension and tires. Monster trucks are designed more for fun and less for competing in races.
Check out my article: Best 1/8 scale RC truck?
The Definition Of A Short Course RC
A short course RC is built more for speed on flattened out grounds. The tires and suspension are smaller and lower to give you more control over the racecourse. It's not advisable for most short course RC's to travel on grass because of its low suspension although some medium to higher range short course RC's may have the suspension and tires to handle short grass, things like sticks and other debris could be troublesome depending on which short course model you have. Just for the record, my Traxxas Slash handles short grass, Stoney and moderately uneven terrain with no problems what so ever.
The Driving Style For Short Course
Short course RCs are well suited for winning races. With very responsive control on race tracks and superior acceleration and speed compared to monster trucks. It's not about flying high over jumps, it's about making it over any jumps in the quickest way possible. Short course RCs are for racing, competing, and making it through the finish line before the rest.
Perfect Examples Of RC Monster Trucks
Monster trucks may be slower than short course trucks in general but the Stampede can make you forget about all that once you hit the throttle. This beast can run at speeds of 60+mph giving you the ability of heart-wrenching flight over ramps. Experience ultimate control over loose gravel, smooth surfaces, and even ice and snow. It has a low-mass drivetrain designed to work with the massive torque of the Velineon brushless motor.
Vehicle scale: 1/10
Length: 19.69 inches (500 mm)
Width: 13.39 inches (340 mm)
Height: 9.21 inches (234 mm)
Radio System: TQi™ 2.4GHz and 5 channel receiver with Traxxas Stability Management
Battery Type: NiMH or Lipo battery and 4X AA batteries for the radio
You can check out the Traxxas Stampede right here at Amazon
Another example of a premium monster truck, the Team Redcat TR-MT10E can be fine-tuned in almost any way. Tunable suspension, shocks, and gear differentials. Adjustable ride height, camber, toe angle, and multiple shock mounting positions. You can customize this monster truck to your exact requirements. Have no fear when taking it off-road and exploring new paths and defeating new obstacles in your way.
Vehicle scale: 1/10
Length: 16.85 inches (428 mm)
Width: 13.5 inches (343 mm)
Height: 7.3 inches (186 mm)
Radio System: 2.4GHz Tadio System
Battery Type: LIPO 2S or 3S and 4 X AA batteries for the radio
You can check the TR-MT10E's price here on Redcat Racing's official site by clicking here
Also available on Amazon right here
Here's a monster truck doing what it does best:
Perfect Examples Of A Short Course RC's
The Traxxas Slash is one of the best examples of a short course RC. The brushless version of the Slash can run at speeds of 60+mph to win the race. The Slash is very tough and durable for all the high-speed crashes you might endure. There's also a brushed option available for a more affordable price. The suspension is built for landing high jumps over ramps, if you can land the wheels, the suspension will do the rest. There are 2wd and 4wd options of the Slash as well with the 4wd being the option for higher performance.
Vehicle scale: 1/10
Length: 22.36 inches (568 mm)
Width: 11.65 inches (296 mm)
Height: 7.6 inches (193 mm)
Radio System: TQi™ 2.4GHz (2-channel)
Battery Type: NiMH or LiPo battery and 4 X AA Batteries for the radio
You can check out the Traxxas Slash on Amazon by clicking here for the brushed version, and here for the brushless version.
Wondering if you should choose a 2WD or a 4WD truck? check out my article here, to help you choose.
This is a 4WD short course RC that can be used for basing as well. The chassis is designed for you to be able to swap out interchangeable parts when you need to. The suspension and wheels can definitely handle short grass and slightly rough terrain but still not as much as a monster truck for obvious reason. This RC is built for speed and control, not for overcoming big obstacles. The Blackout SC Pro is waterproof with a 45A brushless ESC, 3800KV RC540 Brushless motor, and high torque steering servo. (all waterproofed) The LiPO battery is included in the package as well but not the AA batteries for the radio.
Vehicle scale: 1/10
Length: 18.3 inches (465 mm)
Width: 11.2 inches (285 mm)
Height: 5.5 inches (140 mm)
Radio System: 2.4Ghz
Battery Type: 7.4v 3200mAh LIPO battery and 8 X AA batteries for the radio
You can check the Blackout's price here on Redcat Racings official site or by clicking here for Amazon.
Check the Traxxas Slash performance out here:
Convert Your Short Course RC Into A Monster Truck
So, if it's mainly the big tires and a raised suspension that makes a monster truck a monster truck then couldn't you just slap those parts onto your short course and have yourself a monster truck? YES! You could. This is awesome because you can transform your RC back and forth to whichever type you need at the time with about a half-hour of bench time. This is what you'll require and how to do it:
Related post: RC Truck vs. Buggy: Do You Know The Difference?
You will require the following parts:
Remove the old mounts on your RC and replace them with the new extended mounts like the ones mentioned above. Of course, you'll need to do this for the front and back mounts.
Remove the axle nuts and slide the wheel off the axle.
Slide the monster wheels onto your axle and tighten them down with the nuts.
At this point, you'll probably have some clearance problems between the wheels and the body. You will need to carefully modify your wheel wells by cutting away some of it with body scissors to allow the monster wheels to fit properly.
Now you have yourself a monster truck RC fit for bashing through rough terrain and ramping over bigger objects than before. There are some modifications that are recommended to get better performance out of your new monster truck. Upgrade your pinion/spur-gear ratio to work better with your current set up. Otherwise, you might have overheating problems if you push the RC to its limits with the big tires fitted.
Conclusion
To summarize the differences between an RC Monster Truck and Short Course Truck we can note the following:
RC Monster Truck:
Oversized wheels for height to conquer obstacles
Raised suspension for height to conquer obstacles
Wide track length for stability to prevent rolling
Overcomes obstacles easily
Slower than short course RCs in general
Short Course RC:
Smaller wheels for precise control around corners
Standard suspension height for more controlled turning
Narrow track length for speed
Has more speed than monster trucks in general
Built to win races
If you're not going to be competing in any race, the monster truck option is probably going to be your best option. With a monster truck, you'll be able to have fun with your RC no matter where you are. You'll have the ability to use it anywhere you want, in your yard or in the park, over sticks, gravel, and other rough terrains. You'll be able to fly over ramps in your path and climb up street curbs.
If you are planning on competing in races, the short course RCs are going to get you across the finish line first. With their superior control around corners, you'll be able to drift tightly around the track to victory. For the straights, open up your throttle and launch your RC into speeds of over 60mph.
If you want it all, get the big wheels and adjustable body mount set so that you can convert your short course truck into a monster truck at any time.
For a broader selection of products to modify your RC vehicle, you can check their prices here on Amazon.