1/8 Scale RC trucks are a popular high-end choice because they're big enough to get over sticks, stones, grass, and other off-road obstacles with ease. They have powerful motors and durable components for high-speed bashing, tricks, and racing. This is the scale at which there aren't really any "toy-grade" RCs, only superior hobby-grade ones.
The best 1/8 scale RC trucks range between $300 and $800, so you have your pick of all the reputable brands. Traxxas, Redcat, and Arrma have some of the best options. Let's look at some other things you should consider when purchasing a 1/8 scale RC truck.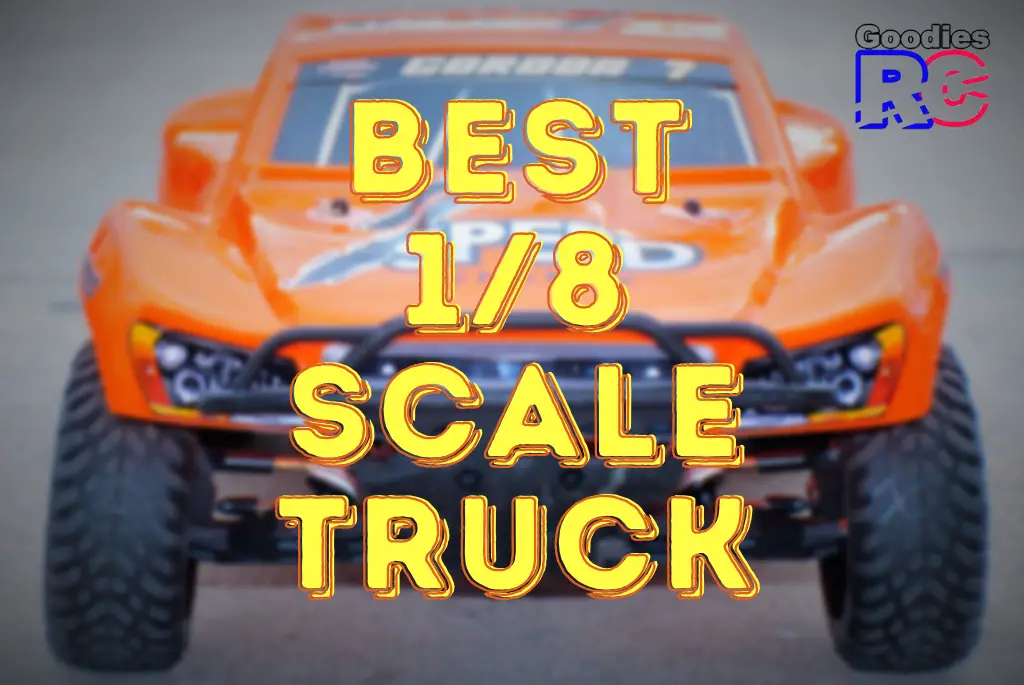 The Physical Size
First, you need to understand that not all 1/8 scale RC trucks are the same size. The Arrma Typhon Buggy is only 511mm long, 306mm wide, and 195mm in height. Compared to the Traxxas Sledge with a length of 604mm, a width of 384mm, and a height of 214mm. So make sure to check the dimensions of the car before making the purchase.
If you only plan to bash around in a small yard, a smaller option might be better for you. But if you're looking for maximum performance and durability, go for the bigger models. The smaller options, like the buggy style, are usually cheaper than the bigger trucks and monster trucks.
The Motor
You can get an idea of the torque and top speed of an RC if you check the Kv rating. The Kv rating is the number of times the motor will rotate for every volt passed through it. A 2000Kv motor with a 3S(11.1v) battery pack will have an RPM of 22200. But the rotation of the tires will obviously be slower than that and will depend on what size gears you have installed.
Generally, motors that have a higher Kv value will have higher top speeds and less torque at slower speeds. Motors with a lower Kv rating often have higher acceleration and more torque but slower top speeds. This isn't always the case though, and with the right combination of gears and batteries, a motor rated over 1500Kv can achieve high speeds while still having decent torque at low speeds.
Check out my article: Can any motor be used in any RC car?
Motors in 1/8 scale RC trucks need to be strong to deal with large obstacles or steep uphills without burning out. For the most part, you'll find brushless motors in 1/8 scale RC trucks. Brushless motors generally last longer than brushed and they turn much faster for higher speeds.
Battery Compatibility
1/8 scale RC trucks usually use LiPo batteries because they're lighter and retain voltage far better than NIMH batteries. This means that the car won't slow down as the battery gets depleted. LiPo batteries only drop in voltage once the battery is almost completely depleted. They're a bit more expensive but it's worth it considering all these advantages.
With LIPO batteries, you'll notice an "S" count which indicates how many cells the battery has, the more cells, the higher the voltage. 2S means that there are two cells that make up a nominal voltage of 7.4v. 3S batteries have a nominal voltage of 11.1v. 4S is 14.8v and 6S is 22.2v.
Related article: Are Traxxas batteries worth the money?
So check the battery compatibility and choose accordingly. I must say that 3S is plenty for most people and you'll still get over 35mph. 6S (2X3S) is for extreme acceleration and speeds of over 60mph and is a bit more expensive.
Component Material
The more metal components there are, the more durable the car would be. But the car becomes more expensive and heavier with metal parts, so manufacturers have to combine the two to find a balance between price and durability.
Metal gears and servo horns work very well as their plastic counterparts usually break very quickly. This is because these parts have to deal with a lot of energy going through them.
Most 1/8 scale RC trucks have waterproof electronics as is the case with all the cars on this list. See my related articles: How To Waterproof AN RC Truck and How Wet Can An RC Car Get?
7 Best 1/8 scale RC Trucks
Traxxas Sledge
Arrma Kraton BLX
Arrma Notorious
Redcat Racing Landslide XTE
Kaiju EXT
Arrma Typhon 4WD
FS Racing Desert 4WD
Traxxas Sledge
The 1/8 scale Sledge is an all-new monster truggy from Traxxas. It's somewhere between a MAXX and X MAXX if I had to categorize it. This truggy has loads of travel in the suspension to eat up hard landings and jumping high ramps. How the body simply clips onto the chassis is very convenient and easy to use. 
The inside of the body has a piece of plastic that looks like a tongue that slides into the vehicle from the front and clips in. It's actually more secure than traditional body mounting methods.
Related post: How Much Do RC Trucks Cost? Best Models For The Money
The chassis is completely redesigned and extremely durable. There's a strong T-bar that runs over the center to add more strength and eliminate bending. If you've ever experienced your RC batteries flying out at some point, you'll appreciate the sliding battery tray that clips into place over the batteries.
There are tiny holes on each side of the tray that you can drop body pins into if you want everything to be even more secure. The motor also has additional brackets to secure it from heavy bumps and bashes.
The servo has 340 oz·in or torque which is exceptional considering it's a stock servo.
Top speeds of 70mph are possible when using 2 X 3S LiPo batteries(6S) and the optional high-speed pinion and spur gears. With the default gears and 2 X 2S LiPo batteries, the Sledge can reach up to 35mph.
The design resembles the Traxxas Revo, but make no mistake, the Sledge is far superior. With the full metal chassis and additional metal chassis braces, the Sledge won't break as easily as other options on this list. It's also the easiest to control at higher speeds between 45 and 65mph. 
Here's all the specs and latest deals on the Traxxas website: Traxxas Sledge
Main Specifications
Top Speed:    70mph on 6S LiPo and high-speed pinion sold separately.
Motor:         2000kV brushless
Batteries:    3S and 6S LiPo
Dimensions:    Length 604mm, Width 384mm, height 214mm
Weight:    12.74 pounds (5.77kg)
Unique Features
Clipless body for a secure and easy fit.
T-shaped chassis crossbar for extra strength.
Arrma Kraton BLX Brushless RC Truck
The Kraton gets up to around 47mph with stock gearing and 6S LiPo batteries. But you can get around 60mph if you install the optional high-speed pinion gear. 
It handles well on flat ground, but the steering has room for improvement. The suspension is really good, one of the best components of the truck. It's very durable and soaks up impacts from high drops very well.
If you want to do some wheelies, you might need to add some thicker fluid to the center diff to allow the front to pick up easier.
Check out my article: Best RC car for sand dunes?
It is very durable but there are a few parts that can be improved, like the rear-end of the body. The decals are extremely thin and will come off very quickly. The chassis is very strong but will bend after a few hard knocks.
There seems to be a general issue with the transmitter and receiver not connecting well, but you can have them swapped out under warranty if you have this problem.
The steering servo heats up fast and might be the first thing you need to replace, especially when using 6S batteries. The servo-saver is not adjustable and seems a bit lose out of the box.
I suggest adding a shim to the front and rear diffs to make them more durable. There are some extras in the box for you to add.
The set screw that threads into the pinion gear could do with some lock tight to keep it in place.
Last, remove the spacers on the ends of the wheel arms to allow the dog bones to engage with the cups better and prevent popping out.
See my article: The 10 Best RC cars for snow?
That may seem like a lot but when you're bashing at high-speeds, things are bound to break at some point. Just upgrade to metal parts where possible for longevity.
See the Arrma Kraton in action:
Check out the latest pricing for the Arrma Kraton 6S BLX on Amazon here
See the Arrma Kraton 6S BLX at Walmart here
Main Specifications
Speed:        60mph on 6S and high-speed pinion gear.
Motor:         Spektrum ™ Firma ™ 4074 2050Kv Brushless Motor.
Batteries:    2 X 2S or 2X 3S LiPo with EC5™ or IC5™ connector.
Dimensions:    594mm long, 461mm wide, and 195mm in height.
Arrma Notorious 4WD Stunt Truck
The Notorious is another super RC from Arrma but it has a few unique features. The steel body and 1950's design are two of those features. The metal body not only makes it a bit stronger, but it also makes it look way cooler once it's scratched and dented because it looks more authentic.
This is a powerful RC that uses 4S or 6S batteries and a Spektrum™ Firma™ 4074 2050Kv brushless motor. On 6S and perfect conditions, you can expect top speeds of around 60mph in good conditions which makes this car one of the fastest on the list.
The roll bar at the center of the truck helps to reduce wear and tear on the body. The tires have loads of traction. The gears could do with an upgrade but they should last if you don't punch the acceleration too hard.
The motor stays pretty cool for the most part, but if you find things heating up a bit on uphills or rough terrain, you can add a couple of motor fans without spending much.
The steering is pretty weak because of the servo saver. It's still non-adjustable, which can be a problem if it's a bit loose.
But that's not a whole lot to complain about, which is why this is still one of my favourites.
See Razor RC's video:
Check out the latest pricing for the Arrma Notorious here on Amazon
See Walmart's pricing here
Main Specifications
Speed:        60mph with 6S and optional high-speed pinion gear
Motor:        Spektrum ™ Firma ™ 2050Kv Brushless Motor
Batteries:    2S and 3S LiPo
Dimensions:    540mm long, 461mm wide, and 230mm in height
Unique Features
Steal body for strength and to maintain a good look even after it's scratched up.
1950s theme body.
Redcat Racing Landslide XTE
The Landslide XTE is around half the price of the Sledge or Kraton, but it's still a 1/8 scale RC truck. It's a little smaller though with a length of 510mm, a width of 380mm, and a height of 250mm.
The first couple of versions of the Landslide had a few areas to improve on and that's what Redcat has done with the latest model. It's an excellent option for those on a lower budget, with the only part you'll need to replace quickly being the steering servo horn. Just like any other powerful RC truck, the stock gears could strip if you put them under too much stress.
On a budget? Check out my post: Best RC car under $100?
An EZRUN-120A brushless ESC and 1920Kv motor work together to provide extreme torque from low to high speeds.
It reaches speeds of around 43mph which is not much slower than the other more expensive options.
Watch this video:
Have a look at all the specs and latest pricing on Redcat Racing's official site here: Landslide XTE
Check out the Landslide on Amazon here
Main Specifications
Speed:        43mph with 4S LiPo and over 50mph on 6S batteries.
Motor:         1920Kv brushless.
Batteries:    4S and 6S LiPo
Dimensions:    510mm long, 380mm wide, and 250mm in height.
Redcat Racing Kaiju EXT Monster Truck
The Kaiju EXT is a new addition to the Redcat range. It's a longer version of the original Kaiju, with a few other major improvements as well.
While the original Kaiju was great for tricks because of the short wheelbase, I prefer the extended chassis for more stability at high speeds. Especially if you plan on running 6S batteries. The original Kaiju wheelied out of control quickly, but the EXT version doesn't because of the extra length.
Redcat has added a heat sink and fan to cool the motor, along with a new motor mount, and a metal steering horn. You could replace the plastic shock caps for aluminum ones without spending much. An air scoop on the roof helps to keep things cooler so that you can push the car harder up hills or rough terrain without overheating.
Check out my article reviewing the Redcat Racing brand
This is an incredibly tough truck, with the plastic body being the first thing to show signs of wear and tear. Most of the gears and other parts are metal and won't break easily, even when crashing at high speeds.
You'll get about 48mph with 4S batteries and over 60mph with 6S so it keeps up with the faster cars on this list.
You can load up single or double LiPo batteries depending on what you have. This means you can use a single 4S or 6S battery or two 2S or 3S batteries.
Here are the latest deals and full specs for the Kaiju EXT on Redcat Racing's official site: Racing Kaiju EXT
Check this model out on Amazon here
See Walmart's pricing here
Main Specifications
Speed:        48mph on 4S and over 60mph on 6S LiPo
Motor:        2100Kv brushless.
Batteries:    3S and 6S LiPo.
Dimensions:    Length 567mm, Width 400mm, height 240mm
Arrma Typhon 4WD Monster Buggy
The Arrma Typhon is another 1/8 scale RC truck with a relatively low price tag. Just like the Redcat Racing Landslide XTE, it's a bit smaller than the top-of-the-range models but still has loads of speed, over 50mph in optimal conditions.
See my article: Traxxas vs Arrma
The handling on this buggy is phenomenal for the price. It's very responsive, takes sharp turns well, and has suspension that soaks up bumps with ease. It's not quite as durable as the higher-priced cars but still takes a lot to break it.
This is the type of RC that I prefer to use in my backyard at lower speeds just to preserve the parts. That way I can still crash and roll, but not fast or hard enough to break anything.
The Typhon makes my favourites list because it's so easy and fun to drive.
Check out the Typhon in action :
See the Arrma Typhon here on Amazon (Battery and charger not included)
Charger for all types of batteries here (Amazon)
2 x batteries available here (Amazon)
Check out Walmart's pricing here (Battery and charger not included)
Main Specifications
Speed:        50mph with 2 X 3S LiPo batteries.
Motor:        Spektrum ™ Firma ™ 3200Kv Brushless Motor.
Batteries:    2S or 3S LiPo
Dimensions:    Length 511mm, Width 306mm, height 195mm
FTX DR8 Desert Racer
This is another super fast 1/8 scale RC truck, it goes over 60mph on 6S batteries straight out of the box.
The servo might need replacing after some heavy use as well as the rear hinge pin holder, but only if you push the car very hard. Other than that, it's extremely durable thanks to the roll bars, tough metals and plastics used throughout the vehicle.
It uses a 150Amp ESC and 2000Kv brushless motor to deliver insane power on 4S or 6S.
It's a very simplistic RC just like the Arrma Typhon and has very similar driving performance.
You might find the DR8 under a couple of different names like FS Racer and Reely Raptor 6S, but they're all the same.
Here's a listing on aliexpress.com to see the latest pricing and stock availability: FS Racing Desert 4WD
Main Specifications
Speed:        60mph on 6S LiPo
Motor:        2000Kv Brushless
Batteries:    4S and 6S LiPo
Dimensions:    Length 540mm, width 340mm, height 220mm
What Size Is A 1/8 Scale RC Car
A 1/8 scale RC car is around 310mm wide and 515mm long, as in the case of the Kyosho Inferno which is based on the Mercedes AMG. The dimensions of a 1/8 scale RC car depend on the dimensions of the full-size car or truck. So a 1/8 scale monster truck is bigger than a 1/8 scale car. The 1/8 scale monster trucks on this list range between 500 and 600mm in length and 300 to 480mm in width.
Read my article on the brand Kyosho
What Is The Most Popular RC Car Scale?
1/12 to 1/18 scale RC trucks are very popular because they're cheaper and are mostly bought for children in high volume. But when it comes to hobby-grade RC trucks, the 1/8 scale range is the most popular.
What Scale RC Car Is The Fastest?
The 1/7 scale Traxxas XO-1 is the fastest RC car. It can reach 100 mph in just under 5 seconds with the help of an exclusive Traxxas Big Block 1717 brushless motor and two 25C LiPo batteries. The high-speed wing is also required at top speeds along with the Traxxas Link application to unlock powerful tuning tools.
The motor is rated at 1650kv, which proves that, with the right combination of batteries and gears, 1650kv motor can actually be faster than a 3000kv motor. It all depends on the rest of the setup.
Here's a short video of one of the XO-1 clocking in at 118mph.
Here are some more articles that you might like: