For any RC Truck enthusiast, the thrill is not only in owning and driving a good-looking mini version of a life-sized monster truck but also in the speed and power of the RC Truck as it flies around the course!
Brushless motors provide speed and performance enhancements over brushed motors for RC Trucks. The fastest RC Trucks on the market at the moment that use brushless motors are:
The Traxass X-Maxx
The Traxass Unlimited Desert Racer
The Arrma RC's AWD Senton 6s
These days, if you ask any RC enthusiast which motor is the best, you will undoubtedly hear the same answer – a brushless motor! A brushless motor has superior technology, and thanks to its reliability and longevity, this electric motor is quickly becoming the motor of choice for controlling powerful RC Trucks. In this article, we discuss the benefits and speed of brushless motor-powered RC Trucks.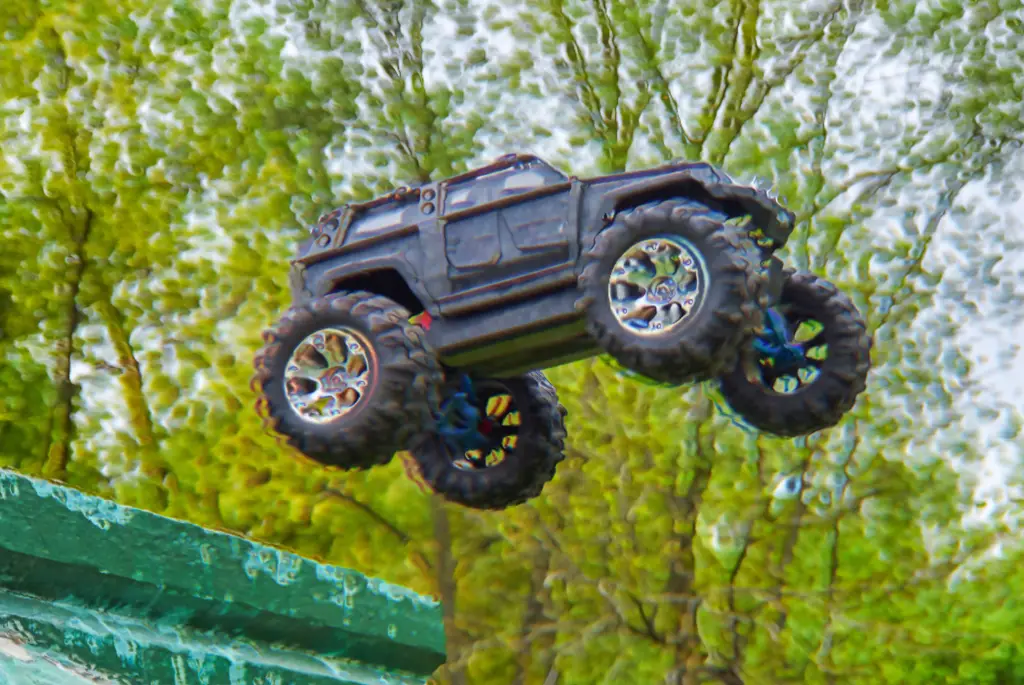 Why Brushless Is Faster Than Brushed Motors In RC Trucks
Essentially, the most significant difference between a brushed and a brushless motor is the way they are constructed. The working principles are similar but, while the brushed motor uses a brush to convert electricity in the motor, its brushless equivalent does not.
This means that the brushless motor is more efficient and overall more powerful than the brushed motor. Brushless motors offer a higher torque to weight ratio and increased torque per watt of power input. The result of all this power and efficiency in a scaled-down version of a life-sized truck is – speed!
Brushed Motors 
When it comes to purchasing a motor for RC Trucks, consider these before you decide.
A brushed motor has lower power efficiency – between 75 and 80 percent
Lower efficiency because of the design of the brushed motor causing the brushed motor to have lower speed ranges than a brushless motor
Heat loss is higher because of the shifts of the shafts, the friction of the brushes, and commuters adding to lower efficiency
Brushless Motors
In comparison, before you purchase a motor for your RC Truck, consider this motor:
A brushless motor has higher efficiency than a brushed motor – between 85 and 90 percent
Brushless motors are significantly faster and more powerful than brushed motors due to their higher efficiency
Higher efficiency means lower maintenance and higher run times for RC Trucks
Brushless motors operate effectively at all speeds within their rated load
Are Nitro Motors Faster Than Brushless Motors?
Currently, brushless motors are faster than Nitro! This is because brushless motors are equipped to handle higher voltage than brushed motors and, with a higher voltage supply, brushless motors mean an RC Truck can race at extreme speeds – even faster than Nitro powered RC Trucks!
Check out this post: RC Nitro Or Brushless? A Guide To Help You Choose
How To Tell If The RC Motor Is Brushless
If you cant decide if your RC Truck has a bushed or a brushless motor, this is how you can find out:
A brushless motor has three or more wires leading from the Electronic Speed Control (ESC) to the motor
A brushed motor typically has a black negative and a positive red wire
With brushless motors, the ESC changes the power signals that are sent along the three wires
The Fastest Brushless RC Trucks
While there are many exciting brushless motor powered RC Trucks available on the market, we have limited our choice to these xxx RC Trucks:
This is the ultimate, toughest, ready-to-drive monster truck engineered to conquer extreme terrain! The Traxxas X-Max has the power, strength, and agility to take RC Truck racing to the next level.
This top-of-the-line RC Truck has an interlocking modular, rugged chassis with a shaft-driven 4WD transmission and all-metal gears.
See my related article focused on the X-Maxx
What we like about the Traxxas X-Maxx:
The huge size – 78 cm long x 54 cm wide x 35 cm tall (30 x 21 x 13 inches)
The Velineon 1275 kv sensorless brushless motor weighing only 665g (23.44oz)
The top speed of 50 MPH (80 kph)
The VXL-8s waterproof ESC with integrated telemetry
The TQi 2.4GHz radio system 
Check out this power-packed video to get an idea of what this awesome RC Truck can do
(Links to Amazon)
This revolutionary new off-road vehicle is designed to be the ultimate Desert Racer. With its rugged exterior and fully integrated tube frame chassis and shaft-driven 4WD all-metal drivetrain, this Pro Scale RC Truck will provide you with hours of entertainment.
Check out this post: How Much Do RC Trucks Cost? Best Models For The Money
What we like about the Traxxas Unlimited Desert Racer:
The impressive size – 69.4 cm long by 34.5 cm wide and 26.1 cm tall (27 x 13.5 x 10 inches) 
The 2200 kv brushless motor
The top speed of 50 MPH (80 kph)
The VXL-6s waterproof ESC with high-tech telemetry features
The waterproof digital 2075R metal-gear servo that provides precise input and powerful torque
The TQi 2.4GHz radio system that delivers super speed, precision, and the control required for a great driving experience
Watch this video and then go out and buy a Traxxas Unlimited Desert Racer RC Truck:
(Links to Amazon)
If you are interested in a short course, off-road RC Truck with power and speed, then this is it! The Senton 3s BLX is a powerhouse, quality RC Truck! This all-terrain Truck is designed to deliver top speeds no matter the surface.
What we like about the Arrma Senton 3s BLX:
The size – 55.0 cm long by 29.4 cm wide and 19.5 cm tall (21.6 x 11.5 x 7.6 inches)
The BLX 2050KV brushless motor system
The blistering top speed of over 50 mph (96 kmh)
The aluminum and steel chassis
The three full-metal geared differentials
The super-strong suspension and driveshafts
The rear polycarbonate wing and aero slotted bodyshell keep the Truck stable during high speeds
The BLX185 150A waterproof ESC provides consistent power control
The ADS-15M steering servo provides 208oz-inch (15kg-cm) of torque at 7.2v
The TTX300 radio system for fast and consistent control
(Amazon link)
Conclusion
Ultimately, the choice of the motor in your RC Truck depends on what you are trying to achieve. If you want high-power and high-speed, then a brushless motor is the way to go.
If you are happy to drive at a controlled, low speed with occasional bursts of high speed, then a brushed motor will suit your needs.
A brushed motor RC Truck would be ideal for the beginner who is learning how to handle the power of an RC Truck without too much outlay but, for the more advanced driver who has the need for speed, a radio-controlled, brushless motor powered RC Truck is the only option!
If you already own an RC vehicle with a brushless motor, you might be interested in this article: What Causes A Brushless Motor To Fail?
If you would like to find out more on brushed motors: Can A Brushed RC Motor Get Wet?