When it comes to an absolute beast in RC cars, Traxxas X-Maxx undoubtedly comes to mind! But wait, is it really worth the hype? Let's find out together in this exciting read.
Is The Traxxas X-Maxx Worth It?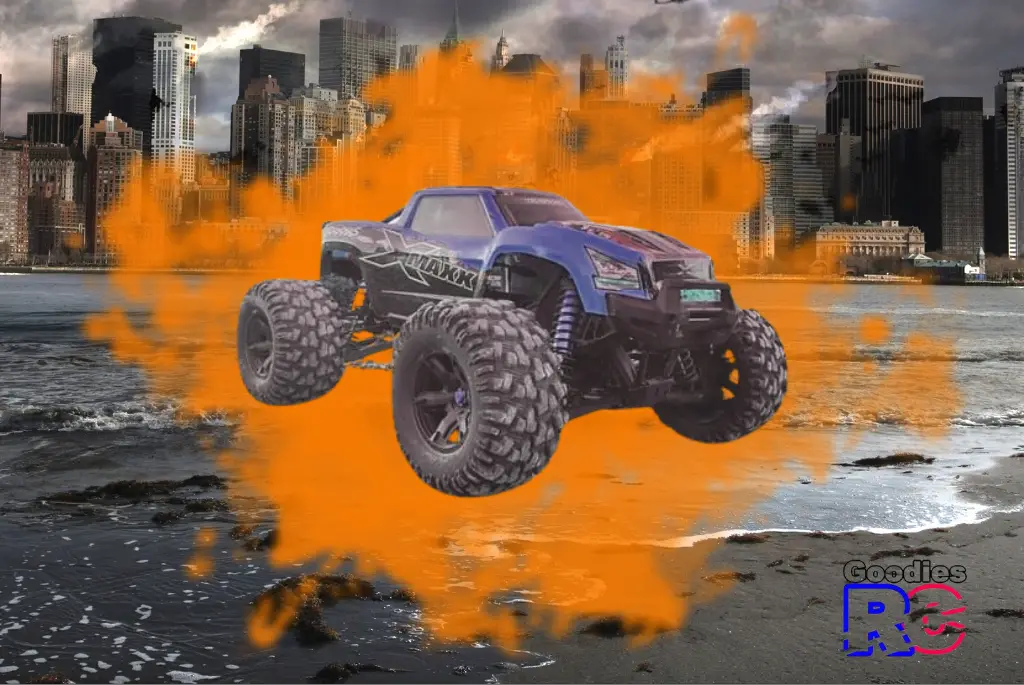 Traxxas X-Maxx RC truck is worth it with amazing functionality, awesome speed, and other great features. However, it feels a bit costly, especially when considering the price of other normal RC trucks. But as they say, you get what you pay for.
| | |
| --- | --- |
| Criteria | Score |
| Ease of handling | 10/10 |
| Durability | 9/10 |
| Speed | 9/10 |
| Functionality | 10/10 |
| Performance | 8/10 |
| Value For Money | 8.5/10 |
Table of the Traxxas X-Maxx qualities
Check The Latest Price of Traxxas X-Maxx Here (available on Amazon)
Traxxas X-Maxx Closer Look:
The Traxxas X-Maxx has a sturdy build. The body of this truck can be removed easily.
The Traxxas X-Maxx has an innovative latching system that secures the body of this RC truck with its chassis. All you have to do is turn a handle above the RC truck on the rear side, and boom, the whole body of the X-Maxx can be removed quickly. Isn't that easy?
After removing the body cover, we can see four gigantic shock absorbers. Then there is the ESC, motor, and receiver, all present in the center. The batteries are present in the side portion of this monster truck. 
Now, let's take a closer look at the details of the Traxxas X-Maxx Monster Truck:
Shocks:
Having a good shock absorber in your RC car is crucial if you are a serious RC basher. Let me tell you, the X-Maxx has some awesome shocks.
The X-Maxx features excellent aluminum GTX shocks that can absorb even the roughest impacts the truck would get while doing some serious bashing.
In addition, the shock absorbers are filled with oil that provides an added layer of safety against any major impact. (In case you are not familiar with oils in RC shocks, I highly recommend you check out my complete guide on RC shock oils.)
These GTX shocks feature an adjustable upper spring retainer and plastic shock caps that have pivot balls. 
Wheels:
The X-Maxx also includes big, dual-diameter wheels. Some of the key features of these wheels include a special formulated 8s rubber compound, powerful glue, and bead design.
Related Read: Why Do RC Wheels Spin In Opposite Directions?
Suspension:
The suspension system of Traxxas X-Maxx is designed to optimize the steering angle and the suspension travel. Engineers have used powerful steel suspension pins to make the system.
The suspension is made such that the RC Monster truck can give top-class performance even on rough surfaces. 
If you plan to drive this truck in off-road conditions, you can feel assured because there would be hardly any damage (as long as you stay within the normal bashing limit).
Since the truck and the tires are so big, the overall suspension system of this RC beast is awesome.
Bumpers:
Traxxas X-Maxx has a front and rear bumper made from hard plastic. So you won't have to worry about the impact of a crash.
Another excellent thing about X-Maxx is its wheelie bar. This bar is attached to the rear bumper and helps maintain the balance and prevents backflipping when you run this truck with full throttle.
Most of the overall construction of Traxxas X-Maxx is made of plastic. Is this a good thing? Why? Because plastic can bend back to its original state when it suffers from a hard impact. Metal may sound like more of a sure thing, but after some serious bashing, it would just look dented and bent. Theres no way of getting metal back to its original form after taking a few hits.
Also, plastic is a lot lighter and cheaper to make. So even if you break your plastic X-Maxx chassis, it's less costly to replace it with a new one compared to a metal chassis. 
Check out my article: Best 1/8 scale RC truck?
Please remember that not all metal chassis are bad. If the chassis is made using top quality metal properties, it can be super strong.
Plastic items will break after a certain amount of pressure, and metals will bend. The key is to not over-push the limits and enjoy the hobby!
Chassis:
To get rid of the gear crunching chassis flex issue, the X-Maxx has an interlocking modular chassis design that holds the motor and the gear drive together.
Moreover, the design of the chassis and the overall RC truck is such that you can easily get access to the main components of the truck. So performing maintenance and repair tasks should be easy.
Also, to keep the dirt and debris out, the driveline is sealed in the chassis.
Motor Specification:
The motor type is a 1275 kv sensorless brushless. The motor includes Traxxas 6.5 mm bullet connectors. The motor weighs about 665g/ 23.44 oz.
The motor also comes with twin fans to keep it cool. Thus, you don't have to think about low performance or overheating-related issues while driving this monster truck. 
Moreover, X-Maxx also features a VXL-8s waterproof electronic speed control. The VXL-8S electronic speed control enables the motor to run efficiently. And if you are looking for a brushless RC design, then Traxxas X-Maxx is one of your best options.
ESC Specification:
When it comes to the ESC specs, the input voltage is 8s Lipo (For the latest 8s version X-Maxx). Then, there is the powerful VXL-8s ESC. Selecting the right type of battery is quite crucial for running the X-Maxx.
Battery:
To get the best results out of this RC monster truck, you will have to ensure that there are enough cells that can power the ESC. I would also suggest you set up the Traxxas link system through which you can keep an eye on the battery status of this RC truck through a Bluetooth link on your mobile phone.
In the Traxxas X-Maxx, you get two places to put your batteries, one on either side. It is important to note that Traxxas is RTR (Ready-To-Race), but it doesn't come with the batteries. See my article: Are Traxxas RC Batteries Worth The Money?
As per Traxxas, these are things that are included in the box:
Traxxas X-Maxx model with the Traxxas Big Block Brushless motor
VXL 8s Electronic Speed Control
Some maintenance tools
Radio system
Starter guide
But they state that you will need the batteries, Lipo balance charger with iD, and AA Alkaline batteries.
Traxxas recommends the Traxxas EZ-Peak Live 4s-capable charger for better-charging performance. And you can check that here, available on Amazon.
And they recommend Traxxas 4-Cell, 6700 mAh or greater, Power Cell LiPo batteries with iD. You can check the batteries here available on Amazon.
So this was a closer look at the specs of the X-Maxx RC monster truck. Now let's look at the other aspects of this truck that will help you to decide whether its worth your hard-earned money.
Ease of Handling
When it comes to the handling of this RC monster truck, it certainly deserves praise. The handling and use of the X-Maxx is suitable for almost all levels of RC hobbyists, whether you're a beginner or advanced!
The size of the Traxxas X-Maxx is indeed pretty big. So you would require some serious space to run it. This is something you should consider if you have limited space.
However, it's not that heavy when it comes to carrying this RC truck. Compared to other big and heavy trucks, you can comfortably carry the X-Maxx from one place to another with reasonable ease. For everyday bashing and enjoying, Traxxas X-Max is an appropriate size!
Durability
The X-Maxx also features energy-absorbing impact cushions both behind the front and rear bumpers. This ensures better durability by softening the blows in critical situations.
The X-Maxx is also equipped with the toughest driveshafts that help in harnessing the twisting power of the motor's torque. In addition, the rugged design increases the overall durability of the system, along with maximizing steering angle and suspension travel.
Furthermore, the torque biasing center drive in the X-Maxx improves driveline stability by absorbing shocks. The center drive helps distribute the power to every wheel and thus enables four-wheel drive acceleration without any side effects to the center differential.
Is The Traxxas X-Maxx the most durable RC Truck? Maybe. However, if we look at RC trucks of comparable size, it seems to be one of the best out there. 
Functionality
This RC truck can offer a speed of 50 mph and above, thats pretty good. With the Traxxas X-Maxx, you also get the amazing self-righting feature. 
The self-righting feature works great when your car flips when its running at high speed, with just the use of a button on the transmitter, the whole car will be back again on its wheels! 
Cool! Now you don't have to run and flip your car back to its normal position every time you flip it over!
Moreover, the X-Maxx also comes with a stability management system. So even if you run this monster truck with full throttle, you don't have to worry about losing control or balance. 
The TSM or the Traxxas Stability Management system is well-known for adjusting the power even at high-speed runs. Hence, even if you take an odd turn with X-Maxx, the chances of crashing are greatly reduced thanks to this system.
Performance
The Traxxas X-Maxx has a Velineon 1200 XL Brushless motor, TQi 2.4 GHz radio system, VXL-8s speed controller, and 4WD system. All these specs enable the car to reach 50+ mph speeds.
Thanks to its enormous size and sturdy build, you can run the X-Maxx without fear of obstacles like rocks or other debris. The X-Maxx is usually known to give a good performance in tall grass.
Although you may notice performance issues in on-road conditions, you will have a lot of fun with X-Maxx in off-road conditions.
Is the Traxxas X-Maxx waterproof? Yes, the Traxxas X-Maxx is fully waterproof. However, unlike other Traxxas RC cars, where you get only a few parts as waterproof, you won't have to worry about that with the Traxxas X-Maxx.
So, to sum up, the performance aspect of Traxxas X-Maxx won't disappoint you.
Maintenance and Repair
Now the Traxxas X-Maxx offers a great design; because of that, you can easily do repair and maintenance tasks. However, remember that the bigger the RC car you go with, the more expensive it will become to purchase replacement parts. (And the X-Maxx is indeed pretty big!)
Traxxas X-Maxx 6s vs. 8s
The Traxxas X-Maxx has a 1200 Kv motor while the 8s has a 1600 Kv motor.
Tires are a bit different, and the X-Maxx 8s has stiffer compound tires.
The shocks are almost the same.
However, the CVD drive shafts and the axle pins are thicker in X-Maxx 8s compared to those in the 6s.
The cups in the X-Maxx 8s are bigger.
The X-Maxx 8s has the cush drive, which the 6s don't have.
The torque center diff is present in 8s but not in the 6s.
In the 8s, there are all steel gears, but in 6s, this is not the case.
When comparing both 8s and 6s, it seems like the 8s with all the upgrades are better. Although the 6s also has upgrades, the 8s still outperforms it.
Which Traxxas X-Maxx Version Should You Buy? 
If your budget permits, you should buy the latest version of Traxxas X-Maxx. This one has far better upgrades. In my opinion, if you have the extra money, go all out and buy the 8s version.
Should You Run 8s or 6s on the X-Maxx? 
Well, the newer X-Maxx can run on 8s (8s simply means 8 cell Lipos). Generally speaking, you should run the Traxxas X-Maxx on 6s.
Of course, the newer X-Maxx versions can handle 8s, unless you are a hardcore enthusiast, the difference from 6s to 8s may seem minimal.
As a rule of thumb, you would get roughly about ten extra miles an hour if you run your Traxxas X-Maxx in the 8s configuration. I would recommend you to run it on 6s. There is so much power with 8s that you could tell that its pushing the truck to the limits. 
Final Thoughts
In short, Traxxas X-Maxx may not be the fastest RC car out there. However, it is one of the best options to consider for bashing. It has great power to literally move through almost anything without getting halted. 
Since it is a big truck, you do need some serious space to enjoy bashing it with your buddies. And along with all its features and specs, plus being from a reputable, well-known RC brand, the X-Maxx justifies what you pay for. 
So if you love bashing, you can afford the price, and youre a serious RC hobbyist, This is a no brainer for you. And yep, it seems like this RC monster also deserves the hype 😉
Interested To Read More? Check Out My Handpicked Posts: