RC boats are a raging hobby right now for people of all ages. Many RC boats in the market work in the confines of a standard-size house pool to enjoy your hobby at home. Since everyone can't commute to open water bodies all the time, these are the best RC boats for a lazy summer day.
The FeiLun FT012 is the best remote control boat for pools and takes the cake for the pool category. Not only is the FeiLun FT012 one of the fastest boats, but it also features new designs and is up-to-date with capsize recovery and a 100 meter operating range. The price tag of $90 is considered a steal in the RC boat world.
There are tons of RC boats available in the market which makes choosing one difficult. There are a lot of factors to consider and learn about them when it comes to RC boats. This article will tell you about the best remote control boat for your pool to save yourself from buying duds.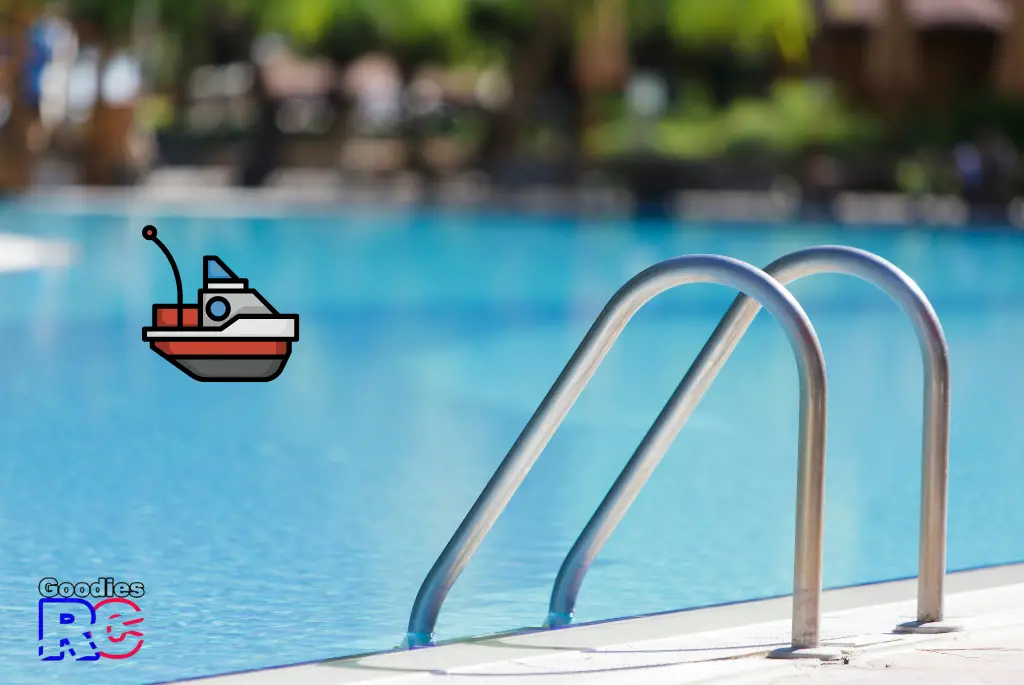 Top Ranked RC Boats for Pools
Getting an RC boat for your pool is trickier than buying one for open water. 
This is because the size and speed limit on the RC boat needs to be compatible with the pool you have. If your pool is smaller or larger than standard pools, then you can make assumptions based on these models.
1. FEILUN FT012
One of the best RC boats, which also has the same model in a larger size, is this one right here. 
It has the highest rating for speed, especially considering its size and specifications, which cater to pools.
| | |
| --- | --- |
| Pros | Cons |
| 18 inches | 10 minutes Run-Time |
| 28 mph Top Speed | |
| Capsize Recovery | |
| 100 meters Operating Range | |
Table showing the pros and cons of the Feilun FT012
(Amazon link)
2. Altair AA Wave
A highly recommended pick is Altair for RC boats. They have such well-designed models that it's a rarity any drawbacks are found. They're up to date on what users want from their RC boats, so they provide the best options possible.
| | |
| --- | --- |
| Pros | Cons |
| 14 inches  | Up to 15mph Top Speed |
| 15 minutes Run-Time | |
| 100 meters Operating Range | |
| Capsize Recovery | |
Table showing the pros and cons of the Altair AA Wave
(Amazon link)
3. UDI001 VENOM
This is a smaller boat but the perfect fit for pools. 
You may be discouraged by the cons, but keeping in mind that it'll be used in a pool, these won't bother your experience one bit. It's also easy on the wallet, so everybody's happy.
| | |
| --- | --- |
| Pros | Cons |
| 14 inches  | Up to 15mph Top Speed |
| 15 minutes Run-Time | 50 meters Operating Range |
| Capsize Recovery | |
| Low Battery Alarm | |
Table showing the pros and cons of the UDI001 Venom
(Amazon link)
4. TRAXXAS BLAST
A crowd favorite brand for RC products, the TRAXXAS RC boats do not disappoint either. They are known for their durability, lasting at least 12 months without needing replacement parts unless there have been accidents.
You might be interested in taking a look at my article: Traxxas Blast vs Spartan: Which Is Best For You?
| | |
| --- | --- |
| Pros | Cons |
| Brushless motor | 24 inches (Larger model) |
| 300 meters Operating Range | No Capsize Recovery |
| 20 minutes Run-Time | 8 hours Charging Time |
| 20mph Top Speed | |
Table showing the pros and cons of the Traxxas Blast
(Amazon link)
5. WLTOYS WL915
At a lower price than premium boats, a trusted RC boat company is WLTOYS. This model is highly reviewed and could be a great option if you want a fun experience and try RC boats at home.
| | |
| --- | --- |
| Pros | Cons |
| Brushless Motor | Up to 28 mph (45kmh) Top Speed |
| 15 minutes Run-Time | Slow Acceleration  |
| 80-100 meters Operating Range | Slightly Inefficient Capsize Recovery  |
| Anti-Capsize system (Missing in previous models) |   |
Table showing the pros and cons of the WLTOYS WL915
(Amazon link)
Important Features: What Makes an RC Boat Great for Pools?
If you ask the experts about what's necessary for an RC boat, they'll bring you a list of things you may not even understand. 
To simplify it for a boat you'll use in your pool, here are a few features you should keep an eye out for based on how much experience you have with RC boats.
The Size of Your Boat
A pretty basic feature you should focus on first is the size of your boat, relative to the size of your pool. If your pool is smaller than average, you should pick a compact boat. But if your pool is larger than normal, you can get away with a slightly larger boat.
The rule of thumb is to keep the boat size below or up to 24," if you have a standard pool. If the boat is too small, even the slight waves in your pool will make it hard for it to cruise. On the other hand, if it's too big you'll feel like you're running low on space for speeding or turning around. You'll also have a higher chance of accidentally hitting the corners.
See my related post about using RC boats in lakes
Your Boat's Top Speed 
Naturally, if you're buying anything that zooms, you want it to zoom in as fast as possible. But in the confines of a pool, it needs to be limited. This is because you don't have enough leverage as compared to open water, for moving around and turning. You also require a lot of experience and skill to maneuver a fast RC boat in a tight space.
So, when buying an RC boat for your pool, where others check for a design that gives the least air resistance and preferably a model that allows the motor and battery upgrades, you shouldn't. Your boat should be fine with a top speed of 30mph if 10-15mph is too slow for you.
Please check out my article if you want to know how to make your RC boat faster
Into gas-powered RC boats? Take a look at my article: How Fast Do Gas-Powered RC Boats Go? (+ Tips To Go Faster)
The Charge and Run Time
In the RC boat world, don't be surprised if an 8-hour charging time only gives you 10 minutes of runtime. And if you have a smaller boat, like the ones used in pools, which aren't built to crash waves and go the distance, your run time could be shorter. While making your choice, consider how long you'll want to use your boat in one go. 
Swimming into your pool to retrieve your boat won't be fun when a dead battery will cut your ride short.
Capsize Control and Recovery
Judging features based on what's in demand nowadays, Capsize Recovery is slowly becoming non-negotiable. In simple words, it means when a boat is able to upright itself using the propellers or other accessories attached. Capsize recovery saves you from a wet trip into the water to get your boat back, as only a few models are equipped with upside-down navigation. 
Manufacturers are also designing boats with Capsize Control in mind to tackle this unavoidable problem. Capsize control stops the boat from tilting at all. Although it's impossible to completely eliminate it, some models are able to reduce its occurrence.
In your pool, your RC boat may capsize because of obstacles like floaties or pool noodles coming in its way, colliding with the boundary of the pool, or even turning too quickly. Since it is bound to happen, having these features will allow you to seamlessly continue your ride without having to go and put it upright.
Dont have capsize recovery? Take a look at my article for what o do if your RC boat flips over
The Boat's Max Operating Range
This is one of the simplest choices for you to make, since using an RC boat in your pool doesn't require covering massive distances.
Most, if not all, RC boats nowadays are equipped with at least 50-100 meters of comfortable remote control. This means you won't have to stand at the edge of your pool to make sure you don't lose signals with your boat. You can easily lounge in one of your pool chairs and zoom around your pool having a chill summer day cruise. 
How to Maintain Your RC Boat? 4 Tips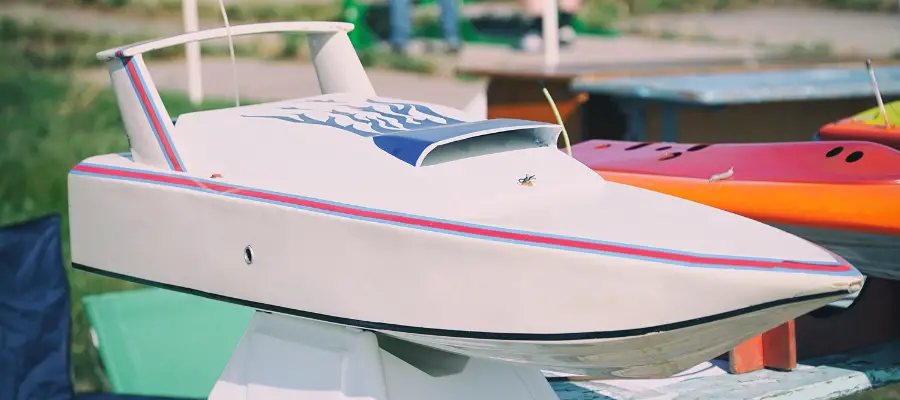 If you're using your boat within a pool or extending to a pond, you shouldn't be too worried about maintaining it. There may be eventual wear and tear, but that isn't anything new.
But this doesn't mean you shouldn't keep your boat maintained. Here are four tips to keep your RC boat from breaking down:
1. Keep the Hull Shut
As simple as it sounds, this is often ignored by many people who later complain that their RC boat didn't last long enough. The hull essentially protects the engine of your boat, which is the battery, motor and other components. By having a broken or open hull, water seeps inside and can cause damage.
If the hull is open too wide, your RC boat can also end up sinking because of water flooding the cavity. This is bound to turn it off permanently or make it a safety hazard.
2. Protect Electronic Components
You should be vigilant when it comes to the electronic components present inside your boat. Although you're not going too crazy with it, accidents can still happen. It's better to be safe than sorry.
After each cruise, make sure you check for any damaged wiring or issues in the battery or motor. If you leave a damaged component inside, it is bound to mess with other parts. Rather than just paying the cost for a replacement part, you could end up having to replace the entire boat. Don't put yourself through that hassle!
3. Fix Any Breakage or Damage
It may sound self-explanatory but again, it is a red flag often ignored. If you have any cracked, broken or missing pieces in your boat, you have to fix or replace them.
A simple crack on the side of the boat, if not sealed, will eventually widen and sink your entire boat. Cracks are common if your boat often collides with objects and will worsen as you use your boat. Other issues such as wonky rotary blades or broken hulls are also ignored which eventually ruin the entire boat. 
4. Avoid Boating in Ocean/Salt-Water
A rule of thumb in the RC boat world is that if a boat is made for fresh-water, don't use it anywhere else. Many people don't see the harm in taking their boats for a spin in salt-water, until it stops working soon after. 
One or two rides won't hurt, but continuous use in salty water will cause a build-up of debris inside your boat. The battery and motor can accumulate deposits which damages them and disrupts their function. This is why after every single ride, in any water, you should always take out the batteries from your boat and drain the water which seeped inside.
Read my article for more on taking RC boats in salt water
3 All-Rounder RC Boat Recommendations
The best RC boats in the game are the ones which can perform in all waters, whether calm or rough. Most, if not all, RC boats are great for pools, ponds and lakes. But only a few can succeed in rough waters.
Even if you aren't interested in racing your RC boat or taking it to the ocean, you can also benefit from having a durable boat which performs well.
Here are the top 3 boats that perform across the board, in no particular order:
1. Blomiky H100
Although not as fast as other options on the market, this model is waterproof and approved for both fresh and saltwater. It has a charge time of 45 minutes, giving 8 minutes run time which isn't too bad compared to how long you need to charge some other models. You can also get spare batteries with ease and don't have to worry about recharging it that often.
(Amazon link)
2. Altair AA102 RED
Altair is one of the most popular RC boat brands with great reviews, one of its models is also mentioned in the ranking above. This particular boat has a top speed of 30mph, which is a lot of speed for a boat its size. It's accompanied by capsize recovery, a low battery, and a low signal alarm. 
This means that once you've had your fill of pools and ponds, you're well equipped to ride out in open water without worrying about losing your boat out there.
(Amazon link)
3. Traxxas DCB M41
Featuring a brushless motor and a top speed of +50mph; if you're a fanatic for speed, this one's for you. Traxxas is one of the best manufacturers in the game, and they've made this widebody model with a sleek hull to maximize its speed. You've got a large operating range and a durable body to equip you for your adventures.
If you're going to commit to one boat, this is the one. Another boat with a hefty price tag, Traxxas DCB M41 retails at about $450. 
Basics of A Boat
It isn't a necessity to learn everything under the sun about RC boats, but some basics will help you go a long way. Being familiar with the body of a boat is something you can both show off and use to identify problems in your own boat.
To learn about the different parts of a boat, the table below can help you:
| | |
| --- | --- |
| Term | Meaning |
| Bow  | Front-end of the boat |
| Stern | Back-end of the boat |
| Port | Left-side of the boat |
| Starboard | Right-side of the boat |
| Deck | Top of the boat |
| Keel | Centerline of the boat |
| Rudder | Vertical blade on the bottom of the boat, responsible for steering |
Table of boat terms
Knowing these names will help you understand tutorials and other experts when they talk about their own boats. You will also be able to expertly point out where you have a problem in your boat to impress your fellow enthusiasts. 
FAQs
Q. Can You Use Any RC Boat in the Pool?
Depending on the size of your boat, you may be able to use any RC boat in the pool. Keep in mind that pool RC boats shouldn't be larger than 24 inches. 
Q. Is a Fast RC Boat Pool Friendly?
Yes, depending on how large the pool is. If an RC boat is too fast, it can collide with the pool boundary and be hard to steer for you. A 30mph boat is ideal for the pool for someone who loves speed.
Q. Can You Use Your Pool RC Boat Somewhere Else?
Yes, you can but it depends on the Operating Range and the type of water body you'll be going to. If the currents are too strong and the boat is small, it'll be hard to steer it.
Q. Why Is My Pool-Safe RC Boat So Slow?
RC boats meant for pools are normally slower than boats recommended for open water. This is so you can control them better in the smaller space, and makes them kid-friendly.
Q. Is Your Pool RC Boat Okay for Salt-Water?
It is not recommended to use any RC boat in salt water unless the manufacturer recommends it. This is because the boat will get internal damage and won't last as long as it normally would.
Final Thoughts
There are many pool-friendly RC boats to choose from on the market. You should buy one that is easy for you to use and is compatible with the size of your pool. The price range for RC boats varies greatly, so you can get a good quality boat for half the price you were expecting to pay. Happy RC boat hunting!