The Traxxas Blast is an RTR boat that even includes a NiMH battery right out of the box. It's suitable for children and adults as it's very easy to control and stable on the water. The Blast comes in at an affordable price point for most people making it an excellent mid-range model.
The Traxxas Spartan is an absolute speed machine and almost double the size of the Blast at 40 inches long. With the right batteries, you'll get speeds of 50mph and more in good conditions. This is a high-range RC boat.
Of course, the Spartan is mechanically superior compared to the Blast, but which one is best for you? If you've never owned an RC boat before and just want to mess around a bit, the Blast is perfectly capable of giving you around 15 minutes of full-out fun on the water just like the Spartan can. But how else do they differ and how will it affect you?
The Spartan is a big boat, so you need a big area to use it in. You can get away with testing a Blast out in a pool but a Spartan is so big you'll probably crash it into the side trying the same thing.
Now let's look at each boat individually and answer some frequently asked questions.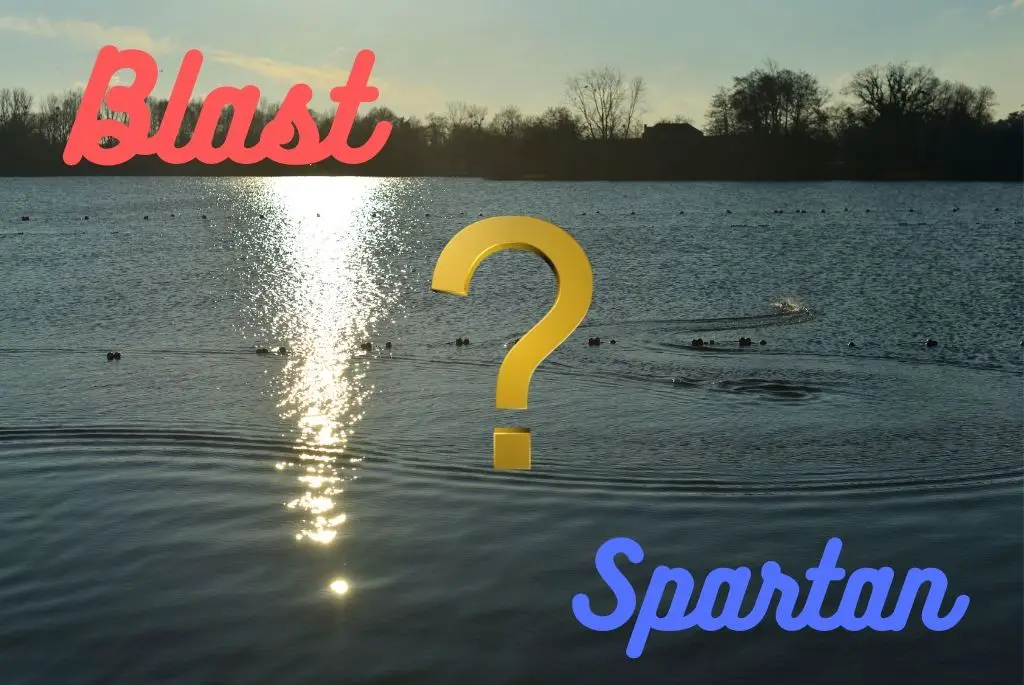 Traxxas Blast
The Blast is a true ready-to-run RC boat and all you'll need to buy is four AA batteries to use in the transmitter. It comes with a Precision 2.4GHz control radio system so you can reach out pretty far wherever you are, you'll start losing sight of the boat before you start losing the signal.
The Blast is easy to use from the very first time you hit the throttle because it's so well balanced on the water and has just enough power to be fun to play with but easy to control at the same time.
The electronics are waterproof but are not rated to be submerged in water, so it's important to drain the boat if it gets flooded.
Water cooling keeps the motor running at optimal temperatures, so if you want more than just 15 minutes of run time, buy an extra 7.2V Power Cell™ NiMH battery. The boat will be able to handle 30 minutes of runtime very easily with the cooling system's help.
The Blast is a good size for messing around in the pool, so you don't have to make the trip to the lake to have some fun. It's also an easy way to show it off at a friend's house… If they have a pool.
In short, the Traxxas Blast is an affordable RC boat that's guaranteed to provide loads of fun for anyone driving a boat for the first time. Its biggest downfall is also one of its strengths because the fact that it can't get much over 15mph means that anyone can control it well from the start.
How fast does the Traxxas Blast go?
The Traxxas Blast goes about 15mph under perfect conditions. On average the Blast will go between 10 and 15mph with the throttle wide open.
How big is the Traxxas Blast?
The Traxxas Blast is 23.75" (603mm) long, 5.75" (146mm) wide, and 3.25" (83mm) tall. So it falls into the medium-sized category of RC boats and handles very well for its size.
The v hull is 24" (609mm) deep which helps keep the boat the right way up.
Does the Traxxas Blast have a reverse?
The Traxxas Blast doesn't have a reverse because it can cause flooding within the boat.
Is the Traxxas Blast self-righting?
The Traxxas Blast does not have a self-righting mechanism in it. But it's still extremely stable on the water. You'll have a hard time tipping it over even while performing the most vicious turns at high speeds. If you're notorious for flipping boats though, maybe take a fishing rod along if you don't want to get wet. You could also make a rescue boat but I doubt you'll need it unless the water is very rough.
Does the Traxxas Blast come with batteries?
The Traxxas Blast comes with a 7.2V Power Cell™ NiMH battery included making it a true RTR boat. You just need to purchase four AA batteries for the transmitter.
Can the Traxxas Blast go in saltwater?
The Traxxas Blast can operate in saltwater, but it is not recommended because of how corrosive saltwater is. If you run the Blast in saltwater, clean it thoroughly before storing to avoid damage.
(Links to Amazon)
See my related post here: Can RC Boats Be Used In Saltwater? Here's What You Need To Know
Traxxas Spartan
The Spartan is massive, it's a little over 40 inches long, and has a 36-inch deep hull for extra stability. If you choose the right batteries according to your skill level, the chance of capsizing the Spartan is pretty low. The speeds that the Spartan achieves are similar to that of high-performance jet skis, reaching over 50 mph in mere seconds.
This is a boat that's big enough to drive around in a large area while still being able to see exactly what it's doing. You won't be able to mess around much in the pool unless you have an Olympic-sized one but when it comes to large bodies of water, there isn't anything much better than the Spartan.
Being a high-end boat, you're able to adjust many aspects of it and transmitter according to your preference. For example, the steering and throttle percentage, sensitivity, and end points are all adjustable on the transmitter.
Basically, the Spartan is the boat you want if you're looking to shoot across large volumes of water at high speeds of 50mph+ and still be able to see it properly even after you've blasted your way to the other side of the lake.
How fast can a Traxxas Spartan go?
The Traxxas Spartan can go over 50mph+ in good conditions. The acceleration is astonishing as well for you to achieve top speeds within seconds.
How big is the Traxxas Spartan?
The Traxxas Spartan is 40.80" (1037mm) long, 9.50" (243mm) wide, and 5.80" (147mm) tall. It's one of the biggest RC boats available which gives it rock-solid handling and power.
The Spartan has a 36" (914mm) deep v hull that sinks into the water for stability.
Does the Traxxas Spartan have a reverse?
The Traxxas Spartan has a reverse function. Just remember that reversing can cause some flooding within the boat so use it sparingly.
See my related post: Do RC Boats have reverse?
Is the Traxxas Spartan self-righting?
The Traxxas Spartan doesn't have self-righting and it is possible to capsize if you go badly out of control. However, the Spartan is weighted well enough for it to stay upright in most circumstances, it uses the Traxxas Stability Management (TSM) to prevent it from capsizing.
Check out my related post: Are Traxxas RC Boats Self Righting? Here's The Truth
Does the Traxxas Spartan come with batteries?
The Traxxas Spartan doesn't come with batteries included. You need to buy batteries from the following choices:
Beginners
2 X 7-Cell NiMH
Voltage 16.8V (Nominal)
mAh 3000+mAh
With these batteries, you'll still have plenty of acceleration and enough power to get you up to around 30mph. This is still double the speed of the Traxxas Blast.
Intermediate
2 X 2S LiPo
Voltage 14.8V (Nominal)
mAh 5000+mAh
These are well sized for anyone looking to bump up the speed, acceleration, and runtime because LiPo batteries are lighter than NiMH and these also have a better mAh.
Experienced
2 X 3S LiPo
Voltage 22.2V (Nominal)
mAh 5000+mAh
These are the batteries you need for those crazy speeds of 50mph and beyond. If you're not experienced with this kind of power, you're likely to blast off into the weeds or topple over quickly if you're not careful.
Can the Traxxas Spartan go in saltwater?
The Traxxas Spartan will operate normally in saltwater but since saltwater corrodes parts so quickly, Traxxas advises against driving in brackish water and the warranty doesn't cover corrosion.
If you drive your boat in salty water, make sure to clean it off thoroughly afterward to keep it from corroding.
(Amazon link)
Conclusion
The Traxxas Blast is perfect for all first-time RC boat enthusiasts. I recommend getting the Blast if it's your first boat or if it's for a child aged younger than 14 years. I say this because it's one of the best performing RC boats at its price point. It has a reliable transmitter, an effective cooling system, and long-lasting electronics. It will last a very long time and the only drawback is that you won't get much more than 15mph out of it even with an upgraded propeller.
However, if you're looking for ultimate speed on the water, the Spartan will deliver on that. Just make sure you have plenty of water ahead of the boat before opening up the throttle. The Spartan is massive in power and physical size so that you can make waves from one side of the lake to the other in no time. This is the choice to go for if you have access to a big lake nearby, or maybe if you're racing competitively.
(Amazon link)