Tamiya is a well-known brand of RC cars based in Japan. They have a wide range of options with a broad spectrum of speeds. Today we look at some of the most popular Tamiya cars and their top speeds. Whether you're into racing, drifting, crawling, or bashing, there's a Tamiya RC car for you.
Tamiya RC cars go from 12mph to just over 20mph depending on the gearing and driving conditions. Most of them use 540 motors, and LiPo batteries to achieve those speeds and you can get a bit more out of them if you increase the pinion gears size.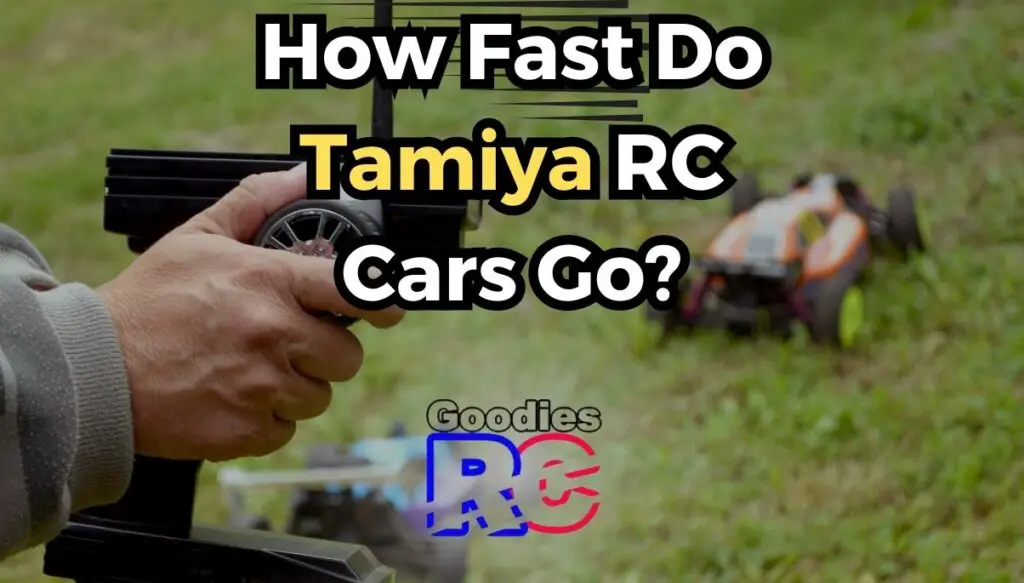 1. The Grasshopper
This is one of the most iconic and popular Tamiya RC cars ever made. It's a 1/10 scale buggy that can reach speeds of up to 20 mph with a 540 brushed motor, 18T pinion, and LiPo battery.
It has a simple and durable design, with a rear-wheel drive system and independent swing axle front suspension. It's easy to assemble and maintain, making it ideal for beginners and hobbyists alike.
The dimensions of this buggy are as follows: Length – 400mm, Width – 221mm, Height – 139mm.
The Grasshopper II body is made of durable polystyrene resin and includes a driver figure that can be attached.
It has a sturdy ABS resin bathtub chassis.
The front swing axle and rear rolling rigid suspension systems are activated by coil-sprung friction dampers. (If you're new to RC, then I highly recommend you to check out my RC suspension types and parts guide. It's a great resource to clear all doubts regarding the technical parts of RC cars like the suspension system).
The rear gearbox is fully enclosed and contains a differential gear, which helps with smooth cornering.
The buggy comes with front ribbed tires for excellent grip when driving straight, and the rear spike tires provide powerful traction. These tires are paired with lightweight 8-spoke one-piece wheels.
You can enhance its performance by adding tune-up parts like standard Type 540 motors (which require nine 1150 ball bearings and one 850 ball bearing) and CVA mini oil dampers.
>>Check the current pricing for the Grasshopper here (On Amazon)
Speaking of Tamiya RC cars, have you ever wondered about this brand and wanted to learn more? If so, then you should definitely check out this guide: Is Tamiya a Good RC Brand?
2. The Hornet
This is another classic Tamiya RC car that has been around since 1984. It's a 1/10 scale buggy that can reach speeds of up to 20 mph. It has a sleek and aerodynamic body, with a powerful 540 motor and oil-filled rear shocks. It's easy to customize and upgrade with a wide range of optional parts available.
The Hornet is one of Tamiya's most popular R/C cars ever. It was a big hit and started a worldwide trend for 2WD R/C buggies. This buggy is great for both dirt and on-road tracks, so it can handle any terrain you throw at it. 
Just like the original, this re-release is easy to put together. The chassis and drivetrain are made of a strong but lightweight ABS resin frame. It also has a sealed gearbox with diff-gear to protect it during off-road driving. 
The rear dampers are filled with oil for smooth performance, and it has a powerful RS 540 motor and a high-performance suspension system. The Hornet is perfect for anyone who used to have one, always wanted one, or just wants a cool and revolutionary buggy with a special place in R/C history.
Here are the key features:
Size: 400mm long, 230mm wide, and 150mm tall. It weighs 874g.
Sturdy frame with side bumpers.
Powerful Type 540 motor for top performance.
Front suspension with swing axles and friction dampers.
Rear suspension with a solid axle and oil-filled dampers.
Sealed rear gearbox to protect the diff gear during off-road driving.
Comes with the original 3-piece assembly wheels, and you can use optional ball bearings (sold separately).
Racing front tires with straight ribs for better traction.
Buggy rear tires with spikes for extra grip.
The body shell is made of durable and shock-absorbent polycarbonate.
It has a reinforced resin bumper.
Electronic Speed Controller is included.
>> Check out the latest pricing for the Hornet here (On Amazon)
3. The Avante
This is one of the meanest-looking Tamiya models. It's a 1/10 scale buggy that can reach speeds of up to 40 km/h. It has a revolutionary chassis design, with a carbon fiber lower deck and aluminum upper deck. It also has a four-wheel drive system, with ball differentials and universal shafts. It's a high-performance machine that requires skill and precision to handle.
This is the limited-edition Black Special release! Tamiya made to celebrate their 35th anniversary. They got the color scheme idea from the Avante Black Special Mini 4WD.
By the way, if you're fascinated by the 4WD mini Tamiya models and eager to enhance their speed and capabilities, you won't want to miss our expert guide on how to make a Tamiya Mini 4WD faster.
The Avante is packed with awesome features like a special shaft-driven 4WD system that they borrowed from Tamiya's very first 4WD R/C buggy called the Hotshot. The design is super fancy, with a double-deck chassis, a long-shaped body, and a cool formula-style shape. They even added a nifty compact gearbox with three little gears, a center differential for better stability, adjustable suspension, and easy-to-use wheel caps.
They made the drive shafts stronger and used tough aluminum uprights, so it's more durable and performs even better than before.
It's a 1/10 scale R/C shaft-driven 4WD buggy kit. The size is about 420mm long, 240mm wide, and 140mm tall. The wheelbase measures 260mm.
They used carbon-fiber parts, like 2mm thick upper and lower decks, and a rear damper stay. It makes the car really strong.
The Avante (2011) Racing Steering Set includes a cool 2mm thick carbon fiber steering plate and smooth 850 ball bearings.
They also included the Avante (2011) Torque Splitter Set, with a torque splitter and ball differentials for extra grip on any terrain.
The suspension is a 4-wheel double wishbone setup with metal shafts. You can customize it to your liking.
The front uprights are made of tough aluminum material.
The wheels are fluorescent pink and have spike tires for maximum traction.
It comes with a specially labeled 25-Turn motor.
To complete the setup, you'll need a 2-Channel Radio, servo, ESC (electronic speed control), 7.2volt battery pack and charger, and some Tamiya PS paint for a stylish finish.
>> Check the latest pricing for The Avante here (On Amazon)
4. The Sand Scorcher
This is one of the most realistic and detailed Tamiya RC cars ever produced. It's a 1/10 scale buggy that can reach speeds of up to 20 mph. It has a faithful reproduction of the Volkswagen Beetle body, with chrome-plated parts and stickers. It also has a rear-wheel drive system, with independent suspension and coil springs. It's a collector's item that will impress any RC car fan.
Back in 1979, Tamiya released the R/C Sand Scorcher. Fans all over the world went wild for it! It had this unique look and an awesome mechanism that made it stand out. Now, they've brought it back with some tweaks, but it still has that original vibe. They made sure to keep the same basic layout, but they added some refined parts to make it even better. When you see this re-released version, it'll take you right back to the good old days.
This model is a realistic reproduction of the cool buggy that was spotted at the famous "Baja 1000" race in California, USA. The body comes molded in white polystyrene, and you can paint it up using Tamiya plastic model paints. The chassis is rear-wheel drive, 2WD, and it delivers some seriously realistic and aggressive driving performance that'll get your heart racing.
They designed the chassis with a 2mm thick FRP plate that's reinforced with an aluminum plate for extra strength and flexibility, ensuring stability. The 4-wheel independent suspension is top-notch too.
Up front, you've got the double trailing arm setup, and in the rear, there's the swing axle system. They even used die-cast suspension arms and oil dampers to make it even better. The electronics and battery are protected by a clear plastic mechanism box that can take a beating. And guess what?
It's equipped with full ball bearings to reduce friction loss. Plus, the 3-piece center-lock wheels are a perfect match for the grooved front tires and ribbed rear tires, giving you incredible off-road performance.
Dimensions: Length: 400mm, Width: 230mm, Height: 180mm.
Wheelbase: 250mm.
Tread: Front – 170mm, Rear – 175mm.
Tire Width/Diameter: Front – 21mm/73mm, Rear – 41mm/82mm.
Chassis: Made of a 2mm thick FRP plate with an aluminum plate for reinforcement.
Rear Wheel Drive configuration.
Chassis Weight: Approximately 1730g.
Includes Type 540 Motor (Compatible with the kit-included motor or Item 53689 540J Motor only).
No Differential Gears.
Front Suspension: Double Trailing Arm.
Rear Suspension: Swing Axle.
Equipped with 4 Oil Dampers for smooth operation.
Gear Ratio: 6.5:1 or 9.3:1 (two options available).
Electronic Speed Controller (ESC) is included for convenient control.
>> See the current pricing for The Sand Scorcher here (On Amazon)
5. Tamiya Ford Mustang SVT Cobra
The Tamiya Ford Mustang SVT Cobra is a 1/10 scale on-road RC car that is designed to look like the real-life Ford Mustang. It features a realistic Mustang body, a four-wheel independent suspension, and a 540-size motor. The car has a maximum speed of 20 mph (32 kph) and comes with a high-performance TBLE-02S ESC that allows for smooth acceleration and precise control.
It's a shaft-driven 4WD powerhouse with a bathtub frame. They made sure to keep the motor and battery positioned close to the ground, giving the car a lower center of gravity and perfect balance.
To boost its strength, they added a fiberglass-reinforced nylon upper deck and gear covers on top of the bathtub frame. It's also built with a 3-piece tie rod for smoother steering action.
This chassis is all about delivering a fantastic operating experience. With its low center of gravity and well-balanced design, it has outstanding performance on the track. The 4-wheel double wishbone suspension system and front and rear differential gears work in harmony, ensuring smooth handling and excellent control.
They didn't skimp on the wheels either. They developed special metal-plated wheels with a diameter of 70mm, perfectly matched with 70mm-diameter radial tires. The high sidewalls of these tires make turns forgiving, giving you more confidence on the road.
1/10 scale R/C model assembly kit. Length: 465mm, width: 195mm, height: 134mm
Polycarbonate body with separately molded parts recreating the side mirrors and rear wing.
Stickers for trim body details.
Paint window masking stickers included.
5-spoke wheels are paired with treaded tires.
257mm wheelbase.
A wide range of Hop-Up Option parts is available to tune the TT-01 Type-E chassis.
Includes 540 motor.
Includes: Tamiya TBLE-02S ESC (electronic speed control) Capable of running sensor brushless motors and brushed motors alike. (21.5 Turn BL motor limit) (23 Turn brushed motor limit.
Required to run: 2-Channerl radio, steering servo, 7.2volt battery pack with a compatible charger, and Tamiya PS paint.
This model has been discontinued by Tamiya. You might have to do some serious searching to purchase this model.
So that was all about how fast Tamiya RC cars can go and some examples of their top models that boast impressive speeds. But what about the motors? Check out this guide to explore the fastest Tamiya RC motors.
In Summary
Most Tamiya RC cars are equipped with 540 motors offering an exhilarating and thrilling experience. With speeds ranging from 12 to 40 mph, these vehicles provide an impressive level of performance that can satisfy both beginners and experienced hobbyists.
The 540 motors, renowned for their power and reliability, propel these RC cars to incredible velocities, allowing for intense races and heart-pounding maneuvers. Whether you're a speed enthusiast or a hobbyist seeking excitement, Tamiya RC cars with 540 motors deliver a fast-paced and adrenaline-fueled experience that will leave you craving for more.
So, gear up, hold on tight, and immerse yourself in the world of Tamiya RC cars, where speed knows no bounds.
Up Next: Do you also own Nitro RC Cars? Then I think you'll also like to read this guide on how fast a Nitro RC car can go.