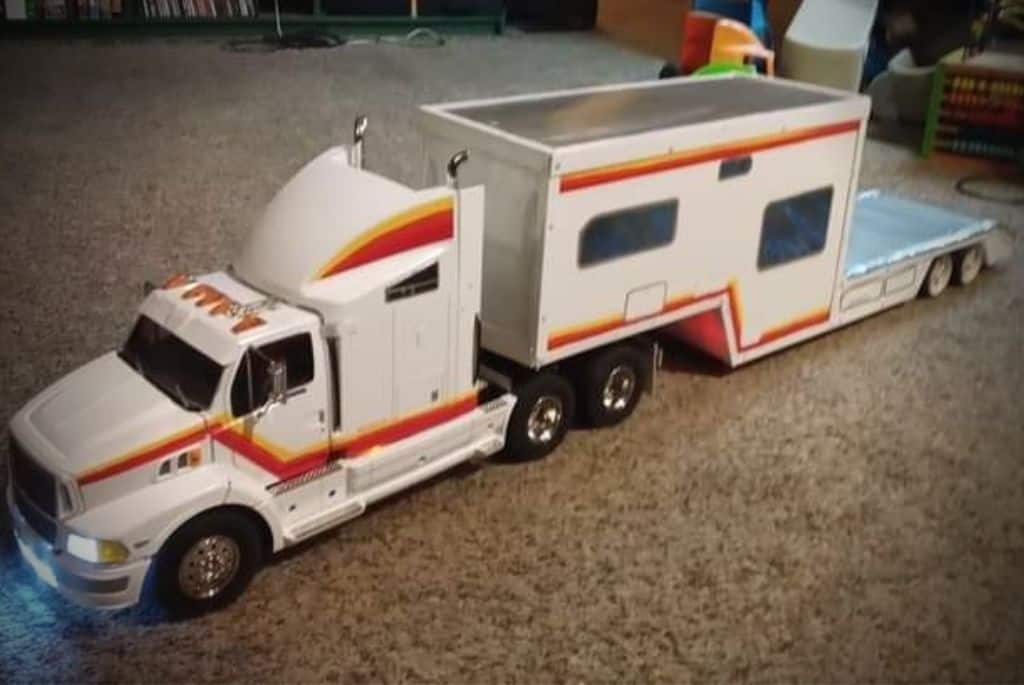 In the world of RC cars, Tamiya is a brand with deep roots. They have made their name on the back of their quality static plastic and radio control (R/C) scale kits.
Since the 1960s, they established themselves as the first company to make RC controlled models that were easy to assemble. However, they provided a level of customization and detail that meant few companies could compete.

Tamiya is a great RC brand, thanks to their large range of RC units, with a vast range from off-road buggies to fast on-road cars to scale model tanks. Tamiya provides support and replacement parts for their entire catalogue of vehicles, and they work with authorized sellers to provide excellent service to their customers.

Though they have been around for many decades at this point, they are still going strong with new releases and modern reissues of classic products.
However, with so many other companies emerging in this market over the last few decades, it raises the question, how does Tamiya hold up today amongst all this competition?
This article is dedicated to answering this question, and exploring Tamiya's brand.
Tamiya has such an amazing selection of products to offer, from scale kit models to a vast range of high detail RC vehicles. Please click here to see what Tamiya has to offer right here on Amazon.
What do Tamiya Offer?


To get a proper understanding of how Tamiya holds up in the RC market today, we have to look at what products they offer.
There are many sub-categories of RC vehicles, and many companies have exceptional models in one category but may suffer in others.

Off-Road Buggies
While as a company, Tamiya has redoubled its focus in recent years into the on-road market, they have a long legacy of excellent quality off-road buggies and other RC cars.
Their online catalogue offers a wide variety of off-road buggies in both military and civilian versions.

Many long-time RC enthusiasts will fondly remember the Avante, Egress, and of course, the classic Sand Scorcher. In particular, the Sand Scorcher was a 1/10th reproduction of the original Volkswagon bug.
This RC car got Tamiya into the RC market from their previous static model focus.
It was the first proper off-road RC car with an accurate Baja-based chassis, sealed gearbox, and oil-filled differential with a one-piece ABS body.

Even today, Tamiya offers a 2010 version of their Sand Scorcher which showcases this company's incredible longevity.
Check out the Sand Scorcher here on Amazon
However, many RC enthusiasts prefer their more recent models like the TRF503. Tamiya still makes quality products in the off-road market even if their attention is focused elsewhere. However, the price point does mean they may be better for more established hobbyists rather than beginners.
On-Road Cars
Tamiya's dedication to exact minute detail in their vehicles is so apparent in their on-road RC cars.
Their RC first car was a scale version of a Porsche 934 made in 1976.
However, Shunsako Tamiya (son of company founder Yoshio Tamiya) famously displayed his dedication to accuracy and detail when designing an accurate model of the Porsche 911.

To make the highest quality model possible, Tamiya bought the full-size car that he was basing the model on and then dismantled the entire car to learn every detail.
Unfortunately, nobody at the company had the expertise to reassemble it, so they brought in technicians from Porsche Japan to complete the job.

Tamiya makes their modern on-road RC cars with that same focus on detail and precision, and there are many options within this broad category. To narrow it down, you will need to decide whether you would like it to be FWD, RWD, or 4×4, and to help in choosing that, consider what conditions you will be running the RC car on.

Debris like rocks, leaves, and even grass clippings in the running area will be a factor for users who are not planning to race their RC cars, and you should choose your model accordingly.
While new Tamiya RC kits are still reasonably expensive, there is an excellent secondhand market that can offer you the ability to buy a quality chassis and simply put the car body of your choice on top of it.
Related post: How to Make A Tamiya Mini 4WD Faster in 5 Steps

Tamiya Military Replicas / RC Tanks
In what may be surprising information to some, Tamiya's RC controlled tanks actually predated their RC cars by two years. In 1974, Tamiya created its first radio-controlled model, which was an M4 Sherman tank. Military tanks are a passion for Shunsaku Tamiya, and his company's models operate with a precision that fully displays that love.

Shunsaku Tamiya's willingness to take apart full-sized versions of vehicles, as shown with the Porsche 911 mentioned earlier, is unequalled.
While at a US Army Ordnance Museum, he once crawled into the tiny gap underneath a German Panzer tank to personally photograph the details that many might overlook.

Tamiya takes that drive for perfection one step further with their modern RC tanks. The Tamiya tanks of today are available as Full Option kits, which means that they are not only incredibly accurate in their scale detail, but they provide authentic sound and light systems that make these RC vehicles the best in their class.

Their scales range from 1/35th up to 1/16th scale, and every single one is a faithful reproduction of the real thing. A close inspection of these tanks' bodies reveals details like panel lines in the armour and accurate accessories like ammo boxes, spare track, and even tow cables.
Tamiya's line of RC tanks offers unparalleled detail and authenticity for military vehicle enthusiasts, though with a price point that matches.

RC Kits vs. Ready-To-Run

Regardless of which sub-category of RC vehicle you may be looking for, one consideration to make, especially when purchasing as a gift, is whether to buy an RC kit or a ready to run version.
Most of the time, purists will prefer to buy a kit, as assembling and customizing the RC car when you receive it is often considered a necessary part of the process.

There is a lot of merit to this idea, as RC cars can be a gateway for many younger hobbyists to learn about vehicles' inner workings.
This point is also where Tamiya's attention to detail in their RC vehicle construction is beneficial, as the accurate scale means that components are where they should be.
Losi vs Traxxas: Which Is Better? Check out my detailed article.

Tamiya's website has a wide selection of ready to run versions of their RC cars, many of which can also be constructed from a kit.
Depending on the needs of the end-user, either option can create a fulfilling RC experience.

Tamiya RC Support

With a catalogue of RC cars that spans decades, coupled with a vast array of types, styles, and customization features, support for existing customers is part of what can make or break a brand. In Tamiya's case, they carry a selection of components to support its extensive RC car library that matches it in terms of choice.

The excellent variety of RC support options that Tamiya provides includes spare parts that become necessary due to the wear and tear that RC vehicles endure. In addition to these repair components, they also sell parts that allow you to upgrade your car and accessories that can give new life to an older model.

All of the components in the world don't do users any good without the proper tools to apply them, and Tamiya covers that section as well by providing tools designed to work specifically with their models and RC vehicles. It is not an exaggeration to say that in most cases, users can get everything they need for a Tamiya RC vehicle, from the kit to the paint, to replacement parts, directly from the company or an authorized seller.
You can see a full range of Tamiya tools, paints and replacement parts on Amazon by clicking here
The Bottom Line

As a company, Tamiya has a history of quality construction with innovative features and unparalleled attention to detail.
For decades they were one of the only driving forces in the RC vehicle market because of those qualities. For modern buyers who are either new to the world of RC or have been in the hobbyist market for a long time, Tamiya is an overall excellent choice.
Of course, it is worth noting that the trade-off for quality construction and after-market support is that Tamiya has a higher price tag than some of its competitors.
This price difference may be significant enough to put off potential customers looking for a cheap way to enter into the world of RC vehicles.

Additionally, many competitors in recent years have moved into the high-end part of the RC kit market with vehicles that provide even more detailed construction. However, this can mean the difference between a Tamiya 200 piece kit vs. a competitor's 1200 piece kit.
This level of detail can be an advantage or a disadvantage depending on the buyer's needs, but Tamiya stands above the rest in terms of ease of construction.
Ultimately, Tamiya is a good RC brand for mid-level buyers and enthusiastic beginners as they provide a perfect balance in many of their aspects. By delivering quality components in their kits that always fit together correctly and result in precision vehicles, Tamiya has been an excellent choice for decades and will likely continue to be for a long time.