With RC vehicle operation becoming an increasingly popular hobby, many people are looking for value-for-money brands to get them into the action. DEERC is a brand that has not had much visibility, but it is starting to make a name in the RC community. We will examine the products made by DEERC to see where they fit into the RC niche and if it is a good buy. 
DEERC is a good brand for entry to mid-level RC vehicles. They offer good quality vehicles at a good price, and the vehicles are customizable, allowing for upgrades as your skills improve. Spare parts and accessories are readily available. DEERC is not a true hobby grade RC but offers a good start.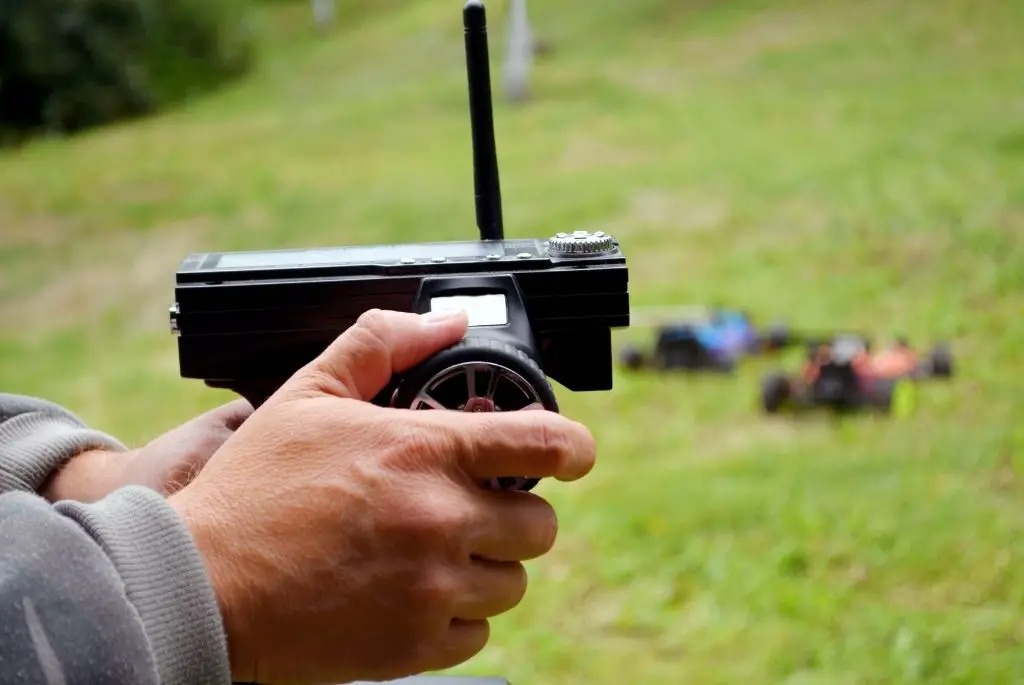 RC vehicle operating is a growing hobby that is attracting many new manufacturers to the market. It is sometimes difficult to establish if a brand is a genuine player in the industry or trying to make a quick buck. We have done some of the investigation work for you by taking a close look at this brand, and we were pleasantly surprised!
(Amazon Link)
Is DEERC A Good RC Brand?
What do we really mean when we pose the question about a brand being a good RC brand? Generally, we want to know if the products are of good quality, well made, robust, and fast. We also want to know that parts are readily available and that the company is serious about RC products.
After a superficial look at the company, our initial impression was that the RC products were toys rather than for the serious RC enthusiast. However, as we looked a little deeper into the products made by DEERC, we discovered there is more to this brand than what we initially thought.
Where Is DEERC From?
For some people, the words "Made in China" are akin to a swear word, but we cannot paint all products from China with the same brush.
DEERC is a manufacturer located in Xiamen, China, but its products are widely available on Amazon and other online stores. All the customer reviews on the RC products are 4.5 stars or more, which is a good indication that independent consumers appreciate the quality and value of these products.
What RC Vehicles Does DEERC Make?
Our first impression of DEERC was not accurate since many of the products were obviously toys for kids rather than serious RC hobby vehicles. They offer some really basic, take-apart RC cars that are definitely toys rather than hobby cars, but further digging into their product range gave us some surprises.
Related post: Are Axial RC Cars Good? Here Are 5 Examples
DEERC makes RC vehicles and non-RC toys, so when you see this range of obvious toys in their product range, it is difficult to consider the company a serious player in the RC market.
As we looked further into their RC range, we discovered that they not only make good RC cars and trucks, but they also produce RC boats, helicopters, and quadcopters, or drones.
In the RC car range from DEERC, the cars are generally trucks built for rock crawling or off-road driving. Don't expect blistering speeds from these RC trucks, but they have a lot of good torque to cope with off-road obstacles and sandy trails.
Even though these vehicles are not the fastest, they are generally within the 40-kph to 60-kph or 25-mph to 36-mph speed range. So while these RC trucks are by no means the fastest, they offer acceptable speed for beginner to mid-level experience RC drivers.
The drones offered by DEERC vary in size and features across their range, as is typical for most drone manufacturers that offer various products in different price ranges. The drones range from mini-drones to larger-scale models competing with most other beginner to mid-range models from other suppliers.
What Is DEERC Quality Like?
The products that we took a closer look at from DEERC were their RC trucks rather than the helicopters, boats, and quadcopters, so we will speak about the RC truck quality and whether you get value for money.
When we look for a good deal on an RC truck, there is cheap as in price and cheap as in a poorly constructed product. We were pleasantly surprised by the general quality of DEERC off-road trucks, both from the quality of the parts, structure, and accessories in the box.
DEERC RC Truck Quality
The RC truck products offered by DEERC range in price from a little under $40 to around $170, which are low prices for RC trucks. We wanted to figure out whether the products are cheaply made and not worth the money or simply good value for money.
For example, we tried out the DEERC DE45 Off-Road Monster Truck Rock Crawler, which is priced at a little under $40. This truck is not a speed machine, but it is not designed to be fast. It is a rock crawler and performs extremely well in this role.
It is a 1/14 scale, true 4WD RC monster truck, with dual motors, non-slip tires, which give the truck the ability to clime 45-degree angles without slipping.
The frame is metal, giving the truck robustness for rough off-road driving and handling the twisting torques involved in negotiating large obstacles. The heavy-duty shocks and good ground clearance make it perfect for its intended purpose.
One of the features we liked on this truck was the drive time on the batteries. It comes packaged with two 3.7V, 1200mAh batteries that give you 45-minutes of drive time each, totally a superb 90-minutes of drive time!
The true 4WD, the ground clearance, and the torque of the motors make this truck great value for money, and because of the relatively low speed, it is great for beginners to RC as well as younger kids who can learn on RC with this vehicle.
A DEERC RC truck closer to their upper range is the DEERC 9206E 4WD Truck, priced around the $150 mark. This truck is a higher speed truck than the Rock Crawler, reaching speeds of about 48-Kph, or 30-mph.
The truck is well made and robust, and even the body that comes with the truck is tough, durable, and will last a long time, even driving in rough terrain and rolling the truck. A major advantage of this truck is that it comes with a clear spare body, allowing you to custom paint the body to your preference.
This truck comes with two 7.4V/1700mAh rechargeable batteries with 20-minutes drive time on each battery, totaling 40-minutes of drive time.
The 2.4GHz controller has adjustable speed and steering trim to avoid spinouts, which helps beginners get used to controlling the vehicle before tying it at full speed and full steering trim.
DEERC RC Truck Parts
There is a full range of spares and parts for the RC trucks and drones available online at Amazon, which shows commitment from the manufacturer that they intend to offer full customer support for their RC vehicle users.
Most people who have needed and requested customer support on DEERC products have indicated that the level and quality of support they received was good and responsive.
Another great aspect of the customer support offered is that the YouTube channel for DEERC has detailed videos on how to repair, replace parts and disassemble many of their RC products.
Should You Buy DEERC RC Products?
From our experience with the DEERC trucks, we think they are great but probably just a little below the true hobby quality and performance of other major brands like Traxxas.
DEERC products are great as entry-level to mid-level RC trucks, and they are hard to beat at these levels. The products are robust and can take a beating, which is great for those learning to control RC vehicles. The price is certainly a major factor that will attract most beginners to try out DEERC products because they are certainly less costly than the other hobby-level brands.
However, even though they come in at a lower price, the manufacturer has not compromised on the quality of the product, which is certainly good enough to get started in the RC hobby.
Purchasing a DEERC RC truck to get started is a good choice, but you will outgrow the performance of the vehicles fairly soon and be looking to upgrade to something more challenging. 
The good news is you can take these cars apart and upgrade the components such as the motor and batteries. This will allow you to bypass the limitations of the original and build a more challenging truck using the same chassis.
(Links to Amazon)
Conclusion
We were quite impressed with the DEERC products for the price that you are paying for these vehicles. They allow anyone to get their feet wet in the hobby and try it out without committing to a large expenditure.
Whether for the younger generation or adults getting into the RC driving game, we recommend the DEERC products as a great way to get started!
If you found my review of DEERC helpful, you might like to check out my articles covering the BEZGAR brand and LAEGENDARY