Traxxas has become almost a household name among RC car hobbyists, but there are other brands that can go toe-to-toe with Traxxas and compete with similar products. Losi is one such RC manufacturer, and we will be comparing Losi products against the familiar Traxxas equivalents to expand your options for RC cars.
Traxxas appeal to the wider RC community as they are easier to drive and more readily available.Traxxas and Losi are both top-quality RC cars. Losi RC cars are high-end cars built to race specifications, are tough, and intended for experienced RC car operators.
Traxxas has been big and brash with their marketing, but other brands such as Losi have been stealthily and steadfastly building a reputation and following with their quality products. Comparing these two brands will provide a view of the products, displaying what they are good at and which brand will be good for your RC driving requirements!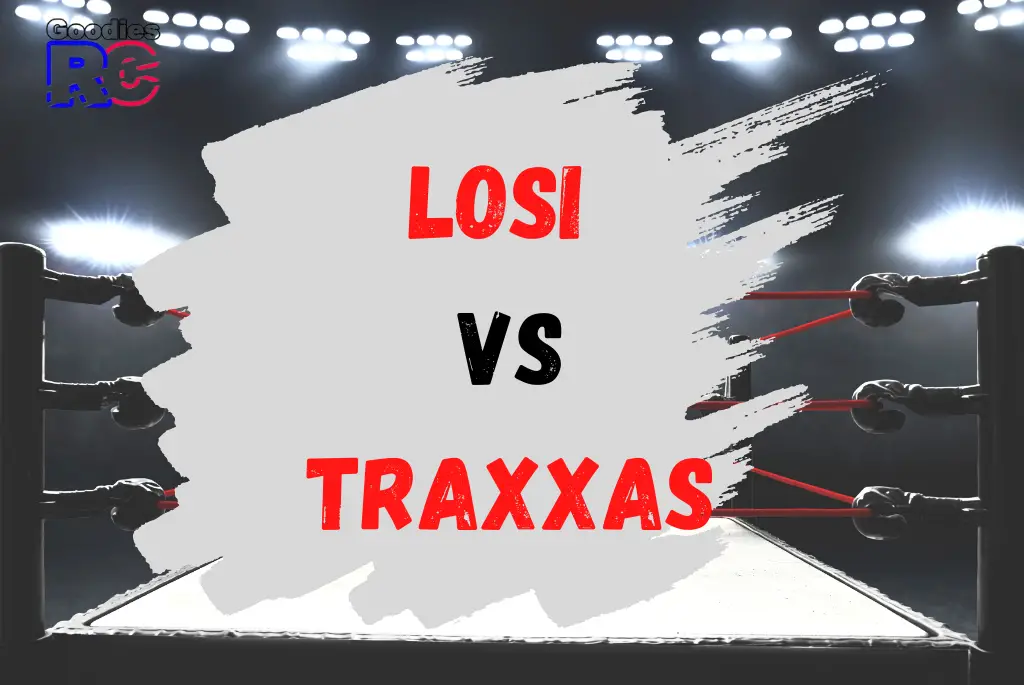 Traxxas vs. Losi: Which Is The Better RC Brand?
When comparing these two RC brands, there are several criteria to examine, including options other than simply measuring the products against one another.
The following characteristics should be included in the evaluation of these RC producers.
Commitment to improving RC technology. Companies showing interest in furthering the technology in an industry show a long-term investment in the market and their customers.
Research and development into producing better products. Brands that constantly improve their RC models and offer advanced components and technology will deliver superior quality products 
Dedication to the industry and the hobbyists. Brands that commit to the industry in ways other than trying to make a fast buck from the consumer develop a trusted following in the community.
Availability of product and components. The range of product and component distribution and availability can impact the brand's success in the wider RC community. Consumer frustration over delivery delays for products, services, and parts is a key factor in public perception.
Performance of the RC cars. How well do the RC cars perform? Build-quality and technology will affect the experience of driving RC cars.
Customer support. Customers are happy when things go well with products they paid good money for, but a company's service will often be determined by how they handle consumer concerns when products don't work as expected.
Losi vs. Traxxas: The Companies
We will begin our comparison of Traxxas and Losi by giving some background to the brands and their involvement in the RC industry.
Traxxas is probably one of the most well-known brands in the RC hobby. The company has been producing RC cars since 1986, operating out of McKinney, Texas, in the USA. Traxxas has continually shown advancements in motors and batteries in the RC car sector and produces cars for all sectors of the RC community.
They were the first to produce RTR fuel-burning RC cars and RTR electric RC cars, allowing easy entry into the hobby for people with little knowledge of building cars.
See my review on the Redcat Racing brand
Other notable advancements made by Traxxas were waterproof electronics, self-righting trucks, auto-shifting two-speed gearboxes, and the first RTR RC car to go beyond 100mph. These "firsts" for Traxxas tick many of the previously detailed boxes as criteria for making a good RC brand.
Who Makes Losi RC?
Losi is a brand of RC car manufactured and distributed by Horizon Hobby LLC, operating out of Champaign, Illinois, in the USA. The Losi RC cars are often referred to as Team Losi, Team Losi Racing, or simply TLR.
Losi has a history almost as long as Traxxas, with the first TLR cars being released in 1988. Horizon Hobby LLC purchased Losi in 2000, and the brand became part of the stable of RC products distributed by the company.
Team Losi Racing cars are noted for their innovative design for high-end competition cars, specifically for the racing sector of the RC market.
Innovations in RC car racing that Losi pioneered include the following.
5-link rear suspension arms
Lightweight Carbon-graphite chassis
Natural rubber racing tires
First hobby-grade mini RC cars
Losi vs. Traxxas: Quality
When it comes to comparing the quality of the RC cars produced by Traxxas and Losi, it is difficult to find negative points with either product.
Both companies are committed to producing top-quality RC cars for the hobby industry, and their reputation in the RC industry is a testament to both companies achieving this goal. You will not be disappointed with either Losi or Traxxas products from a quality perspective.
Both companies Are constantly improving the components included in their cars to enhance their performance and the quality of the RC driving experience for the hobbyist.
No doubt at some point youve been checking out new RC's and seen brands like DEERC and Laegendary. You can see my review of each, right here:
Losi vs. Traxxas: Racing
If your RC car hobby focus is on racing, you need a car designed specifically for this purpose to get the most enjoyment and a car to outperform others
From the racing perspective, Losi is the better RC brand. Their cars use more powerful motors across the board, and the components are designed to race specifications. These features give Losi the edge over Traxxas for dedicated RC racing enthusiasts.
If your RC car driving consists mainly of off-road driving and bashing around in the backyard, then Traxxas would be the better RC brand choice. The Traxxas monster trucks are definitely superior in design and construction to the Losi equivalents.
Even though Losi pips Traxxas at the post for superior racing pedigree in their RC cars, Traxxas is the brand that holds the title for the fastest ready-to-run RC car.
Into RC boats? Read my article on Traxxas Blast vs Spartan
The Traxxas blew the RC community away by announcing the Traxxas X0-1 RTR electric car that can achieve beyond 100mph out of the box. Traxxas may have the fastest RTR car, but the range of cars offered by the brand is not dedicated to racing but rather to all forms of RC car driving.
Losi vs. Traxxas: Durability
Traxxas produces high-quality RC cars for a wide range of RC car enthusiasts. The cars are robust and durable and have a good reputation in this department in the RC community. The reliability of the motors and electronics is a particular strength of the Traxxas range of cars. 
However, since Losi is dedicated to producing RC cars for racing, the durability and quality of all the components in Losi cars, from tires to suspension, transmissions, chassis construction, and bearings and transceivers, are generally more durable than Traxxas products.
Related post: How Fast Do Traxxas RC Cars Go? (With 15 Examples)
This conclusion by no means suggests that Traxxas is a sub-standard product in terms of durability, only that Losi is somewhat better.
Losi vs. Traxxas: Beginner-Friendly
Traxxas does not focus its RC product offering on a singular focused aspect of RC car driving. They produce RC cars from entry-level beginner cars to advanced supercars requiring significant operation skills.
Traxxas were innovators in producing a wide variety of RTR cars in both nitro and electric models, enabling beginners to purchase an RC car and drive their RC car minutes after opening the box.
Historically, RC cars were the domain of hardcore hobbyists who were prepared to spend hours customizing and building cars in addition to the time spent driving them.
The development of RTR RC cars that were ready to be used directly out of the box after charging the batteries or adding fuel brought the RC hobby to those who were more interested in driving than building and customizing the cars. 
Check out my article: HPI vs Traxxas?
From a useability and beginner-friendly aspect, Traxxas is the better RC brand since it has a wider range of cars targeting a wide range of RC car driving skill levels and interest types. 
Traxxas also includes technology in their cars that make their cars easier to drive, particularly for those new to the hobby. This technology is called TSM or Traxxas Stability Management, which helps to keep the car driving straight and avoids spinouts in corners, a challenging aspect for new RC car drivers.
In contrast, the Team Losi Racing cars are intended for more advanced drivers entering the RC hobby's competitive racing sector.
Losi vs. Traxxas: Availability
Traxxas produces a larger range of RC cars, making them more appealing as a stock items for hobby shops. Since Traxxas cars are designed for a wider market, they are more popular among a wider population segment and thus sell more cars.
Losi is more niche-market oriented but still distributes its cars and components to more than 60 international destinations, but in lesser quantities than Traxxas.
This makes Losi RC cars and components generally harder to source than Traxxas cars and components. 
Check out my article: Are Axial RC cars any good?
Losi vs. Traxxas: Customer Support
Traxxas has a wider distribution network for cars and components, which gives them an advantage when it comes to availability. This greater distribution network translates into better customer support service.
The Losi support is good, but they cannot compete with the support offered by Traxxas. The Traxxas extensive dealer network provides a more streamlined, effective, and faster customer support than Losi, which generally requires faulty components or cars to be shipped to the nearest distribution center at your own cost.
The widespread Traxxas support means that you can probably walk into a local dealer and get the support you would expect from Traxxas direct.
Losi vs. Traxxas: Summary
Losi vs. Traxxas
Losi
Traxxas
Quality
✓✓✓✓✓
✓✓✓✓✓
In-car technology 
✓✓✓
✓✓✓✓
Racing
✓✓✓✓✓
✓✓✓
Durability
✓✓✓✓
✓✓✓
Product range
✓✓
✓✓✓✓
Beginner-friendly
✓✓✓
✓✓✓✓✓
Availability
✓✓✓
✓✓✓✓✓
Customer support
✓✓✓
✓✓✓✓✓
Table of Losi vs Traxxas qualities
Traxxas VS Losi: Models Comparison
To finalize our comparison between Traxxas and Losi, we will compare a few of the RC car models offered by the two brands to see which would be the better choice for you.
The comparisons are between cars from each manufacturer intended for use in the same terrain and similar class of vehicle.
Losi Super Baja Rey VS Traxxas UDR: Which One's Better?
The Losi Super Baja Rey and the Traxxas Ultra Desert Racer are designed to be off-road vehicles, but the differences become apparent when you get these vehicles side-by-side.
See my review on the Kyosho brand
The Losi Super Baja Rey is immediately noticeable as a larger RC car than the Traxxas UDR. The chassis is larger, the wheels are bigger, and the overall construction is better equipped to handle any off-road driving conditions.
The undercarriage of the Losi gives better ground clearance, and the suspension, driveshaft, and steering rods and linkages are noticeably more robust than the Traxxas. This will provide greater durability for the rough terrain
The Traxxas UDR is a great RC truck for any enthusiastic, off-road RC driver and provides tons of fun in the dirt. However, the Losi is for the serious off-road RC driver and takes the hobby to a new level of power, speed, and adrenalin.
One of the definitive differences between the two RC vehicles that make a significant difference in the power, performance, and length of run is that the Losi has 8S battery capability, while the Traxxas is limited to 6S battery capacity.
Make no mistake, the Traxxas UDR is a great off-road RC truck and is a good option, but the Losi Super Baja Rey simply does it better.  
Interested in the Losi Super Baja Rey? Check the best deals here on Amazon.
See Walmarts pricing here
If the Traxxas UDR is more your thing, you can check it here on Amazon.
Losi LMT Or Traxxas Maxx?
The Losi LMT is a solid axle RC monster truck designed for extreme off-road driving. The tough construction makes it able to handle rougher terrain than the Traxxas Maxx.
Both vehicles are 4-wheel-drive, but the Losi offers optional all-wheel steering in true monster truck form. The Traxxas Maxx and the Losi LMT both use 4S LiPo batteries and use brushless motors to power the vehicles.
The Traxxas Maxx is the faster of the two trucks in a straight-up drag race, but the Losi is certainly the more robust and tougher RC truck. The Maxx is probably faster than the Losi due to the heavier components used in the Losi to add durability for rough terrain.
The Traxxas Maxx is an extremely popular off-road RC car and is a great choice for most people, but if you need a car that can handle extreme off-road driving, including insanely big jumps, then you should give the Losi LMT a go.
Check the Losi LMT pricing here
See the best deals for the Traxxas Maxx here
(Both link to Amazon)
Check the Traxxas Maxx pricing at Walmart here
Is Losi A Good Brand
Losi is an extremely good brand for RC cars and trucks. The vehicles are top-quality, robust, and deliver excellent performance.
However, they are built for a more niche aspect of RC driving and cater to that market. This means the cars are tuned specifically for racing and have strong, durable components, making these cars more expensive than similar Traxxas models. 
The additional power of the Losi vehicles also requires a more advanced RC driver to operate the car successfully, which may frustrate a beginner in the hobby.
Traxxas has a wider range of vehicles catering to a larger variety of RC drivers and applications, making the Traxxas models more readily available than the Losi cars.
Conclusion
Traxxas and Losi are both excellent RC cars, making it difficult to choose one over the other. They are intended for different levels of RC drivers, with Traxxas giving more options for beginners while Losi provides a challenge for more advanced drivers.
If you are looking for a great all-purpose RC car brand, Traxxas would be my recommendation as the best choice between the two. However, if you are an experienced RC car operator looking for a car to test your driving skills and take your RC racing to the next level, then Losi would be my recommendation.
While Traxxas cars are more readily available, Losi is fast catching up with distribution, and soon, this will not be a factor limiting the choice between the two RC cars.
My safe advice would be to get one of each! You can never have too many RC cars!