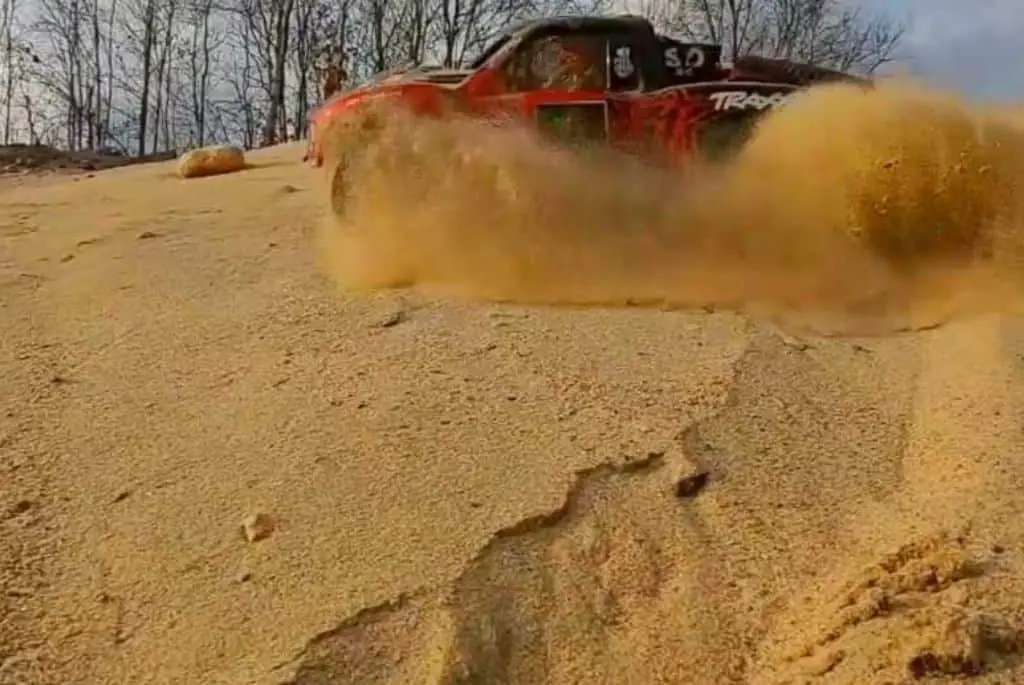 Remote control vehicles have been a worldwide hobby to millions for decades. Cars, boats, planes, helicopters – you name it. If a vehicle exists in real life, there's an RC version of it. And even more than that – even if it doesn't exist, it's likely that there's an RC version of it. In that – many people love to focus their attention on remote control cars.
Traxxas is a famous company that's been producing remote control cars for some time, and people wonder what's their best car. So, what is the best Traxxas remote control car?
The best Traxxas RC car is the X-Maxx. This car is the biggest, most powerful, and toughest 4X4 truck on the planet – that's a guarantee. It's over 30 inches long, nearly two feet wide, and it can reach speeds of over fifty miles per hour. If you're looking for a powerful RC car, this is it.
However, there are so many options to choose from when choosing the best Traxxas car, that it would make little sense to just mention this one.
There are many products from Traxxas that deserve a bit of the spotlight, and that's exactly what we'll be doing in this article. Today, we'll be taking a closer look at Traxxas, their cars, and deciding what's the right one for you, regardless of you being a beginner or an experienced RC enthusiast.
Let's get started!
Is Traxxas Worth the Money?
It's widely known among the RC community that Traxxas is much more expensive than some other brands, and people often pose the completely legitimate question – why should we spend our money on that?
Well, the first thing that needs to be addressed is that Traxxas produces RC gear of incredible quality. With this brand, you can be sure that you'll be operating your car for a long time at the highest level – right out of the box.
Your car is likely going to be running for years to come. They produce cars that can be used by beginners and by more experienced RC hobbyists.
So, if you're in this hobby for real and you want to invest money in it smartly – then Traxxas is definitely worth your money.
However, if you're just starting out and you don't know whether you'll stick around or if you're just taking a look, then you should probably start with something cheaper and only move to Traxxas once you've decided that you want to invest more money into this hobby.
It would be irresponsible to buy an expensive RC model and use it for a few months just to let it rest in the garage until its final days.
Related post: Traxxas vs Arrma: Which Is Better?
This is a waste of money. Traxxas produces models for real enthusiasts who are living for their days of RC racing and exploration.
Traxxas' models employ great engineering, great performance, and excellent speed.
Their models are also very rugged, so you won't have to worry about having to fix them for a while. Certainly, some parts will suffer from regular wear and tear through time, just like with all devices, but they're high quality parts, so it won't happen any time soon and you'll be able to replace those parts when the time comes.
Traxxas actually offers a lot more durability than any other brand, so it makes sense to buy their products if you've firmly decided to invest into RC.
Their cars are also capable of withstanding very tough terrains, so you could be having some off-road fun, as well.
Their cars are also very quick. Take a look at the Traxxas XO-1. It can actually reach speeds of over 100 miles per hour.
Their cars come in various sizes and forms, so you can buy a car for speeding as well as a car for terrain driving. Their smaller cars are usually quicker than the larger ones, and you have many to choose from.
They also offer great control for their cars. Driving an RC car is not the same as driving your everyday vehicle – it's very important to have great handling as it can be very easy to crash if you lose control over your vehicle.
That's why Traxxas has invested heavily into handling and control, to make sure that you can control your car even when the conditions aren't ideal.
All in all, Traxxas offers great value for the money you're willing to spend, so you should definitely consider them as a serious option if you're looking to get into RC on a more advanced level.
They aren't the best option if you're not sure whether you'll be sticking around with RC for a long time.
What Is the Best Traxxas RC to Buy?
I've already mentioned the X-Maxx as the best Traxxas car to buy. However, it's not the only car made by Traxxas with incredible performances, so we'll be listing a few of them before we move on to our next section.
77086-4 X-Maxx – this car takes the prize for being the toughest 4×4 remote control vehicle on the planet. It's the largest, most powerful car, being over 30 inches long with almost two feet in width. It's capable of reaching speeds over 50 miles per hour, and it utilizes an 8-cell Power Cell LiPo power battery.
This car is your best option for all terrain and it has the stability that smaller cars simply can't reciprocate. It's even employing Traxxas Stability Management and self-righting technology to improve handling, so you can be sure that you're not crashing any time soon. Feel free to take a look at it here.
You can check the 77086-4 X-Maxx price right here on Amazon
85076-4 Unlimited Desert Racer – this car is super-sized, but on top of that – it's also super realistic. This car just so happens to be the ultimate desert racer.
It employs a full tube frame, the interior has a driver and a navigator (told you it was realistic), and you even get dual spare tires and LED light bars to add to the detail.
This car could easily be a model if you decided that you didn't want to drive it. It's copying the design of actual rigs, with independent front suspension, solid-axle rear suspension, and dual shocks on each corner.
It's highly unlikely that you'll find another scale truck that's this realistic-looking, or one that's this fast. It can conquer terrains at speeds exceeding 50 miles per hour. You can check it out here on Amazon for more info and pricing.
24076-4 Bandit VXL – this car is the Traxxas' fastest 1/10 scale model, capable of exceeding 70 miles per hour.
It's also much cheaper than the options we've mentioned before, so you're getting very good value for your money. This model is equipped with the Velineon Brushless Power System, while all the electronics in the model are waterproof, so you don't have to worry about water messing up your model.
Related post: How Fast Do Traxxas RC Cars Go? (With 15 Examples)
This is another model employing Traxxas Stability Management to keep you in control – this is the best performing buggy out there. You can find out more about it here.
What Is a Good Traxxas RC Car for Beginners?
I'm going to recommend three cars, and you can choose between them. They're different from one another in type, so you can choose the one you feel suits you better.
Traxxas Slash 2WD Brushed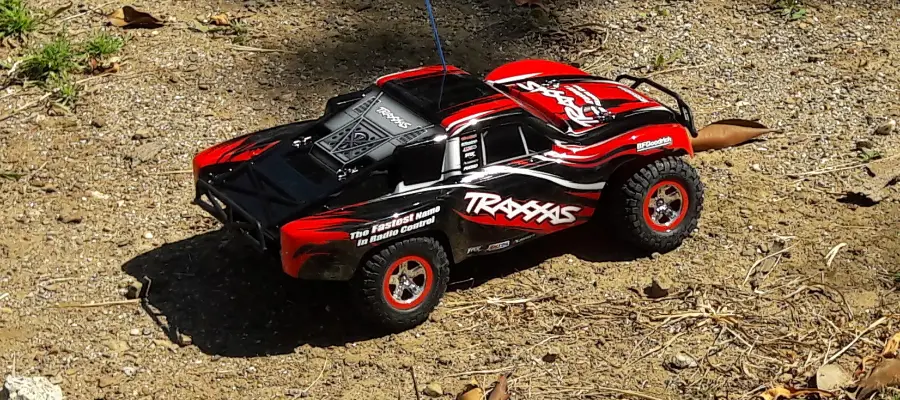 I totally recommend this for any beginner. You have everything you need right out of the box. Its a short course truck, kind of like a monster truck but with a smaller wheel base. You can drive this on almost any terrain.
The radio controller is easy to use and the ESC on the truck has a setting called training mode that cuts the power by 50 percent so the car will run at a slower pace.
This is awesome if you've never driven an RC car before as it lets you get used to driving it. Once you start to feel more comfortable with handling the truck you can then change to full power and reach speeds of up to 30 MPH.
Trust me 30Mph is more than enough speed for a beginner.
The Traxxas Slash comes with a brushed motor. If you get to a level where you want to upgrade and have a bit more power, you can upgrade to a brushless motor and change the Nimh battery that the car comes with to a more powerful Lipo battery.
The set up of the truck gives you a comfortable introduction of driving RC cars aswell as learning how to upgrade the car aswell. It comes at a good price aswell.
Click here for more information.
Check out the Traxxas Slash price here on Amazon now
If you want roughly the same features but in the form of a buggy then check out the Traxxas Rustler.
See the Rustlers price here on Amazon
Check out the Traxxas Stampede if a monster truck is more your thing.
You can check the Traxxas Stampedes price by clicking here on Amazon
I hope you found this article helpful. You may find this article to be of interest: Cheapest Traxxas RC Car: Exceptional Performance On A Budget