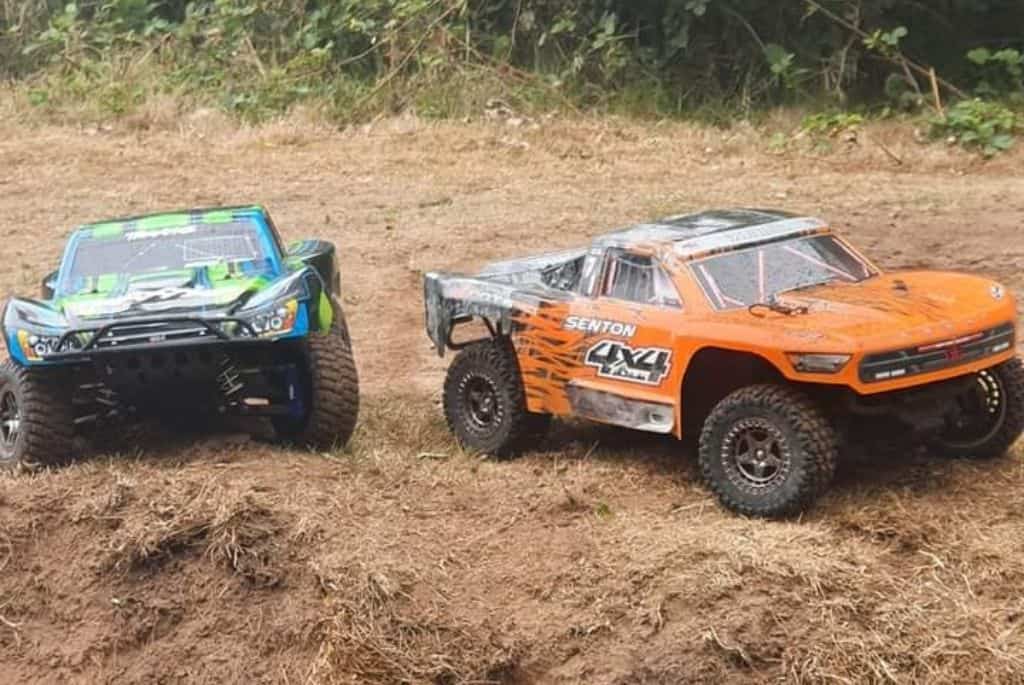 Hobbyists and racing enthusiasts simply love remote control cars because of how it feeds their need for speed in a more miniature way.
Remote control cars are also great gifts for kids and adults alike. And when it comes to the best in the business, Traxxas and Arrma tend to stand out as two of the top names in the industry. But which between Traxxas and Arrma is the best?
Traxxas tends to be the better option if you are looking for a practical yet durable RC car with cheaper parts and materials but Arrma tends to be the better option if you want an RC car that combines speed, power, and aesthetics all in one package.
Like most other products, the RC car industry has players that each has their own niche markets.
That's why you can't really tell which between Traxxas and Arrma is the better option unless you fit into the niche markets they target. So, for you to know which between these two brands is the better option for you, let us look at their individual pros and cons.
Traxxas Pros
Comes With a Wide Range of Different Options
When you are looking for remote control cars, you just don't choose one right off the bat because different RC cars have different specialties and specs especially when it comes to their power and to the terrain they are best suited for.
In Traxxas's case, the company has a lot of different options for you to choose from depending on your needs and preferences. They have crawlers and beginner-friendly cars that are great for those who want starter RC cars while also offering faster and more powerful options for the more advanced users.
Durable
Even though Traxxas cars tend to be primarily made from plastic, they are actually designed to be quite durable because of how the plastic parts are strategically placed in areas that protect the car well.
Meanwhile, because Traxxas cars don't come out with a ton of power right off the bat, the wear and tear on the parts tend to be minimal at best compared to the other brands that have powerful cars that will push the parts to their limits.
Related post: Traxxas vs HPI Racing Which Is Best For You?
Light and Fast
Most Traxxas cars are built and designed using plastic parts. Because plastic is lighter than steel and the other parts that are used by competing brands, Traxxas cars are quite light and easy to carry because they won't weigh you down.
On top of that, the fact that they are light means that they can compete with more powerful remote control cars in terms of overall speed.
Parts Are Cheaper
If you are a beginner in the remote control car hobby, you have to know that your car will eventually need some of its parts to be replaced because of the wear and tear that they get on a consistent basis.
But, because Traxxas cars are primarily made from plastic, the parts tend to be cheaper compared to other brands that use premium materials for their parts.
Check out this post: Best RC Cars Under $400: Heres 7 Of The Best In This Range
Best For Beginners
One of the best things about Traxxas is that it offers you cars that tend to be good for beginners who are still trying to adjust and learn how to control RC cars.
That's because most Traxxas cars are 3-speed right off the bat and aren't powerful enough to the point that they would be difficult to control and navigate. So, if you are simply starting out, you might want to get a Traxxas as your first RC car while you are still learning.
There Are Always Tweaks And Upgrades
Traxxas doesn't rest on its laurels and will always find ways to make its products better by upgrading them. That means that they will always release newer and better versions of their older models as they find ways to make improvements to them.
Battery Lasts Longer
Owing to the fact that Traxxas cars don't come with a ton of power, they don't eat up battery life as fast as other RC car brands do. This means more savings on your part as Traxxas RC cars are more efficient and practical.
Related post: Slash vs Senton: I Ran A Poll To Find Out Which Is Best
Traxxas Cons
Doesn't Come With The Premium Feel
Again, Traxxas cars are usually made out of plastic. That means that they don't have the premium feel that other brands have. But that doesn't mean that the quality of a Traxxas remote control car is any lower than that of other brands.
Not Entirely Powerful
Even though there are some Traxxas remote control cars that are fast and powerful, they are generally not as fast and powerful as their competitors. But, considering that Traxxas cars tend to be lighter, they can still keep up with the other RC car brands in terms of overall speed and performance.
Related post: Is Kyosho A Good RC Brand? Here's Everything You Need To Know
Tends to Be a Bit Overpriced For The Build Quality And Performance
Even though Traxxas remote control cars are made using materials that are more affordable and generally are not as powerful as some brands are, they still seem to be quite pricey for the quality and performance you will be getting out of the box.
Arrma Pros
Powerful Right Out Of The Box
You can never really doubt how powerful most of Arrma's cars are right out of the box because they are generally made to be 6-speed remote control cars.
They are also bigger and faster than most other cars on the market thanks to their larger and more speed-oriented builds. So, if you want something that combines speed and power, Arrma should be a good brand to go with.
Looks and feels premium
Arrma comes with the premium look and feels that you would want to get from a pricey remote control car brand. That means that, while their cars do still have plastic parts, there are some parts that are made with premium materials that add to the overall appeal that comes with Arrma remote control cars.
They generally look better
Aesthetic appeal and looks always play important roles when it comes to choosing a good remote control car.
In that sense, Arrma tends to stand out because its cars are some of the best-looking remote control vehicles on the market. You will be racing in style when you have an Arrma under your control.
Check out this post: Losi vs Traxxas: Which Is Better?
Better for advanced users
Even though some competitors also have fast and powerful cars in their lineup, Arrma has remote control cars that are generally built to be faster and more powerful right off the bat.
That means that they appeal to advanced hobbyists who are already good enough to perform neat tricks and have the skill necessary to control the speed and power that Arrma cars come with.
Arrma Cons
Not Very Durable
Even though Arrma RC cars are made with premium materials, the fact that they are powerful means that their parts will be suffering from a lot of wear and tear.
This means that you can't expect them to be quite as durable as some of the other brands that don't come with the same power that Arrma cars come with.
Related post: Are Traxxas RC Batteries Worth The Money?
The Parts Are Pricey
The very fact that Arrma cars are made with premium and quite expensive parts means that you will have to suffer the costs of replacing them with pricey parts.
This is inevitable considering that you will almost always have to replace some parts in your remote control car because of the wear and tear they suffer from constant use.
Eats Up Batteries Rather Quickly
Again, Arrma RC cars tend to be more powerful. But because they are powerful, they also end up eating batteries quite faster than most other brands that are not as fast.
In that sense, Arrma isn't the most practical and economical brand when it comes to your budget and your wallet but, if money isn't an issue, then batteries won't be an issue for you as well.
Which is Better, Arrma or Traxxas?
Now that we have discussed more about the different pros and cons of both Arrma and Traxxas, you might be wondering which between the two is the better option for you especially when you factor in your own personal needs and preferences. Well, it really depends.
Traxxas tends to be the more economical of the two because it comes with cheaper materials and parts that are also affordable to replace and are readily available. They also have cars that appeal to beginners since they are easier to use.
Related post: Traxxas X-Maxx: Does It Live Up To The Hype?
On the other hand, Arrma focuses more on power and speed especially with their 6-speed cars that stand out in the market. Arrma cars are also made with premium and more expensive materials that add to the overall appeal of these RC cars.
So, if you want to take the economical side without sacrificing much of the quality, Traxxas should be a good pick. But if you prefer power over any other aspect, Arrma should be a great choice especially if you are not too concerned about your budget.