Everyone knows Traxxas RC cars for their quality, but what's the cheapest model available? 
The Traxxas TRX 4M Bronco 1/18 is the cheapest Traxxas RC car right now. It's around $150 depending on the time of year and promotions. Whether you're a seasoned RC car enthusiast or a beginner looking for an entry-level model, the TRX 4M Bronco is an excellent option to consider.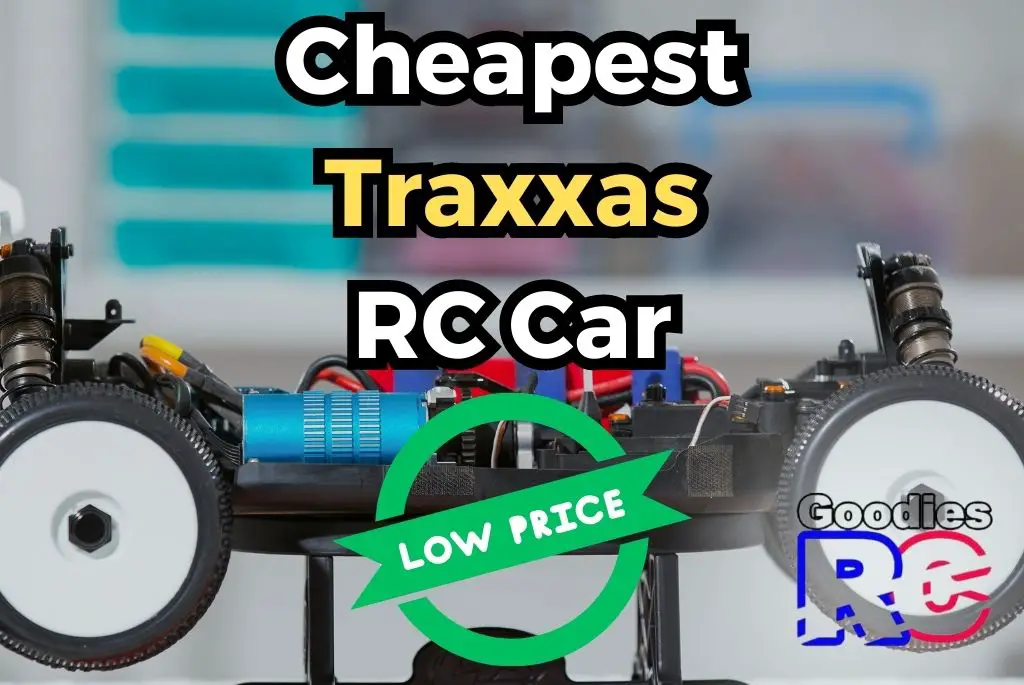 The second cheapest Traxxas RC car is the Stampede at around $20 extra depending on when you buy it. It's an awesome option if you want something a bit bigger than the Bronco without breaking your budget.  Here's what you need to know about the TRX 4M Bronco before making your decision. 
TRX 4M Bronco
This 1/18 scale RC crawler is capable of some impressive off-road driving. The size of the car makes it easy to get through small spaces or drive indoors without making a mess.
I love the body which looks like the Ford Bronco. It features a highly detailed body with accurate scale details, like the steel frame rails, and side mirrors. This attention to detail enhances the overall realism of the vehicle and it's impressive at this price point.
For wet conditions, it comes equipped with waterproof electronics, so you can drive through puddles, mud, and even shallow streams without worrying about damaging the components. But it's always best to keep it as dry as possible to make cleaning up easier. 
It's equipped with a high-torque motor that delivers impressive crawling performance. It also features remote-locking differentials, allowing you to switch between two-wheel drive and four-wheel drive on the fly to tackle different terrains.
Oil-filled shocks and portal axles are equipped for extreme stability. These features provide increased ground clearance and improved suspension performance to help you stay in control over challenging paths.
The TRX Bronco is built to perform well on a variety of terrains. Whether you're navigating through rocks, crawling over tree roots, or tackling steep inclines, this RC car is up to the task. Its advanced chassis design and adjustable wheelbase provide stability and maneuverability, so it's good for both beginners and experienced drivers.
One of the most appealing aspects of this vehicle is its affordable price tag. Traxxas has made this model accessible to most people by offering a competitive price without compromising on quality. The combination of affordability and performance makes the TRX 4M Bronco an excellent value for money. Here is the current price on the official website. And here's what you can get for around the same price on Amazon.
While the TRX 4M Bronco is the cheapest Traxxas RC car, it doesn't mean it lacks in features or performance when compared to other models. Traxxas has carefully designed and engineered the TRX 4M Bronco to deliver a fun driving experience while keeping the cost affordable.
A 7.4 volt 750mAh 2-cell LiPo battery and charger are included in the package. All you'll need are four batteries for the transmitter. To learn more about Traxxas Batteries don't forget to check out my guide: Are Traxxas Batteries Really Worth The Money?
There's a wide range of replacement parts and upgrades, so you to customize and enhance your RC car according to your preferences. Traxxas also provides detailed manuals and online resources to assist with maintenance and troubleshooting.
Speed
The TRX 4M Bronco only goes around 5mph because it isn't designed to go very fast. It's more for crawling, where low-speed handling and torque are more important to get over obstacles.
Can I drive the TRX 4M Bronco in water?
Yes, the TRX 4M Bronco is equipped with waterproof electronics, allowing you to drive it in wet conditions. But don't abuse the feature, it's not meant to be submerged or driven in the rain for long.
Now before moving on to the next option, just wanted to know are you eager to research between Losi and Traxxas brands of RC cars? Then I think you will really enjoy reading this detailed post – Losi vs. Traxxas: Which is Better?
Traxxas Stampede – Another Affordable Traxxas RC Car
The Stampede has a sturdy design, high ground clearance, and a durable chassis. It's built to withstand rough terrain, jumps, and crashes, making it suitable for outdoor adventures. It's a lot bigger than the Bronco but not a whole lot more expensive.
This model is primarily designed for off-road use. So it does well in various terrains like dirt, grass, gravel, and even small obstacles. Its large, aggressive tires provide excellent traction and stability.
Traxxas equips the Stampede with waterproof electronics, so you can enjoy the car outside after it's rained or early in the morning on wet grass. Just clean the car up after you're done.
It comes in a ready-to-run package that includes everything you need to start driving right out of the box, excluding a rechargeable battery pack and a charger. Some models may also include a quick start guide or additional accessories.
Traxxas offers a wide range of optional upgrades and accessories for the Stampede for you to customize and enhance its performance to suit your preferences. These upgrades include higher-capacity batteries, faster motors, improved suspension components, and more.
The price can vary depending on the specific model and any optional features included. It's always a good idea to check with local retailers or the Traxxas website for the most up-to-date pricing information. But here's the current price on the Traxxas website.
You can also check the current pricing for the Traxxas Stampede on Amazon.
And here's what you can get for around the same price on Amazon.
Traxxas Stampede batteries
The Traxxas Stampede is NiMH (nickel-metal hydride) and LiPo battery compatible. Traxxas recommends using one of three battery packs.
3000 mAh NiMH
4200 mAh NiMH
5800 mAh 2s LiPo
Speed
The top speed of the Traxxas Stampede can vary depending on which batteries you choose and any other upgrades you make. Stock models with LiPo batteries generally have speeds ranging from 25-30 mph. However, with optional upgrades and modifications, it's possible to achieve even higher speeds.
Is the Traxxas Stampede suitable for beginners?
Yes, the Traxxas Stampede is often recommended for beginners due to its durability, ease of use, and affordable price point. Its stable off-road performance and straightforward controls make it a great choice for those new to the hobby.
Can I use the Traxxas Stampede indoors?
While the Traxxas Stampede can technically be used indoors, it is primarily designed for outdoor use. The larger size and off-road tires may not be ideal for indoor surfaces, especially if you have delicate furniture or obstacles that could be damaged.
Are you into RC boats? you might also want to check out my guide on Traxxas Blast vs. Spartan. In it, I have shared a detailed comparison between both models which will help you choose the right model easily.
Conclusion
The TRX 4M Bronco from Traxxas is an exceptional RC car that offers a winning combination of performance, affordability, and scale realism.
Whether you're a beginner or an experienced enthusiast, this model delivers an enjoyable driving experience on various terrains. With its attention to detail, waterproof electronics, and versatile capabilities, the TRX 4M Bronco stands out as an excellent option for those seeking an affordable and reliable RC car.
For around $20 extra, the Traxxas Stampede is an awesome choice for anyone looking to conquer off-road paths.
So that's it! Now what's Next? Well, so far you learned about various Traxxas RC cars. But do you know which is the best? Read this guide on the best Traxxas RC car to learn more.