For many children, an RC car is on the most wanted list from as early as 5 years old or sooner. Kids require a high level of mental stimulation to prevent boredom, which is why an RC car makes the perfect gift for them.
But you need to be careful when choosing which one to buy or your money might go to waste. Depending on the age of the child, there are certain features and specifications you need to look out for.
You could choose a higher-end model for a younger kid with the only risk being that you spend a lot of money on an RC that they can't really appreciate fully. But you probably won't get the most enthusiastic reaction if you buy a cheap, toy-grade RC for a 10-year-old as a birthday present. If you have any children on the verge of becoming teenagers, you'll know what I mean.
How To Choose An RC Car For Kids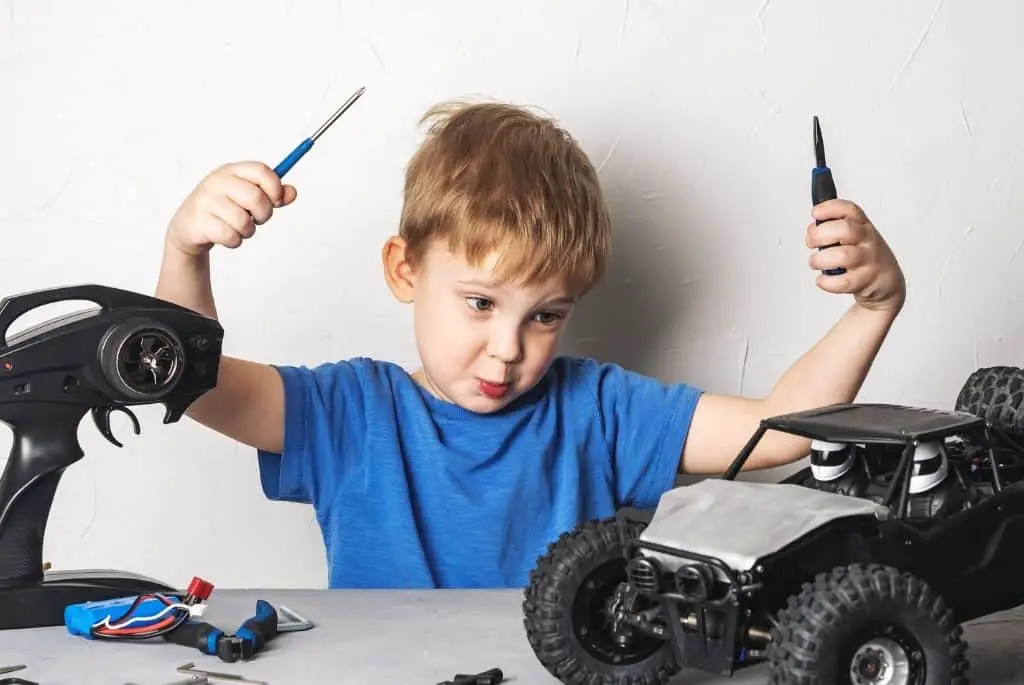 The first aspect you need to look at is how long the battery lasts. Buy some extra battery packs and keep them charged up so they can have the undisrupted fun that they are looking for.
Younger children, from 5 to 7 years of age, are more open to out of the ordinary designs like the first few cars in our recommendations. Children aged 8 to 10 years prefer more realistic looking RC cars and need them to go at least 15 mph to have any fun.
The other thing to consider is that you don't want to buy a RC Car that would only last a week. I believe there should be a good balance in the price and the durability and the performance of these RC Cars, so I've only included models I believe will last a fair amount of time before needing any repairs.
RC Cars have come a long way and it would seem like it's not just the adult or professional cars that come with some decent parts, steel frame supports, metal chassis, suspension with steel springs.
I've carefully selected my best RC cars for kids from age 5 to 10. Any one of the last three RCs on the list are awesome choices for children of any age, the first three are far more suited to kids between 5 and 7 years.
Let's take a look at the best RC cars based on the above criteria.
Best RC Car For A 5-Year-Old
Tecnock Remote Control Car for Kids, 360° Rotating
The Tecnock RC 360 is one of the best RC cars for a 5-year-old. It's small, brightly colored, and designed to do many impressive tricks in a small area, indoors or outdoors. You don't have to remove the batteries for charging, making it easy enough for a 5-year-old to plug in.
This RC Car left and right side wheel axis can turn 360 degrees whilst the wheels are turning allowing some crazy moves whilst driving.
Rubber tires ensure your kids can drive this car on and off-road without a hassle. It drives best on pavement, carpet, and other flat surfaces but can also drive on short grass. With the big wheels and unique variation system, your kid will also be able to drive over stones, sticks and rocks.
Check out my article: Best RC Cars For 5-Year-Olds (My Picks & What To Consider)
The 800mAh rechargeable batteries run the RC for an average of 45 minutes. It charges with USB so plug it straight into the wall plug instead of a computer for faster charging times. When you're charging the batteries on a wall plug, it charges them fully within two hours, a PC could take double that time.
Here's a video of the moves this RC can perform.
(Amazon link)
Best RC Car For A 6-Year-Old
EpochAir Remote Control Car
The EpochAir RC is one of the best choices for a 6-year-old. It's not too fast, perfect for indoor play or on the driveway where you can monitor them. The sporty look of the car and built in LEDs are sure to impress your child as well. Again, the price range is low, perfect for younger kids around 6 years old.
The controller is like that of game consoles so if they've played video games they should be able to use this controller with ease.
The battery lasts about an hour depending on the smoothness of the terrain and how your kid drives the RC. The good news is you get two batteries in the package so that's two straight hours of entertainment.
See my related post: 9 Reasons Why RC Cars Are Good For Kids
It's not the fastest car with speeds of around 9 Mph but perhaps that is just what you need for a 6-year-old with only a house and driveway to play on. At these speeds, there is less of a risk of any injury to your child or the car.
The EpochAir uses unique frequency pairing to eliminate any interference from other RC cars in the area, so you can buy one of these for each of your kids and they can race around together without a problem.
Here's a video of the unboxing and vehicle performance.
(Links to Amazon)
Best RC Car For A 7-Year-Old
V VALANCH RC Stunt Car
The VALANCH RC is perfect for a 7-year-old because it's so colorful and unique. It can drift sideways from a standing start because of how it's designed. You can position the body of the RC in an elevated position for off-road conditions. You can also lower it for optimal driving on flat surfaces.
"Road mode" puts the body into a lower position to gain higher speeds while off-road mode moves the body higher so you can climb over rocks and drive uneven dirt paths.
This car is multi directional, so it drives the same speed backwards as it forwards. All this means is that your child will be playing more with the car without having to pick it up with their hands.
See my post on the best wall climbing RC cars
This car can drive on most terrains but handles better on short grass. The strange shape of the wheels takes better grip and slips less on grass and other semi-rough terrain. But with this wheel setup it is possible for the RC Car to handle many terrains from loose stones to sand paving and rock surfaces.
It comes with two 1200mAh battery packs each giving your kid about an hour of playtime. That's great battery performance compared to high performance RCs.
Your kids will be able to enjoy riding the RC Car inside the house with the lights switched off as this car has LEDs fitted underneath so they can see where they are driving. As mentioned before, the wheel grips are a little slippery on tiles so this gives some proper opportunity to slide the car around and do real drifts.
Here's an unboxing and test drive of the VALANCH on YouTube
(Amazon link)
Best RC Car For A 8-Year-Old
BEZGAR 17
The BEZGAR 17 is the perfect RC car for an 8-year-old because it can go 15 mph and handles most terrain very well. It has an aluminum shell body to prevent damage during crashes and 4 LEDs on its roof. The controller has the same type of design as hobby grade RC cars so this would be the perfect car to get them acquainted with the hobby.
The max speed ranges from 12 to 15 MPH, fast enough for a young child to have plenty of fun without going out of control too much. It also has a crash-proof bumper to protect the car from head-on collisions.
The BEZGAR is packaged with a dual set of 6V 800mAh NiMH battery packs, so you can charge one while the other is being used, increasing the total driving time. Each battery will give you around 20 minutes of driving time. These batteries charge via USB so you can use your laptop, power bank or any other USB available.
Please check out my article on BEZGAR RC cars
Here's how the BEZGAR 17 looks in action on YouTube
(Amazon link)
Best RC Car For A 9-Year-Old
Arrma Granite Voltage MEGA 2WD SRS
The Arrma Granite MEGA 2WD SRS is the best RC car for a 9-year-old. It reaches speeds of 20 mph and handles any type of terrain with absolute ease. Your child can ramp over obstacles and drive through water, over sticks, rocks, and all sorts of off-road debris.
Related post: What Is The Toughest RC Truck?
A monster truck style RC car is excellent for kids because it's so stable and easy to handle. The big wheels help to not get stuck and the powerful motor gets you flying over everything in its path.
The battery only lasts around 10 minutes depending on your driving style, so I suggest buying an extra battery as soon as possible.
Even though it's a 2-wheel-drive, it can still tackle some tough terrains with the help of its grippy rubber tyres. It has waterproof electronics for you to drive through mud and splash through water without too much of a worry. Just don't allow the car to be covered in water or you might run into some problems.
It has double-wishbone suspension so it can handle a drop very well so don't exclude it from jumps which can easily be achieved at 20 mph. 
This is one of my favorite value for money RC trucks, it will definitely satisfy kids of all ages.
Here's a quick video on how it runs.
(Links to Amazon)
Best RC Car For A 10-Year-Old
ALTAIR 1:10 Scale RC Truck
The ALTAIR 1:10 Scale RC Truck is the best RC for a 10-year-old because it goes very fast to ramp into the air and through off-road courses. It has enough power to do backflips easily.
You can count on parts being available and a RC Car that can last for years. This is such a high performance RC car that adults can even choose it if it's their first RC.
The 7.4V 1600mAh battery packs will give you 15 minutes of full power and 25 minutes on low-power mode.
As with any 4 wheel drive RC car, there are no limits as to the terrain that you wish to tackle, this car can drive over most obstacles with the help of its rubber wheels to give it superior grip. It also has individual wheel suspensions with steel springs for ultimate stability. Take it for a proper spin on some loose gravel, your kids will have the best time as sand shoots back on pull off while drifting around sharp turns.
Check out my related article: Best RC Cars Under $100
Blast off in your yard or park and reach 30 mph within seconds. This is a durable RC car with a steel structured chassis and drivetrain, all steel bearings. It's fully capable of performing massive jumps, hard landings, driving over rocks, racing through muddy puddles and more. The only thing you need to worry about is wiping off the dirt or mud from the casing or chassis.
Check out the Altair doing its thing in this video:
(Amazon link)
Conclusion
For young kids who have never had an RC car, the first three options on this list are ideal. They are specifically targeted as younger children with the bright colors and fancy tricks they do.
If your child is older than 7 or has experience with RC cars already, you're better off going with one of the last three options on the list because they are high-powered for older kids and will last a lot longer too.