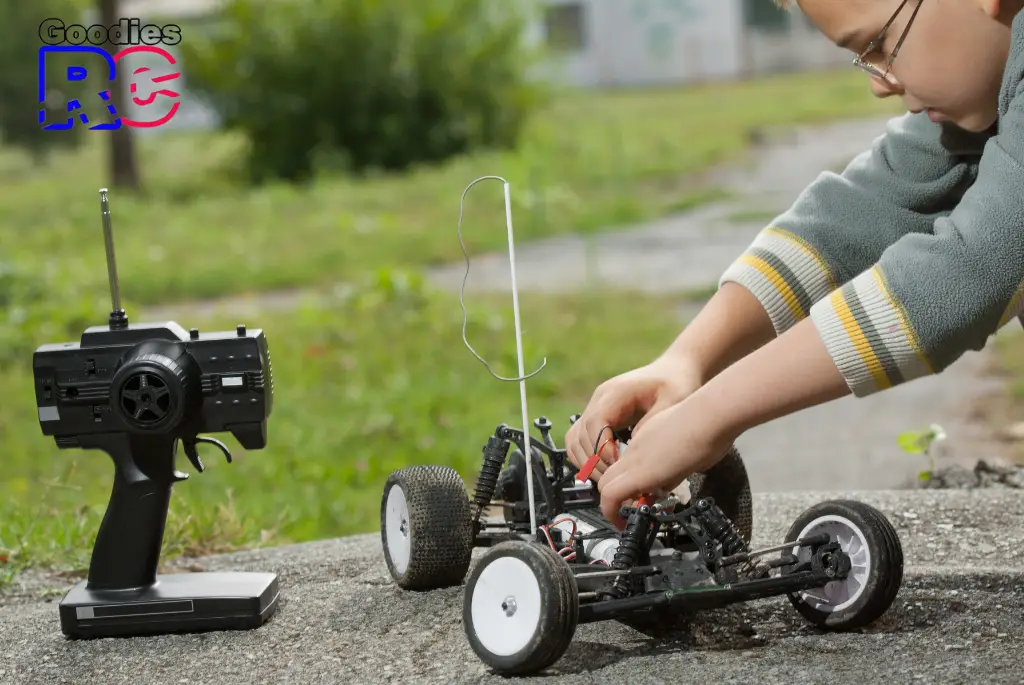 Choosing an RC car for a five-year-old is completely different compared to choosing one for older kids. Several good RC cars are suitable for 5-year-olds. Some options to consider include:
Tecnock 360° Rotating RC Car
Kid Galaxy Morphibians Shark
Best Choice Products Kids Toy Remote Control Monster Truck
JEYPOD Remote Control Car
Koolcano Radio Remote Control Car
It's important to keep in mind that young children are still learning how to play and may not always handle their toys gently. Therefore, it's a good idea to choose a durable RC car that can withstand rough play.
10 Things To Consider When Buying An RC Car For A 5-Year-Old
Battery life
Make sure to get rechargeable batteries, especially if the RC takes normal AA-style batteries. But LiPo and NiMh options or better.
The design
A 5-year-old will be very impressed with a flashy design, bright colors, and lights, but older children want better performance. So we'll look at flashy, bright designs for younger kids around five years old in this article, instead of high-speed performance.
Durability
I consider a child around the age of five to be careless about handling things with care. So I've only listed options that are strong enough to handle all the inevitable bumps and crashes.
Size
Don't get something that's too big for your young child to handle in small areas, like in your house or on your porch.
Control
Look for an RC car with large, simplistic buttons and triggers that are easy to use. The dial and trigger on hobby-grade RC cars are more difficult for your kids to get used to.
Related article: 9 Reasons Why RC Cars Are Good For Kids
Speed
Considering your child will drive the car around in small areas, you won't need it to go faster than 10mph. In fact, an RC car that gets around 5 mph will be perfect. Besides playing in smaller areas, the slower the car moves, the easier it will be for your kid to control it.
Range
The range doesn't need to be very far, considering the speed and size of the car.
Price
The low price of RC cars suited for young children is a huge advantage. Instead of buying a hobby-grade car that might never be used after the first day, you can buy cheap RC cars that you can replace easily if broken.
Safety
Make sure the RC car meets safety standards and is free of small parts that could pose a choking hazard, as young kids love putting everything in their mouths.
Brand reputation
Brand reputation in this toy-grade range isn't the most crucial factor, but I have made sure to only include options that last long enough until their next birthday.
Speaking of your child's next birthday, you may want to check out this article: Best RC Cars For Kids 5 To 10 Years Old
The Best RC Cars For 5-Year-Olds
Tecnock 360° Rotating RC Car
This is a fantastic option for young children because of its flashy design and unique capabilities. The reason for the "360°" in the name is that the wheels on the left or right side can lift into the air, which makes for interesting stunts.
In terms of durability, it's a flexible plastic that holds up well when bashed around. The tires are nice and grippy thanks to the rubber material. The large size of the wheels makes it possible to drive on short grass, but it's more responsive on flat surfaces.
A two-hour charge will fill the batteries to provide around 45 minutes of drive time. Charging with a computer USB port will take at least twice as long.
See it in action;
CLICK HERE FOR THE BEST DEALS FOR THE TECNOCK RC CAR
Kid Galaxy Morphibians Shark
This is the perfect type of RC car for young children because it's safe to play with in wet and dry conditions. This unusual car transforms into a shark and can be used on land or in water, so it won't matter if your five-year-old spills water on it or takes it outside to play shortly after it's rained.
However, it's important to note that this car shouldn't be submerged completely underwater, like inside a bath, because it isn't waterproof to that degree. It should only be used to drive over water, it doesn't have submarine capabilities.
In terms of durability, it's made of durable plastic that should survive rough play and has large, easy-to-use buttons, making it perfect for young children.
With speeds of up to 4 mph on land and 2 mph in water, it won't be too fast for a young child to handle. It requires 4 AA batteries that aren't included.
CLICK HERE FOR THE BEST DEALS FOR THE GALAXY MORPHIBIANS SHARK
All Terrain Monster Shark Truck Stunt Car
The Monster Shark Truck is another RC car that will run on land and water. The Shark is a little stronger and faster than Kid Galaxy option above but it also has a slightly higher price tag. Here's what you get for the money.
A 2.4 GHz radio has a 200 ft range for those of you who have a large space for your kids to play. The battery lasts about 30 minutes with a 2.5-hour charge. The plastic they've used for the car is tough ABS, which is a very durable type of plastic. It also has a reverse gear, so your kid doesn't have to run up to it every time it gets stuck.
See it in action here;
CLICK HERE FOR THE BEST DEALS FOR THE MONSTER SHARK TRUCK
Monster Jam, Official Grave Digger
The 1:15 scale Monster Jam Grave Digger is an impressive RC truck that has a few stunts ready at the press of a button. Your kid can press the trigger buttons at the top of the remote to activate nose wheelies, flips, and 360° spins. There are a total of 12 pre-installed stunts to play with.
The tires are soft and squishy, absorbing all sorts of terrain and making them easier to handle.
Even without the pre-programmed stunts, this car is a lot of fun. It has fast acceleration and reverse gears and with two joysticks on top of the controller, it's very easy to use.
It's USB chargeable but I suggest using a power outlet for faster charging times.
See the Grave Digger in action;
CLICK HERE FOR THE BEST DEALS FOR THE MONSTER JAM GRAVE DIGGER
JEYPOD Remote Control Car
This stylish RC car is small and lightweight, making it easy for young children to control. It can reach speeds of up to 20 mph in optimal conditions and has a range of up to 20 meters, providing plenty of room for play. One of the biggest advantages of this car is the price. It's the second cheapest RC car on this list.
The manufacturer recommends the car for kids aged 8 and older. I believe this is because there are small parts that can break off and be a hazard to toddlers, who want to eat everything. But I still recommend it for your 5-year-old as long as you monitor them at all times.
It's best to use indoors and on other flat terrains but you can get away with traveling over very short grass as well.
The batteries for the car are rechargeable, and the batteries for the radio are replaceable.
This is a good option if you want your child to become familiar with the standard radio setup with a trigger and dial.
Watch this video, it shows the unboxing and the car in action;
CLICK HERE FOR THE BEST DEALS FOR THE JEYPOD RC CAR
HANCODY Remote Control Car
This is the most affordable RC car on this list and it's perfect for children. It's a classic monster truck design, but it's a very small 1:43 scale car. It comes with a 2.4 GHz radio which will allow your kid to drive it within a 60 to 70 ft radius. This type of radio makes sure that there is no interference with others in the area. You can't get anything better than that at this price.
It's a mini RC car that's 3.5 inches wide and 5.5 inches long, a bit smaller than the other options here but ideal for indoor use. It has a push-button remote control which is the easiest type for children to learn, easier than joysticks and triggers.
The tiers are nice and grippy, perfect for carpets, tiles, or paving outside, as long as the surface is flat.
CLICK HERE FOR THE BEST DEALS FOR THE HANCODY RC CAR
Conclusion
All these RC cars are perfect for 5-year-olds because of their flashy designs, cool tricks, and transformations. If you're looking to get your child familiar with the controls of hobby-grade cars, choose the JEYPOD. Just keep an eye on them because it can break into small parts if hit hard enough.
The Monster Jam, Official Grave Digger is the best car here in terms of performance, and it will entertain children much older than five. But it has the biggest price tag as well. That said, if you have the extra cash to spend, it's well worth it.
For everyone else, go for any one of the other options on this list. Your young child will be absolutely thrilled with RC cars that can tread water, land, perform fancy stunts, and more.
I hope that you found this article helpful, here are some more articles that may be of interest;