At just under $100, you can get some fast and durable RC cars. With hundreds of options to choose from, how do you know if you're getting value for your money? We'll go over everything you need to know to make the right decision.
Bezgar and Haiboxing make the best RC Monster Trucks, Buggies, and Truggies under $100. More well-known brands don't fall into this price range. The best RC crawler under in this price range is the Rraycom RGT 1:24. The biggest RC car you'll be able to get is around a 1:12 scale.
This is the price point at which you're able to get some cars that can actually be considered hobby grade. You just have to know which features to look for to avoid disappointment.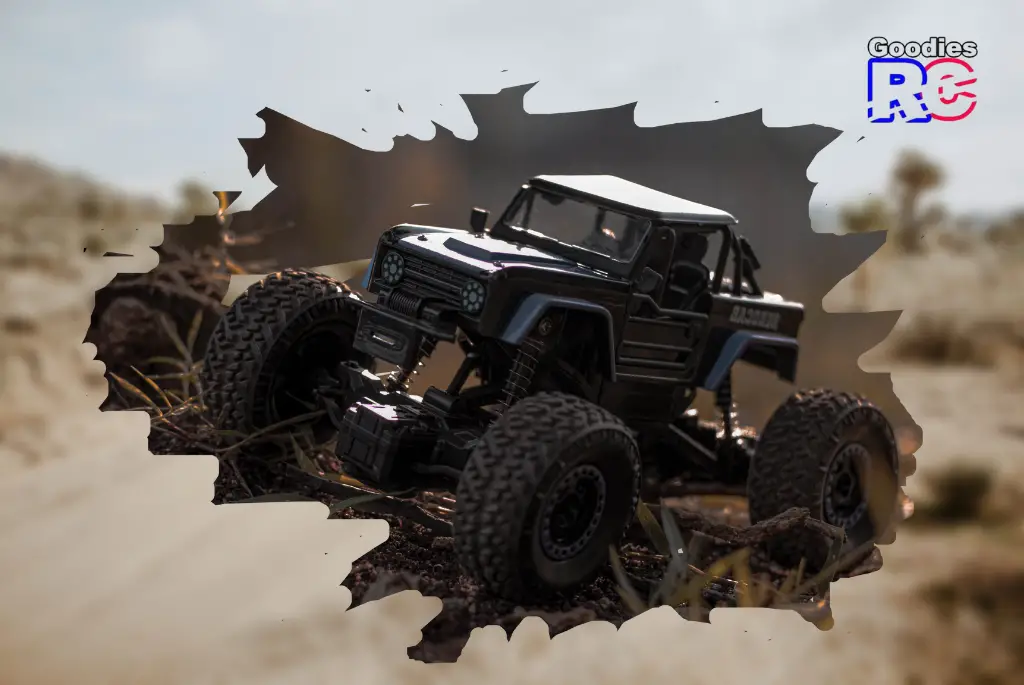 Features To Consider When Choosing An RC Car
RC Car Size (Scale)
Scale is the size of the car compared to its real-life counterpart. So if an RC monster truck's scale is 1:18, it's 18 times smaller than a full-size monster truck. At just under $100, you can get yourself something between the scales of 1:10 and 1:32.
Size matters depending on where you plan to drive the RC. If you want to mess around indoors with it, a small one is better because you can get around easier. Looking to have some fun in the yard, over grass and gravel? You'll need an RC car around 1:10 to 1:18 in scale.
Electric, Nitro, or Gas Powered
With a budget of under $100, the only option is electrical-powered motors. This is certainly not a problem as electric RC cars are the most child friendly and reliable across the board. They require less maintenance and are cheaper to run.
Control Distance
Quality RC cars of between $50 to $100 come with 2.4GHz radios that can reach around 200 to 300 feet in range. This is far enough for any race track or back yard. All the cars in this article have 2.4GHz transmitters.
Durability
It won't be too long before you break something if you bash these cars around too much. Besides the Rraycom RGT crawler, RC cars at this price point aren't very durable and need to be handled with care for them to last longer than 100 battery cycles.
Handling
The 2.4GHz radios help to add precise controlabilty. This whole price range is also easier to handle in general since the average top speed is around 15 mph. But I've listed a few down below that go much faster than that. High-quality shocks are what to look out for if you wan't the car to travel over bumpy off-raod terrain.
Speed
RC cars in this range travel anywhere from crawling speeds of 3 to 6 mph to super quick speeds of 26 mph. If all you care about if maximum speed, look at the fastest RC car under $100 further below.
Types Of RC Cars Available For Under $100
The type of car refers to the design. Monster trucks have massive tires and travel over rough terrain with ease while short course trucks have better handling and can make quick turns at high speeds. In the price range of $50 to $100, you have five main design options.
Do you have more than $100 to spend on your next RC? Take a look at my article: Best RC Cars Under $400: Here's 7 Of The Best In This Range
Monster Truck
Monster trucks are one of the best types of RC cars to get for children because they handle so easily and don't get stuck on small obstacles. They're known for their massive tires that give the car its height and make it possible to power over ramps and stairs. You'll be able to go from smooth pavement to rough gravel and grass without worrying about the wheels getting stuck.
For under $100, I recommend the HAIBOXING 1:18 Scale Monster Truck.
If it's for a child and you're looking to save some cash, get the Double E Monster truck.
See my article: Best RC Cars For Kids 5 To 10 Years Old
Short Course Truck
Short course RC trucks are just like stadium trucks in terms of high speed and control. This type of car handles most terrain well but if it's 1:18 scale or smaller, it will struggle through long grass and over large bumps. However, these cars handle very well on dirt tracks, they have excellent acceleration and top speeds.
The BEZGAR 1:18 scale HS181 is my recommendation for a great short course RC for under $100.
Buggy
Buggies are often 2WD and have narrow tires compared to truggies. Buggy tires are more like short course tires but perform best on the sand. Buggies usually have exposed front shocks, shorter bodies, and a narrower stance.
The BEZGAR 1:12 Scale Buggy is the best RC buggy under $100.
Truggy
This is a combination of a truck and a buggy, hence the name "Truggy". These have bigger wheels than short course trucks. Truggies also have longer arms, chassis, and bodies. They're 4WD just like stadium trucks. So truggies perform better in rough conditions but aren't as fast as short course trucks on even terrain.
Once again BEZGAR delivers with one of the best Truggies under $100.
Rock Crawler
Rock crawlers have sophisticated suspension and big off-road tires for climbing obstacles. The motors in these types of RC cars have high torque even at low speeds. This helps to maintain control while navigating over difficult obstacles. These types of RC cars aren't the fastest, but they add a totally different dynamic to the hobby, slow-paced strategy.
The RGT Crawler by Rraycom is a perfect choice for this budget. It's a great choice if you want to try out RC crawling but don't have a couple of hundred dollars to spend on it for now.
Best-Selling RC Cars Under $100
These are not only the best-selling RC cars under $100, they're also the most highly-rated models. Pricing went up drastically during 2020 and 2021 so I made sure to confirm all the prices before making the decisions. HAIBOXING and BEZGAR dominate this price range while Traxxas and Redcat Racing are at least $129 and upwards.
Haiboxing 1:18 Scale All Terrain RC Car
This car is the best-selling RC car in its range on Amazon at the moment. It goes just over 22 mph which really isn't bad considering the size and price. The monster truck design makes it possible to jump over large obstacles without getting stuck, even in long grass.
Haiboxing released the first version back in 2017, but the 2022 model has received a massive overhaul. This new version has two 7.4v 850mAh Li-Po batteries, aluminum ring shocks, 3-wire metal gear servo, splash-proof ESC, and metal drive shafts.
All these things make for great control and durability, along with more speed and power compared to most RC cars in this range.
Design Type: Monster truck
Control Distance: 280 feet
Durability: Good with spare parts available.
Handling: Excellent. Doesn't roll easily.
Speed: 22 mph
Extra Features: Aluminum ringed shocks and metal drive shafts.
Here's the official listing for the Haiboxing 1:18 RC Car on amazon.com. For a slightly upgraded version, still within budget, check out the Haiboxing Hobby Grade Truck;
BEZGAR 1:18 Short Course
On average, short course RC cars are at least around $150, but for less than $100 you can get this HS181 model. It's obviously not as powerful as the pricier options but it certainly delivers for what you're paying. This is a 4WD car that can reach speeds of 22 mph with the short course design to make turning tight corners easier.
Design Type: Short Course
Control Distance: 290 feet
Durability: Good with spare parts available.
Handling: Tight corning and drifting on dirt.
Speed: 22 mph
Extra Features: High-Torque waterproof steering servo.
The Bezgar HS181 is the best short course RC truck you'll find for less than $100
BEZGAR 1:12 Scale Buggy
This buggy is my top recommendation for an RC car under $100 because it's a big 1:12 scale car with strong oil-filled suspension. It also has large tires and a tough body. The 390L brushed motor provides heaps of power all the way up to 26 mph.
Please check out my detailed article covering the BEZGAR brand.
The control is better than any other car on this list because of the advanced suspension and low center of gravity. Choosing this buggy will max out your budget but you won't regret it.
Design Type: Buggy
Control Distance: 280 feet
Durability: Best in its range with spare parts available.
Handling: Excellent. Doesn't roll easily.
Speed: 26 mph (The fastest on this list)
Extra Features: Full metal oil-filled shocks.
Here are all the specs and latest specials for this buggy on amazon.com.
Haiboxing 1:18 Scale Truggy
Truggies are low and wide for maximum stability. These are great for short grass, pavement, and dirt. This one will blast to 22 mph in a couple of seconds. Unlike most cheap RC cars, this model comes with aluminum ringed shocks, two 7.4V batteries, double sealed ball bearings, and a metal gear servo, much like the first car on this list.
Design Type: Truggy
Control Distance: 300 feet
Durability: Strong components but you still need to be gentle for it to last long.
Handling: Very good on any terrain.
Speed: Just over 22 mph.
Extra Features: Wide stance for stability.
This is the current pricing for the Haiboxing Truggy on amazon.com.
RGT 1:24 Scale RC Crawler
Crawlers are a bit more expensive than other RC cars because they need to have high-performance suspension and low-speed control. Luckily the RGT falls within your price range even though it's the smallest car we've looked at.
Parts of the body have shock-absorbent elastic coating making it the most durable RC car in this range.
Design Type: Crawler Truck
Control distance: 262 feet.
Durability: Steel chassis and heavy duty drivetrain.
Handling: Ideal for beginners and can be customised in many ways. Ideal indoors and outdoors.
Speed: 3-5 mph maximum. (Perfect for crawling)
Extra Features: High torque at low speeds.
Here's a link to the RGT Crawler on Amazon to see the latest pricing.
Double E Truck 1:12 Scale
This little monster truck comes in well below $100 which is why it's on the list. It's not the fastest or most durable but it works great for kids at a price lower than any other in this article.
With big tires and high suspension, you can get over a fair amount of obstacles without getting stuck. Thick grass is a bit of a challenge so I suggest keeping it on paving and other even surfaces for it to last longer.
Design Type: Monster Truck
Control Distance: 100 feet
Durability: Average. It's mostly plastic and will break after a few hard knocks.
Handling: Very good because it doesn't go very fast.
Speed: Around 6 mph max.
Extra Features: Headlights
Here's a lot more info and pricing for the Double E Truck on amazon.com
How Big Are $100 RC Cars?
RC cars that are around $100 usually aren't bigger than 1:10 scale. Bigger than that and the price goes over $100. In this article, all the sizes are either 1:12 or 1:18 with the only exception being the Rraycom RGT at 1:24.
See my related post: What Is The Biggest RC Truck For Sale?
Are RC Cars Under $100 Worth The Money?
RC cars under $100 are worth the money if you don't expect too much from them. Having said that, you could spend 50% more and get something in the Redcat Racing or Traxxas range that will last you a lot longer. But I completely understand that it's simply not within many peoples budget to do that. For those people, this article exists.
Super Fast RC Cars Under $100
The fastest RC car in this range is the RC Monster 1:18 Scale Truck that goes over 35 mph. It uses an RC380 motor and is 4WD. Even though the manufacturer is named Monster Truck, this is more of a powerful truggy style RC. Just keep in mind that there is no speed control, only full out lightning fast.
Traxxas RC Cars Under $100
There are no Traxxas RC cars under $100. Their cheapest option is the Traxxas Stampede for around $180. When it comes to reputable RC brands under $100, Redcat Racing comes the closest with the Piranha Truggy.
See my related article for the best Traxxas RC Cars
Check out my article on Redcat
Conclusion
There are thousands of RC cars under $100 but only a few of them are really worth the money. The models I've covered here are tried and tested as you can see for yourself from the positive reviews.
I hope that you liked this article. Here are some more articles that you might find helpful: