The world of radio-controlled vehicles is large and competitive, which may make navigating your way through finding a good RC brand something of a challenge, especially for a beginner in the hobby. There are many brands that are marketed aggressively, but how do you know which ones are quality and offer good support on their products in the way of information, spares, and support. Is Kyosho such a brand that you can expect quality gear from?
Kyosho is a good RC brand that has been around for over 50 years, providing a variety of RC vehicles to the RC community. They offer RC cars, bikes, boats, planes, and drones. Their most famous vehicles are the Mini-Z series which have even become collectibles. The brand is reliable and durable.
When you get into the RC hobby, you want to start with a brand that will give you some continuity for parts and support and also a supplier that offers quality vehicles. The quality of the RC vehicle that you buy are important, but so are the support, spares availability the availability of the scale of RC that you are interested in. Some brands of RC are also not suitable for beginners. We will give you some answers to these questions regarding the Kyosho brand.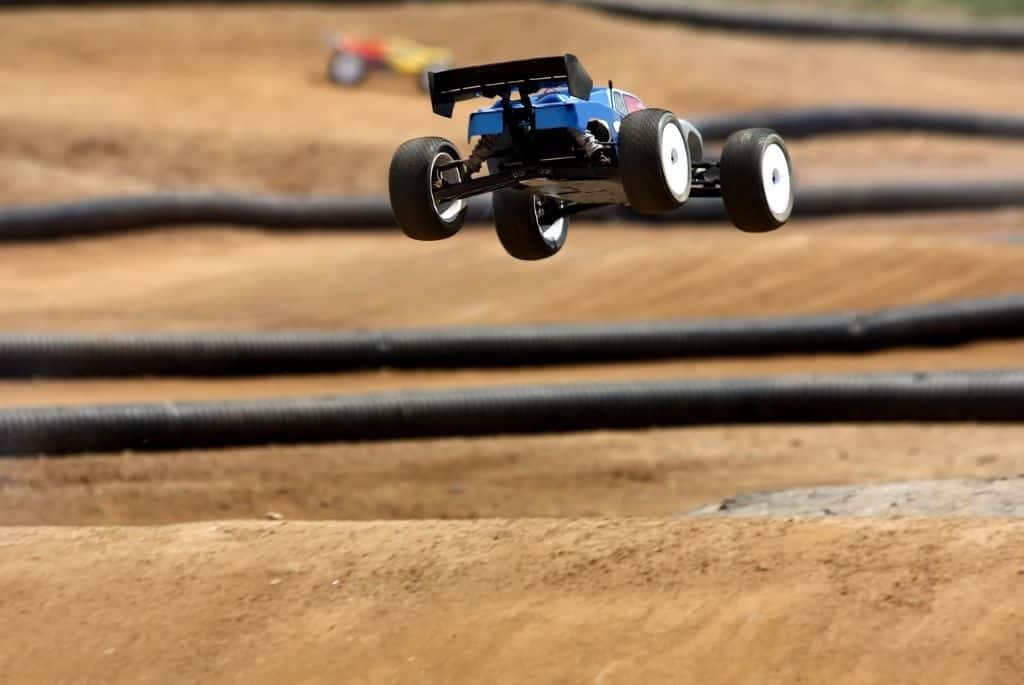 Where is Kyosho Made?
Many cheap RC models are made in some Asian countries where the focus is on quantity rather than quality, but we are happy to say that Kyosho is not one of those brands.
The Kyosho RC models are designed and manufactured in Japan, a country that is well-known for its attention to detail and production of quality goods. The headquarters of Kyosho are in Chiyoda, Tokyo, in Japan, while their main manufacturing plant is located in Atsugi, Kanagawa, Japan.
Some Background On The History Of Kyosho 
Kyosho is not a newcomer in the world of producing RC vehicles for the RC community. They are one of the oldest RC vehicle producers in Japan, being founded in 1963, which makes them over 50-years old.
This alone is an indicator that they have stamped their mark on the RC market, and their products are of sufficient quality to have kept them popular enough to sustain a 50-year plus history.
Kyosho established a presence in the USA in 2005 when they opened their US office in Lake Forest, California. This boosted their popularity in the US RC markets since their presence allowed for faster introduction of their new models to the US market and increased the availability of spares and parts.
There was some concern in the RC community over the availability of parts and support during the period that the US office was being established, but those problems were resolved, and the company resumed the supply of spares and support.
In the US, the company works through a dealer network which means the RC vehicles and spares should be available at most hobby shops. This has helped to increase the availability of spares to local areas rather than shipping from their main headquarters.
If a dealer does not exist near you, you can consult directly with the Kyosho America company and even order vehicles and spare parts directly from their website.
What Kinds Of Vehicles Do Kyosho Offer?
Kyosho offers many different kinds of radio-controlled vehicles in all sizes and scales: helicopters, cars, trucks. They also offer RC planes and boats as well as belt vehicles which are driven by tracks.
They have a wide range of vehicles that vary in difficulty to operate, which caters to all spectrums of the RC community, from beginners to experienced operators.
Related post: Is Redcat A Good RC Brand
In the RC cars category, Kyosho offers the following types of vehicles.
The Mini-Z series. This is a very popular RTR mini RC car that only measures between 3 to 4-inches but packs quite a punch.
Legendary series. This series is a selection of off-road dune buggy style vehicles, most of which are 4WDand powered by electric motors.
Inferno series. The inferno series are nitro-powered on and off-road racers.
Electric off-road. This series has models in the dune buggy style, off-road trucks and monster trucks, powered by electric motors.
Nitro off-road. This series has the same style of vehicles like the electric off-road series, but with nitro engines.
Electric on-road. This is a great series that has classic muscle cars, classic race cars, and drift cars in the series, all powered by electric motors.
Nitro on-road. These cars are in the same style as the electric on-road series but powered by nitro engines.    
These are just the RC cars that Kyosho supply. They also have a range of RC motorcycles which are a lot of fun, as well as boats and drones. Their RC planes come in World War II models and light private aircraft models.
Does It Matter If I'm A Beginner? 
Kyosho actually has beginner-friendly vehicles too that have parts available at hobby stores like HobbyTown USA or Fry's Electronics. There are RC cars such as the Micro RS400S, which starts out around $35 (or less), and move up to more expensive models for more experienced radio-control operators. 
The Kyosho Mini-Z Racer is a great RC car for a beginner which comes ready to run out of the box. This electric-powered vehicle is a great way to get into the hobby, especially with all the parts available to customize and tweak the performance of these vehicles as you become more experienced.
Some of the Kyosho RC vehicles are quite advanced and would not be suitable for beginners. My recommendation is to go with an electric-powered RC vehicle from Kyosho. Electric-engined vehicles are much simpler to use and operate than the nitro-engine powered vehicles.
If you like building your cars, then a vehicle such as the Optima 4WD Buggy Kit is a great starter RC car for a beginner.
You can also see the Optima here on Amazon
If building a car from a kit is not your idea of fun, and you just want to take the car out of the boc=x and race, then the AXXE T6 Green 1/10 EP 2WD EZ-B electric readyset off-road vehicles is a great beginner RC car from Kyosho.
Check out the AXXE T6 here on Socal Hobbies
What Happened To Kyosho?
You may see some reports that Kyosho seemed to disappear for a while, but these reports date back to the period where the company was busy establishing Kyosho America, their local presence in the US.
During the period of two years or so, around 2005 and 2006, when this was going on, there seemed some confusion around models, parts, and support for Kyosho vehicles internationally, and the Japanese headquarters seemed very unresponsive to any queries and supply of spare parts.
Fortunately, as the US office became established and the RC community became aware of their presence in the country, the process of queries for support and parts seemed to get back on track and were once again readily available via the US office.
Most of the problems in this area of the company seem to have been resolved, and they continue to supply quality vehicles and parts and provide good support on queries.
Related post: Losi vs Traxxas: Which Is Better?
How Does Kyosho Compare To Other Brands?
Kyosho RC vehicles have a reputation in the RC community for being reliable, durable, and well-made. The main criticism of their RC cars is that some of their models, especially the brushed motor versions, are a little underpowered.
While parts are more accessible in the US due to the company having a presence there, many Kyosho RC vehicle owners elsewhere in the world have indicated that they have had some difficulty in getting parts and usually have to ship them in from the US, which increases the price of the parts.
The good news is that the robustness of the Kyosho vehicles means that it is unlikely that you will need many spare parts.
The nitro and brushless motor models from Kyosho compare favorably in performance and speed to other competing brands in the same categories.
The prices of the Kyosho vehicles are sometimes slightly more than that of competing brands, but the value that you get in quality of manufacture and design is well worth the price.
What Scale Is Kyosho Mini Z?
Mini-Z is the brand name for the popular line of 1:28-scale radio-controlled electric cars that are manufactured by Kyosho. The company marketed this product as "The RC industry's first palm-top size RC car."
The company manufactures a wide number of bodies that fit on the Mini-Z chassis. 
The main wheelbase size of these cars is 3.7-inches (94mm), but they can range from 3.3-inches (86mm) to 4.2-inches (106mm). The bodies of these vehicles contain a lot of detail and closely resemble the life-size versions. The high gloss paint that is used to finish off these cars adds to their realistic effect. 
These realistic details included in these cars have resulted in them becoming popular as display models and have become collector pieces. The company even produces the bodies with non-RC chassis for display purposes by collectors. 
Kyosho produced classic bodies for these cars, including the Lancia Stratos, Lotus Europa, Porsche 934 and 935, Lamborghini Countach, and the Shelby Cobra. The most popular chassis, however, are the McLaren and the Enzo Ferrari bodies in the 3.7-inch wheelbase. 
Please see my detailed article covering the Kyosho Mini-Z range
The popularity of the McLaren was driven by its lightweight yet nimble handling. The Enzo Ferrari had a lower center of gravity which made for better cornering combined with the responsive steering.
The 3.7-inch chassis are favorites for racing the Mini-Z cars because these models have better weight distribution.
The Mini-Z includes components that allow you to adjust the wheelbase and motor location of your model car. The flexibility to perform these adjustments is necessary because the various bodies available have different weight distribution, which requires changes to the wheelbase and engine location to improve handling. 
For example, their model of the Porsche 934, like the real car, has a rear mount engine. This means that the handling and performance of the model cars will closely mimic that of the life-size versions.
The Mini-Z RC cars can be extensively modified to change their speed and handling. The modifications can be done with parts that are available directly from Kyosho, but there are many other suppliers that produce aftermarket parts for these cars. 
Check out this post: How To Make The Tamiya Mini 4WD Faster In 5 Steps
These parts are easily sourced from hobby stores and from online resources that make shopping and shipping easy.
There is a strong community of Mini-Z owners that compete in races against other Mini-Z owners, which has become quite a competitive sector of the RC community.
These miniature RC cars offer some pretty impressive performance for their size. A standard out-of-the-box Mini-Z can reach speeds of 12-mph. It is possible to make extreme modifications to these cars, which can push their top speeds up to 60-mph or more.
Modifications that can be made to these cars with off-the-shelf parts will allow these RC cars to get up to a very respectable 35-mph speed!
However, many of the modifications to these cars are not just for speed, but to improve the handling and cornering ability of the cars since these aspects of the car's performance win more races than blinding speed!
Are Kyosho RTR, Kits And Nitro Models Any Good?
For the uninitiated in the RC community, a radio-controlled vehicle that comes ready to run out of the box is often abbreviated to RTR, which stands for "Ready-To-Run."
RTR vehicles are the easiest way for the beginner to get involved in RC vehicles because there is very little to do when you unbox your vehicle to get it running and start using it.
Kits are when the RC vehicle comes with some assembly required, and a higher level of knowledge regarding RC motors and electronics is needed to put the vehicle together and get it running.
Kyosho, as a brand, produce quality RC products across the complete spectrum of the RC market. Their RTR models are super-easy to unbox and get running, which makes them very popular for younger RC drivers and those who have no interest in getting out a set of tools to put a kit car together.
The kit car models are well-engineered, and the parts fit together well without any mis-fitments that need to be forced into place or "customized" to fit. The kit cars are a pleasure to build and even more fun to drive!
The nitro engines that are supplied with the nitro vehicles are reliable and easy to start. They are also robust and resistant to damage in crashes and exposure to dirt and dust. 
Nitro engines, in general, are more work than electric-powered vehicles, which makes them more difficult for beginners in the activity. However, the nitro motors provide much more speed and power.
Should You Buy Kyosho Products From A Hobby Store? 
You can buy these products from major retailers such as Walmart or Target if that is more convenient for you, but many people prefer buying their RC vehicles in specialist hobby stores due to the better in-store knowledge of the product and better after-sales service. 
For those looking for something easy online experience, we recommend going online through sites like Amazon or eBay or even direct to the Kyosho America website.
I would recommend Kyosho for anyone looking to buy an RC car or plane because they are one of the leaders in both arenas and have plenty of experience when it comes to manufacturing these items. The products also come with warranties which is great if something goes wrong (although this isn't too common). 
Radio-controlled cars, planes, and other vehicles are part of what Kyosho has been designing since 1975. Their experience in this niche is impressive given how long they have been around, but their products remain affordable for consumers.
Related post: Traxxas vs Arrma: Which Is Better?
Even though Kyosho is a reputable brand, things can still go wrong with your radio-controlled vehicle. If anything should go wrong, then it is best to contact the dealer that you purchased your vehicle from, but if you cannot get any support from that avenue, you can contact Kyosho America direct from their website https://www.kyoshoamerica.com/ for support and spares and where you find local support near your location.
Conclusion
Kyosho has a reputation in the RC community as a well-known, reliable brand that produces some of the best RC vehicles and parts.
They provide vehicles that cater to RC drivers of all ages and skill levels which is another reason that they have retained their popularity.
In some locations, it can be a little difficult to get parts quickly. If your local hobby shop does not hold the Kyosho parts that you need, you may have to order them online, which could result in a delay in receiving the parts.
But all-in-all, the Kyosho RC vehicles are well made and well worth the price. Their reliability and durability will ensure they provide you with years of fun!