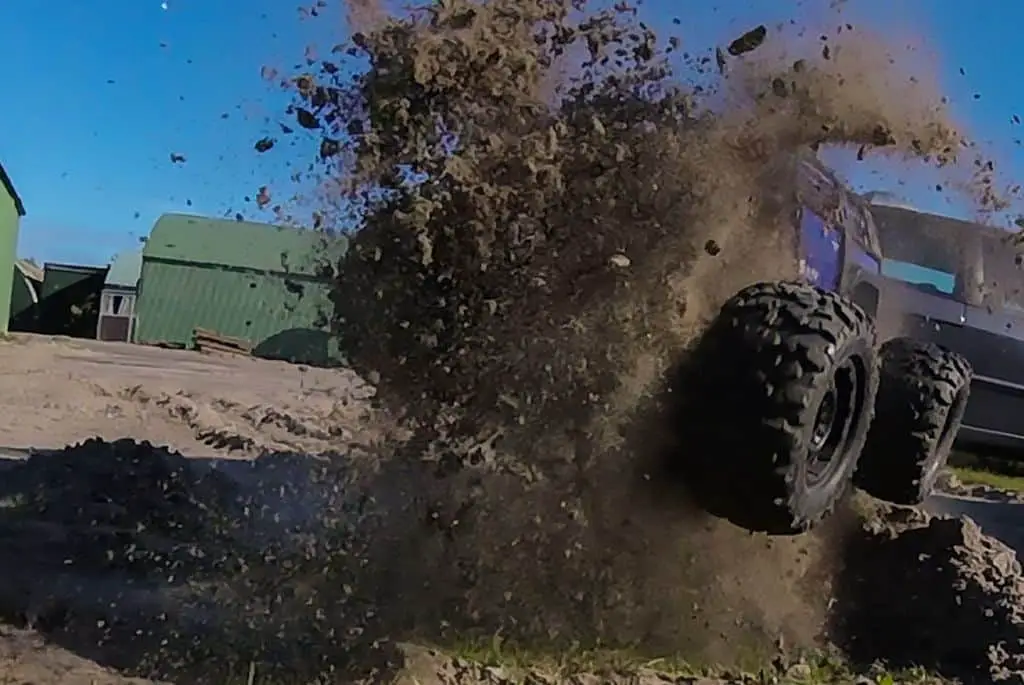 You might be looking to get yourself a brand-new RC car. Traxxas and HPI Racing are two popular brands in the world of RC cars so I'm sure you've heard of them. As a beginner RC enthusiast, you might be torn up about choosing which one to pick. So, Traxxas vs HPI Racing – which brand would best suit your needs?
Traxxas and HPI Racing are both very good brands and both excell in different fields. In general, Traxxas RC vehicles are well suited for beginners with a good range of RTR, ready to run, electric RC cars, these cars can be modified in various ways as you progress in the hobby. HPI Racing is suited more for the advanced RC enthusiast. HPI Racing offer a large range of RC cars, their cars that come in kit form are highly recommended.
To help you pick just the right RC car for yourself I will talk about these two brands in-depth in this article. From their brand history to their differences, you will learn it all by the end. I have also provided a list RC cars from each of them and provide some information about them to help choosing your next RC car much easier.
History of Traxxas
Traxxas is one of the top brands in the world of RC Cars. Their headquarters is situated in McKinney, Texas. Yes, Traxxas is an American brand. The company makes both electric and nitro-powered RC cars.
Back in 1987 when the company entered the RC Car market, it used to sell only stadium trucks and buggies. 2 years after the launch of Traxxas, it started to make RC boats.
In 1992, the company started to make RTR cars, and the first model was Nitro Hawk. That car was a revolution in the RC car market.
That's why Traxxas is mostly known for these RTR cars now. Tell me, what is the abbreviation of RTR? Although RTR represents ready to run cars, Traxxas calls them ready to race cars. In my opinion, they are not wrong. You can just get an RTR car from Traxxas, plug a battery in and go racing. No need to waste time for set up and customization, just run it.
As RTR cars are the power of Traxxas, they mostly focus on beginners. The experienced racers like to take the fun of assembling an RC car by themselves, so RTR is not so much of a choice for them. However, Traxxas provides a variety of upgrades for their cars, and advanced users can use them to upgrade their RTR cars too.
The motto of Traxxas is "The Fastest Name In Radio Control". For a newbie, I strongly suggest buying a Traxxas RC car. Especially if you don't know a lot about RC cars and have no experience assembling an RC car, you should get a car from Traxxas. 
Most RC cars from Traxxas have a few variations. The same model can be electric with either a brushed or a brushless motor and nitro. Make sure to know clearly about the model of your choice before buying.
I highly recommend an electric model with a brushed motor for beginners. Brushed motors are not as powerful as their brushless counterparts. A brushed model with a basic setup is ideal. You can upgrade to a brushless motor and modify the setup of your vehicle as you gain experience. 
Traxxas has sponsored a lot of race events, teams, cars, and other RC car-related stuff over the last few years. The Stadium Super Trucks, John Force Racing, Championship Off-Road Racing are a few names I can recall from Traxxas's sponsors.
Check out this post: Is Tamiya A Good RC Brand?
You do need to be made aware about some controversies regarding Traxxas.
Back in 2018, some RC fans started to boycott Traxxas and claimed that Traxxas were doing Patent Trolling. According to those RC fans, Traxxas was putting other companies out of the business by false patent claims against them.
Although I am not going to judge Traxxas nor those RC fans, I can confirm that the 2018 situation was indeed a challenge for Traxxas. A lot of users stopped buying products from Traxxas and the movement still lives. If you still move around some forums of RC users, you will see them suggesting other RC cars except Traxxas.
History Of HPI Racing
The abbreviation of HPI is Hobby Products International, and it's another American company that started its journey in 1986. Two young men started this company with an investment of only $200, and then, in no time at all they started making millions.
However, you will not hear of HPI Racing much in 2021. There is no official Wikipedia page of HPI itself, and no announcements of newer cars these days. Back in 2016, HPI was sold to Ripmax and that was not a piece of good news for RC Car fans.
A lot of people think HPI went bankrupt because of Traxxas. As I mentioned earlier, Traxxas were doing some patent trolling. HPI were one of the first victims of it. In 2014, Traxxas sued HPI because they used rubber seals in their newer cars. Traxxas was the first company to release waterproof Rx boxes in RC vehicles.
HPI actually reverse engineered the idea of Traxxas and implemented it in their cars. If you think of the situation as a consumer, this should not be a problem because all you want is a better car at a lower price. HPI was not able to recover from their loss and now, you won't see a car available to buy in the major states of America.
HPI never focussed on newcomers to the RC industry. RC vehicles are bought both by kids and adults, and though Traxxas has targeted newbies a lot, HPI was especially for enthusiasts. HPI was good at its job but now they are gone. You may have a hard time finding the latest HPI cars in the US market, but if you get one, be sure not to miss it.
Related post: Slash vs Senton: I Ran A Poll To Find Out Which Is Best
Since 2002, the HPI Savage is the most popular series of RC cars built by HPI. The replica RC cars made by HPI look and feel like real cars, and enthusiasts love them.
The Difference Between Traxxas And HPI Racing
Now you know about the history of Traxxas and HPI Racing, it's time to know about the major differences between these two brands.
Traxxas is known for its innovation and RTR cars. Their cars require less maintenance and provide more fun. Especially if you are looking for an electric car, Traxxas is going to provide the best experience for you. Traxxas cars are affordable and ready to play. 
Most of the ready to run cars in the market are slow. For a faster solution, people often look for a DIY kit instead of a ready to run car. As a newbie, spending a lot on buying an RC car can be painful. But if you start with a slow car, you will never get the true fun of RC cars. So starting with a faster car is recommended.
That's what Traxxas is good at. They provide a cheaper option with better quality. Even if you are buying an RC car for your child, Traxxas will give you a variety of options. Your child will definitely love a gorgeous-looking electric RC car from Traxxas. Moreover, these cars are beginner-friendly.
The ESC on Traxxas cars come with "Training mode" This mode cuts the cars speed by 50 per cent so your child will find the controls of a Traxxas car more comfortable.
If you love customization, Traxxas is also going to be a great choice for you. They sell a lot of upgrades for their RC cars, and the upgrades will give a noticeable boost to your car. The bodies of Traxxas cars are also super durable. Making them invulnerable to whatever punishment your have instore for them.  
However, I will personally recommend HPI Racing cars for rough users. The well-engineered builds from HPI racing are good for off-road terrains. These cars look and feel better than Traxxas cars, and a professional will go for HPI racing instead of Traxxas. 
The RC kits from HPI are more popular than the RTR models. Professional RC car enthusiasts love to build their own cars, and HPI Racing helps them do that. Although they cost more, people spend more on RC cars than they do in their real cars, so that's not a downside.
Related post: How Fast Do Traxxas RC Cars Go? (With 15 Examples)
I would never tell a newbie to buy an RC car from HPI Racing. You need to learn a lot before getting your hands on a professional racing car from HPI. HPI makes a lot of cars in Japan, and you know Japan makes the best cars in the world. The parts are strong and durable, and reliability is not a question when the build is from Japan.
Best Traxxas Vehicles to Buy Right Now
Now you know about the differences between Traxxas and HPI Racing, let's check some Traxxas Vehicles to buy.
Traxxas Rustler 4×4 VXL Stadium Truck
4WD RC Cars are always my first choice and this one is absolutely a 4WD one. Costing around 400$, the Traxxas Rustler 4×4 VXL Stadium Truck packs a great punch in it. If you are looking for a super speed durable vehicle for racing on a stadium, this should be your top choice.
The truck is easy to handle and reaches 65+ mph at ease. The tires are able to run freely in most situations, and they are long-lasting. For a first-time user, the truck may seem too fast, but it's normal. 
The front body of the truck seems a bit weaker than the other parts. If you land it too hard, that part may fall out in the middle of the road. Other than that, the build seems quite strong.
Specifications:
Type: Electric RC Car
Dimensions: 13.5 x 22.7 x 7.7 inches
Weight: 2Kg
Features:
Clipless Body: The Traxxas Rustler 4×4 VXL Stadium truck has a clipless body. It will help you with secure mounting, easier removal, and faster installation.
Rollover Protection: The vehicle has a durable internal structure and external rollover protection. So you can do your stunts without worries.
Pros:
Brushless motor
Four wheeler truck
Waterproof
Cons:
Weak front body
Battery and charger not included
Check the Rustlers price by clicking here on Amazon
Traxxas Bigfoot
The Traxxas Bigfoot is a 2WD off-road truck with a beautiful design. It is an RTR package from Traxxas, so it saves your time assembling the car. 
The Traxxas Bigfoot comes with a 7 cell NiMH battery and charger so you have everything you need to get going all in one package. It has a training mode that cuts the vehicles speed by 50 per cent, this mode really helps newcomers get to grips with the vehicle. After you learn to control the truck, hit the gas, and drive just like you want.
The Traxxas Bigfoot is a 2WD truck, which means it is not good to handle. It costs less than 200$, and you cannot expect to get a quality 4WD RC car at this budget. According to my opinion, it is a great deal for newbies.
Specifications:
Type: Electric RC Car
Dimensions: 16.25 x 12.75 x 8.75 inches
Weight: 3.6Kg
Features:
Ergonomic design: I loved the design of this car, and I am sure the ergonomic design will be your favorite too. 
Beadlock style wheels and massive tires: Give 4 inches of ground clearance to allow you to rip up any terrain!
Pros
Powerful Radio
Nice design
Good build quality
Cons
Check the Traxxas Big Foots price here on Amazon
Check out a large selection of Traxxas products on Amazon by clicking here
On a budget? Check out my article covering the cheapest Traxxas RC cars
Best HPI Racing Vehicles You Can Buy
Wasn't able to choose a vehicle from Traxxas? Check some HPI Racing vehicles for buying.
HPI Vorza Flux
The HPI Vorza Flux is a must-have for all car enthusiasts. Trust me, I am not exaggerating, this car is definitely a great option both for professionals and newbies.
It is one of the few models from HPI that comes pre-assembled. The car has a brushless motor, so controlling has never been so easy with this. Getting started is easy, and I have enjoyed running the car both on and off-street.
The HPI Vorza Flux is upgradeable. Although it can already run at full speed, you are able to upgrade every single part of it. If you want a car to run on terrain and ready to spend more than 500$ for your car, this is the best choice for you.
What I suggest is to use some powerful batteries with this car to get its full potential. The battery box is adjustable, so add some high-quality lithium polymer batteries before taking it to action.
The speed and the control of the HPI Vorza Flux are not so good. The car is small and the weight is too low. In my opinion, if HPI Racing gave this car a bit more weight, it would be much easier to control it. 
Specifications:
Type: Electric RC Car
Dimensions: 20 x 12 x 7 inches
Weight: 0.3Kg
Features:
Powerful motor: The flux tork 2200 brushless motor is a strong motor to handle immense stunts at ease.
Adjustable battery tray: The battery tray of the HPI Vorza Flux is adjustable because of its hook and loop straps.
Pros
Powerful radio
Brushless motors
Adjustable battery with li polymer support
Cons
Check out the Vorza Flux by clicking here. On Amazon
HPI Racing Wheely King
As the name suggests, this car is built for wheelies. The HPI Racing Wheely King is small with a 1:12 form factor but still packs a lot of power in it. For a starter, this is going to be a decent choice for sure. 
If you drive at full speed, the battery barely runs for 15 minutes, and you will have the best experience of your racing life in that limited time. The current version of this car is waterproof, so you can try running it in any weather condition.
In spite of being a 4WD car, controlling the HPI Racing Wheely King is a bit trickier. There are no foams in the tires and the springs are bouncy. So you will need to do some practice before starting to race with this car.
A lot of users think that this car breaks too fast, but 4WD cars are prone to break. No 4WD car lasts as long as a 2WD car and you know you have to spend a lot if you are into 4WD cars. In my opinion, this should not be a problem for professional RC car enthusiasts.
Specifications:
Type: Electric RC Car
Dimensions: 19.75 x 12.75 x 10 inches
Weight: 1Kg
Features:
Off road beast: The big wheels and sturdy build of the HPI Racing Wheely King has made it an off-road beast.
Monster truck: Monster trucks are a beast for terrains, and this RC vehicle is not so different. Stunts or actions, sand or grass, all are smoothly handled by the HPI Racing Wheely King.
Pros:
Durable
Waterproof
Powerful remote control
Cons:
Worse battery ( the one included in the package)
Check the Wheely Kings price by clicking here, on Amazon
See a huge range of HPI products on Amazon by clicking here
Conclusion
When it comes down to Traxxas vs HPI Racing, both are popular and deliver some of the best products in the market. There is no way one can call a brand superior to the other. Both of the companies are dominating the RC market and people love them both. If someone wants to make a choice, they must do it according to their own taste.
In this article, I have shown the differences between the two brands along with some of the best RC cars made by them. I hope you found this article helpful in deciding which brand is the best for you.