I ran a Facebook poll on RC Bashers & Crashers asking this question and over 60% of the participants voted for the Slash. The only problem is I didn't specify which Senton or which Slash. It's a problem because the Senton BLX is better than half the Slash range, but not the other half.
The Traxxas Slash VXL is better at handling because it has TSM (Traxxas Stability Management) which prevents it from spinning out and losing control. The Arrma Senton goes 50 mph while the Slash VXL goes 60 mph. The Slash VXL is better than the Senton BLX but it's more expensive.
However, the Senton BLX is better than the stock Slash, and Slash 4X4 because they are in a lower price range. The Senton MEGA is also in that lower price range if you prefer the Arrma brand.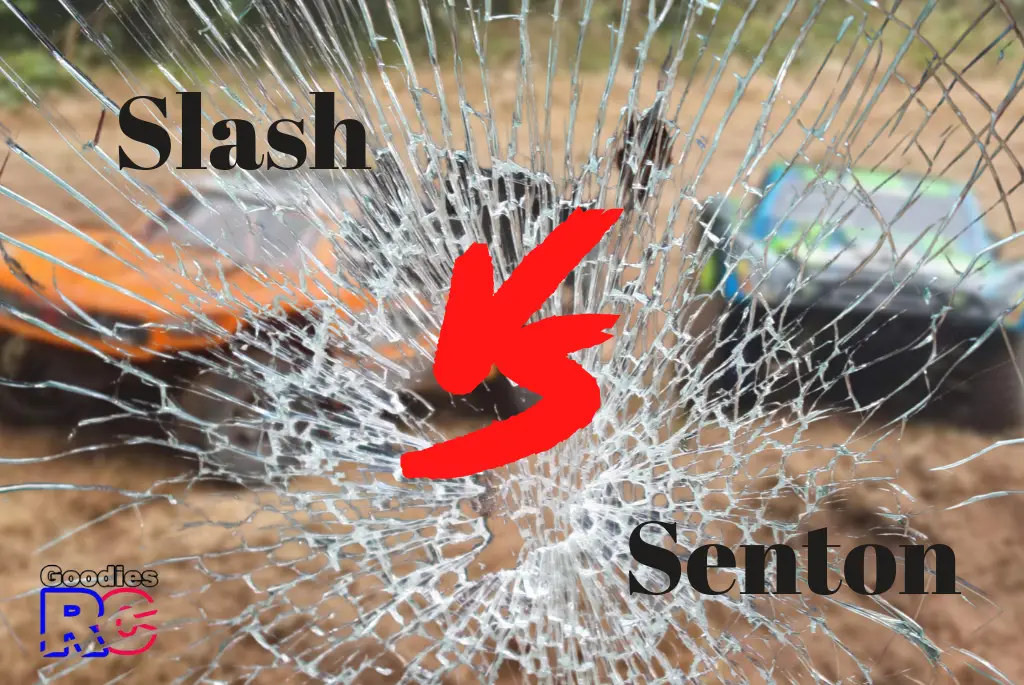 Let's look at the various Slash models and then compare them with the two Arrma Sentons. 
The Traxxas Slash Range
The Traxxas Slash range goes from 30 mph with a brushed motor to over 60mph with the brushless motors of the Slash VXLs. There's also a Slash 4X4 for easier off-road bashing because it has a higher suspension and center of gravity.
Waterproof electronic speed controllers, water-sealed receiver boxes, and steering servos are standard on all these Traxxas Slash models.
All the Slash models are very responsive on the throttle and steering. They all have great suspension systems and are durable enough to crash a lot without total failure.
Check out my post: What is the best Traxxas RC car?
Here are all the Slash models along with some basic specs and features.
Traxxas Slash 2WD
(Amazon link)
The 2-wheel-drive Traxxas Slash is very capable on grass and rough terrain because it uses a powerful 12-turn 550 brushed motor that can reach speeds of 30mph. That's fast enough for most people, especially if you don't have a long smooth pavement to race on.
A 2WD car is better than 4WD in some ways. For example, 2WD cars are lighter and have fewer parts to maintain. This makes 2WD cars more affordable to run over the long term. Of course, drifting and spinning around tight corners is far easier with a 2WD car.
You can buy the Traxxas Slash, excluding the battery and charger for around $ 200. There is another option for around $30 more that includes an 8.4V 3000mAh NiMH battery and charger.
Traxxas Slash VXL
(Amazon link)
The Slash VXL has a super-fast brushless motor that can push the RC over 60mph. It also has Traxxas Stability Management (TSM), to make it easier to handle and far less likely to spin out of control. This model also has a stronger driveshaft and upgraded steering system compared to the standard Slash.
You need to buy the battery and charger separately ( This link takes you to Amazon and shows every Traxxas charger available). I have this charger, from Amazon, it comes with a 5000Ah 3S battery aswell.
You have the chance to choose from three options;
With a 3000mAh NiMH, you'll get around 35mph, you'll get about 40 mph with a 5800mAh 2S LiPo, and over 60mph with a 5000mAh 3S.
Related post: Are Traxxas RC Batteries Worth The Money?
You will need to buy the 76 tooth spur gear and 31-T pinion to get to 60mph.
Traxxas Slash VXL (With Stronger Parts)
There's a new Slash VXL with an all-metal transmission, aluminum motor plate, and sealed beveled-gear differential. It uses a Velineon brushless motor and with the right batteries, you can go over 60 mph. The battery and charger are still sold separately.
Traxxas Slash 4X4
The Slash 4×4 has a raised chassis to clear obstacles easier. A higher chassis also reduces friction when driving on grass so the batteries last longer and the car goes faster. A driveshaft runs through the chassis to connect the two axles and make it a four-wheel drive.
It uses a 12-turn 550 modified brushed motor that will get you speeds of around 30mph. (Optional 76 tooth spur gear and 31-T pinion to get to 60mph.) These links take you to Amazon.
The Slash 4X4 includes a 7-cell NiMH battery and charger included, so you won't need to spend anything extra.
The 4X4 doesn't have TSM, but you won't really need it for bashing around at 20 to 30 mph and 4X4s don't benefit from TSM as much as 2WD. The lack of this feature keeps the price reasonable.
Traxxas Slash 4X4 VXL
The 4X4 VXL has the Velineon 3500 brushless motor and Traxxas Stability Management to help keep the RC in control at high speeds. It can go over 60 mph with a 3S LiPo.
Related post: What Is The Toughest RC Truck?
This is the best Slash if you're off-roading because of the high center of gravity and high-quality metal parts for longevity.
With this model, TSM becomes useful even though it's 4WD because of the high-speeds it can travel at.
(Amazon link)
How Fast Does The Traxxas Slash Go?
The standard Traxxas Slash with a 550 brushed motor goes just over 30mph. The Traxxas Slash VXL with brushless motor and a  5000mAh 3S LiPo battery goes over 60mph.
See my related post: How Fast Do Traxxas RC Cars Go? (With 15+ Examples)
How Expensive Is A Traxxas Slash?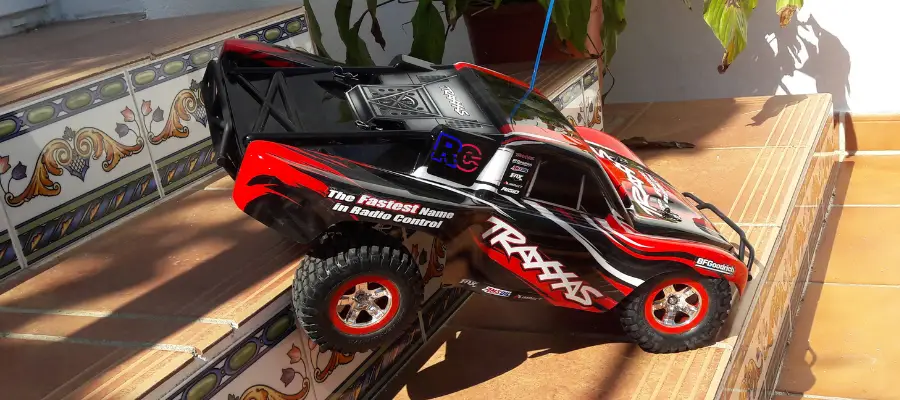 The cheapest Traxxas Slash costs around $200, excluding the battery and charger. You can pay $30 extra for an option that includes the battery, charger, and LEDs.
The Traxxas Slash VXL will set you back around $300, but it's worth it for the Traxxas Stability Management and top speeds of over 60mph!
The Slash VXL with upgraded transmission and more metal parts is $370. The Traxxas Slash 4X4 is $300, and the 4X4 VXL costs $430.
Prices will change over time, but I will try to update these when needed.
Can The Traxxas Slash 4X4 Drive On Water?
With the help of paddle wheels( This link gives you a selection from Amazon, the 5891 set are ideal) intended for thick sand, the Slash 4X4 can drive on water if you drive fast enough. The Slash VXL can also drive on water because it's fast and light enough to push against the water with the paddles on the wheels. (Paddle wheels are sold separately)
You also need to get a 76 tooth spur gear and 31-T pinion to get the high speeds you need to drive on water.
See my related post: Can RC Cars Run On Water?
Is The Traxxas Slash Waterproof?
The Traxxas Slash has a waterproof electronic speed control and a water-sealed receiver box and steering servo. This makes the Slash waterproof to a certain extent. It can be submerged in water momentarily, but if it's left there for long enough, water will get inside and damage it.
This type of waterproofing keeps the electronics safe while driving through puddles of water and mud.
You may want to check out my related article: How Wet Can RC Cars Get? Read This Cool Guide
What Motor Does The Traxxas Slash Use?
The Traxxas Slash uses a Titan® 12-Turn 550 and the Slash VXL uses a brushless Velineon 3500 motor. The difference is around $100 between the Standard Slash and VXL version.
Can You Make A 2WD Traxxas Slash Into A 4WD?
You can convert a 2WD Slash into a 4WD by adding these parts from Traxxas. It's the Stampede 4X4 kit from Traxxas, excluding the electronics so you can just add everything to your current Slash.
Check the Stampede 4×4 kit pricing on Amazon here
What's a Monster Slash
A Monster Slash is a Slash with bigger tires, higher suspension, and ideally, a stronger motor. Traxxas specifies which components they recommend when doing this.
You dont have to follow Traxxas recommendations for this, just go to youtube and youll find lots of videos showing ways of converting your Slash into a monster Slash.
How Long And Wide Is The Traxxas Slash?
The Traxxas Slash is 22.36 inches long and 11.65 inches wide (568mm x 296mm)
The Arrma Senton Range
Arrma Senton 4X4 BLX
The Senton BLX is most similar to the Slash VXL because they both have brushless motors. The Senton can reach speeds of 50 mph with 50C 3S LiPo batteries, from Amazon, that you need to buy separately.
Check out my article: Can any motor be used in any RC car?
The body is durable, and the electronics are waterproof. The Senton BLX is around 20 mph faster than the brushed versions of the Slash but it's more expensive.
The Slash VXL is a bit cheaper than the Senton BLX but still outperforms it with speed and stability. Unfortunately, the Senton doesn't have a stability management system like the Slash VXL.
(Amazon link)
Batteries required
The Arrma Senton uses 2S or 3S LiPo Batteries like this selection on amazon.com. The batteries and a charger are not included with the Senton. Make sure to buy EC5™ or IC5™ connection types. You'll also need four AA batteries for the transmitter.
Arrma Senton 4X4 MEGA
The Senton 4X4 MEGA is a strong, reliable four-wheel-drive RC that goes extremely fast for the price.
It's similar to the Slash 4X4, on price point, and features. It's cheaper than the Senton BLX mostly because it uses a brushed motor. The same reason it only goes 30 mph and not 50 or 60. But just like the Slash 4X4, it's an excellent choice for most people who only plan on messing around off-road and not for racing.
(Amazon link)
Batteries required
The Senton MEGA includes a Dynamite® 3300mAh 8.4V 7-Cell Speedpack® 2 Hump NiMH battery and charger included in the package. You only need to get four AA batteries for the transmitter.
Check out this post: Will A Lipo Battery Make My RC Car Faster?
How Much Does The Arrma Senton Cost?
The Arrma Senton 4X4 Brushless costs around $340 depending on the deal you get. The Senton 4X4 MEGA costs about $270 mainly because of the cheaper brushed motor.
How Fast Is The Arrma Senton?
The Arrma Senton 4X4 can go as fast as 50 mph with a 3S 50C battery. The lower priced Arrma Senton 4X4 MEGA goes around 30mph with the 3300mAh 7-Cell NiMH battery, which is included.
Is The Arrma Senton Durable?
The Senton is durable and can go through a lot of crashes without breaking. The main frustration people have regarding its durability is that stones get lodged in the steering servo.
If your only option is to drive over pebbles and other small debris, get something with a high suspension like the Senton 4X4 MEGA, or Traxxas Slash 4X4, to avoid jamming up your wheels and servos.
Is The Arrma Senton Waterproof?
Yes, the Arrma Senton uses a waterproof Spektrum™ servo. This is to protect against water while driving through mud and puddles and shouldn't be submerged in water. Although it can survive temporary submersion in water, there is no guarantee for that.
How Long And Wide Is The Arrma Senton?
The Arrma Senton is 21.97 inches long and 11.73 inches wide. (558mm x 298mm)
Related post: Traxxas vs Arrma: Which is better?
Alternatives To The Slash And Senton
When I ran the poll on facebook group RC Bashers & Crashers, a couple of other models were mentioned so lets take a look;
Losi Tenacity TT Pro
Every part of this Losi is built to such a high standard, its extremely strong and tough. It comes with aluminum bodied shocks.
This 4×4 truck comes with waterproof parts, brushless motor and ESC. With a 3S lipo, the Losi Tenacity can rech speeds of 50mph +
At around $500, its much more expensive than either of the top Slash or Senton models plus youll have to buy a charger and batteries on top of that price.
The price does justify itself due to the quality components its made of.
Related post: Losi vs Traxxas: Which Is Better?
You must take into account that this model is more intended for serious racing rather than just going out and bashing with your friends.
(Amazon link)
Traxxas Maxx
The Traxxas Maxx is a smaller version of the X-Maxx but it still outperforms other trucks in it's range in terms of durability and raw performance.
The Maxx is 4 wheel drive, comes with the same steering servo as the X-Maxx, steel gear differentials, extreme duty telescoping drive shafts and full contact sealed bearings.
Check out my article if you've ever considered buying the mighty Traxxas X-Maxx
The Traxxas Maxx comes with a brushless motor and can reach speeds of around 60 mph but youre looking at a hefty price of around $610 without charger and battery.
(Amazon link)
Conclusion
I think one reason the Traxxas Slash is more popular is because there are so many versions to choose from depending on your budget. From just over $200 to over $400, and I believe each one is worth it.
The basic Slash is affordable while still providing outstanding performance. But if you have the extra cash, the Slash VLX is even faster and has TSM.
It's the same with the Arrma Senton BLX and Senton MEGA. The BLX has the brushless motor and more metal parts, while the MEGA has a brushed motor.
Out of all these options, I think the Slash VXL is the best option. It's around the same price as the Senton BLX but has a better motor and TSM. Having said that, there are some people that prefer the Senton, each to their own.
One thing that can't be denied is that Traxxas has a wider range of spare parts, upgrades, and services, even if you pay slightly more for their product.