Radio-controlled monster trucks are awesome. These trucks can move through rough terrain with ease.  And they come in different sizes. If you like big RC trucks, you may be wondering what is the biggest RC truck out there for sale.
The Primal RC 1/5 Scale Raminator Monster Truck is the biggest and most powerful monster truck that you can buy right now. It is 1/5th the size of a real monster truck. The Raminator weighs 80 lbs and has a dimension of 40" ✕ 32" ✕ 24". The Raminator comes with an extremely powerful engine and has the largest tires out there.
In this article, I will give you a brief overview of the Primal RC 1/5 Scale Raminator discussing its specifications and notable features. I will also talk about the things you might like about this truck and provide you a list of other giant RC monster trucks as well just to give you a few options. So, without wasting any more time, let's begin!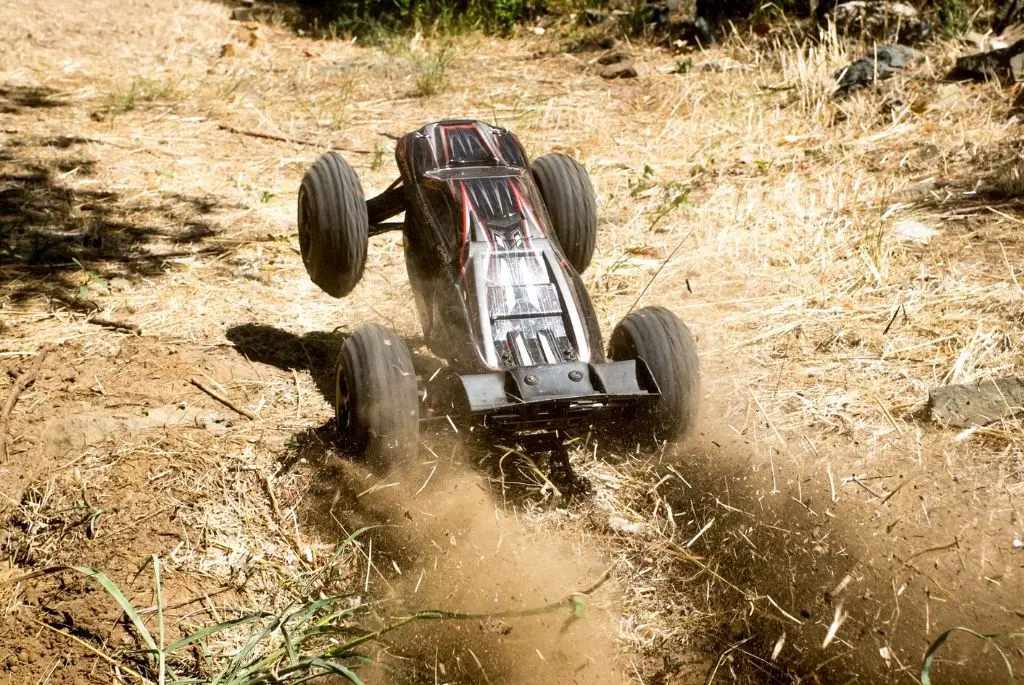 The Primal RC 1/5 Scale Raminator Monster Truck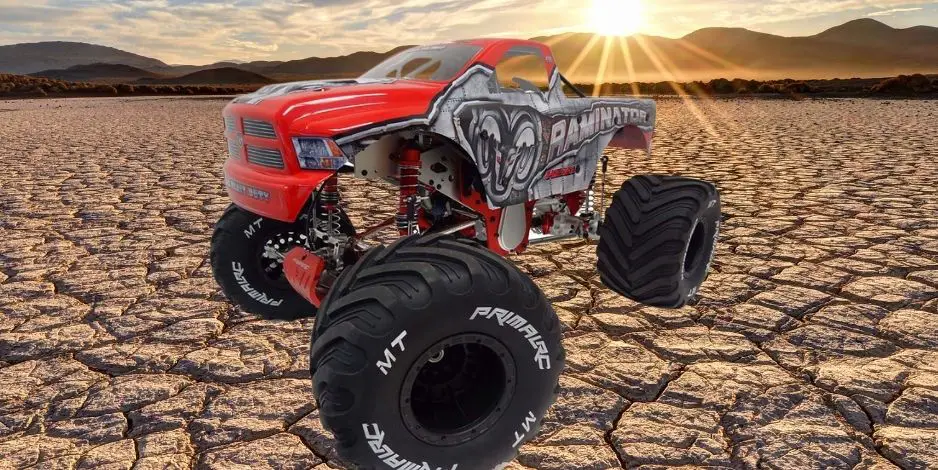 For starters, the Primal RC 1/5 Scale Raminator Monster truck is heavy, loud, and most importantly, it is monstrous. And since its launch, it has been making huge commotion among RC enthusiasts. When it comes to monster trucks, this truck checks every box. 
From the roar of its powerful engine to the iconic "thud" sound you hear when it comes back down to earth, the RC Raminator is a monster truck without a doubt. This truck weighs eighty pounds. Not to mention, it uses a 49cc 2 stroke reed-valve engine, which is unbelievable for a radio-controlled vehicle.
This monster truck comes as an RTR (Ready-to-Run), has four-wheel drive along with scale authentic solid axles. It also comes with a four-wheel suspension. Don't forget about its monstrous size. It has a dimension of 40" ✕ 32" ✕ 24".
In terms of size and power, the Primal 1/5 scale RC Raminator is on a whole new level. In fact, it is the biggest and most powerful radio-controlled vehicle out there. The Primal crew has really outdone themselves in building a hulking monster of a machine.
Specifications
Dimensions: 40" ✕ 32" ✕ 24"
Vehicle Weight: 80 lbs.
Engine: 49cc two-stroke reed-valve engine
Speed: 30+ miles/hour
Tires: 12" ✕ 7.5"
Wheelbase: 24"
Tracks: 31.5"
Min. Ground Clearance: 4" (Adjustable) 
Min. Chassis Clearance: 4.5" (Adjustable)
Radio System: 2.4 GHz Six Channel FlySky Digital Radio  
Battery: 4800 mAh 7.2v NiMH Battery 
Features
Powerful Engine: This monster truck is powered by a 40cc two-stroke air-cooled reed-valve gasoline engine that is usually used in mini motorcycles. This engine is rated for 6+ horsepower and designed for providing high torque at lower RPM. 
Related post: How Much Do RC Trucks Cost? Best Models For The Money
Large Fuel Tank Capacity: This monster truck comes with a whopping 1200cc fuel tank. And this much fuel is enough for several hours of nonstop driving.
Tires and Rims: This monster truck comes with the largest tires that you can find in any RC vehicle. The chevron-treaded high traction tires with foam insert have a dimension of 12" ✕ 7.5". These tires are mounted on 24 millimeters heavy-duty hex bead-lock Nylon rims. 
Power Brakes: The RC Raminator monster truck is equipped with rear and front axle-mounted manual disc brakes along with 70 kilograms brake servos that offer excellent stopping power. 
Check the Latest Price on Primal RC's official site
Why Get Primal RC Raminator?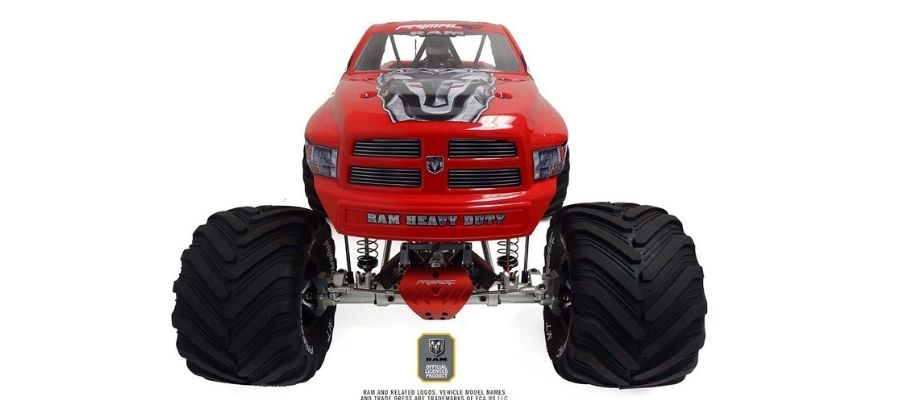 Those who are already into RC truck driving need no explanation on why to get the Raminator. But, if you are a newbie to RC monster trucks, let me point out why people are willing to pay such an outlandish price for it. 
The first reason RC monster truck enthusiasts love and want the Raminator is because of the size. In the world of RC monster trucks, size does matter. The bigger your car the more you feel good about driving it. A giant RC car sort of mirrors your passion for this hobby and also gives you something to brag about in the community. 
Best 1/8 scale RC truck? Read on here
Also, monster truck driving usually involves tough terrains which includes a lot of tossing and toppling. The Raminator is built like a tank, so no matter how much punishment you make it go through, it will still remain unscratched. And the bigger surface area also helps to reduce the effect of impact by distributing the force. This is the second biggest reason why RC monster truck owners love bigger and tougher cars. 
But, minus all the technicalities, pride in possession and superior build quality are the reasons to get the RC raminator. So, if you have the budget and have a deep passion for RC monster trucks, I would highly recommend you get it. 
Other 1/5 Scale RC Trucks You Can Buy
In terms of size and performance, the Raminator monster truck is in a whole different league. But it is too pricey for most people. Also, it may not be the right choice for you depending on your specific requirements. But don't worry, there are other giant RC cars available in the market for you to choose from.
Related post: The 8 Best RC Cars For Sand Dunes
Down here, I've provided a list of some 1/5 scale monster trucks that are great alternatives to the Raminator. Just have a look at them!
1/5 Arrma Kraton 4X4 8S BLX Brushless Speed Monster Truck
This is yet another electric-powered radio-controlled monster truck I've mentioned in this list. The 1/5 KRATON 4X4 8S BLX Brushless Speed Monster Truck is built tough and designed to go fast.
With the two 4S LiPo batteries powering this RC monster truck, it can generate some serious speed (more than 55 miles/hour). And its ultra-strong composite side pods, anodized aluminum chassis plate, and triangular center brace structure make this monster truck really durable. Plus it is RTR (Ready-to-Run) right out of the box for ease of use. 
Check out the best deals for the Arrma Kraton by clicking here, on Amazon
Also here at Walmart
Redcat Racing 1/5 scale Rampage Chimera
This is an excellent alternative to the Raminator monster truck. It has a dimension of 30.5" x 14" x 10.5". As for a power source, it uses a 30cc HY gas engine. The truck also has a 500cc gas tank. 
One of the key selling points of this monster truck is its tunability and adjustability. From engine to centrifugal clutch, suspension, shock location, and even break linkages, you can tune it all and make your Rampage Chimera monster truck unique to you.
Check out the Chimera here, on Redcat Racings official site
See the Chimera here at Walmart
Click here for Amazons best deals
Traxxas Unlimited RC Desert Racer
This is an ultra-tough RC desert racer that boasts about its size and speed. The Traxxas Unlimited RC Desert Racer is an electric-powered RC vehicle that can go really fast (more than 50 miles/hour). This car has a Shaft-driven four-wheel-drive all-metal drivetrain.
Check out my related article: What Is The Toughest RC Truck?
Traxxas utilized true scaling realism while designing this car. And in doing so, they have accurately engineered a true unlimited desert racer chassis in terms of both function and look.
See the best deals here, on Amazon
Conclusion
Driving the RC Raminator monster truck can be a great way to spend some fun time. This truck has a solid build quality and is the biggest and most powerful RC monster truck available in the market. You will have to spend a lot of money to buy one. Nonetheless, owning a Raminator is something almost every RC enthusiast dreams of and it is a prized possession of many. 
By now, hopefully, you have learned what is the biggest RC truck for sale. Thanks for staying with the article till the end. Have a nice day!