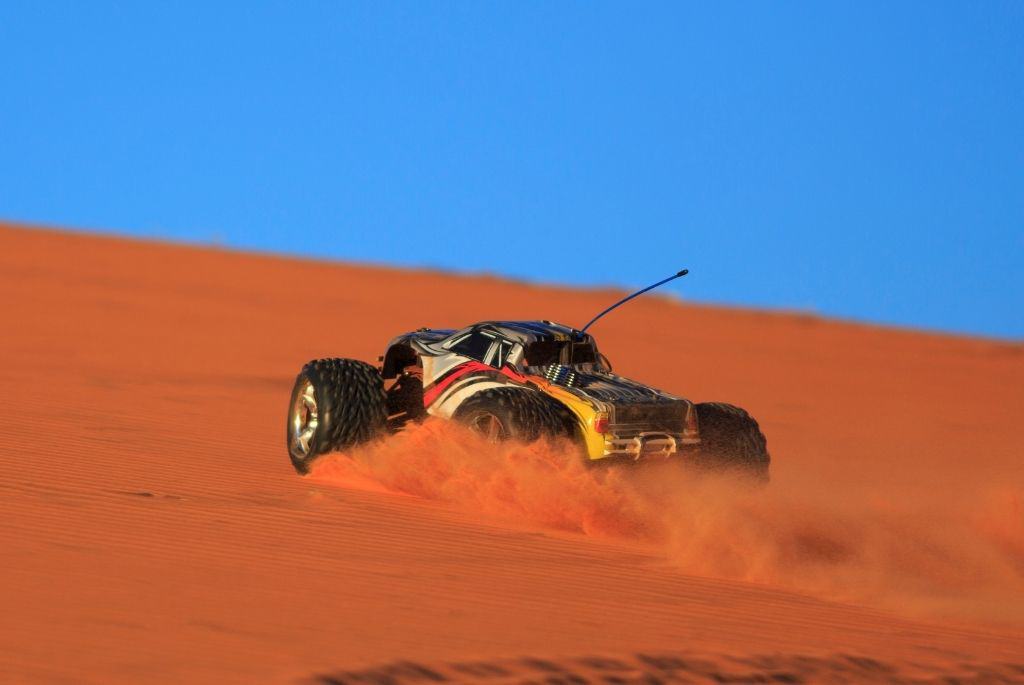 Today we look at which brands and models you should invest in for driving on sand dunes. Which models are able to conquer the dunes without breaking a sweat?
RC cars that jump dunes and handle sand well are among the top of the range hobby grade RC cars. For mid to high-range, the Traxxas Slash models are durable and fast. If you want the top of the range, the Arrma Kraton is the best one on this list, and the only other RC that compares to it is the Traxxas X-Maxx.
So what qualifies an RC to be one of the best to drive on sand dunes? There are a few factors, we'll cover them below and then show you our favorite RCs after that. We also have some helpful advice regarding driving through sand and how to clean your vehicle easily afterwards.
What Does An RC Car Need To Perform Well On Sand Dunes?
Driving in sand differs vastly from any other hard terrain. It's most similar to driving through mud though, so the type of vehicle that does well in mud will usually also do well in deep sand.
Here's what your RC needs to blast through sand dunes with ease.
4-Wheel Drive
The more wheels that are being turned by the motor, the more traction you'll achieve on the dunes. Some 2-wheel drive RCs with strong motors and paddle wheels can get around in the sand, but the chance of getting stuck and needing to push start the car is high.
Scale
For an RC car to perform well on sand dunes, it needs to be big enough to make it over all the humps and bumps. Anything smaller than 1/10 is going to struggle with minor deformities in the sand like footprints.
You might be interested in reading my article: Best 1/8 scale RC truck
Powerful Motor
It takes a lot of energy to drive on sand because as the tires rotate, the sand moves below them. Most of the energy from your motor to your wheels is wasted on moving sand downwards instead of pushing the car forward. Therefore, you need a powerful motor to drive easily on sand, especially if you want to get moving from a stationary position. You'll need to give your RC a nudge with your foot to get going if the motor is weak. But you won't need to push start any of the models on this list.
Related post: Fastest Brushless RC Truck: The Three You Must Check Out
Metal gears
Nylon and plastic gears get chewed up real quick when there's so much sand flying around. Metal gears will last way longer. Some of the RCs below have metal gears straight out of the box, for those that don't, you can purchase them separately.
Here's an example of some metal gears on Amazon.
Waterproofing
Waterproofing for sand dunes? Yes, as you may have already guessed, if your vehicle is waterproofed, less sand will get inside of it. That's why our list of best RCs for dunes consists of only RCs that feature a minimum of electrical waterproofing.
High Ride Height
You need a high ride height to clear the humps and bumps in the sand, off-road RCs are ideal for deep sand as they're already a bit higher than short course RCs. But monster trucks have the best height advantage and huge wheels, perfect for the dunes.
Paddle Wheels (Optional)
Your wheels need to be very chunky to dig into the sand. That's why there are paddle wheels available, like these on Amazon. These are for a 1/8 scale RC, but you can get paddle wheels for any scale RC.
The longer the paddles, the better they'll do in the soft, deep sand. Most are foam filled to keep sand out, which would otherwise add weight to the vehicle and wear the tires down quicker.
Even though paddle wheels are the best for driving in sand, the RC cars on this list all have enough tire tread, stock standard, to dig through the dunes. But if you can get paddle wheels for them, all the better.
Pro Tip: If you buy paddle tires, make sure all the tread patterns are facing the correct way. Sometimes you might get one wheel tread in a certain direction and three wheels with tread going the other way. Remove the rubber from the rim and replace it in the right direction on the rim before you glue the tires down.
You can see a huge range of RC paddle wheels for any scale RC by clicking here, on Amazon
Gearing Down For Sand Dunes
We suggest buying a metal gear that has less teeth than your current gear. This is called "gearing down" and what it will do is reduce your top speed while increasing your acceleration. It makes it easier for the motor to turn which results in less overheating in the motor.
Sand causes a lot of resistance and your motor can quickly overheat if you push it too hard or too long in the sand. Gearing down will give you more low end power which is ideal for thick sand.
A metal gear can also chew up sand and spit it out without getting destroyed like the plastic ones.
Traxxas Slash 4×4 VXL Brushless
The Slash is a 1/10 scale RC, the entry size for sand dunes in our opinion. It packs a punch though with a Velineon 3500 brushless motor, it has plenty of strength to jump over dunes and fly through the air.
Even with the standard tires, you can still make your way over small imperfections in the sand, humps, bumps, and footprints. But if you get paddle tires, it will boost the performance in sand all the more.
The fact that this model can do 60+mph is excellent, because we'll need that type of motor power for pushing through the sand at low speeds. In fact, you should decrease the size of your gears to give you more low end power and less on the high end.
Having said all that, this car is on this list because you can zip through sand dunes straight out of the box if you want. Check it out here on Amazon for more info.
See some great deals at Walmart right here
Specification highlights
Brushless motor
4-Wheel Drive
Durable Steel Turnbuckles and Captured rod ends
Pre-Glued all-terrain tires with high-performance foam inserts
Traxxas TRX-4 1/10
This is a crawler model from Traxxas that has many benefits for driving on sand. Waterproof electronics and excellent ride height make the TRX-4 very capable of blasting through and over dunes with little effort.
For a crawler, it can go pretty fast too, so you can fly over ramps if you want, but the landing may be tricky considering the width of the vehicle. It's not built for taking ramps, but it can take the beating if it doesn't land on it's wheels. It's only sand.
The TRX-4 has loads of power in the low range, enough to slowly tread through soft sand with supreme control. As long as this RC is on its wheels, you probably are not going to get stuck in the sand.
Specification highlights
Waterproof electronics
Huge ground clearance
Low and high range transmission
You can see the TRX-4 1/10 on Amazon here.
Also here at Walmart
Traxxas Maxx 1/10 Brushless Monster Truck
Monster truck RCs are superior beasts when it comes to the dunes. The high ride height and huge tires work perfectly in sandy conditions. The Traxxas Maxx is a smaller version of the X-Maxx but it still outperforms other trucks in it's range in terms of durability and raw performance.
The chances that you'll get stuck in the sand with the Maxx is very small. If you want an RC that can drive through sand with ease and fly over dune ramps, this one will get the job done. You can even do wheelies with the Maxx on sand, if you've ever driven on sand you'll know why that's amazing.
Specification highlights
4-Wheel Drive
GT-Maxx Aluminum Shocks
Maxx steering with same servo as the X-Maxx
Extreme-duty telescoping driveshafts
Steel gear differentials
Full contact sealed bearings
Check the Traxxas Maxx here on Amazon
See some great deals here at Walmart
Traxxas Rustler 4×4 VXL
This is a stadium truck, very similar to the monster trucks except that these are usually a bit lighter and more agile. This model is extremely stable with a wide wheel base for stability. It also has the huge tires you need to plough through sand.
This is one of the fastest RCs on the market so if you want to do some actual racing over sand dunes, this one will probably even beat the Traxxas Maxx in terms of speed.
Specification highlights
Top Speed 65+MPH with 3S LiPo Battery
4-Wheel Drive
Waterproofing for the electronics
Wide wheel base to reduce rolling
Reinforced inner cage
Check the Rustler VXL out on Amazon right here
And here at Walmart
Redcat Racing Kaiju 1/8
This is a powerful machine. It's nice and big as well to handle sudden dips or ramps. The Kaiju is considerably cheaper than the Traxxas monster trucks but aren't quite as durable. The stock spur gear is plastic and will wear down pretty quickly in the sand, but we recommend buying a metal spur gear for sand dunes anyway, it's just a pity it's not standard. You can find one online for around $10 to $20 depending on the seller.
Other than that, we love this truck! It's massively powerful and digs through dirt with no strain.
So just replace some of the parts with metal ones and this RC should last you a long time, even in the sand.
Specification highlights
2100kv Brushless motor
1/8  scale to get over obstacles easier
Massive wheels suitable for sand
Steel CVA drive shafts
Internal differential gears made of 17mm aluminum
For specs and other info, here's the Redcat Racing Kaiju monster truck on Amazon.
You can also see the Kaiju on Redcat Racings official site here
Check out the Kaiju here at Walmart
Arrma 4WD Notorious 6S V5 BLX 
Here's a 1/8 scale stunt truck with plenty of power. Just like all the other RCs on this list, it reaches speeds of around 60mph. You won't get that speed in thick sand but you will blast through it pretty easily. I've seen people flipping this RC over dunes with precision.
Related post: What Is The Best RC Car Out Right Now? Each Style Covered
The waterproof receiver box and digital servo will keep sand out. It also has incredible steering and control in general and comes with a 6S LiPo battery.
There's another pinion gear in the box if you want higher top speeds but don't put that in for the sand dunes, you need low speed power for the sand. Leave the smaller gear in.
Specification highlights
Max Speed 60MPH
4-Wheel Drive
Outrageous stunt capability, even on sand.
See the awesome Arrma Notorious here on Amazon
See some great deals here at Walmart
Traxxas X-Maxx 4×4 Brushless Monster Truck
This is a beast and many may argue that this bad boy should be top of the list. With its 8S power, it rips though any terrain like a beast. This is the truck to get if you wanna rip up the sand.
This is second on my list simply because the X-Maxx comes at a very high price and doesn't perform quite as well as the Arrma Kraton.
The X-Maxx is more durable and has better customer service and parts availability.
Read my detailed article about the Traxxas X-Maxx
Specification Highlights
50Mph Speeds
Velineon VXL– 8S Brushlesspower system
All steel drivetrain gears
Strong driveshafts
1200XL Big Block motor
Torque-Biasing Center Drive for improved driveline durability
Top design and quality parts that have evolved and been improved compared to older versions
Check out the Traxxas X-Maxx here on Amazon
Click here for great deals at Walmart
Arrma Kraton 4×4 S8 BLX
We saved the best for last. The Kraton S8 BLX competes with the likes of the Traxxas X-Maxx at a slightly lower price. This RC is a huge 1/5 scale car with massive capabilities. With this power, you'll kick up the sand while holding a wheelie.
The Kraton measures 25.5" in width, 34.1" in length, and 12.6" in height. It's slightly wider than the X-Maxx and slightly lower for stability.
If you put paddle wheels on this model you're going to fly through sand faster than any other RC on this list.
Specification highlights
Brushless motor
Top speed of 55MPH 
4-Wheel Drive
Aluminum anodized chassis plate
Strong composite chassis side pods
Easy-access waterproof electronics module
Multi-terrain dBoots® COPPERHEAD™ 2 SB tires
Interested in the current pricing? Check it out here on Amazon.
And here at Walmart
How Do You Get Sand Out Of RC Tires?
Here are the easiest solutions along with preventative measures.
Create evacuation holes in the tires
Make two holes in the tires, one at the top and one at the bottom. (In between the tread pattern) These holes will allow the sand to be thrown out when the wheels spin. You need to make perfect holes so that they don't tear open later, if you have a leather puncher that isn't too big, that will work. The holes only need to be slightly bigger than the holes in your rims, that's where the sand is getting in.
See my related post: Wondering Why We Punch Holes In RC Tires? Here's Why
Compressed air
If you have an air compressor, put the nozzle against the hole you made in the tire and open up the air slowly. Be ready for sand to fly everywhere, wear safety goggles and don't open up the air too much or you may pop the tire. No compressor? Buy compressed air in a can.
Close the rim holes
A good preventative method is closing any holes in the rim so that dirt doesn't enter to begin with. It's best to have specific sets of tires to do this with, as they won't work well on other surfaces after plugging them.
Closing the holes in the rims will make the wheels more bouncy on hard surfaces. This is because the holes allow air to escape from the tires at a controlled speed to soften the blow of bumps and other obstacles.
The holes also make your landings much softer. Tires heat up quicker if there are no holes in the rims. However, hard tires won't negatively affect driving on sand, so it's well worth it to plug them up as a dedicated sand dune wheel set.
Glue the tires
Even if the tires are already glued onto the rims, go over it again with some glue to make sure it's properly sealed.
See my related article on removing RC tires from rims
Also my related article on re glueing RC tires
How Sand Ruins Your RC
With the extra weight of the sand, your batteries die quicker, you lose power, handling, and it causes component failure as motors/engines fail and bearings seize.
Sand displaces the balance of your wheels, which leads to terrible handling.
The material and age of the tire are also important in terms of internal wear. Some tires have foam inside which should prevent the worst of dirt from entering, but the foam can shrink due to wear and tear. This opens up some space for sand to get in.
It is important to note that wheels should not be left uncleaned as they can be damaging to your RC car from unbalanced driving to extreme rattling, which eventually will fatigue other parts.
RC Maintenance After Driving In Sand (Nitro And Electric)
Wrap the RC up in a towel if you don't want sand in your car. Take it back home and get to cleaning by following the instructions below.
Remove any parts that aren't waterproof
Remove your batteries, fans, motor, and anything else that isn't waterproof. You can blow these components off with air and brush them off with a dry paint brush.
Blow the sand off everything
Start by blowing out most of the sand with a compressor or compressed air can. Blow off all the surfaces, pay special attention to blowing out your motors or engines as sand easily sticks to these parts.
Foam it up
One of the quickest and easiest ways to clean your RC is with foam cleaners like this one on Amazon. Spray the foam over all the RC, let it sit on the RC for a few minutes to loosen the dirt. Use a water sprayer and paint brush to wash off the foam along with the dirt.
Clean up your bearings
Soaking your bearings in some petrol or spirits can help with cleaning out dirt. This isn't something you need to do after every run but if you're driving in sand, chances are your bearings could do with a cleaning.
Remove the plastic or metal seals from the bearings.
Drop the bearings into a container of spirits or alcohol.
Leave the bearing to soak for a few hours.
Remove the bearings and blow them out with air.
Add one drop of this bearing oil and spin the bearing around for it to spread.
Replace the bearing seals.
There are a few good quality lubricants available, our favorite is Zero-Friction. This is how it looks on Amazon.
RC Tires For Sand
Sand tires differ substantially from standard tires.
Sand tires are mostly affected by the paddles or different shapes of tread on the tires, the size and shape of these affect how they'll perform. The paddles scoop and push the sand as the wheel turns, the more sand that is scooped and pushed, the more forward momentum you will achieve. It's all about the law of equal and opposite reactions.
Big knobbly tread is beneficial for driving on sand dunes as well as grass and other off-road conditions. Harder, longer paddles are the most effective to use in deep soft sand like beach sands.
The broader the tire, the more surface it has to scoop and push sand but also increases the weight of the RC Car.
There are attachments to clamp onto your normal tires with scoops to allow better performance in sand. Different forms of these can be found to match the terrain you wish to drive in. You can even 3D print sand tires for your RC.
Not suitable for sand
Small, narrow tires.
Tires with shallow tread.
Slicks (obviously)
Conclusion
As long as your RC is big enough, 1/10 or larger, and you have big wheels with aggressive tread, you should be ready for the dunes. Together with a powerful motor, you could be flying over dunes in no time. Add some metal gears if they aren't standard and you can drive through the sand every week without the parts wearing.
The RC models on this list are excellent for driving through sand because they already include everything you need to be "sand ready" However, if you own or buy a cheaper RC, you could upgrade the parts to turn it into a dune crushing beast. You just need to make sure to cover all the bases at the beginning of this article.
I hope that you found this article helpful. Here are some more articles that may be of interest;