Are you looking for a drone that's both affordable and dependable? Look no further than the Holy Stone HS190 Drone, which is one of the top options out there. In this guide, I'll give you a comprehensive review of the drone and offer advice on how to operate it. Keep reading until the end to discover more!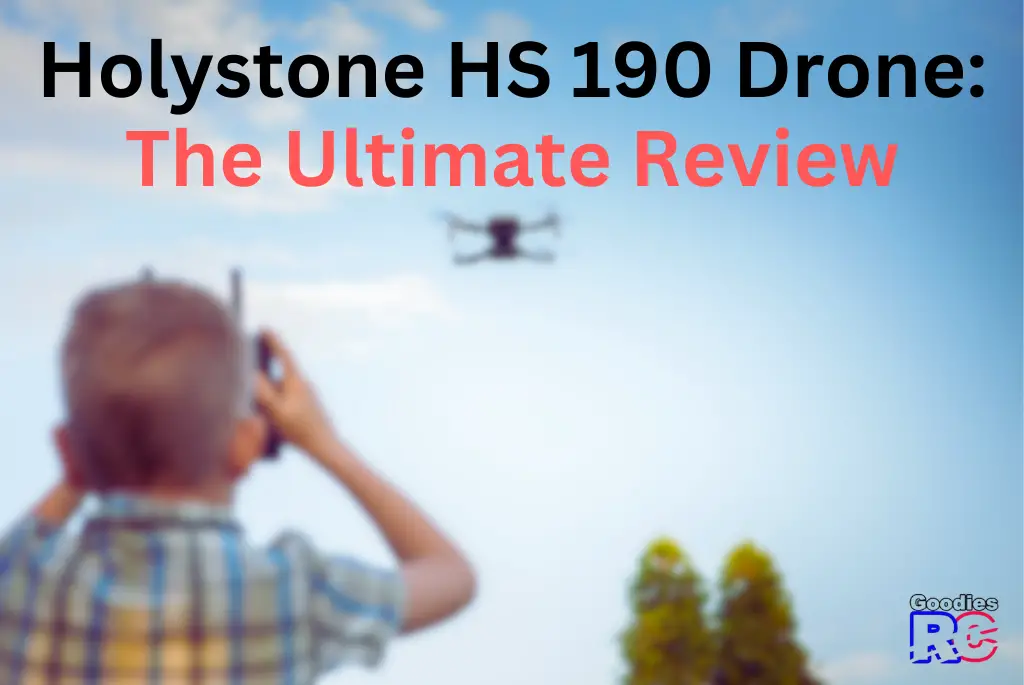 Holy Stone HS190 Review
Key Features:
Foldable and Portable Design: One of the standout features of the HS190 is its foldable design. This means you can easily tuck it away in your pocket or backpack, making it super convenient to carry around. No more lugging around bulky drone cases! Plus, this compact design protects the propellers from damage when not in use.
Altitude Hold: New to drone flying? No worries! The HS190 has an altitude hold feature that makes it a breeze to control. This function allows the drone to maintain a steady height, so you can focus on capturing stunning photos and videos without worrying about keeping the drone stable.
One-Key Takeoff and Landing: Another fantastic feature for beginners is the one-key takeoff and landing. With just a press of a button, the HS190 will take off or land smoothly. This not only makes it simple to operate but also helps prevent any accidental crashes during takeoff and landing.
Headless Mode: The headless mode is a lifesaver when you're not sure which way the drone is facing. In this mode, the HS190 moves relative to the direction of the controller, regardless of its orientation. This means you don't have to worry about the drone's direction and can focus on enjoying your flight.
3D Flips and Rolls: Who doesn't love some cool aerial tricks? The HS190 can perform 3D flips and rolls, adding excitement and fun to your flying experience. Plus, this feature is sure to impress your friends and family, making you the star of any gathering!
Multiple Speed Modes: The HS190 has three different speed modes, catering to pilots of varying skill levels. Beginners can start with the slower speed setting, while more experienced users can challenge themselves with the faster modes. This versatility makes the HS190 suitable for everyone, regardless of their flying expertise
Specifications:
| | |
| --- | --- |
| Specification | Details |
| Drone Model | Holy Stone HS190 |
| Drone Size | 91x55x29 mm (Small and palm-sized) |
| Drone Weight | 23.2 g |
| Flight Time | 5-7 minutes |
| Charging Time | 30-40 minutes |
| Camera | No camera |
| Max Control Range | 50 meters |
| Battery | 220 mAh 3.7V LiPo |
| Operating Frequency | 2.4GHz |
| Controller Battery | 1.5V AAA batteries (not included) |
| Skill Level | Beginner |
| Price | Highly Affordable |
Table showing the Holystone HS190 drone specifications
What's Inside The Box?
1 USB Charger
4 Propellers Guards
1 2.4GHz Controller
1 Screwdriver
1 Propellers Crowbar
1 User Manual
1 HS190 Drone
4 Spare Propellers
What I Like:
As a drone enthusiast, I appreciate the compact design of the Holy Stone HS190. The fact that the drone can be stored inside the controller is a huge space-saver and makes it easy to transport.
When it comes to performance, I enjoy the various features the drone offers, such as flips, rotations, and the headless mode.
The controller itself is quite comfortable to use, and the integrated charging capability in the case is perfect for when you're outdoors and need a quick recharge. The bright lights on the drone are another standout feature, making it easy to see the direction it's going, especially at night when it looks really cool.
Lastly, the speed and responsiveness of the Holy Stone HS190 at its fastest setting are truly impressive. It accelerates quickly and responds well to my commands, making it an enjoyable flying experience.
What I Don't Like:
Even though the Holy Stone HS190 drone has many positive values, it also has a few drawbacks. As a first drawback, it has a single built-in battery and I have to wait for it to charge whenever I run out of battery power. It would have been nice if it had a removable battery.
Even after proper trimming, the drone still has a tendency to go off course. This often necessitates readjusting, which may be annoying. In addition, the controls are somewhat different from those of previous Holy Stone drones, leading to some confusion among pilots as they try to figure out the right stick combinations to unlock the drone and set the gyro.
A further drawback is that the drone can't be charged while in its carrying case since the prop protectors prevent it from closing properly. That's something of a bummer, considering that self-storage is supposed to be one of the drone's main selling points. As for the prop protectors, they aren't very sturdy, and the propellers are easily broken. 
Finally, the location of the lights is not optimal for daylight orientation, but they are great for nighttime flight.
Pros And Cons
| | |
| --- | --- |
| Pros | Cons |
| Space-saving construction; drone fits inside controller | Limited to single built-in battery; must wait for recharge |
| Rapid recharging capabilities | Prone to drifting, even with proper trimming |
| Performs flips, rotations, maintains stability when joystick released, and offers headless mode | Controls vary from other Holy Stone drones, causing potential confusion |
| User-friendly controller design | Cannot charge in case with prop guards on, diminishing self-storing convenience |
| Convenient on-the-go charging in case | Flimsy prop guards, reducing effectiveness |
| Highly visible lights for night and day flying; especially impressive at night | Fragile propellers, frequent replacements needed |
| Exceptional speed and responsiveness at fastest setting | Poorly positioned lights for daytime orientation, reliance on headlight or prop colors, which are less visible in bright daylight |
Table showing the pros and cons of the Holystone HS190 drone
Who Shouldn't Buy It?
Experienced drone pilots: The drone is designed for beginners and is not suitable for experienced pilots who want advanced features or higher-quality cameras.
Those who want to capture aerial footage: The drone does not have a camera, making it unsuitable for those who want to capture photos or videos from the air.
Enthusiasts With Higher Budget: If you have a higher budget and want to spend a bit more to get a quality drone with extra features. After all, for the budget the Holy Stone HS190 is great, but still it doesn't have too many impressive features. It's a beginner grade toy-drone.
Who Should Buy It?
Beginners and kids: The drone is affordable, easy to fly, and very durable, making it a good choice for those who are new to flying drones.
Indoor flying: The drone is portable and easy to fly indoors, making it a good option for those who want to fly drones in their homes or other indoor spaces.
Those who want to do flips: The drone can perform flips, offering users an exciting flying experience.
>> Check Latest Price Here (on Amazon)
How To Fly The Holy Stone HS190 Drone?
First things first, make sure your HS190 drone and its remote controller are fully charged.
Gently unfold your HS190 drone by extending the arms outward. Ensure that the propellers and arms are fully extended and locked into place.
Place the drone on a flat, level surface. Then, turn on the drone by pressing and holding the power button located on the top of the drone. You'll see the LED lights start to flash. Next, turn on the remote controller by sliding the power switch.
To pair the drone and controller, push the left control stick all the way up and then back down. You'll hear a beep, and the drone's LED lights will become solid, indicating that they're successfully paired.
Before taking off, it's essential to calibrate the gyros for a stable flight. To do this, quickly move both control sticks to the bottom right corner. The drone's LED lights will flash, and once they become solid again, the gyros are calibrated.
Now that everything is set up, it's time for liftoff! Press the one-key takeoff button on the remote controller, and the HS190 will rise into the air and hover at a certain height. Remember to keep an eye on the drone as it takes off to ensure it doesn't drift or collide with any objects.
With the drone in the air, gently push the left control stick forward or backward to control the altitude, and left or right to rotate the drone. Use the right control stick to move the drone forward, backward, left, or right. Start with small movements and gradually build up your confidence as you become more familiar with the controls.
When you're ready to land, press the one-key landing button, and the drone will descend and land smoothly on the ground. Make sure the landing area is clear of obstacles to avoid any accidents.
When you're ready to land, press the one-key landing button, and the drone will descend and land smoothly on the ground. Make sure the landing area is clear of obstacles to avoid any accidents.
If you still have any doubts, feel free to refer to the HS190 Drone Manual here.
How Do You Charge A Holy Stone HS190 Drone?
First, make sure that your drone's battery is completely drained.
Then, connect the USB charging cable to your computer or a charging adapter.
Next, connect the other end of the cable to the charging port on the drone's battery.
Once the drone is connected to the cable, the LED light on the drone will turn on, indicating that it is charging.
Usually, the blue light indicates that the drone is in the charging state whereas the red light indicates that the battery is fully charged.
Final Verdict
All in all, the Holy Stone HS190 drone has some great features, but it also has a few drawbacks. It's a fun drone to fly, but the fragile propellers and drifting can be frustrating at times. If you're looking for a compact, feature-packed drone and can look past its shortcomings, it might be the right choice for you.

I hope that you found my review of the Holystone HS190 drone helpful. Here are some more Holystone articles that may be of interest;