If you have a Holy Stone drone or are considering buying one, this article will be very useful because in this guide, I'll explain what the Holy Stone Drone app is, how it can help you have the best drone flying experience ever, how to connect it, and how to troubleshoot if you have any issues. So let's begin!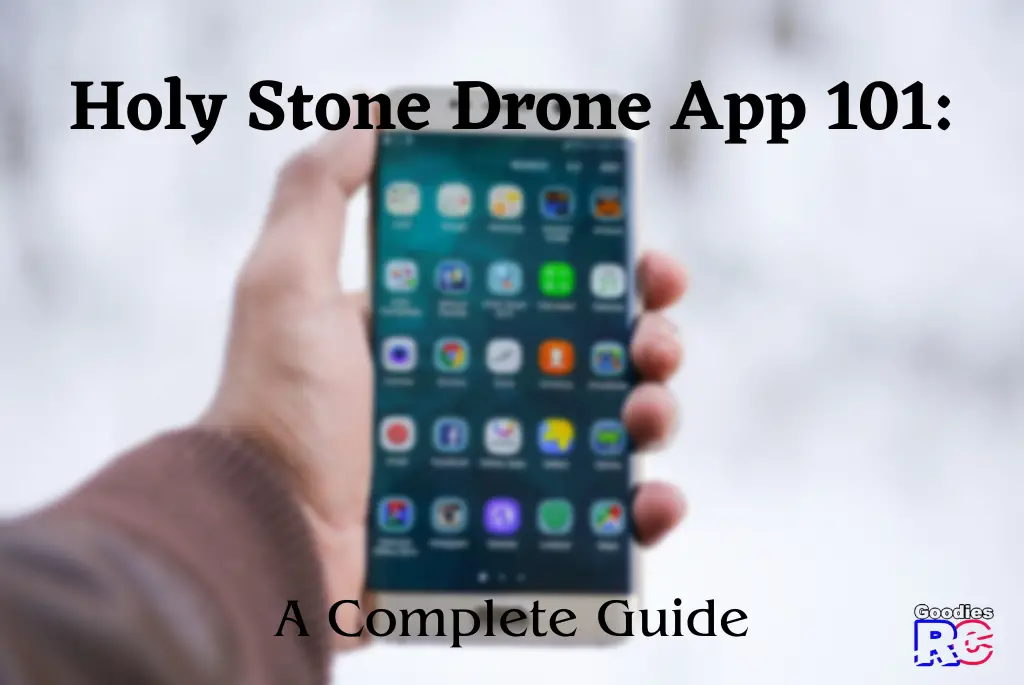 What App Does The Holy Stone Drone Use?
Here's a list of from Holy Stone available on Apple App Store:
HS GPS V1
Ophelia GO
HSS2 FPV
HS GPS PRO
Ophelia GPS
HS GPS V5
HS-D2
Ophelia FLY
HS GPS V4
HS FPV V4
HS FPV V2
HS FPV
HS Easy Fly
Ophelia FPV
Drone Planet
HS FLY
HS GPS V6
HS Cross
RC_Drone
HS GPS V2
Jellyfish Drone
And here's a list of apps by Holy Stone available on Google Play Store:
Ophelia GO
HS GPS V1
HS GPS V5
Ophelia FLY
HSS2 FPV
HS FPV V4
Ophelia GPS
HS FPV
HS FLY
Drone Planet
HS GPS V3pro
HS FPV V2
HS-D2
HS GPS PRO
HS Easy Fly
Ophelia FPV
HS GPS V2
HS CROSS
Don't get overwhelmed by all these apps just yet because there are only a few apps that you need to focus on based on your specific drone model.
Here's a table for the suitable app based on your specific Holy Stone Drone model.
| | |
| --- | --- |
| Holy Stone Drone | Suitable App |
| Holy Stone HS720E | Ophelia GO |
| Holy Stone HS710 | Ophelia GO |
| Holy Stone HS700E | Ophelia GO |
| Holy Stone 110G | HS GPS V1 |
| Holy Stone HS340 | HS FPV |
| Holy Stone HS200 | HS FPV |
| Holy Stone HS420 | Holy Stone FPV |
| Holy Stone HS440 | Holy Stone FPV |
| Holy Stone HS100 | HS GPS PRO |
So these are the best, preferable apps you can use for your specific drone model as listed in the above chart. Wait…Can't find your drone in the above list? No problem, just hop on to this Holy Stone Manual and App page. There, you can easily find your drones laid out in a well-structured way.
Just hover over your mouse and you will find the links to these three things:
The Suitable Android App
The Suitable IOS App
The Instruction Manual
I hope that helps you find the right app for your Holy Stone Drone. And as far as using the app goes, that's pretty simple.
Just download the app from the Google Play Store or Apple App Store. Then, simply connect your Holy Stone drone with the app and you can start using the enhanced functionality of your drone.
Remember that the app allows you to control the drone and take photos so it's also essential to connect your Drone and Smartphone via WiFi.
How To Connect Holy Stone Drone App
Firstly, download the suitable holy stone app from the Google Play Store or Apple App Store on your smartphone.
If your transmitter has a phone holder then for convenience you can place your phone in that and move forward to the next step.
Now before we establish connection of the drone with the app, it's essential to connect it with the phone via Wifi. So on your phone, go to your Wifi settings and look for the Holy Stone drone model you have.
Once you are able to spot the holy stone model name in your available wifi networks, select it.
After a few moments, your smartphone should be able to connect with the drone via wifi network.
Now open the Holy Stone application and you will notice that the connection between holy stone drone and the app is done automatically.
Holy Stone Drone App Not Working/Connecting? Here's The Fix
I know you love your Holy Stone drone, but sometimes the app can give you a bit of trouble.
Don't worry though, I'm here to help! In this section, I'll talk about the top 4 Holy Stone app problems and their solutions. Ready? Let's dive in!
1. Problem: App Not Connecting to the Drone
You've got your drone powered on, your phone in hand, and you're ready to fly, but the app just won't connect to your drone. Bummer! Here's what you can do:
Solution:
a) Make sure both your phone and drone are charged.
b) Check if you're connected to the drone's Wi-Fi network. If not, connect to it!
c) Restart both the drone and the app.
d) Make sure your phone's software and the app are up-to-date.
Check out my guide about unlocking Holy Stone drone. There, I have given a thorough explanation of how to do the initial setup, connection, and pairing.
2. Problem: Live Video Feed Not Working
Imagine this: you're flying your drone, but you can't see what it's capturing on your phone. Not cool! Here's how to fix it:
Solution:
a) Double-check that your drone's camera is connected and working properly.
b) Restart the app and reconnect to your drone.
c) If the problem persists, uninstall the app, then download and install it again.
3. Problem: App Crashes or Freezes
I understand how it would feel when the app crashes or freezes right in the middle of an exciting flight. Don't worry, here's what you can do to get back on track:
Solution:
a) Close any other apps running in the background to free up your phone's memory.
b) Restart the Holy Stone app.
c) If the issue continues, uninstall the app, then download and install it again.
4. Problem: App/Firmware Update Issues
You heard about a wonderful new update, but your phone won't receive it. No worries!
Solution:
a) Ensure a reliable internet connection.
b) Verify your phone's storage.
c) Follow the app's instructions and charge your drone's battery before upgrading firmware.
Holy Stone Drone App: A Complete Walk Through Of App Features
As you launch the Holy Stone Drone app, you'll notice a multitude of icons and options. "Follow Me" is one of the features. This means the drone can track you and film you as you move. It's as if you have your own personal camera crew!
Another useful option is the "Return to Home" button. You can use this option to make the drone return to you if you ever lose sight of it or it gets too far away. It's quite useful if you're concerned about losing your drone.
There are also options for "Auto-Take Off" and "Auto Landing." This means you won't have to manually launch or land the drone – the software will do it for you! It's quite simple and saves you time.
The Holy Stone Drone also allows you to take photos and videos. You can even use it to record sound! Simply tap the camera or video icons in the app to begin recording your favorite moments.
The application also displays the drone's and remote controller's battery levels. That way, you'll know when to recharge the devices. Finally, you can toggle between Beginner Mode and Advanced Mode.
Beginner Mode is ideal for those who are new to flying drones. It restricts the drone's range and altitude, so you don't have to worry about it flying too high or too far away.
But don't worry, you can switch off Beginner Mode once you've become used to flying. So there you have it – the Holy Stone Drone is capable of a wide range of tasks!
This app has something for everyone, whether you're a novice or an expert. Have a great time flying your drone!
I hope that you found this article helpful. Here are some more Holystone articles that may be of interest;