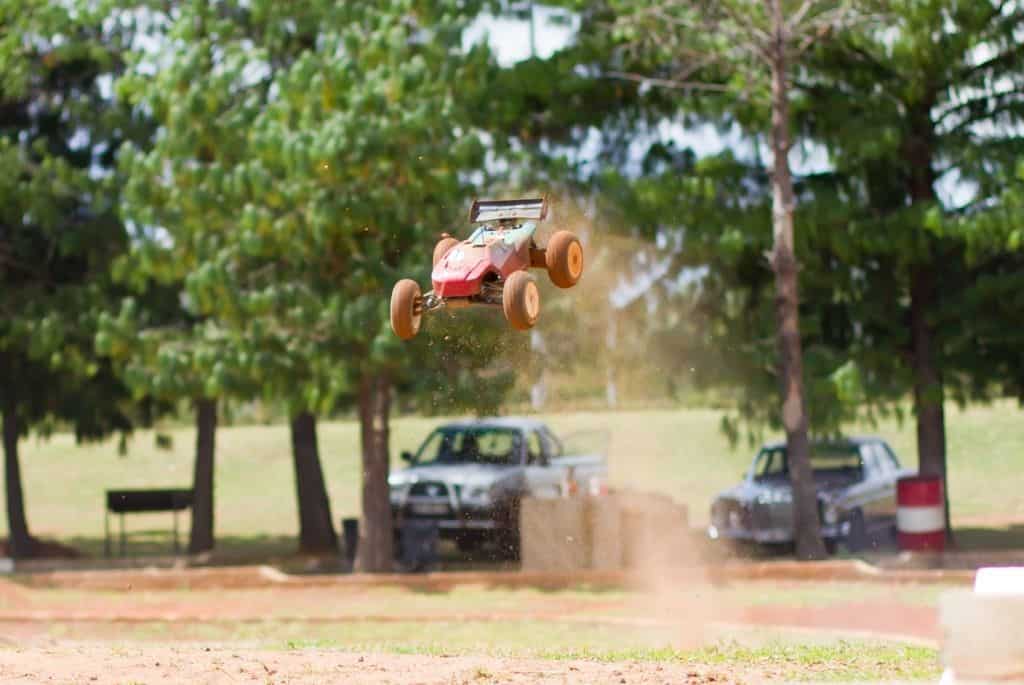 So you have a maximum of $400 and you're wondering what type of RC car you can get at that price? The good news is that at that price range, you can get some serious hobby grade RC cars that won't disappoint.
We've compiled this list of some of our favourite RC cars under $400. But first, what type of features should we expect in this price range?
What To Expect From A Sub $400 RC Car
Once you go over the $200 range, you're moving into hobby grade RCs, this means that they are of far higher quality than the "toy grade" RCs under $200.
At this price point, you can most certainly get the most reputable brands available. This article includes Traxxas, Redcat Racing, Arrma, and Losi.
If you are paying a few hundred dollars for an RC, it needs to withstand bashing and crashing without breaking too easily. All the RCs in this article are very tough. The only one that's not designed to resist heavy crashes is the Arrma Limitless at the bottom, but that's a bit of a wild card for this list as it is. It's more of an F1 RC car, but more on that later.
You can expect to get a strong motor that performs very well at the price point. Brushless motors are available to you, but some brushed motors also perform extremely well and save a bit on the total cost. So you'll notice both options as you run through this list.
Waterproof housing for electronics should be a standard feature in this range.
Speed and stability are expected in this range. Oil filled shocks and a strong suspension should be guaranteed.
In terms of scale, you'll be able to get 1/8 and 1/7 in some instances. The lower the second number gets, the bigger the RC. The scale is an indication of the RC size compared to a normal motor vehicle. For example, the Traxxas Slash is one 8th of the size of a full sized truck.
Even at this price point, some RC cars still don't include the main battery and charger, so make sure to check if it's included before you buy the RC and then have no money to buy the battery after the fact.
The Slash is our favorite of them all, it fits perfectly into the price range and is an outstanding performer.
It has loads of power from the moment you pull off. Of course you can race on any smooth surface with it but it also destroys rough, dirt terrain with ease.
When you're going really fast, the steering won't allow you to turn so sharp that you roll. At slower speeds, the steering will loosen up and allow you to turn very sharply. This is excellent for beginners or kids who aren't used to the power and speed of the RC.
The suspension is impressive with oil filled shocks that soak up all the bumps on the track and give you a smooth landing from high jumps as well.
Related post: Slash vs Senton: I Ran A Poll To Find Out Which Is Best
Traxxas designed it to withstand crash after crash and just keep going. The front bumper helps a lot to absorb heavy impacts, like nose diving into the ground after launching from a high ramp.
The Slash flies over ramps with power and finesse. If you are looking for an RC that can get huge air, this one will blow your expectations away.
As for the waterproofing, I've personally seen this model being driven back and forth through a puddle of water for a full battery charge. No electrical problems, even after that.
Lastly, the standard components on this RC are excellent, but if you want to boost the performance up even more, there's plenty of room for upgrading. You could get the VXL system if you're looking to upgrade, but it's definitely not necessary.
Specification Highlights
Oil filled shocks for maximum stability.
Ball bearings all around, so no worrying about bushes.
It's super fast reaching 60+ mph speeds in a blink of an eye.
TSM stability management makes sure your roll overs are minimal.
Low voltage protection built in and waterproof electronics for wet conditions.
Firm chassis that resists flexing under heavy loads while a smooth tray minimizes snags and drag on rough surfaces. It comes with a high quality TQi 2.4GHz radio.
Pros
Super fast.
Tough and durable to withstand lots of crashes.
High-quality components and materials.
Cons
Main battery sold separately.
(Link to Amazon)
The Typhon is a bit cheaper than the Slash, but it has the benefits of a brushless motor. Extremely efficient and responsive power at your fingertips. The handling of this buggy is also exceptional, and you can turn very tightly when you ease up on the throttle.
Even with standard 3S batteries, you're going to get 40mph+ with this car, easy. It's durable enough to take the hits at those speeds as well.
Related post: The 8 Best RC Cars For Sand Dunes
It won't get you over big rocks or deep water and mud, that's a job for the monster trucks down below. What this RC will do is get you around a track in super fast times.
Specification Highlights
The Arrma Typhon is powerful and has strength to reach speeds of 50+ mph.
The brushless system BLX100 ESC and Spektrum Firma 3200kv brushless motor provides incredible torque, speed and acceleration.
This RC car comes brushless ready with 37T 1.35mod diffs and silicone O-rings.
The internal metal gears are chosen for strength during maximum bashing and large gears to withstand high torque.
The motor consists of a cooling fan and heatsink.
Pros
Reach speeds of 50+ mph
Drive on any terrain
Withstand great torque
Cons
Need to buy AA batteries
Needs a 2S or 3S LiPo battery and adaptable charger 
(Links to Amazon)
The Arrma Senton costs a little over $300. The newest version of the Senton is an absolute speed machine right out of the box. (50mph+)
It's an awesome short course RC just like the Slash but a little cheaper. The newest version also has a wheelie bar to prevent flipping with all the power this thing has.
Check out my article: Best 1/8 scale RC truck?
There isn't much to complain about here. This RC is value for money. If you just can't make it to the Slash price point, this is the closest, cheapest alternative.
Specification Highlights
Tough, molded materials for impact resistance and enduring durability. 
High quality waterproof speed control with 100A constant capacity.
High torque Spektrum S651 metal gear steering servo mechanism that allows 7.27kg (101 oz-inch) at 6V, with an operating speed of 0.12S.
High action vented dBoots Fortress SC tires and foam inserts mounted to SC wheels for consistent handling on all terrains and conditions. 
Speeds of up to 50+ mph with massive acceleration.
It has a solid chassis and powerful steering servo to accommodate the Firma brushless motor. 
The dimensions are 21.97" (558mm) in length, 8.27" (210mm) in height, 12.01" (305mm) in width and excluding battery 6.05lb (2.75kg) in weight. 
Pros
Waterproof speed control
Can drive in any condition and on any terrain
Extreme performance
Cons
Need to buy AA Batteries
Needs 2S Lipo or 3S Hardcase LiPo battery and charger
(Links to Amazon)
This is our favorite monster truck in the $400 or under price range. Even with 4S batteries, you'll be flying over ramps like a pro. But if you want to use 6S, you can.
Monster trucks are favored by beginners because they are so easy and fun to drive. Rough terrain or the smooth driveway. A monster truck can do it all while only sacrificing a bit of speed.
Wheelies are going to happen easily if you pull that throttle quickly, so try to ease into the acceleration to avoid flipping over.
If you want a Monster/Stunt truck, the Kaiju will not disappoint. Most people find doing at least double backflips daily easily with this RC, even on 4S batteries.
We highly advise ordering a metal servo arm and spur gear on purchase as the standard ones strip and break rather quickly. Other than that, there isn't really anything else to complain about.
The Kaiju just makes it into the $400 category and is well worth it.
Specification Highlights
It uses a 4268 2100kv brushless motor for high performance and longevity.
Water and dust proof
The digital servo is waterproof, high torque, has steel gears, and an aluminum center case.
D-ring shackles and clear LED lights.
Pros
High-quality components for long-lasting run time.
Very strong motor.
Cons
The spur gear is plastic, once that wears down you should replace it with a steel one.
(Links to Amazon)
You can also see the best deals for this model on Redcat Racings official site by clicking here
This truck is well under the $400 budget at around $220. Sometimes it can be a good idea not to max out your budget so that you have room for spares or upgrades.
This model is still loads of fun without any upgrades, but if you get a brushless motor and more powerful batteries, you can turn this monster truck into a lightning fast flying machine… over the ramps at least.
The Arrma truck is rugged, fast, durable, and can drive on any terrain. New features added to enhance performance include retained hinge pin plates, stronger chassis, steering with more clearance for stones, rubber shielded bearings throughout, sliding gear mesh and castellated slipper pad
The standard charger is 0.5A so unless you want to charge the batteries overnight every time, you should upgrade the charger.
The SLT3 is compatible with Tactic SLT receivers to run other RTR cars you own. Beginners can set the throttle level to 50% or 75% until they are ready for the full speed potential.
It is easy to maintain, and it has a high chassis guard to limit dust and debris in the chassis tub. Multiple battery types can be used with the hook and loop mounting. This truck comes with a Dynamite 3300 mAh 8.4V 7 cell speed pack 2 hump NiMH battery.
Specification Highlights
Waterproof box for the receiver.
The transmitter is designed for comfort during long periods of play.
Spectrum SLT3 has a foam wheel for precise control and improved hand grip and trigger feel.
4WD transmission uses strong telescopic drive shafts that can't lose during heavy impact.
Self bleeding, oil-filled shocks and silicone O-rings designed for great handling and easy maintenance.
Shock absorbing loops help with heavy impacts.
High chassis guards limit amounts of dirt and debris that goes into the chassis tub.
Pros
Fully assembled 
Durable on all terrains
Cons
Need to buy AA batteries 
Charging times are long and battery discharges quickly.
Needs 2S or 3S lipo battery and charger.
(Links to Amazon)
Some people aren't interested in high-speed racing RCs. For those people, there are crawler RCs. The Losi Night Crawler is one of the best RC crawlers under $400, here's why.
The Night Crawler excels on rough rocky terrains and can drive through mud and water terrain without batting an eyelid. If you want an RC car with lights and crawling capabilities, this car is for you. It has a useful exoskeleton cage for all the inevitable roll-overs. The body and cage provide spectacular scaled details without affecting the durability or performance. The Losi has front and rear rock lights and bright LED strips to make it easier to see obstacles and further ahead.
See my article on whether to choose Losi or Traxxas?
The worm gear acts as a break for when you need to crawl slow and steady. The axle torque is boosted so the car won't go off balance while climbing. You get AA batteries included in the package.
This model costs around $300 ready to run.
Specification Highlights
Bright LED light strips to see obstacles and drive into the night.
An aluminium front axle and center driveshaft provides durability and assists handling with rock crawling.
Pros
Excels on rough rocky terrains and can drive in mud and water.
It has a full-body exoskeleton cage.
Cons
Doesn't include 7.2V 3300mAh NiMH or 7.4V 500mAh LiPo battery pack
Needs compatible battery charger with EC3 connector
(Links to Amazon)
We've put this option at the bottom of the list because, while it's just under $400, you need to buy electronics to run it. But before you skip through this option, keep in mind that this is a solid foundation for a racing RC with extreme performance. This is like the F1 of RCs. Some people get around 150mph out of this RC.
It requires a transmitter, receiver, steering service, motor, ESC. LiPo batteries and charger. So if you're not a huge RC enthusiast, you probably aren't going to have all those things lying around. But if you do have these components from other cars, or willing to buy them on top of the $400, this could be an awesome racer option for you.
Related post: Best RC Cars For Kids 5 To 10 Years Old
There's plenty of space inside this RC for you to fit most batteries and motors in easily.
The Arrma Limitless excels on any flat surface, especially grippy ones like the pavement. It's fully customizable, allowing you to change the aerodynamics to suit different speeds. Rear and front wings can be customized to modify the down force to your liking. To improve aerodynamics, the chassis includes a front splitter equalize down force distribution and rear diffuser to increase down force and grip, enhancing the ability of going around corners sharply. 
Big bore oil fitted shocks on black anodized rear and front shock towers keep the dBoots Hoons tires securely planted on all roads for maximum traction.
Specification Highlights
The tires are mounted on speed wheels with extra durable hubs.
The chassis is made of 3mm anodized aluminium.
Fully adjustable aerodynamics.
Big bore oil fitted shocks.
Pros
Fully customizable.
The Limitless street racer excels on any roads and in any weather conditions. 
Built from 3mm anodized aluminium.
Cons
Does not include Steering servo.
Does not include LiPo batteries with IC5/EC5 connectors.
Does not include Transmitter or receiver.
(Links to Amazon)
Conclusion
Short course RC's are great for speed around tracks and other smooth surfaces, they're not too bad on grass either. The problem is when there are lots of twigs and stones where you're driving, short course RC's like the first three on this list will pick up all sorts of debris if you drive through it. Use them for dirt tracks and pavements. They are perfect for speed and handling. If you want to max out your budget and just get the best short course RC in this article, get the Traxxas Slash.
If you are planning on driving through thick grass and sticks, get a monster truck. You won't have as many problems with debris getting caught up in the car. Monster trucks are really easy to drive and are plenty of fun. The Kaiju is our favorite on this list.
If you're into something a little different, rock crawling, the Losi Night Crawler will keep you entertained.
The Arrma 6s Limitless is an awesome option for those who want one of the fastest RCs available. You will have to spend a couple extra hundred bucks on electronics for it, but it's worth it if you love super speeds. Even if you transfer components from another RC, this body, suspension, and tires give it the opportunity to go really fast.