Not all RC cars are created equal. And not all RC cars will perform the same on the different terrains and weather conditions.
Driving an RC car on snow seems to be a little trickier, and more things need to be considered. Not just maintenance-wise but also the type of RC car you will be using and how you will be using it.
This is why if you want to run your car on snow and continue having fun during the winter—and most importantly if you want to do it long-term—you need to choose an RC car that has been designed to work in those conditions.
In this article, I have reviewed the best RC cars for snow use. However, you will find not just the best RC cars but also everything you need to know in order to make a more educated decision before buying your RC car for snow.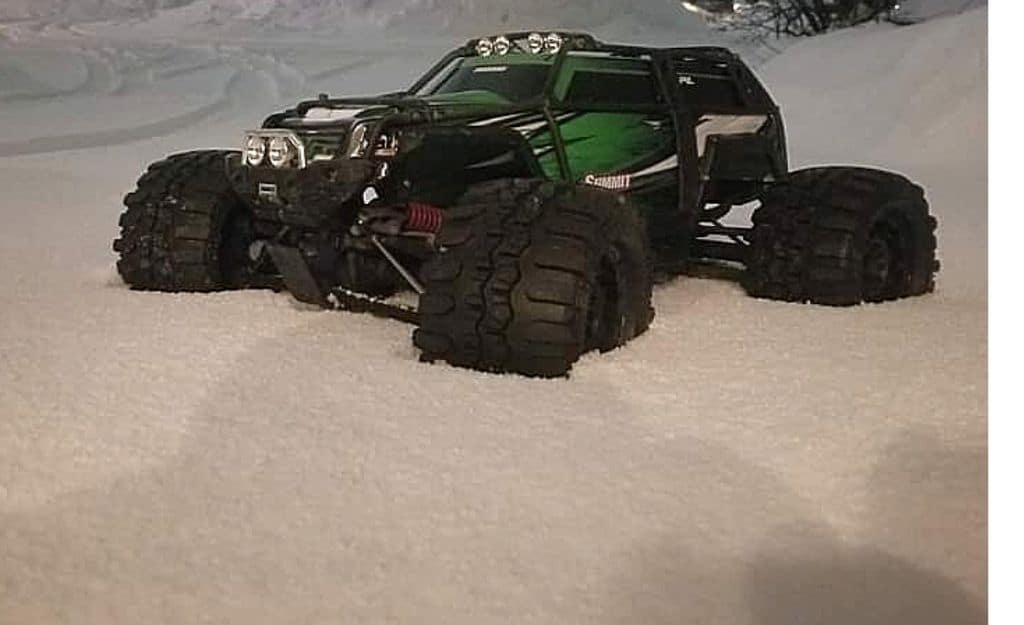 The Best RC Cars for Snow
The TRX-4 has it all, the looks, the smooth performance, the fun experience driving it.
The TRX-4 is built like a monster. Its heavy-duty frame and parts make it suitable to take on almost everything you can throw in its way. It is a 4WD, 1/10 scale crawler and easily one of the top RC cars in its class.
But for a good RC car that you can use safely in the snow, it needs to have waterproof electronics. Otherwise, you are just in for a lot of trouble.
The TRX-4 does not disappoint. Its internal electronic components are all waterproof; this means you can drive it in the rain, mud, and both shallow and deep snow. In fact, people even cross relatively deep bodies of water with their TRX-4, without encountering any problems.
(Links to Amazon)
What is more, is that if you really want to make your TRX-4 winter-ready, you can also buy some neat accessories for it that will transform your TRX-4 into a snow piercing machine.
The TRX-4 snow tracks: These treads will improve the traction of your TRX-4 on snow (and mud). Those will add a little more resistance and will be harder on the servo and battery, which may need to be upgraded. Nonetheless, those tracks are very big, look amazing, and are of excellent quality.
The TRX-4 tire snow chains: Alternatively, you can use snow chains. They will improve traction on both snow and ice.
The TRX-4 snow plough: Do you want to play around and scrape the snow in your driveway? Then a snowplough like this one is a must-have.
See these accessories and more here on Amazon
Overall, if you are looking for something that will last a really long time, is reliable and easy to control, and has a good replacement parts availability, look no further than the TRX-4.
The only downside is that if you really want to push it and run it as hard as possible, you may have to upgrade the ESC and motor eventually because they are known to overheat and get damaged.
Do you know what you can't go wrong with?
With Arrma RC cars.
The Granite Mega is an excellent RC monster truck that definitely looks the part. The built quality and part quality are also excellent. It is a 4WD 1/10 scale monster truck that is suitable for almost all terrains. The truck is waterproof, which means it is ready to hit the snow. It can be used on dusty, rocky, and other types of terrain, even in water and mud.
Related post: RC Monster Trucks vs. Short Course: What's the Difference?
This monster truck is designed to meet the requirements of all people looking for an RC truck they can use for bashing. It has a heavy-duty built, which will always be up for the challenge.
The 12T electric motor is powered by a powerful 24000mAh, 8.4V 7-cell NiMH battery, which makes this monster truck super powerful and fast.
The only weak point of the Arrma Granite Mega is the steering servo, which is prone to breaking down, and the overall frame is more fragile. However, replacement parts are easy to find, seeing how this is a very popular model.
(Links to Amazon)
This RC monster truck is a more budget-friendly alternative to some of the other RC cars mentioned on this list.
Despite the lower price, it is an excellent product. It is a 1/10 scale 4WD model and comes with two 2S LiPo 1600mAh batteries.
It has an IPX 4 water-resistance, which means that it can be used safely on snow and small puddles of water as long as it is not submerged underwater.
This RC truck is capable of reaching 30 mph, which makes it even more fun. Definitely a recommended model.
(Links to Amazon)
This is a slightly smaller 4WD 1/18 scale RC car. It is not very fast; however, it is very fun to run.
It is not completely waterproof, but it can be used on snow and in small puddles of water without that damaging it.
It is a very cheap RC car that, despite its low price, is built well and is very durable.
If you are looking for something that will last you a really long time and has a lot of modding options, this is probably not the best one for you. But, if you are interested in getting something cheap that can be used for bashing, then this one ticks all the boxes.
(Links to Amazon)
The Arrma Kraton is another excellent RC monster truck that is well worth its place among the best RC cars for snow.
There are a few different variations of the Arrma Kraton with an 8s battery and 1/5 scale and more. However, I have to go with the 4s/6s 1/8 scale model. It just seems like the better deal at this time as it is one of the best RC cars you can get for the money.
The Arrma Kraton is a 4WD RC monster truck. Usually, you can choose to purchase it with a 2S/3S 5000mAh LiPo battery or a 4S/6S 5000mAh LiPo battery.
The built quality is superb, and arguably it's more heavy-duty and durable than the Arrma Granite Mega (listed above). This RC monster truck is ready for full-on all-terrain bashing. And snow or mud will not pose a challenge for it.
What is more, is the Arrma Kraton is also super fast; you can expect it to reach speeds of up to 60 mph (or more).
All of those aspects of this RC car also make it a little more popular in the community, which means that there are also more replacement and aftermarket parts.
The biggest downside to this RC car is the price. It is more expensive than some of the other models mentioned here, but the price, if you can afford spending that much money, is well worth it.
(Links to Amazon)
The Traxxas X-Maxx is one of the best RC cars for deep snow. If you are looking for a powerful RC car for snow bashing that you can really push, then you should definitely consider the X-Maxx.
It is a 4WD, 1/10 scale RC truck that is built to last. It is not just another big RC truck; it is also super powerful, capable of reaching 50 mph.
Check out my in-depth article about the X-Maxx
The internal components of the X-Maxx have also been waterproofed. Something that Traxxas has never shied away from. A neat little attention to detail like this will allow you to use it in water, mud, and snow. Thanks to that, even the necessary cleanup is a breeze.
(Links to Amazon)
Are you looking for an RC car that you can use on almost any type of terrain? Then this super budget-friendly model may be just what you are looking for.
It may not have all the bells and whistles of models that cost nearly ten times as much, but it is an excellent introductory RC car that can be used in water, dirt, mud, sand, and, of course, snow.
This model is ideal for kids that are interested in getting into the RC hobby.
This is definitely the best bang for the buck you can get. The built quality is not the best, and the battery does not last a long time. However, at this price point, this is to be expected.
(Links to Amazon)
Losi is a well-known brand of RC cars.
The Losi Baja Rey is a 4WD RC car that is extremely fast and fun to drive. It can reach speeds of at least 45 mph.
The best thing about this RC car is that the electronics have all been waterproofed. You can drive it on snow, water, or mud without having to worry anything bad is going to happen to the car.
Losi vs Traxxas? Check out my related post covering both of these brands.
The built-quality is superb, making this car a great choice for snow bashing. Definitely can't go wrong with this one.
(Links to Amazon)
Another entry by Traxxas. The Traxxas Summit is one of the best RC cars that you can get for the money regardless if you will be using it for snow or not.
With its 1/10 scale and 4WD, this RC car is tons of fun. The chassis and overall built quality are excellent and just feel like a tank that can take anything and everything that you can throw at it.
The electronic components under the body are waterproof, making this RC car completely ready for use in snow and water.
It packs everything you may expect to see from such a high-quality RC car designed for bashing. The only weak point of the Traxxas Summit is possibly the electric motor.
(Links to Amazon)
HPI was a very popular brand several years ago. However, they went through a very difficult period of time, which affected them significantly. Many people do like HPI RC cars, and in fact, the company is making kind of a comeback as of recently.
The built quality of this RC crawler is excellent, heavy-duty, and built to last. It is a 4WD, 1/10 scale RC car; it comes with a 2S 2000mAh NiMH battery, but it also takes 3S batteries. Its electrical components are designed so that the car can go through water, mud, or snow without that causes any problems.
Usually, brands like Traxxas, Losi, and Arrma are recommended not just because they offer high-quality RC cars but also due to parts availability.
See my related post: HPI or Traxxas?
Not everyone wants to wait for replacement parts or rely solely on the internet to find the parts they need.
In a way, being so popular makes them even more popular.
Unfortunately, this is one of the weak points of HPI RC cars. Since they are not as popular replacement and aftermarket parts are scarce and harder to find.
(Links to Amazon)
How to Choose the Best RC Car for Snow
The fact is that almost anything is fun in the snow. Even if you do not go with the best of the best, you will still have tons of fun with your RC car.
However, below you will find some helpful tips about what you should be looking for in an RC car that you can use on snow.
The Drive Wheels
Much like real cars, one of the first things you need to consider is the tires and the number of drive wheels.
Anything with a 4WD will perform better on snow; it will be smoother and easier to control and maneuver. Especially if you want to race, you will need a 4WD RC car. If you are looking to play with your RC car on the snow and just have fun, then even a 2WD can be more than enough in this case.
If you are undecided in choosing a 2WD or a 4WD RC car, please check out my article covering this topic.
The Ground Clearance
Monster and stadium RC trucks with more ground clearance will usually perform better on snow (depending on how deep the snow is) and are the preferred option by many. The snow and dirt accumulated under the chassis also seem to be less compared to other RC vehicles like the short course RC trucks.
The Tires
The type of tires will greatly affect your RC car's maneuverability, tractions, and control in the snow. You want to have nice and big tires. All-terrain, paddle tires or snow treads are some of the best in this case as they are designed to be used in such conditions.
Waterproofed Electronics
And last but not least—the electronics. The electronics in your RC car should be waterproofed. If you will be driving your RC car on snow, there is no avoiding it—snow and water will get inside the RC car. As the snow thaws, it can damage the electrical components. Because of that, you have to take some measures to prevent water damage.
Some RC cars that are designed for off-road driving can already have waterproofed electronics, but many may not, in which case, it will be up to you to waterproof everything inside.
Some cars may be water-resistant or splash-resistant (splash-proof); this is not the same as being waterproof. Given enough exposure, some water may be able to get to the electrical components in this case. So you will have to take measures to fully waterproof everything.
See my post: How To Waterproof An RC Truck: Step By Step
What You Need to Know About Driving an RC Can in the Snow
By now, you should have a good idea of what are the best RC cars that you can use on the snow and what are the key aspects of such RC cars. However, there are a few more things that you need to be informed about if you are to use your RC car on snow.
Are RC Cars Safe in the Snow?
RC cars can be used safely in the snow when adequately operated and maintained.
If you want to drive your car in the snow safely, you should first consider a few things.
Despite the low, and even freezing temperatures, your RC car is very likely to overheat. Snow will cause more resistance; as a result, the motor and ESC can quickly overheat even when other parts of the RC car may be under ice.
The snow will create more resistance, especially deeper snow, which in combination with the limited airflow, due to the waterproofed electrical components, will lead to higher on average working temperatures. (This can happen to nitro RC cars as well.)
However, when the temperatures get really low, plastic becomes very brittle, and it doesn't take much of an impact for it to break. This is why you should be more careful when driving your RC car in the snow and avoid hitting hard objects.
In addition to that, because of the increased moisture and possibly contact with salt, you will have to be more thorough with the RC car's cleanup and maintenance after driving it in the snow. Otherwise, you are risking wearing out the RC car faster, and rust and corrosion can start accumulating as well.
Lastly, if you are driving a nitro RC car, colder air is more oxygen-rich, which will result in a leaner fuel mixture, so you may have to adjust the needles accordingly.
Can RC Cars Go in the Snow?
RC cars can go in the snow; however, more rigorous maintenance and preparation are required. Not all remote controlled cars can go in the snow, but the majority can do it. (Or at least be modified to do it.)
Below I go over the preparations and the maintenance and care you need to be aware of when going with your RC car in the snow.
After driving your RC car on the snow, make sure to clean it and dry it off quickly. If the tires are vented, make sure to also drain the water in order for the tires to dry off faster.
After the RC car has dried completely, it is time to lube the bearings and other moving metal parts. A lot of people use WD-40 for oiling and protection. It is a good product. However, it is not recommended to use only WD-40. WD-40 is good for water displacement (hence the name WD), but you need to use a real lubricant.
Use a high-quality multipurpose lubricant like the Justice Brothers lubricant (link to Amazon) on all moving parts of the RC car to keep them in good working condition.
The cold will affect your batteries. The chemical reactions that happen in batteries can be severely affected by the cold, which results in the battery discharging a lot faster. As a consequence, you will be hitting the low voltage cut-off a lot sooner than expected. Be prepared for that. Bring an extra battery pack if needed or try warming up the battery for a while.
Your RC car will be wet, and there will be even more water as the packed snow thaws. A big plastic container or bag can be used to transport the vehicle and contain the water, and a high sided doormat can be used to catch the water as the RC car dries off.
For a more detailed guide, please check out my article; Can RC Cars Be Run In Snow? Here's All You Need To Know
And lastly, do not forget about your health. Wear suitable winter clothing and, most importantly, gloves to protect your hands while operating the RC car.
Here are some more hand-picked articles that may be of interest;