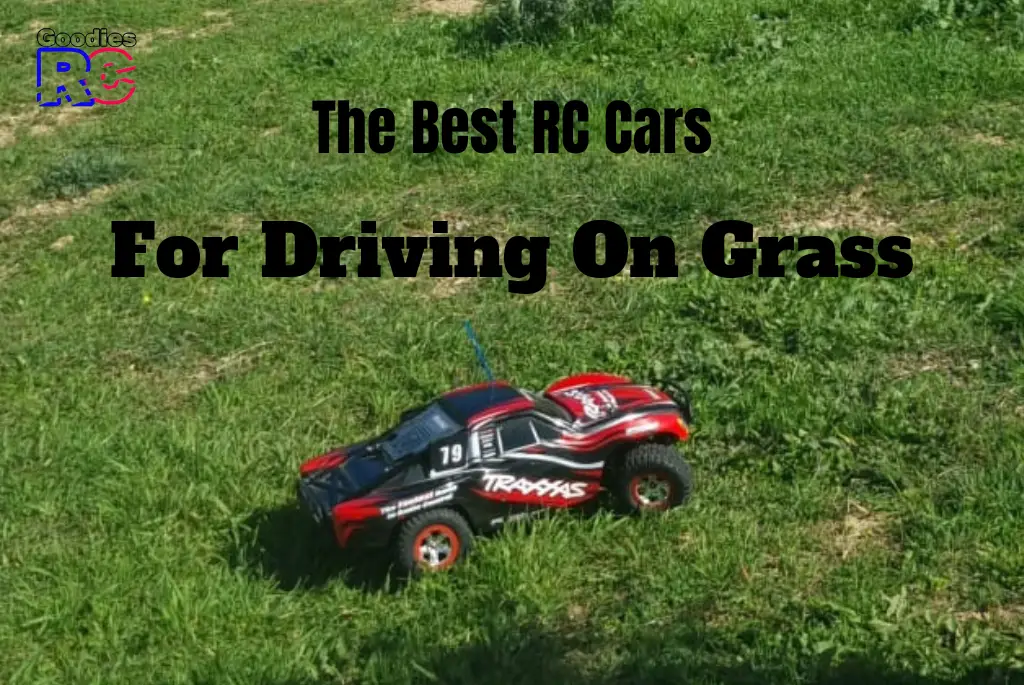 For the best performance on grass, you'll need an RC car with big wheels and reactive suspension. The motor must be big enough not to burn out because of the extra resistance grass creates.
RC cars that handle and accelerate well on long grass are amongst the best hobby-grade models. The Traxxas Slash is always a strong performer on all surfaces and is one of the most affordable options on this top-tier list.
I know this first hand, my Traxxas Slash handles well on all terrains.
Let's have a look at what features make for the best performers on grass and other rough terrains.
What Does An RC Car Need To Perform Well On Grass?
Large Scale
Your RC car needs to be big enough to run over the grass without getting stuck. So I think it's best to choose something at least 1/10 scale or larger. The longer the grass, the bigger the RC will need to be, but for park grass around 1 to 3 inches in height, a 1/10 scale and bigger will be good.
Large Off-road Wheels
The longer the grass, the bigger the RC wheels need to be to get over it. So the height of the tires should be at least the same as the grass. The tires need to have aggressive tread to dig into the grass and push the car forward. Flat-tread tires don't provide enough traction on grass.
A Strong Motor
Grass creates a lot of resistance for RC cars, so you'll need a powerful motor that won't overheat on long grass. It doesn't matter if it's a brushed motor or brushless. Brushless motors deliver higher and more efficient power with less maintenance, but there are plenty of powerful brushed motors that are extremely capable and won't struggle in the grass, like the Titan 12-turn 550 motors that some of the Traxxas cars have.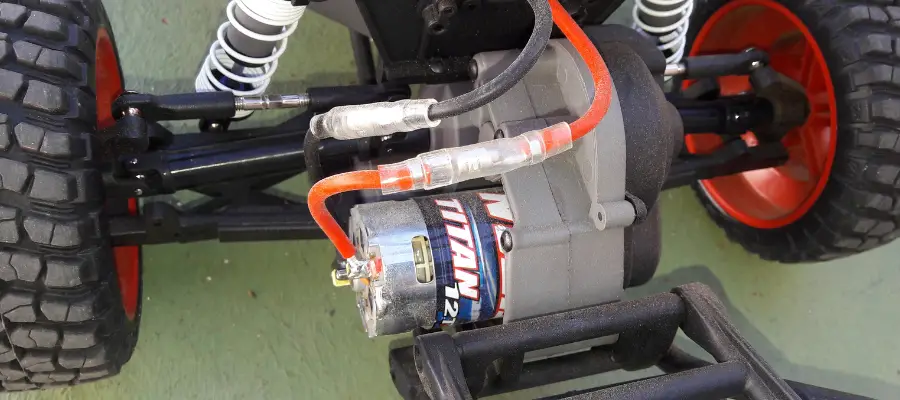 Water Resistance
The reason you should look for water resistance is that grass is often wet, especially in the mornings when many of us like to get started. Hobby-grade RC cars have excellent waterproofing to keep any water out of the electronics.
If you would like to know more on waterproofing your RC car, please check out my detailed guide on how to waterproof your RC truck.
Off-road Features
Your RC car has to have off-road features like big knobby tires, reactive suspension, and elevated ride height. If the tires are smooth, they'll just slip and spin on the grass. If the suspension isn't appropriate, you'll constantly crash, and if the body is too low, it will create resistance and cause the motor to burn out.
Ground Clearance
An RC car suitable for driving on grass needs to have enough ground clearance to be able to travel over the grass instead of pushing through it. Long grass will cause too much resistance for low-profile cars and will overheat the motor. That's why you need to look at off-road options like the ones in this article.
High-torque Gearing
It's best to choose a car with a high acceleration as opposed to a high top speed because you'll need the power to pull off on the grass. You can also gear your RC down, which involves replacing the gears with ones that have fewer teeth. This increases the torque and decreases the top speed.
With all these features in mind, I've compiled a list of the eight best RC cars for grass.
FTX DR8 1/8
The FTX DR8 is an excellent option for driving on grass due to a variety of impressive features. Firstly, the car's robust 4-wheel drive system offers superior traction and stability on grass and other low-traction environments. It also boasts an adjustable suspension system, allowing for customization to different terrains, thus improving the off-road performance even more.
The powerful brushless motor is a major highlight, providing ample torque and speed to navigate through even the thickest of grass. To further enhance off-road capabilities, the car features large off-road tires with an aggressive tread pattern, offering exceptional grip on the grass to prevent slipping and getting stuck.
The DR8 is compatible with 4S or 6S batteries (XT90) and also requires a charger to complete. With the 6S option, this car can reach speeds of 60mph and above.
Overall, I find that the combination of the FTX DR8's advanced 4-wheel drive system, adaptable suspension, potent brushless motor, and specialized off-road tires make it a top contender for grass driving.
Key Features
2000kv 4-pole brushless motor.
Tubular roll cage and anti-roll bars at the front and back.
Aluminium threaded oil-filled shocks.
Metal gears for extra strength.
4S and 6S compatible.
This video shows the DR8s performance and how well it runs on grass;
Here are the latest offers for the FTX DR8 on the official website.
JLB Racing Cheetah 1/10
The Cheetah RC car features a 4WD drivetrain, which provides consistent and stable performance, especially for off-road driving. With high speeds of 50mph, it is a fast and powerful RC car. Even on grass, it has enough power to wheelie at any point in time, even if you're already traveling fast.
The Cheetah RC car is equipped with a sensitive 2.4GHz 150m remote control, which allows for quick and easy handling of the car, even for new hobbyists. It has a fully independent suspension with 8 coil springs, which helps absorb shocks and bumps during off-road driving, providing better traction and flexibility.
The shockproof body design of the Cheetah RC car features an elastic coating, realistic plating front bumper, rugged tires, and a shock-absorbing main body, which protects electronic components inside the car.
The size of the car might surprise you as it's bigger than your average 1/10-scale RC car. The dimensions are 23″ long x 16.5″ wide x 11″ tall. The wheelbase is 12″ in length.
With a convenient power supply powered by 4 AA 1.5V batteries, the Cheetah RC car offers up to 10-15 minutes of driving time, which is ideal for those who do not want to spend long hours charging their RC car batteries.
The Cheetah RC car is an excellent choice for driving on grass due to its powerful 4-wheel drive, independent suspension, and shockproof body design. Its high-speed capabilities and sensitive remote control make it easy to handle, even for beginners, and its convenient power supply means that you can spend more time driving and less time charging.
See it in action;
Key Features
2500KV Brushless waterproof motor.
Includes 11.1v 4000mh 30C battery.
2S and 3S compatible.
Large metal oil-filled shocks.
Dual tail wheels to prevent flipping over.
See the latest pricing on Amazon here.
Arrma Granite 1/10
There are two versions of the ARRMA Granite and both of them are great for driving on grass. The more expensive 4X4 version is much more powerful if you have the extra cash to invest. Let's look at each one of them in closer detail.
4X2 Boost MEGA
The ARRMA 4X2 BOOST 550 MEGA Brushed 2WD vehicle is designed with many features that make it well-suited for traveling on grass.
Even though it's a 2-wheel drive the size of the car and the power of the motor, make sure that you'll have plenty of power to speed through grass and fly over ramps with ease. The tires and suspension provide excellent traction and stability, which is beneficial when driving on uneven or slippery surfaces like grass.
It comes with Vented dBoots Fortress MT tires that are designed to disperse water and provide improved durability. These tires also offer good traction and grip on grass, helping the vehicle to maintain control and stability while driving.
Additionally, the vehicle has a metal internal geared diff, which helps to distribute power evenly between the wheels, further improving its traction and handling on grass. It also has a strong composite chassis with extended-height dirt defenders and impact-absorbing bumpers, which can protect the vehicle from damage caused by bumps and collisions while driving on grass.
Finally, the ARRMA 4X2 BOOST 550 MEGA Brushed 2WD vehicle has a double-wishbone suspension system that provides excellent handling and stability, even on uneven surfaces like grass.
Overall, the combination of these features makes the ARRMA 4X2 BOOST 550 MEGA Brushed 2WD vehicle a great choice for traveling on grass. Its 2-wheel drive transmission and specialized tires provide excellent traction and control, while its strong chassis and suspension system offers protection and stability on rough terrain.
Here are the latest offers on Amazon.
4X4 V3
The ARRMA GRANITE 4X4 3S BLX Monster Truck is a ready-to-run car designed to provide exceptional performance on all sorts of terrains, and grass is no obstacle at all. The car has several key features that make it perfectly capable of blasting over the grass at high speeds of over 50mph.
One of the main features of the ARRMA GRANITE 4X4 3S BLX is the stronger chassis and retained hinge pin plates. This provides added durability and stability when driving on rough terrain like grass. Additionally, the steering system has more clearance, which helps prevent damage and maintains performance while driving on grass and other bumpy surfaces.
Another important feature is the castellated slipper pad and sliding gear mesh, which provides smoother and more efficient power transfer to the wheels. The plastic locknut for the slipper ensures that power is perfectly distributed to the wheels, even when driving on uneven surfaces like grass.
Finally, the car comes with a Spektrum SLT3 radio, a Firma brushless motor, and a stronger steering servo. These upgrades ensure that the car delivers jaw-dropping power and 50mph brushless performance.
Overall, the combination of a stronger chassis, better steering clearance, efficient power transfer, and powerful performance makes the ARRMA GRANITE 4X4 3S BLX Monster Truck an excellent choice for driving on grass. It comes fully assembled and includes everything needed besides batteries and a charger.
This video shows the brushed and the brushless versions;
Key Features
3200Kv brushless motor.
Strong chassis with retained hinge pin plates.
Four-wheel-drive.
2S and 3S LiPo compatible.
Waterproof, metal-geared servo for longevity and strength.
Here are the latest offers for the Arrma Granite on Amazon.
Kyosho Inferno 1/8
The Kyosho Inferno is one of the fastest RC cars available and speeds over grass almost as fast as it does over paving. This car has won multiple titles in the RC Model Auto Racing Federation and is one of the fastest cars on this list.
It has a high ground clearance to get through tall foliage without getting stuck or bogged down. It uses an all-wheel-drive system, which is perfect for getting traction on grassy terrain. Plus, the suspension system is so fancy that it can handle bumps and uneven ground without losing any control. That means you get a smooth ride even when driving through some seriously gnarly grass, humps, and bumps.
It's 3.54″ high x 18.9″ long x 10.63″ wide, with a wheelbase of 16″.
The powerful engine gives it some high speed and acceleration. It's built to last, with high-quality metal and rigid plastics that make it durable and reliable in all kinds of weather and terrain.
I think the Kyosho Inferno is the perfect RC car for anyone who wants to take their off-road adventures to the next level. It's a bit of a splurge, but for serious RC enthusiasts, it's totally worth it. Who wouldn't want to dominate the grassy fields without breaking a sweat?
Key Features
Optimized weight balancing between motor and battery for optimal handling.
Large 1/8 scale model.
Aerodynamic and lightweight for extreme speeds and control.
Hardened metal chassis.
You have to see it in action!
Here are the latest deals for the Kyosho Inferno on the Horizon Hobby website.
Traxxas Slash 1/10
The Traxxas Slash is one of the most popular RC cars available because of its high performance and value for money. There are a few different options for the Traxxas Slash with a 2WD model at the bottom of the range and a 4X4 VXL Slash at the top. But even the 2WD is extremely capable on grass and other off-road conditions due to its strong motor, high ground clearance, responsive suspension, and grippy tires, among other things.
The Slash range reaches top speeds between 30mph and over 60 mph. Even the 2WD Slash can reach 60 mph if you pair it up with 3S batteries and a 19T pinion gear. But I don't recommend doing this for grass, as you'll lose some power on your acceleration and you'll need all the power you can get when driving on grass.
Key Features
Titan 550 brushed motor.
NiMH or 3S LiPo compatible.
High ride height/ground clearance.
See it in action;
See the latest pricing here on Amazon
Traxxas Stampede 1/10
The Traxxas Stampede is a high-performance monster truck that has no problem driving on grass. With a top speed of over 30 mph and a soaring ground clearance, it's perfect to power over humps and rip through the grass. The Stampede also features waterproof electronics, which enable it to blast through wet grass in the mornings or after rain and shred snow for all-weather adventures.
The powerful XL-5 waterproof electronic speed control handles high currents and features an EZ-Set® one-button setup and smooth high-frequency control. The Titan® 12-turn 550 modified motor delivers mod-motor power with almost no maintenance required. This motor has proven to provide long-lasting performance while an integrated cooling fan keeps temperatures down.
It's 16.25″ long, 12.75″ wide, 9.5″ tall, and has a wheelbase of 10.63″.
Overall, the Traxxas Stampede is an excellent option for those looking for a high-performance, off-road monster truck that can handle a variety of weather conditions and surfaces. Its powerful motor, waterproof electronics, and tall ground clearance make it a great choice for driving on grass and other rough terrains.
Key Features
Titan 12T 550 brushed motor.
NiMH or 2S LiPo compatible.
High ride height/ground clearance.
See it in action on grass;
Check the latest pricing for the Traxxas Stampede here on Amazon
Traxxas Maxx 1/10
The Traxxas Maxx is an awesome RC car for racing on grass because the tires on the Maxx do not provide a lot of side bite, which is good for keeping the truck from traction rolling, a common problem for some monster trucks. But on surfaces like grass, the Maxx has no push or slide and goes where it's directed.
Its tires are massive and rugged to dig into the dirt. It has excellent turning manners, but it may traction roll when it has a lot of traction. The Maxx's enormous shocks are great for attempting to soak up roof jumps or landing from a big ramp. Responsive shocks also help to soak up G-force when going extremely fast around tight corners.
The Maxx jumps great, but it can be challenging to bring the nose down gradually when tapping the brakes in the air. The Maxx has a lot of suspension travel to keep things smooth in overgrown and bumpy areas. It has a conservative gearing system, which helps to ensure it isn't geared too tall when driving on 4S, and the motor should have no temp issues on lower cell counts.
It's a massive 22.5″ long, 15.95″ wide 9.12″ high, and has a wheelbase of 13.85″.
The Maxx is fantastic on grass, with the motor staying relatively cool, and the high ground clearance of the truck helping it when driving in taller grass. The truck is equipped with Traxxas TSM electronic stability management, which is fantastic for bashing.
The truck also comes with a LED light package that is insanely bright and comes with working brake and reverse lights.
Key Features
2400kv sensorless brushless motor.
High-speed (60mph+) 4WD.
TSM stability management.
3S and 4S compatible.
See it in action;
See the latest pricing for the Traxxas Maxx here on Amazon
You can also check the pricing here at Walmart
Will Driving On Grass Overheat My RC Car?
Driving on grass can cause certain RC motors to overheat. Driving on grass makes the motor run hotter than driving on a flat surface, but big, powerful models like the ones on this list won't have any problems with grass as long as it's not taller than the car.
Grass can tangle around the axles of the car, so it's best to check for that after driving through any long grass and remove it if there is any. Monitor the heat of the motor every few minutes to make sure it doesn't overheat.
Advice For Driving An RC Car On Grass
Choose an off-road RC car to make sure it travels over the grass and not through the grass.
If you can, increase the ride height of your RC car, and adjust it higher so that the body makes less contact with the grass.
Be aware of moisture in grass, especially in the mornings, as it will cause the RC to lose traction and slip around more.
Monitor the motor temperature, especially if the grass is as tall as the tires.
Not Suitable For Grass
Small tires with flat treads.
Low-profile RC cars. There is too much resistance if the grass is taller than the body.
Slicks will cause you to lose almost all control when driving on grass.
Conclusion
There are a lot of other cheaper RC cars that can drive on grass, but this article is focused on the best of the best. If you're on a tight budget, go for the entry-level 2WD Traxxas Slash or Arrma Granite 4X2. For those who want more, the Kyosho Inferno and Traxxas Maxx are great options at a higher price point.
I hope you that have found this article helpful. Here are some more articles that may be of interest;