Alright, you have made up your mind about buying the best RC car. But not sure which RC car brand you should choose? Who makes the best RC car?
Traxxas is the best RC car brand that has stood the test of time. When it comes to fast, durable, customization-friendly, and top-notch quality RC products, Traxxas is one of the best options. They offer a broad range of easy-to-use RC models.
I've been an RC hobbyist since I was a kid. And I'm quite excited (just like you are right now) to see the battle between the top RC car brands! So without further ado, let's dive in together.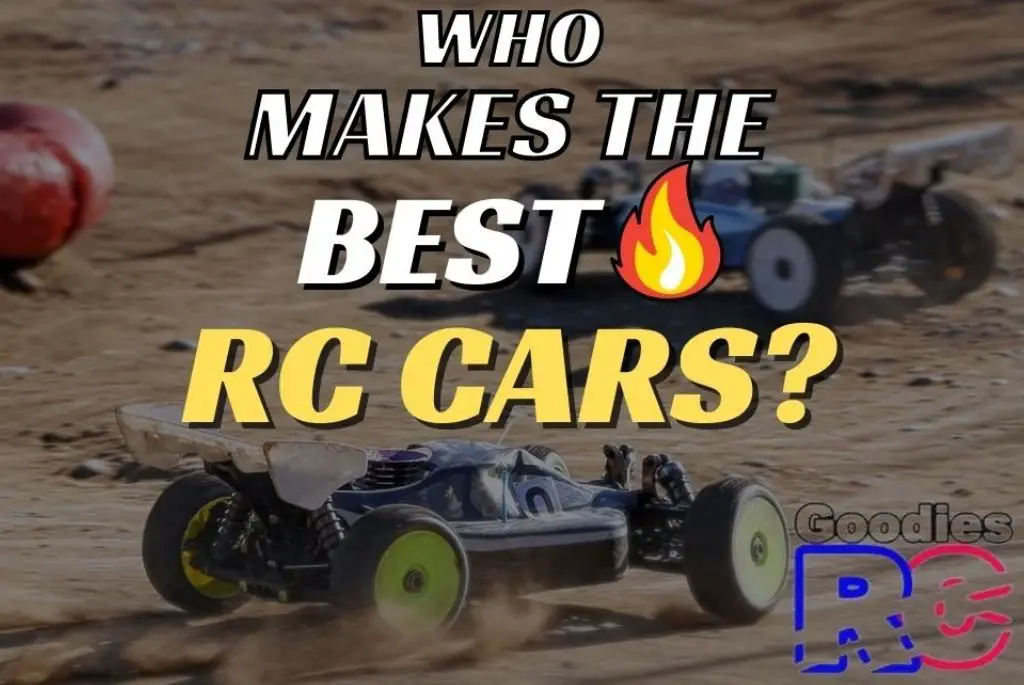 Quick Overview of Top RC Car Brands
| | |
| --- | --- |
| RC Brand: | Short Description: |
| Traxxas | Fun and Innovative |
| ARRMA | High-Speed Radio-Controlled Models, Super-Tough RC Dirt-Blasting Action |
| Team Losi | High Performance and Different Spare Parts |
| HPI | Cool design and Product Reliability |
| Redcat Racing | Excellent Value for Money Radio-Controlled Land Vehicles |
| Team Associated | Premium Parts and Great After-Sale Service |
| Axial | Excellent Customer Support, Market leaders in RC cars that users can modify |
| Maisto | Stylish and Well-Detailed |
| Jada Toys | Use of Advanced Technology and most of their RC Cars are for Smooth Surfaces |
| WLToys | Great First Brand for Kids and Entry-Level RC Fans |
| ECX | Replacement and Upgrade parts available for all Vehicles and are also Discounted in Price |
Table of the top RC brands
Here's a list of the best RC car brands:
#1. Traxxas
Traxxas was established in 1986, and it is one of the biggest brands in the RC industry. This RC brand is famous for offering a broad range of easy-to-use RC models. 
They keep on excelling in the field of Ready To Run (RTR) RC cars. Their vehicles use high-quality parts, and you can also replace or upgrade different components. 
Did you know? Traxxas is the pioneer brand when it comes to producing Ready To Run RC cars!
Over the years, Traxxas has stood the test of time and has produced premium quality and satisfactory products. 
Related post: How Much Do RC Trucks Cost? Best Models For The Money
If you want an RC vehicle that is durable, has power, and is fun to use, then Traxxas models are one of the best options. Traxxas also offers some of the fastest RC vehicles. 
And whether you are a beginner in this hobby or an advanced racer, Traxxas has almost all the vehicle options for you.
Most of the Traxxas RC cars are of Ready To Run type that already come with all the parts attached and completely assembled. This, in turn, makes them easy to use, especially for beginners.
Traxxas also offer a huge selection of parts and components for your vehicle, in case you would like to do any kind of upgrade, which is great. 
Table of best Traxxas RC cars
Read More: What Is The Best Traxxas RC Car?
#2. ARRMA
Created in 2009, ARRMA makes powerful and high-speed RC monster trucks and cars. When it first started in 2009, ARRMA used to offer entry-level ready-to-run RC cars. 
However, only a few years after that, they started creating bigger and more aggressive RTR brushless vehicles. 
ARRMA has shown exponential growth by offering powerful vehicles for rough terrain and off-road. They are specifically popular among dirt-blasting fans. Their product range includes buggies, trucks, as well as formidable all-terrain vehicles.
Best ARRMA RC Cars:
Best Buy Link (on Amazon)
Deals At
Walmart
ARRMA RC Monster Truck:1/10 Granite 4X4 V3 3S BLX Brushless Monster RC Truck
Check Here
Check Here
ARRMA 1/8 Typhon 4X4 V3 3S BLX Brushless Buggy RC Truck RTR
Check Here
Check Here
ARRMA 1/10 Typhon 4X4 V3 MEGA 550 Brushed Buggy RC Truck RTR 
Check Here
Check Here
Table of best Arrma RC cars
Read Also: Traxxas vs Arrma: Which Is Better?
#3. Team Losi
Team Losi is one of the great names when it comes to the world of radio-controlled cars. Whether you are a newbie or an experienced RC hobbyist, Team Losi offers a wide range of products that can cater to your demands. 
See my related article on Losi vs Traxxas
They are also popular for creating some of the fastest models, and they offer excellent customer support. 
Best Team Losi RC Cars
Best Buy Link (on Amazon)
Deals At
Walmart
TEAM LOSI RACING RC Car 1/10 22 5.0 2WD DC Elite Race Kit
Check Here
Check Here
TEAM LOSI RACING RC Car 1/10 22SCT 3.0 MM 2WD SCT Race Kit
Check Here
Check Here
TEAM LOSI RACING RC Car 1/8 8IGHT-XE Elite 4WD Electric Buggy Race Kit
Check Here
Check Here
Table of best Team Losi RC cars
#4. HPI
HPI has been in the RC industry since the 1980s, and they are labeled as one of the greatest brands, especially because of their awesome design team. They are successful in thinking outside of the box, and that probably enables them to stand out from the rest of their competitors.
This brand can imitate real cars and can turn them into real lifelike models.
Although HPI is not as popular as the Traxxas brand, it is also a good option while considering the best brands for RC cars. (Check out my complete guide on Traxxas vs HPI Racing here)
They produce brilliant Ready To Race Cars. And if you are a racing enthusiast, then worry not because you can get a wide range of options selecting from the nitro engine and electric motor drift cars.
| | |
| --- | --- |
| Best HPI RC Cars: | Best Buy Link (on Amazon) |
| HPI Racing 107014 Trophy 4.6 Buggy RTR 2.4GHz | Check Here |
| HPI Racing HPI120090 E10 Michele Abbate Grrracing Touring Car | Check Here |
| HPI Racing 112468 Micro RS4 1969 Ford Mustang RTR-X | Check Here |
Table of best HPI RC cars
#5. Redcat Racing
Redcat Racing is an RC brand popular for excellent value-for-money RC land vehicles. They have been present in this industry since 2005 and are well-known till today for affordable, fast, RC surface vehicles. 
With this RC brand, you get (RTR) ready-to-run models in both nitro and electric options. Their scale model ranges from 1/24 to 1/5 and backs their sale with awesome customer support and available spare parts. 
They offer many different products that also appeal to beginner RC enthusiasts. The vehicles of the Redcat brand are fast, powerful, and durable. 
If you are looking for a strong and durable RC car, then this is a good brand you can check out. (You can also check out my detailed article on the Redcat RC Brand )
| | | |
| --- | --- | --- |
| Best Redcat Racing RC Cars: | Best Buy Link (on Amazon) | Redcat Racing Official Site |
| Redcat Racing Piranha-TR-10 Piranha Tr10 Truggy | Check Here | Check Here |
| Redcat Racing Blackout XTE 1/10 Scale Electric Monster Truck with Waterproof Electronics | Check Here | Check Here |
| Redcat Racing Volcano EPX Electric Truck, Blue/Silver, 1/10 Scale | Check Here | Check Here |
Table of the best Redcat RC cars
#6. Team Associated
Team Associated is famous for its versatility of products and premium quality accessories and spare parts. Whether you are looking for on-road or off-road options, Rally, Trucks, GT cars, and Buggies, every style is catered for.
In comparison to Traxxas, Team Associated offers a lower price point on their cars. In terms of customer support, they really shine!
It is important to remember that looking for customer support of a particular RC brand is important. Because whether you want to change parts or repair something in your RC, you will at times need their technical advice.
They also offer nice aftermarket support, so you don't need to worry too much after you buy any of their top RC cars or trucks.
| | | |
| --- | --- | --- |
| Best Team Associated RC Cars: | Best Buy Link (on Amazon) | Deals At Walmart |
| Team Associated Radio Control Micro Short Course Truck 1/28 Ready to Run Truck | Check Here | Check Here |
| Team Associated 20157 SC28 Fox Factory Edition Micro Short Course Truck Ready to Run Kit, 1/28 Scale | Check Here | Check Here |
| Team Associated 20155 MT28 Monster Truck Ready to Run, 1/28 Scale  | Check Here | Check Here |
Table of the best Team Associated RC cars
#7. Axial
Axial produces exceptional RC cars with mainly two core focus areas:
1. Their users can modify the product.
2. They ensure that the replacement and upgradable parts are easily available.
I have written a detailed article on: Are Axial RC Cars Good? I recommend you to check it out if you are interested.
Best Axial RC Cars:
Best Buy Link (on Amazon)
Deals At
Walmart
Axial SCX24 1967 Chevrolet C10 RC Crawler 4WD Truck RTR with LED Lights
Check Here
Check Here
Axial SCX24 1/24 Deadbolt RC Crawler 4WD Truck 8″ RTR with LED Lights
Check Here
Check Here
Axial Yeti Jr. Can-Am Maverick X3 RC Rock Racer 4WD Brushed Off-Road Side-by-Side 1/18 Scale RTR 
Check Here
Check Here
Table of the best Axial RC cars
#8. Maisto
Maisto RC cars produce detailed interiors and excellent-looking engines. The typical size of these RC cars are 1/18 scale, and they feature a perfectly detailed and stylish body.
This RC brand also has licenses from real car companies like Ford and Chevy, and most of them come without the requirement of any additional assembly, means ready to run type.
There is a small drawback, though, and that is their body panels may have unevenness from painting defects.
Table of the best Maisto RC cars
#9. Jada Toys
Jada Toy Brand uses advanced technology that is suited for more for a younger audience. This is an American manufacturer of collectible scale model cars, dolls, and radio-controlled model vehicles. Jack and May Li founded it in 1999.
Their RC cars are generally trademarked to make them look similar to famous cars like the Dodge Charger and the Lamborghini Murcielago, among others. Most of their RC cars are for smooth surfaces.
| | | |
| --- | --- | --- |
| Best Jada Toys RC Cars: | Best Buy Link (on Amazon) | Deals At Walmart |
| Jada Toys Fast & Furious Brian's Nissan Skyline GT-R (BN34) Drift Power Slide RC Radio Remote Control Toy Race Car | Check Here | Check Here |
| Jada Toys Fast & Furious Han's Mazda RX-7 Drift RC Car, 1: 10 Scale | Check Here | Check Here |
| Jada Toys Hyperchargers 1:16 Big Time Muscle RC – Dodge Charger | Check Here | Check Here |
Table of the best Jada Toys RC cars
#10. WLToys
WLToys are well-known for their dependable RC cars and aircraft. The vehicles they provide include RC cars, trucks, buggies, as well as rock crawlers. Their product range is suitable for all age groups and skill levels. 
| | | |
| --- | --- | --- |
| Best WLToys RC Car: | Best Buy Link (on Amazon) | Deals At Walmart |
| WLtoys RC Cars 1/12 Scale 2.4G 4WD High-Speed Electric All-Terrain Off-Road Rock Crawler Climbing Buggy RTR  | Check Here | Check Here |
| GoolRC WLtoys A979-B RC Car 2.4G 1/18 Scale 4WD 70KM/h High-Speed Electric RTR Monster Truck | Check Here | Check Here |
| GoolRC WLtoys 124019 RC Car, 1/12 Scale 2.4GHz Remote Control Car | Check Here | Check Here |
Table of the best WLToys RC cars
#11. ECX
ECX brand has been in the RC world since 2010, and they have offered some solid low-cost alternative RC cars. They have been producing decent quality equipment, and along with that, they are pricing them reasonably. 
The good thing is all the vehicles of ECX have the replacement and upgrade parts and are also discounted in price.
| | |
| --- | --- |
| Best ECX RC Cars: | Best Buy Link (on Amazon) |
| ECX Amp Db 2WD Desert Buggy RTR Vehicle (1/10 Scale) | Check Here |
| ECX AMP MT 1:10 2wd Monster Truck:BTD Kit | Check Here |
| ECX Ruckus 4WD RTR Monster Truck (1/18 Scale) | Check Here |
Table of the best ECX RC cars
What To Consider When Buying An RC Car?
Here are the top 5 things you should consider when buying an RC Car:
#1. Power Source
The very first thing you should consider when buying an RC car is to check its power source – electric, petrol, or nitro?
| | |
| --- | --- |
| Electric: | Battery-powered (commonly a NiMH or LiPo battery is used) |
| Nitro: | Nitro Fuel Powered (nitro fuel is a combination of nitromethane, methanol and oil) |
| Petrol: | Powered by 2-stroke fuel – a mixture of unleaded fuel and 2-stroke oil |
If you are new to this hobby, like the sound and feel of the engine, then Nitro RC is going to be pretty attractive for you. But there's a catch. 
When it comes to nitro cars, they need regular maintenance work. And for that, you will require both knowledge and skill, which can be hard as a beginner. (Also, check out my complete guide on who makes the best Nitro RC car here.)
On the other hand, if you are looking for a reliable fuel-powered RC vehicle, then the petrol Rc car type can be a great option for you.
With these engines, you can get long run times, and if you can do upgrades like a tuned exhaust pipe, then that can make big power outputs. 
Yes, they do need general maintenance work. However, it is less as compared to the Nitro-power RC cars. But there are some disadvantages as well with the petrol RC cars.
Firstly, their size. For example, the 1/5th scale can be quite larger, so much that you may have problems with storage. 
The next issue with the Petrol RC car models is their noise. As compared to the nitro counterpart, the petrol RC can be much noisier. So that can limit your choice of driving them in certain places.
Now, if you are looking for your first RC, then electric RC is what you should most likely choose. 
Electric RC cars feature a rechargeable battery pack that normally comes with beginner Ready-To-Run vehicles. 
These RC models are reliable and don't need much mechanical know-how or maintenance tasks, which is good if you are a beginner in this hobby. 
These RC cars are clean, easy-to-use, and produce hardly any noise, so you can run them in different locations without disturbing the neighbors.
#2. Scale And Size
In the RC hobby, scale simply means the size of the RC vehicle in comparison to its full-size counterpart. 
RC cars are basically the modeled versions of full-size automobiles. The scale sizes are allotted to the RC cars to give you a mental picturization of how big or small your RC car is. 
So, for example, a 1:10 Indy Formula 1 RC will be ten times smaller than the actual car present on the race track.
Here's a general guideline of RC scale and their size in inches:
| | |
| --- | --- |
| 1:43 | 3.5-5 inches |
| 1:24  | 5-8 inches |
| 1:12  | 14-16 inches |
So as you can notice, the lower the ratio, the size of model gets bigger.
As a beginner, what is the best scale to choose? Well, the answer to that will depend on the factors like your budget, the surface you'll be running your RC on, the size of the area available to run your RC, and your personal preference.
For instance, let's say that for running your RC car, you only have a small backyard. Then in such a case, you will probably have to consider a smaller size. 
But if you have a very large space to drive your RC car, then size may not be such a big factor. So like that you have to decide the option based on the suitable factors.
Although, as a general rule, if you want a smaller RC car, then you should go with something like 1:43. But if you want a relatively bigger RC, then you might like to go for the 1:12 option. With that being said, 1:8 and 1:10 scale are the most common option.
I have written an article on the pros and cons of RC cars based on every RC style. I highly encourage you to check that out if interested.
#3. RC Car Type
| | | |
| --- | --- | --- |
| Kit | Requires full assembly and electronics | Advanced Level |
| ARTR | Almost ready to run | Intermediate/Advanced Level |
| RTR | Ready to run | Beginner Level |
If you are considering the Kit-style RC, then it is not necessarily always a bad choice. There are indeed some benefits. 
For instance, building a kit can help you to learn to fix any issues or maintenance-related task on your RC car. You will know how to set the parts appropriately, how to take components out of a certain areas of your RC.
However, the crucial thing to consider is that you would benefit with some past experience in setting up kits. 
The RC will need full assembly, including all the electrics and your chosen motors. 
After buying an RC race kit, you are most likely left with only a box containing the bits. Did you know that some manufacturers even don't include the tires and wheels! 
Check out my article: Is It Cheaper To Build An Rc Car?
Though if you want RC cars for racing, then at some point in your hobby, you might have to look for race kits (because race kits are mostly targeted for racing enthusiasts). However, as a beginner, race kits may not be the most viable option. 
Picking and setting up all the components from the kit and building up your RC vehicle may not be the easiest task if you have little knowledge about RC. Now, let's move on to the next RC car style.
With an almost ready-to-run RC car version, you get part assembled or fully assembled RCs. But remember that you will need electronics or engines. 
The benefit of buying an ARTR is that it is almost a pre-built version. So all you have to do is add your choice of electronics, and you are almost ready to go.
But there's also an easier option for you, and that is to get a Ready To Run RC pack. 
The entry-level hobby-grade RC cars have all you need inside the box. Yes, almost everything, but still, you will need the batteries to fit them in the transmitter. 
If you are brand new to RC, the ready-to-run RC car models are likely the best painless and tension-free option for you.
Most RTR models come with standard parts, which can be a good thing if you are a beginner to the hobby. Once you get more experienced, and you feel you could handle more speed, you can upgrade parts and modify your RC to suit your needs.
#4. Brushless or Brushed
Another thing to consider when buying your RC car is whether you should go with a brushless RC model or a brushed model?
Brushless Motors:
Speed: Brushless RC motors are significantly fast. So if speed is something you prefer more, then choose a brushless motor.
Long Run Time: Brushless motors have more efficiency, and as a result, you will get a longer run time with them.
Less Maintenance: As compared to a brushed motor, brushless motors need less maintenance work. (If you are about to get a brushed motor RC car, then be prepared to clean it for dust and other things, mainly if you drive it in on sand)
Brushed Motors:
Cheaper: The main benefit of using a brushed motor RC car is that you can get them at a significantly cheaper cost as compared to a brushless motor.
Simple: The other benefit of a brushed motor is that they are more simple than the brushless versions.
Want to know more about brushed vs brushless motors? Watch this video!
Read Also: RC Nitro Or Brushless? A Guide To Help You Choose
#5. Battery Type
When you choose the RC car, selecting the right type of battery is also what you should consider. Now you may be wondering, which RC car has the longest RC battery life?
The battery Zeee 7.4V 8000mAh 2S Hard Case LiPo offers the longest battery life. This battery is specifically designed for 1/8 scale and 1/18 scale RC car hobby models like Slash, Bandit, Rustler version, Losi, Team Associated, etc.
As a general rule, most RC car batteries last for 1-2 hours before you need to recharge them based on the battery size and how hard you are running the RC car.
| | |
| --- | --- |
| Lipo batteries | 300-500 charge cycles |
| NiMH batteries | 3-5 years |
| NiCD batteries | 5-7 years |
The lifespan of an RC battery can vary depending on the battery type and your charging routine. 
While mentioning Long-lasting RC batteries, Lipo batteries are the ones that spring to mind. 
Lipo stands for Lithium-Polymer, and it is actually the same technology that is used in laptop batteries and old phones. These batteries are lightweight and offer a greater quantity and quality of power output. 
Read Related: Are Traxxas RC Batteries Worth The Money?
Related Questions:
Who Makes The Best Kit RC Cars?
Traxxas, HPI Racing, Team Associated, and Losi are some of the well-known brands when it comes to making the best Kit RC cars. However, brands that offer more affordable and still make excellent RC Kit cars include Arrma, Kyosho, and Redcat Racing.
Who Makes The Fastest RC Car?
Traxxas, one of the premier manufacturers of RC cars in the industry, makes the fastest RC car Traxxas XO-1. This is the fastest electric RTR RC car that can reach from 0-60 mph in only 2.3 seconds.
I have already written a detailed article on the fastest RC motor in the world of RC. I highly recommend you to check that out if you are interested.
Final Thoughts
Whichever RC brand you choose, make sure that it is of a suitable size based upon your needs, fits your budget, and also consider the things I discussed with you in the article. That's it! If this guide has helped you, please consider sharing this with other RC enthusiasts like you.
And wait, I have more for you 🙂 Check out: