If you're totally new to RC, or like me, you took a long break from this hobby that you enjoyed as a kid and have recently got back into it, the world of RC can seem a bit daunting.
The way technology has moved on, RC cars reaching speeds of 100 Mph. Buggies, truggies, stadium trucks, drift cars, rally cars. From racing to bashing to crawling. Electric RC cars, brushed, brushless motors, ESC's,2 WD to 4WD, nitro RC's, glow plugs……
All this can be a bit much to take in and you'll be wondering where to start.
Well not to worry. The RC world is a massive place and no matter what level you are at, there's so much information out there. There are forums on specific topics, video tutorials and of course, my website! that cover anything and everything you need to know once you get started.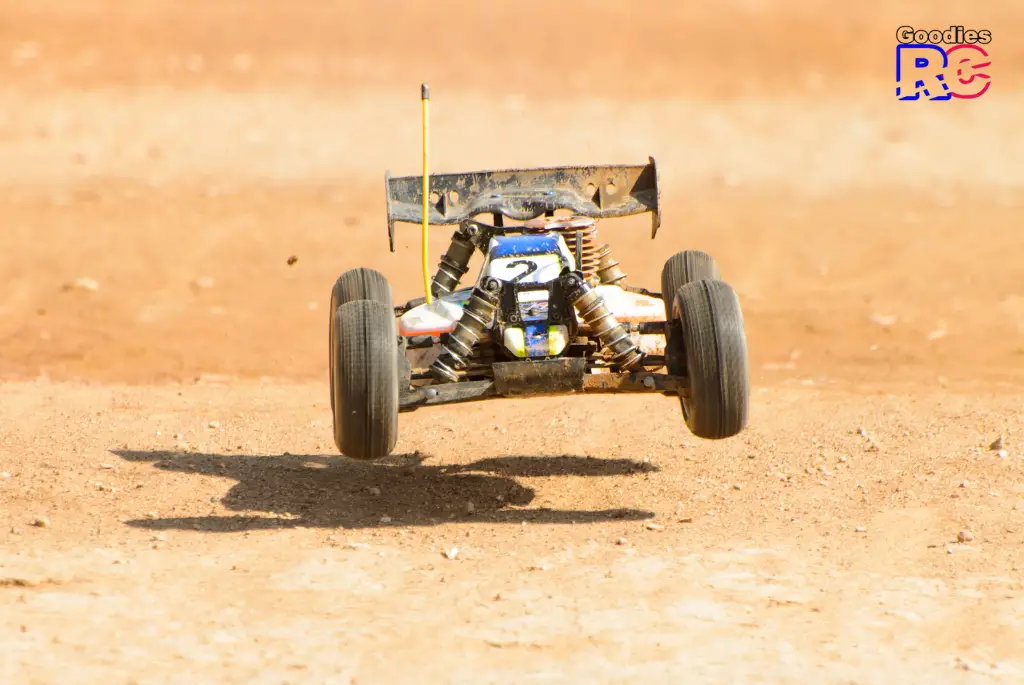 The question is though, how and where to get started?
In this article I'm going to cover all the factors to take into account when starting out on your RC car journey. After reading you will have a clear idea of how and where to start.
Here's what we will cover:
Why get into RC?
How will I use my RC?
Which type of RC?
Which scale of RC car?
How much should I spend?
Electric or Nitro?
Ready to run or kit RC car?
2WD or 4WD RC car?
Brushed or brushless motor?
Batteries
Maintenance
Why get into RC?
This awesome world of RC is massive, there are so many different aspects of this hobby that can appeal to people from all walks of life.
Life could have got in the way, there's lots going on and you just want to escape for a while.
Just getting outdoors and having a little fun with your RC can take you miles away from the stresses that life can bring, if only for a little while.
It will remind you of being a kid, in your own little world and just simply having fun.
I love taking my son out on the weekend with our RC's. It gets us outdoors. Its something we can do together and we just have pure fun. As he gets older he will have learned everything from general maintanence after a run to replacing broken parts to building full kits. If he chooses he can get into RC racing aswell.
See my article: 9 Reasons Why RC Cars Are Good For Kids
The beauty of RC is it can be as easy or as hard as you want it to be.
The Hard Way
If you like building stuff and attention to detail, you can choose an RC kit, they come in kit form. Another way is to go for a Nitro RC.
Nitro RC' in basic terms, are like a real vehicle. They run on nitro fuel and require a lot of work and care.
The Easy Route
RTR's, ready to run RC's. They come straight out of the box, hardly any work is needed on your part. The ideal RTR for a beginner is an electric 2WD model, either 1/10 or 1/8 scale, that comes with a transmitter and battery with charger.
All you have to do is charge up the battery and off you go and thats it.
Apart from that theres a little maintanence and cleaning after a run but thats all. After a while of driving your RC, and If you are starting to like this more, in most cases, you can choose to upgrade the parts on the car so it can perform better.
How Will I Use My RC?
There are many types of RC cars. As a beginner, you will find it daunting as there are so many different names of vehicles to choose from, and you might feel confused as to which one would suit your needs.
I will explain the main ones below;
Bashers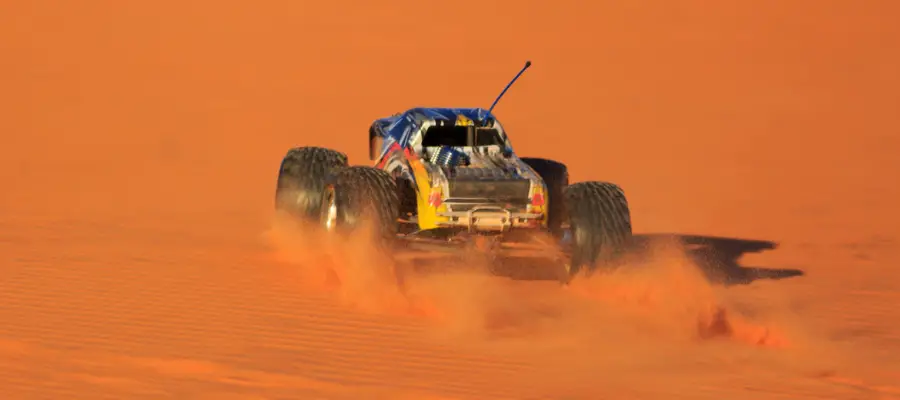 There are many ways to use an RC car. You may just want something to play with and drive around your back yard and try out the odd trick and jump and taking a few knocks as you try these out.
This is known as "Bashing". The ideal bashers are monster trucks.
Monster trucks have big wheels and high suspension so they can deal with almost any obstacle that gets in their way. They are really fun and a good all-rounder. These types of trucks can take a real pounding but be prepared to replace parts depending on how harsh you treat your truck.
Pro Tip: Check out this detailed guide on how to adjust and tune the RC suspension system. This resource will help you easily learn about all the technical components of the RC car's suspension system and how to fine-tune them according to your specific needs.
You might take a fancy to a short course truck. Their wheels are smaller in size and their suspension is lower than a monster truck but they can handle most surfaces. They have more speed compared to monster trucks and can handle jumps pretty well.
See my article: RC monster truck vs. Short course: What's the difference?
RC Buggies
RC buggies are great for racing. They are designed more for speed and can handle small jumps. They are not ideal for bashing, they are more suited for smoother surfaces like roads or dirt tracks.
RC Drift Cars
Maybe you fancy skidding around? In this case you want an RC drift car. These are mainly replica 1/10 scale RC cars with an average speed of around 10 Mph that race on very smooth surfaces with very slick tires. You can learn to develop the art of being really cool as you slide around bends.
Related article: What To Look For In A Good RC Drift Car (With 4 Examples)
Rock Crawlers
Rock crawling has become very prominent in the past few years.It really gives a different aspect to RC as the focus isn't on how fast you can go or performing flips and tricks.
These RC's arent designed for speed but they can tackle all kinds of difficult obstacles like rocks and logs. Rock crawling really tests your skills as an RC driver as you are not focussing on taking straights at high speeds but you must take close control on the obstacle you are on and then need to take into account of how to tackle the next obstacle without falling off.
You can enjoy rock crawling on your own or you can compete in races where the aim is to achieve completing difficult terrain in the shortest time possible. See my article: Is RC Rock Crawling Fun?
There are more types of RC cars but the above that I have mentioned are the main ones. If you get really deep into the hobby you will discover the rest as you go.
Which Scale to Choose?
The most common size of RC car is 1/8 or 1/10 scale. Unless you are looking to enter a specific race or competition, an RC this size is ideal when you're starting out.
What are RC Scale Sizes?
RC scale is relative to the size of its real-size vehicle so for example if you buy a 1/10 scale Big foot monster truck, it will be 10 times smaller than its real counter part.
RC vehicles come in many sizes, 1/5 being the largest,1/8, 1/10, 1/12, 1/14, 1/16, 1/18. Mini car scales from 1/24 to 1/64 scale.
How Much Should I Spend On My RC Car?
This can be very daunting as there are so many brands and models out there. Prices can range from around 150 dollars to 1000 plus dollars for a hobby grade RC.
The following are the only things I recommend if you are new to this (The rest can come later)
Price
You're just starting out, keep it simple, although this appeals to many types of people you don't want to go spending mega bucks in case this hobby isn't for you.
I recommend you spend anywhere between 150 dollars to 350 dollars depending on your budget.
You want to look for a model that suits your needs, and as I mentioned above, that comes ready out the box, RTR, with a transmitter, battery and a charger. You can upgrade later if you start getting a taste for this!
Choose a Good RC Brand
Why choose a good brand when there are cheaper models out there?
Good brands are the ones that have been around for a while. They have spent many years in the business creating and getting every aspect of their models and parts right so they can be produced to a high standard.
The top brands usually have their own website with a full list of replacement parts and upgrades, trust me, something will break at some time! Each brand has good customer support so if you have an issue you can just call up and they will assist you with your problem and advise what parts you need.
A cheaper RC car may not come with all the above stated, so if you break something, you may as well bin the RC and replace it.
Here is a list of reputable brands to keep your eye on:
Traxxas. Great selection of RC's. Parts are always available and great support.
Arrma. Their vehicles are built to last. Their focus is more on speed and power.
Redcat Racing. Great selection of vehicles from beginner to the more accomplished driver, all of which are very well priced.
Axial. Top-quality RC's that focus more on "Rock crawling"
Losi. Awesome cars with a focus on racing. Not ideal if you're just starting out.
Tamiya. If you like the idea of building a very high-quality car with unrivalled attention to detail. This is the brand for you.
Kyosho. Founded in Japan. Kyosho have been going for around 50 years now, any company going for that long shows they know what they are doing when it comes to RC.
HPI. Although they have had their ups and downs in recent years, they definitely deserve a mention.
Team associated. These guys have a wealth of knowledge and have produced many championship winning cars over the past 50 years.
Electric or Nitro RC?
As I mentioned above, the choice between choosing an electric RC to a Nitro RC is going to be down to personal taste.
If you want to have your work cut out for you then Nitro is for you.
If you wanna open the box flick on a couple of switches and just go then electric is for you.
Below I will break down the fundamentals so you can see the more in-depth details of what nitro and electric RC has to offer.
Nitro RC
If you want the closest thing to a scale car then Nitro is your thing.
Nitro RC cars are much more complex to electric RC cars. You must invest a lot of time to acquire the knowledge to run a Nitro RC car.
Theres a few main components you need just to start up a Nitro car. Its not just a case of flicking a switch on and off you go!
First off you need Nitro fuel.
Each container of Nitro fuel has a set of components that affects the performance of your car. There is usually a percentage of methanol, nitromethane and lubricants in the mix.
If you would like a better understanding of Nitro fuel and how different mixtures can affect the performance of your Nitro RC car, please check out What is Nitro Fuel Made Of? and Nitro Fuel 20 vs 30: Which One Should You Use?
The amount of fuel you use depends on the model of car you have, once youve filled the tank you may get 5 minutes at full throttle or 15 minutes driving at a steady pace.
A fuel bottle
You need one of these to transfer the Nitro fuel from its container to the tank of the car. In most cases, the fuel bottle comes included with the car.
A glow starter.
These can be refferred to as glow driver or glow igniter. This is what heats up the glow plug on top of the engine.
Glow starters use batterries, its wise to have good fresh batterries because the glow plug needs to burn nice and hot in order to fire up the engine.
A tuning screw driver.
This is needed for tweaking the needle valves on top of the engine. Its always wise to have one at hand but you can use a normal screw driver with a very fine end on it if need be.
These are the basic things you need for a Nitro RC car, there are some variations to some of these components. For example there are rechargable glow starters.
It's also handy to have some spare glow plugs at hand and invest in a glow plug wrench. A glow plug can burn out now and then and will need replacing.
This is just the start and theres more. You have to break in the engine, keep the vehicle well tuned, learn rich and lean mixtures and a timely maintenance routine.
Nitro RC's require a lot of time and care. I recommend you find a good hobby store and let an expert guide you through the whole experience of owning a nitro vehicle.
There are the safety issues to take into account; as the car is producing fumes from the nitro fuel so you are limited to driving outdoors.
Nitro cars are noisy. The roaring loud sound that comes from the engine can easily make your neighbours fall out with you.
Dont be dettered by Nitro RC. Its not just a drive, its a constant all round project that you may fall in love with.
Theres nothing like that roaring sound of the engine that youve finely tuned to suit your requirements when you take your Nitro RC out.
Nitro and electric RC's come in kit form and ready to run.
Here are some Nitro RC articles that may be of interest;
Electric RC Cars
Up until recent years Nitro vehicles have been more powerful than their electric counterparts but, with the way technologies have improved, electric vehicles can now be faster than Nitro RC's..
Electric RC cars are quiet and clean. You can run them indoors and outdoors, you can drive them almost anywhere.
Electric cars are much lighter in weight allowing them to be more nimble so they can handle twisty sections on a race track, better than their Nitro counterparts.
RTR Or Kit?
As I already mentioned, "RTR", ready to run RC cars are the most simple option. You take the vehicle out the box, charge it up, and off you go!
Although RTR cars have their advantages, you must note that the parts that come on an RTR vehicle are usually pretty standard. You get a brushed motor instead of a brushless motor, a NiMH battery instead of a Lipo battery, and the list goes on!
For a beginner; the standard parts that come on an RTR RC are more than enough for you to start enjoying the hobby. You will be surprised at how fast your RC goes and handles with just the standard parts. It will take a while for you to get used to your new RC.
RTR RC cars are usually cheaper than buying an RC car in kit form. You must take into account that once you decide to start upgrading the parts on your vehicle; This is when it can start to become more costly.
Kit RC Cars
Buying an RC car in kit form is ideal for hobbyists that want to know all the ins and outs of how an RC car is made.
You will gain knowledge first-hand of how an RC car works. You will have a good understanding of what each part is and knowledge to know how to fix your RC when something breaks.
If you are the type of person that's happy to invest time and get a full understanding of RC cars, buying an RC car in kit form is ideal for you.
You must note that when you buy an RC car in kit form, it doesn't come with everything that you need. You usually need to purchase a battery, battery charger and controller separately.
For a more in-depth guide to building an RC car, check out my article: Is It Cheaper To Build An RC Car?
2WD Or 4WD RC Car?
2WD and 4WD RC cars both have their good points and not-so-good points.
As a beginner, a 2WD vehicle is ideal. With that being said, I will list below some of the pros and cons of 2WD and 4WD cars;
2WD
2WD RC cars are usually cheaper than 4WD because they have fewer parts. With less parts at the front of the car, they are cheaper to maintain and repair.
The batteries last longer on 2WD cars and there's less stress on the front tires.
As 2WD RC cars only generate traction on the back tires, it makes it harder for them to handle on rough terrain. Its harder to go up ramps and inclines as the power is coming from the rear wheels. Also the braking system is weaker as its only based on 2 wheels.
4WD
Due to the extra traction, acceleration at top speeds are higher with a 4WD car. Theres better braking performance and 4WD cars can handle rough terrain much better than a 2WD car.
The down side is they draw a lot of power from the batteries and they need more parts and a stronger motor.
All 4 wheels can wear down quicker.
For a more detailed guide to choosing a 2WD or 4WD RC car, please check out my article: 2WD VS 4WD RC Car: My Guide To Help You Choose
Brushed Or Brushless Motor?
My recommendation as a beginner would be to start off with a brushed motor, as I mentioned above, RTR RC cars usually come with a brushed motor. The power of a brushed motor is more than enough for a beginner.
Read on below for more details;
Brushed
These are normally your lower grade RC motors as they aren't too expensive to manufacture. Brushed motors come in fixed and nonfixed variants, the fixed version doesn't allow for any replacement of brushes and the motor can't be modified.
The nonfixed version allows for some adjustments and the brushes can be replaced.
Brushed motors have brushes inside making contact with the motor windings to deliver a current to the motor.
Because there's friction occurring in a brushed motor, it wears out quicker and a little extra maintenance can go a long way in extending its life.
See my article: How To Clean And Maintain A Brushed RC Motor
Brushless
Brushless motors have become a lot cheaper than they were a few years ago. Brushless motors perform exceptionally well and don't require much maintenance.
Brushless motors don't have anything touching on the inside to wear it down but debris can still be cleaned off the motor whenever needed to keep it in good condition.
Brushless motors not only have a higher efficiency than brushed motors but they can also work with a higher voltage supply for super-fast speeds.
Batteries
There are a few types of batteries, the main two are; NiMH batteries and Lipo batteries.
The NiMH battery that comes with an RTR is ideal when you are starting out but Lipo batteries are much better.
LiPo batteries are better than NiMH because LiPo batteries are more powerful, efficient, and consistently powerful. They last longer during operation and don't drop in voltage until they're almost completely flat. NiMH loses voltage as the batteries run down.
You must note that as Lipo batteries are more powerful, you may have to upgrade certain parts on your RC car, like the motor and gears, so it can handle the extra power.
You must be careful when charging a Lipo battery. You will damage it if you charge it with a NiMH charger. NiMH chargers use a method called "pulse charging", which is not compatible with Lipo batteries.
Buy a suitable charger for your Lipo battery, it will usually have a setting so you can balance charge the battery. Always discharge the battery before storing it away to avoid cell degradation.
The manual will give clear instructions on how to charge your Lipo battery.
Related read: Are Lipo Batteries Better For RC Cars?
Maintenance
For your RC to last a long time and work to its full potential, you must follow a maintenance routine.
Keep your RC dry and clean. Make sure to clean off any dirt and debis after taking it for a run. Make sure all parts are totally dry. Check parts like bearings and moving parts and make sure they are well lubricated.
Store your vehicle in a dry place and remove the battery. If you are using a Lipo battery, it's best to store it slightly discharged, never store it totally flat or fully charged.
It's best to store the vehicle elevated to prevent damage to the tires.
If you have a Nitro RC car, make sure to store Nitro fuel in an air tight container off the ground in a cool dry place.
Don't store Nitro fuel in your house! You don't want to risk causing a fire.
For a more detailed guide on how to maintain and store your RC, check out my article: How, Where And When To Store Your RC Trucks.
Conclusion
After reading this article you should have more of an insight of where to start your RC journey.You should now know whether you are an RTR fan, or is building a kit car more your thing? Are you an electric RC fan? Or is becoming engrossed in being a Nitro enthusiast for you?
Start off slow, keep your budget low and upgrade when you feel you are ready.
The main thing is to have fun!
I hope that you found this article helpful. Here are some more hand picked articles that may be of interest;